Installing a WordPress review plugin on your website will help you if you want to increase traffic to your WordPress site, improve your SEO, or increase sales of your WooCommerce items.
You're more likely to attract new clients to your business and keep hold of existing ones if you have reviews for your goods or services and raise social proof.
One of the most effective free marketing tools is reviews. Obtaining reviews from your consumers and customers is another excellent way to get feedback.
As a result, you will be able to interact with your consumers and make adjustments to your products and customer service.
We'll go through some of the top WordPress review plugins in this post so you can pick the one that's perfect for your website.
The Advantages of Reviews on Your WordPress Site
Depending on the sort of business you operate, there are different advantages to client feedback. Nevertheless, there are a few basic advantages that all businesses need to be aware of:
Reviews act as free publicity. Your consumers are promoting your business, whether it be on Google Reviews or on your product sites. A close to 95% of consumers examine internet reviews before making a purchase, according to research from the Spiegel Research Center.
You build relationships with clients and get their comments. Some reviews will provide you vital information you can use to improve your company. People also like it when you reply to their reviews.
Social proof is an important concept. According to research, customers are more inclined to purchase a good or service if they see that their friends or other people appreciate it.
Your SEO is enhanced. Rich snippets, which are interactive graphics in the search results, are what Google can display. They are frequently chosen by Google. Your search engine listing would include star ratings in this situation.
You start moving toward complete transparency. Information that might not be displayed on your website might be filled in by online reviews. For instance, you could have forgotten to include some specifications in your product description, but perhaps a kind client mentions it in a review.
The Ideal WordPress Review Plugin: What to Look for
Although some of the plugins have unique functionality, all of them generally share the same basic functions. What are some of these characteristics to look for then:
Having a form where consumers may post reviews and the option to incorporate reviews on your website.
a ranking scheme, like stars or thumbs up/down.
options for adding more visual information, including photos or movies.
a sorting option that places negative or positive reviews first
a search box that allows users to look for certain terms in reviews.
An uncluttered interface for seeing and approving comments.
Provides methods to compile internet reviews from sites like Google and Yelp.
Possibility of incorporating the WooCommerce plugin.
Several alternatives, including widgets and shortcodes, for showing reviews on your website.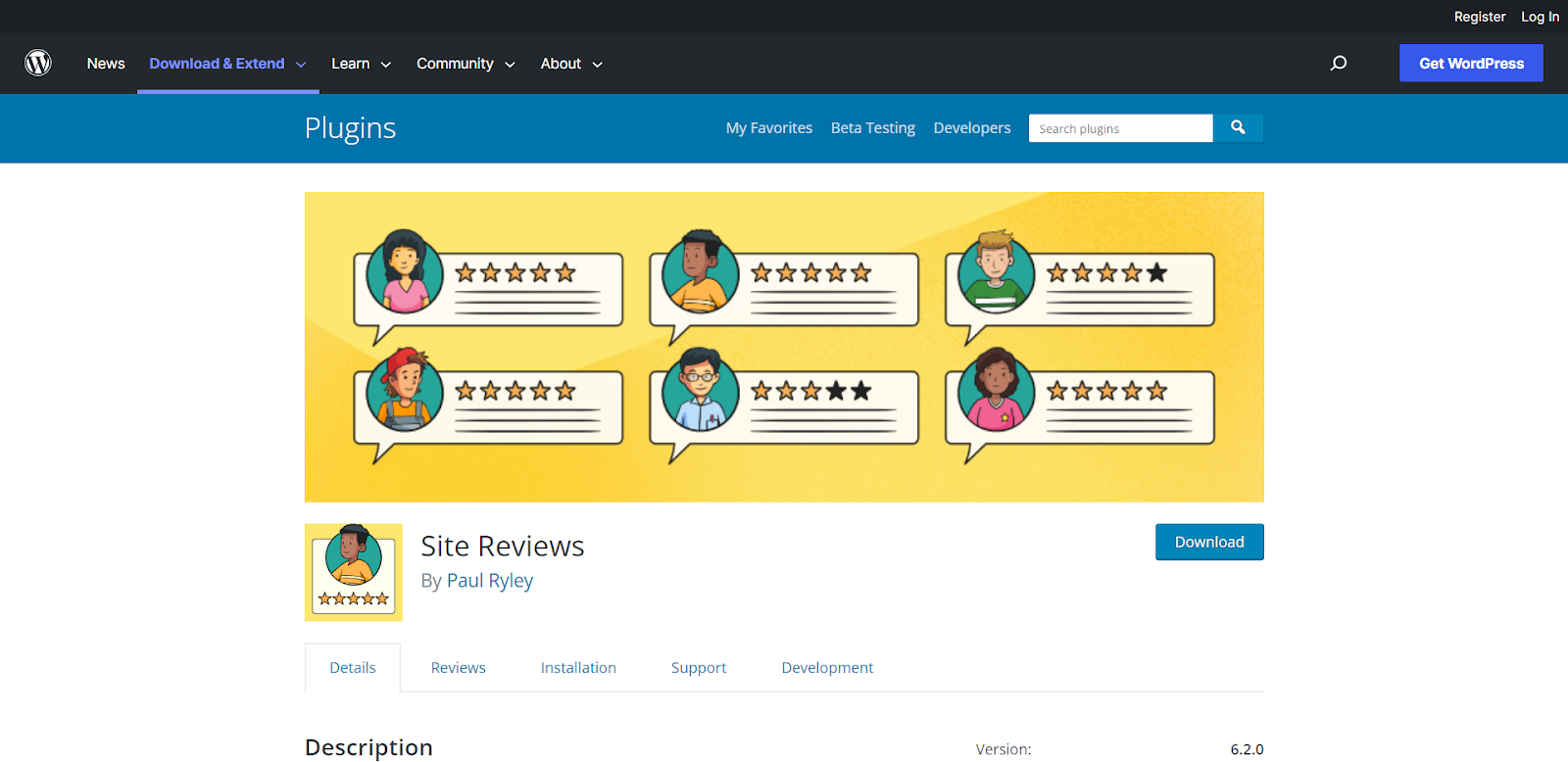 A straightforward plugin called Site Reviews enables users to rate your website from 1 to 5 stars. Then, you may show these evaluations in a number of ways, such as schema markup for Google's rich snippets.
Either allow users rate your website as a whole or let them offer reviews to certain articles, pages, goods, and more. For instance, you might utilize Site Reviews to enable users to contribute their own review ratings if you write your own evaluation of a certain product.
You may use specialized editing blocks or shortcodes to add the frontend review forms. To show your forms, you may also utilize blocks or shortcodes.
Crucial Features:
Three specific blocks or shortcodes are available: submit a review form, show the most recent reviews, and show the review rating summary.
Possibility to personally approve reviews prior to their publication
Handle reviews publically
Specify which articles, pages, goods, or other custom post types should get reviews.
Assign user reviews on your website (great for service provider directories or other membership communities)
Rich snippets' structured data/schema markup
If you're looking for a review plugin that is truly all-inclusive, WP Review Pro is the way to go.
Although WP Review Free comes with all the essential features, upgrading to the pro version for unlimited sites for $67 is definitely worth it to access the entire feature set.
By connecting with freelancers for whatever skill type you want, Fiverr provides your team the freedom to enhance in-house skills and complete every project.
With WP Review Pro, you may choose from an infinite number of colors and a range of rating choices, including stars, percentages, thumbs-up/down, points, and circles.
The plugin expands your reach by supporting 19 rich snippets and integrating easily with Facebook, Google, and Yelp reviews.
Crucial Features:
With the aid of WP Review Pro, you can highlight crucial review information in a box that appears before, after, or inside your text.
The plugin includes 16 pre-built templates for these review boxes' appearance, as well as style choices to further tailor them to your preferences.
You may show reviews from other people in a variety of ways with the aid of WP Review Pro.
You may also show third-party online reviews from other review websites with the aid of WP Review Pro.
In order to compare the features of several items, create product comparison tables.
Using a popup or notice bar, promote reviews
At CodeCanyon, Taqyeem is among the most widely used WordPress review plugins, having been bought more than 1,800 times. In case you're curious, the term "Taqyeem" means "value" in Arabic, according to Google.
Regardless of whether your review is a post, custom post, or page type, it has a trustworthy schema markup implementation. Even the rating left by visitors might make your website more SEO-friendly.
If you offer a variety of goods, you'll be glad to hear that Taqyeem's widgets can display the best-selling and most current products as well as those made by the same company.
Taqyeem allows you to both submit your own product reviews and accept those from other users, like the other platforms.
Crucial Features:
You may add review boxes with as many review criteria as you like using Taqyeem. There are three distinct review styles from which you may select.
To assist you in obtaining rich snippets in Google, Taqyeem will also provide schema markup.
You may invite user feedback and allow them to rate items.
A separate Buttons add-on is available for purchase and integration.
On CodeCanyon, there is a paid WordPress review plugin called Ultimate Reviewer. It is produced by an Envato Power Elite Author that has sold hundreds of WordPress themes.
The ability to create your own custom review templates utilizing the plugin's connection with the Elementor and WPBakery Page Builder plugins is one of the plugin's unique features. Alternatively, you may select from a variety of pre-made templates.
You may show both your personal reviews and user reviews with the aid of Ultimate Reviewer. Additionally, it will enable you to add schema markup and obtain Google review rich snippets.
Crucial Features:
An admin meta box will appear when you make your own review and will allow you to include the different ratings, summaries, pros/cons, etc.
You may alter the user review template by selecting the rating criteria that users can use and whether or not other users can approve or disapprove of reviews.
You may generate product comparison tables with the aid of Ultimate Reviewer to evaluate various items.
widgets to assist you with showing reviews.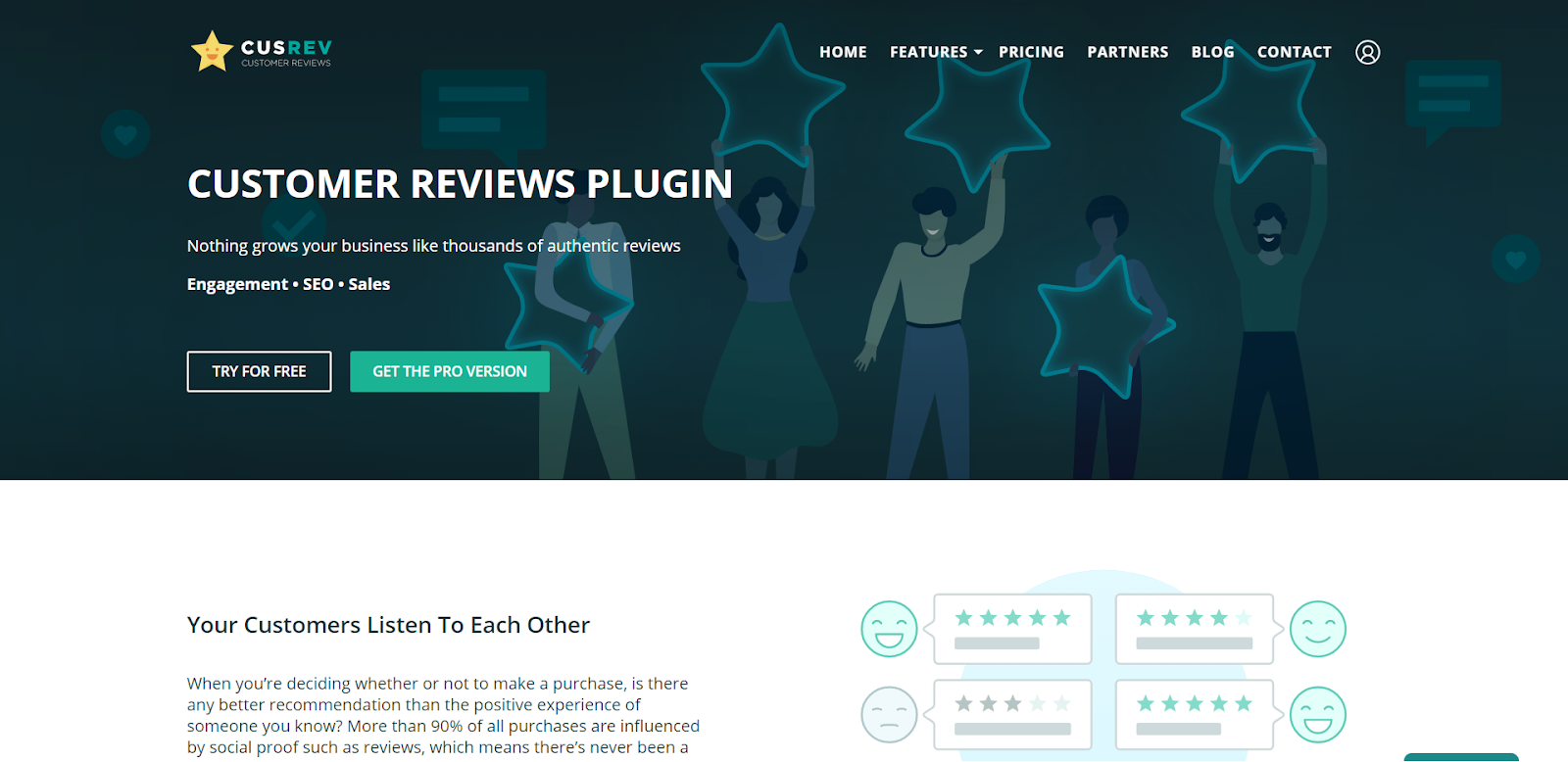 Customer Reviews for WooCommerce is a review plugin designed especially for WooCommerce stores, as its name would imply. Therefore, this isn't a smart alternative if all you want to do is add a review box for your own product reviews on your WordPress site.
But this is undoubtedly a fantastic alternative to think about if you run a WooCommerce store and want to get more customer evaluations and present those reviews in a way that increases social proof.
Although any WordPress website may use this free plugin without WooCommerce connection, these two products operate best together. They combine to build a solid connection between your website and clients.
Crucial Features:
Customers may evaluate several goods from a single one-page review form.
Examine email invitations and reminders.
Possibility of giving discounts in return for testimonials (with automated unique coupon generation).
option to allow reviewers to upload images
characteristic of questions and replies (similar to the questions and answers at Amazon)
Display a summary bar for reviews on product pages.
Allow customers to vote for the most helpful reviews and filter reviews based on ratings.
Verified reviews are indicated by trust badges.
A free plugin called Easy Testimonials is perfect for adding testimonials—a particular kind of review—to your WordPress website. These are always favorable evaluations that talk about a customer's whole interaction with a business and how its goods or services benefited them. The Easy Testimonials plugin, however, allows you to either post simple testimonials or both positive and negative evaluations to your website.
With the help of this plugin, you may choose a template and customize it by adding a client photo, a star rating, and a standout backdrop color. Then, include this review in your website's sidebar, as a widget, or as an integrated part of a page or article.
Crucial Features:
The HTML of the pre-designed templates may be fully customized using filters, or you can submit your own unique template.
You may use a custom CSS box to alter how your reviews appear on screens of various sizes.
different typeface and template styles.
You may alter the reviewer's background, profile, and a lot more.
With more than 18 blocks, the free and easy-to-use Ultimate Blocks plugin may help you improve the content on your website.
You may add reviews with schema support using its Review Block on your WordPress website. This block produces more interesting and conversion-focused content for your readers by including a description, a list of features, a star rating system, a summary, and a CTA button.
The Review Block has a ton of customization possibilities and is entirely adaptable, so you may alter its appearance to go with your website's identity.
Crucial Features:
To make your site lightweight, you can activate or disable specific blocks.
Code That Is Speed-Optimized
Ultimate Blocks has excellent SEO optimization. Both Review and FAQ formats are available.
Star rating system for a visual experience.
Asking followers or customers for reviews is now easy thanks to this great plugin. If you invite everyone to leave a review, you risk having those who had a terrible experience do so. You won't have to worry any longer thanks to Starfish Reviews. When you want reviews, simply submit your Starfish-made funnels. People will be encouraged to send you direct feedback if they have bad experiences!
People that adore you, your goods, or your company will also be directed to the "leave a review" page, where they may give you a worthwhile 5-star rating and a beneficial review.
Crucial Features:
For automatic follow-up, integrate with email marketing tools like MailChimp and MailPoet.
Use the shortcodes to insert funnels into your articles or pages, or use page builders like Divi, Elementor, Beaver Builder, or the Block Editor to create your own funnel layout.
Analytics for high-level evaluation of your performance.
new capabilities for importing and displaying reviews.
Many of the other plugins in this page serve very different purposes than the Google Reviews Widget. This plugin displays all of your existing Google business reviews on your website instead of letting consumers leave reviews on their own. All of these reviews may be added to a header, footer, or sidebar because it functions as a widget.
The free plugin has a five Google review and three Yelp review cap, which may be handy for certain smaller companies. The business model, however, supports other platforms, including Facebook, as well as more reviews. Additionally, you have some intriguing features like filters, rich snippets, and the capacity to combine certain reviews.
Crucial Features:
You may choose from a number of themes to personalize how your reviews look online.
You may accept evaluations from people all around the world because a number of languages are offered.
Sliders, grids, and trust badges are just a few of the unusual components found in some of the styles.
In the event that you choose not to use the widget, you have access to shortcodes.
The purpose of the Google Rich Snippets is to improve the efficiency of your SEO.
The plugin integrates with Google, Yelp, and Facebook, as well as other three review sites.
A premium plugin that lets you add reviews to your website and produce rich snippets for SERPs is WP Rich Snippets.
You may choose the look, nature, and quantity of reviews to show in the sidebar of your website with the WP Rich Snippets widget. Additionally, you may attach a thumbnail image, show just a portion of the review, and arrange them in order of highest ratings.
You may choose an article, review, product, company, restaurant, or software program for snippets, which can make your post easier for search engines to understand and raise the likelihood that it will rank.
Crucial Features:
Choose a rating method from the following list: stars, percentage, votes, and total
The translation of WP Rich Snippets into your language is available.
experience first-rate assistance.
Popular schema.org markup types are supported for use in your content.
a helpful group of add-ons that enhances functionality and integrations.
Conclusion
Never undervalue the influence of a WordPress review plugin since it might be crucial to creating a fantastic website. Not only can it increase visitor trust, but it can also increase your revenue and raise your search engine ranking.
We hope that this article has assisted you in selecting the best plugin for your website.
Further Reading