Last updated - September 26, 2023
WordPress is the platform used by most people to blog. You need the correct theme if you want to stand out from the competition. WordPress themes control how your site is organized, how users are greeted, and how simple it is to browse.
Since there are so many free blog themes available for WordPress, it can be challenging for novices to decide which one to use. Finding the top WordPress themes might be challenging. Your free theme must be dependable and simple to modify.
The greatest free WordPress blog themes have been hand-selected and are presented in this post for your use.
Why Should you use WordPress to Blog?
Self-hosted WordPress.org is the ideal blogging platform since it allows you a great deal of autonomy, adaptability, and control.
WordPress.org is a free website. You may support dozens of free templates and plugins with it, which will help your blog expand more quickly.
There are several top-notch premium themes available. However, there are also a few excellent free themes available that may significantly reduce the price of creating a WordPress website.
Now that you have a basic understanding of WordPress, let us take a look at the top picks for blogging themes, so you may choose which one is suitable for you.
OceanWP is a terrific theme to take into account for your upcoming blogging website. It is not only clear and simple to use, but it also has a developer-friendly codebase that is open to personalization.
OceanWP can be the best WordPress theme for blogging due to its simplicity of use out of the box and flexibility for modification. Additionally, the whole feature set is available to you because there isn't a paid version. Although some expansions come at a cost, you are not required to utilize them if your budget is tight.
It offers a variety of layout options, full-width pages, two top navigation menus, support for custom logos, several sidebar spaces, lovely picture galleries, and more.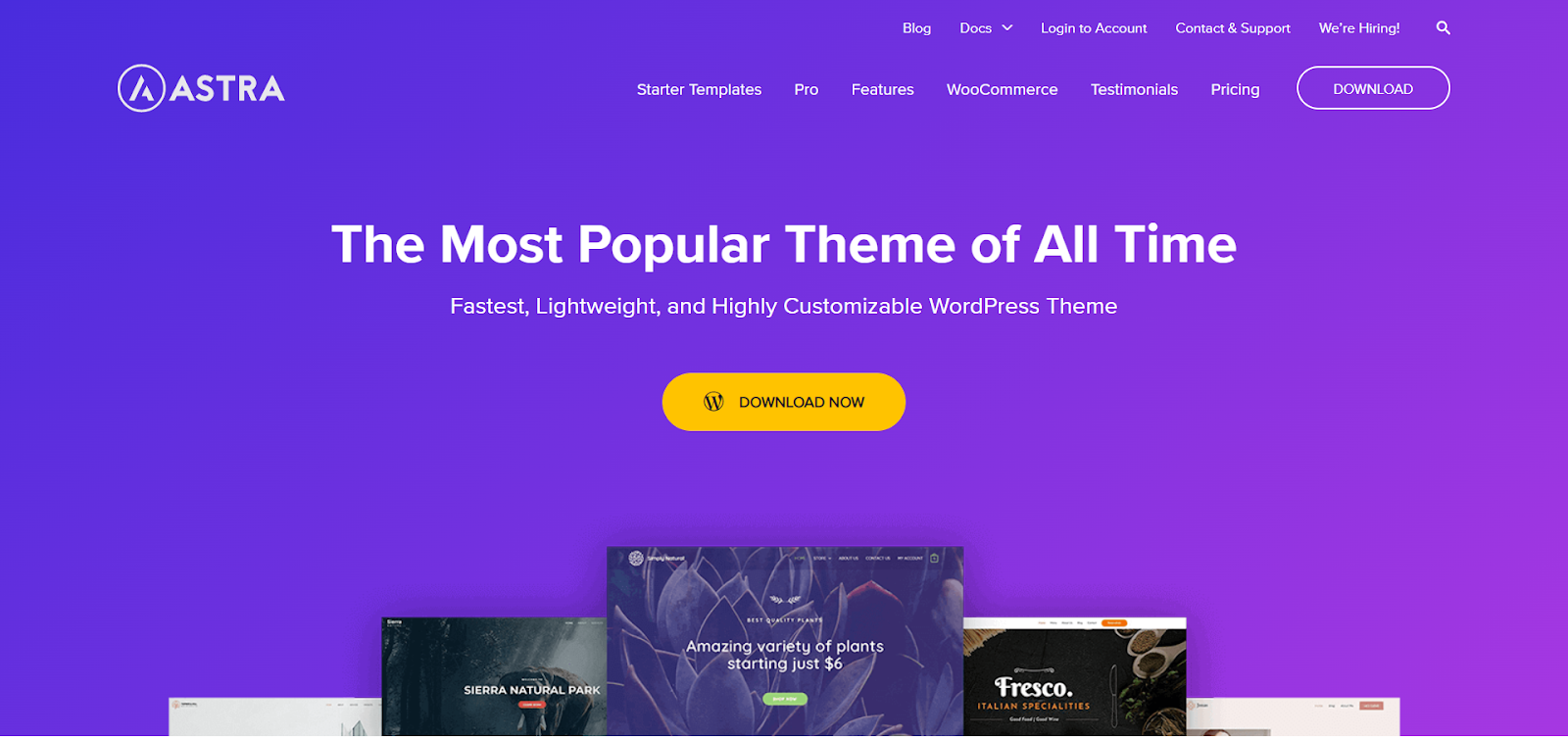 Astra is excellent for creating simple, customizable websites. It provides a lovely simplicity for both exhibiting information and for online goods sales.
Thanks to WooCommerce's built-in functionality, you can easily add an online store to your blog if necessary. Additionally, it may be used to create blogs in any language and is ready for translation.
Astra is a simple theme with a wide range of color possibilities. It includes all Google fonts by default. The WordPress live customizer has theme settings, including the ability to add a logo.
Unlike other free WordPress blog themes, Astra's extensive collection of pre-built websites makes it simple to pick the perfect appearance and feel for your blog site. A wonderful theme for bloggers looking to expand into e-commerce is Astra, in general. Although the theme is free, there is a premium version that costs between $49 and $219 annually.
Another theme with a two-column layout is Lovecraft. It should be obvious that it was created with bloggers in mind, given the literary name.
There is a left sidebar and a top navigation menu included. Additionally, it has unique widgets for the most recent articles and comments, so you may display the thumbnails for recent posts in your sidebar.
Your blog will be up and running quickly with this theme. Long articles and gorgeous photographs may be included because of its simple look. You would anticipate a premium version to be offered, given how basic it is. But Lovecraft comes with all of its features preinstalled.
Hemingway is a two-column layout that works well for blog websites. It is uncluttered and has a straightforward design that emphasizes your content above anything else.
It features page designs, supports custom widgets, enables you to submit your own logo, and more. Additionally, it is retina-ready, so it will display well on themes for high-end smartphones. It takes little time to set up each theme choice.
Simply because it is expandable for more complicated sites while remaining clean enough for small blogs, this theme is ideal for many sorts of blogging platforms. Hemingway does not have a premium version, in contrast to many of the themes on this list. It's a wonderful option for bloggers on a tight budget because of this.
Olsen Light is an astounding option if you're wanting to start a lifestyle blog (for categories like fashion or travel). The abundance of customization possibilities it offers, together with the integration of a number of included custom widgets, gives you practically everything you need to build your website.
A smart and well-designed website may be made with Olsen Light. Lifestyle blogs have previously been noted, but it's also a fantastic option for business blogs, including those that offer restaurant or product lists.
Nevertheless, you should purchase the $49.00 premium edition if you want frequent updates and premium assistance. For a theme like Olsen Light, this is relatively affordable pricing given the capabilities it offers.
Whether your blog is the major feature of your website or it coexists with your online store, Newspaper may give your WordPress pages a high-gloss finish. Newspaper can manage it all while enhancing the appeal of your content, visuals, and branding. This includes handling product evaluations, company pages, and specialty e-commerce in addition to news sites and interest blogs.
You may make crucial improvements to your site's load times and search engine optimization with its integrated performance analyzer. Even more, it evaluates the layout of your pages and assists in relocating CSS code to more appropriate locations, reducing the number of requests and the size of the main files needed to load your website. For $59, you can get a standard license for Newspaper 12.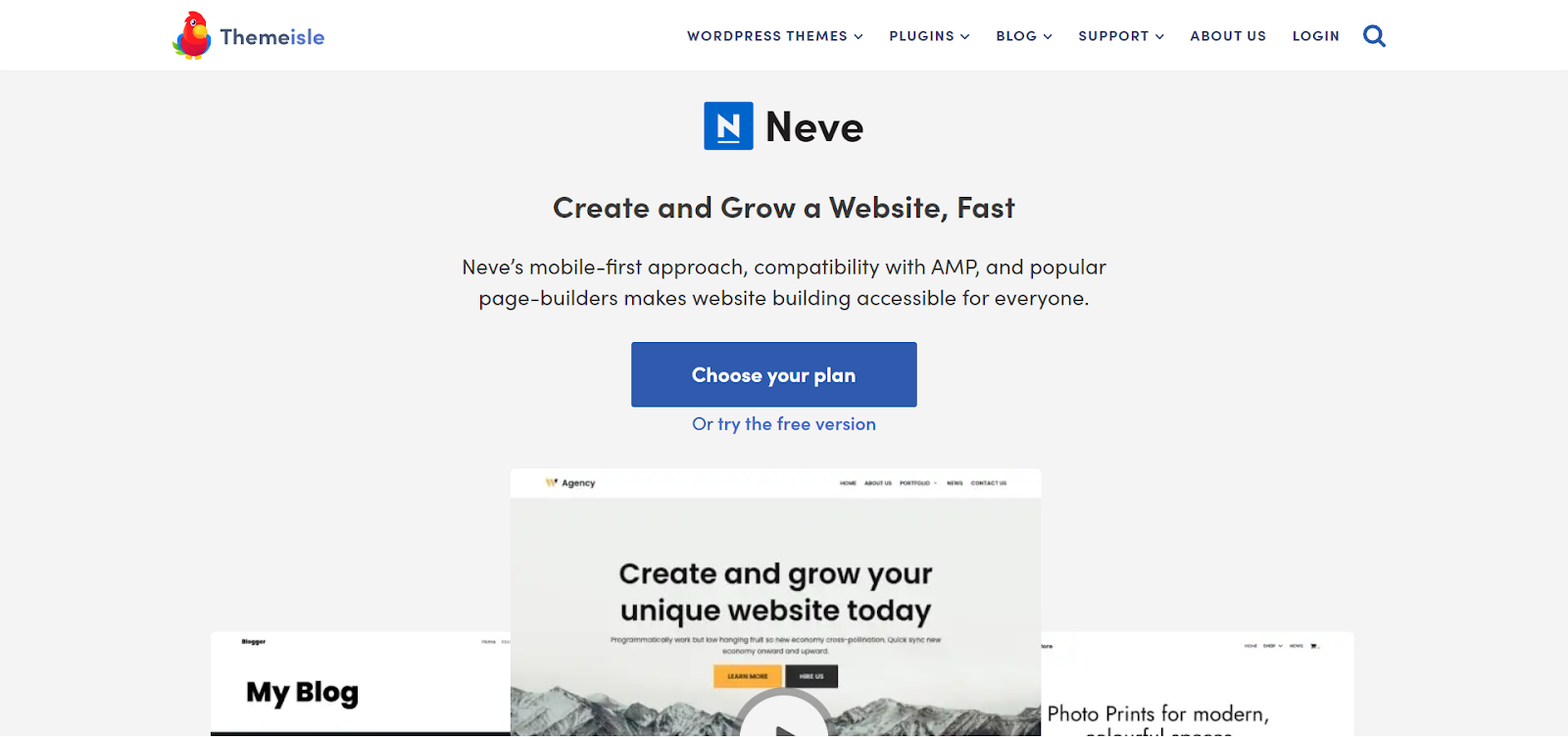 Neve is an easy-to-use starting theme for creating virtually any kind of website. It is really simple to adapt it to your own requirements and is extremely quick.
A search bar is located next to the top navigation menu. Additionally, a highlighted content slider and built-in social sharing buttons are available.
Additionally, it integrates with almost all the most well-liked page builders, so you may design the ideal website without worrying about knowing how to code. Additionally, its one-click example layouts enable quick setup and operation.
Neve is the greatest free blog theme if you want to customize your WordPress site to the letter. But if you're seeking extra features like personalized designs, premium starter websites, and priority support, you may purchase one of their plans ranging from $69 to $89 annually.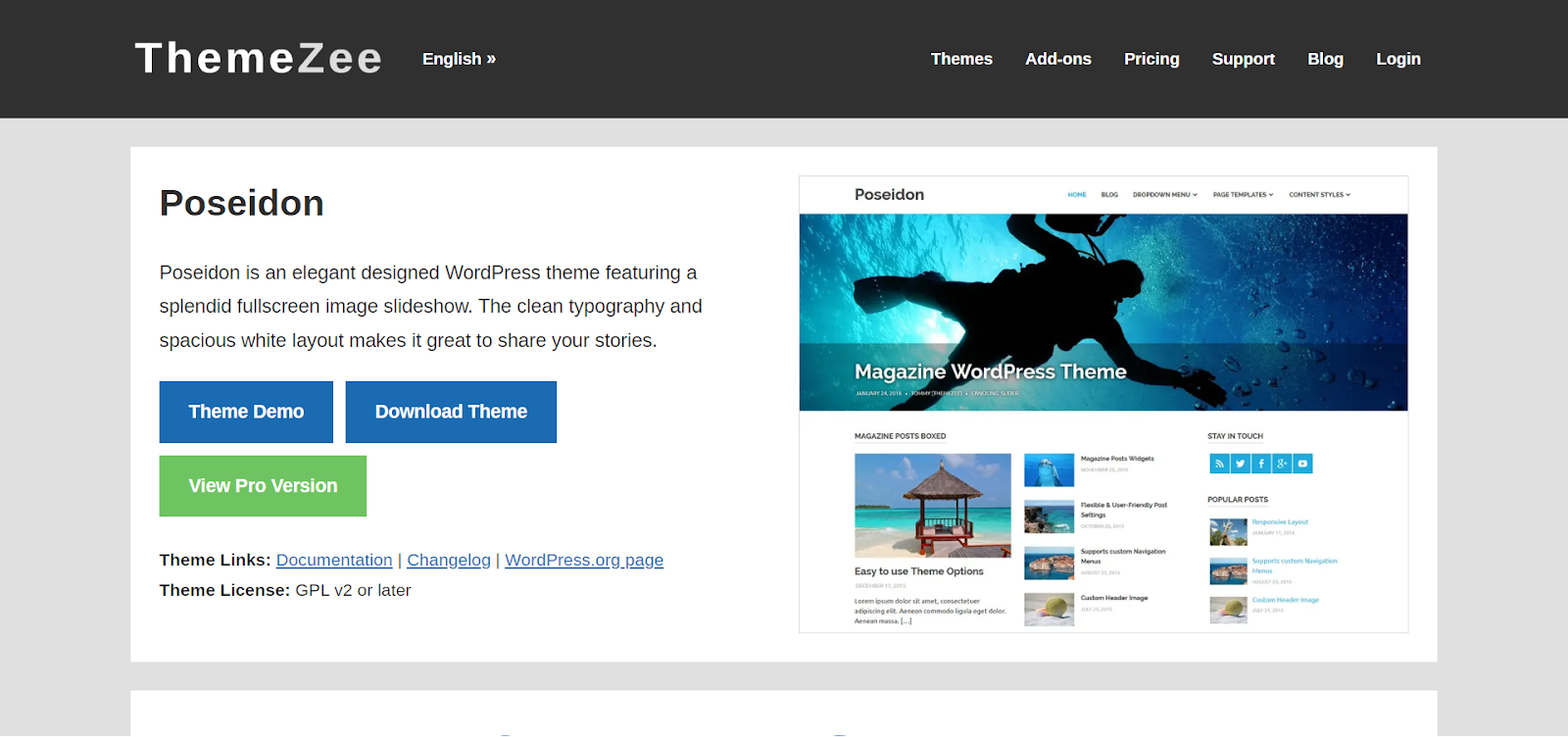 Poseidon is a theme that's almost made for showing your content, particularly if you also employ sharp, eye-catching images. It provides a full-screen picture carousel that is balanced with a lot of white space. Poseidon is perfect for blogs with a mix of text and graphics because of its inherent design.
It offers several page themes, a homepage layout, a full-width slider, and a roomy design. Utilizing widgets, the homepage layout is simple to configure. It's a fantastic theme for blogging and may also be used for a website in the magazine style.
The theme is free to use. However, a premium edition is also available for $72. The quantity of support needed and the number of websites has an impact on costs as well.
Kale is a LyraThemes food blog theme, its beautiful and slightly feminine aesthetic also works well for personal, fashion, and beauty blogs. The theme offers a variety of homepage layouts, so you can select from more traditional designs to contemporary hero section layouts.
The remainder of the theme can also be modified. You may select from a variety of blog page layouts, blog post layouts, menus, and sidebars in addition to color and font settings.
The theme comes with built-in recipe card capabilities, recipe index templates, support for adverts, and an integrated review system for food bloggers.
The premium edition of Kale, a free theme, may be obtained by paying a pitiful charge of $35.
Schema includes numerous homepage layouts that make use of landing page components like calls to action, features, testimonials, and more, departing from the traditional blog layout some of MyThemeShop's other blogging themes employ. Additionally, you may move these sections throughout the webpage as you see fit.
Additionally, there are several methods for you to modify this theme. There are many choices for color, font, and other design elements. Additionally, you may select from a variety of predefined layouts for headers, footers, and page designs.
Schema features social sharing buttons, AD support, and WooCommerce components built-in for marketing. Sadly, the theme does not have a recipe card feature or recipe index templates. However, this can be combated using plugins.
Conclusion
We really hope you liked going through our selection of the top WordPress blog themes. Whether it's e-commerce integration, superb typography, or portfolio support, each contributes a little something unique to the table. Whatever the case, any of these themes might be helpful when starting a new blog.
We also hope that by offering both free and premium options, you'll be able to discover something that fits your needs, your company's brand, the topic you've selected, and your budget.
Further Reading