Marketing an eCommerce store is not an easy job. In order to manage your store's growth expectations, you may have to ensure its visibility. Referral marketing and similar strategies could encourage your site visitors and existing customers to share your site, thereby enhancing its reach to new markets. In this review, we will take a detailed look at the Better Sharing plugin, which will help you incorporate improved sharing options for your eCommerce store.
Better Sharing Plugin: An overview
Better Sharing plugin is a comprehensive toolkit that will provide easy options for your customers to share your products and webpages. Users on your website will be able to easily copy specific pages to their clipboards and share. Or they can email it to a set of email ids effortlessly. The plugin also lets you preload messages into the social sharing buttons that will help customers choose one of their favorite social media platforms to share information.
Another interesting feature is the Contact Picker integration that will ensure a seamless sharing option for your users, as they can choose recipients from their preferred address book instead of manually entering each of them. The best part is that these features can be easily integrated with some of the popular WooCommerce sharing plugins as well. You can integrate the features of the Better Sharing plugin with Automate Woo Refer a Friend Add-on, WooCommerce Wishlists and Coupon Referral Program.
Feature Highlights
Here is a quick look at some of the standout features of this tool:
Provide more options to customers to share your website and products.
Easily personalize referral emails with data from customers' contacts.
Personalized referrals by customers will make your business more trustworthy for new customers.
Comprehensive analytics insights on your sharing workflow to enhance and optimize your sharing strategy.
Seamless integration with different platforms such as WordPress, Shopify, etc.
Easily integrate with popular WooCommerce marketing extensions and referral tools.
Options to create a custom integration if it is not already available.
Universal Contact Picker to embed your users' address book from different platforms such as Google, Outlook, Yahoo, etc.
Send transactional emails without hassles through Zapier integration.
Extensively customize the contact picker to match your brand's design elements.
Different themes, language packs, webhooks, etc., for ease of customization.
Can monitor third party integration in real time, and notifications will be sent for any issues with credentials.
Concierge services to help you procure third party API credentials.
Integration consulting to help you choose a suitable referral platform.
Expert custom service team to help you handle challenges.
How to set up the Better sharing plugin?
You can install the plugin just like you install any other WordPress plugin. If you are not familiar with the process of installing a plugin, please refer to our article – How to Install and Set Up a WordPress WooCommerce Plugin.
Once you install and activate the plugin, you will find an additional option in your WordPress admin panel for "Better Sharing".
The General Settings section offers an option to enter your CloudSponge credentials. If you want to activate the Universal Contact Picker option on your site, you need to enter the API key, which you will find from the CloudSponge account dashboard.
On this page, you can also enter your company name or website name, and also set the maximum number of emails allowed in one form submission.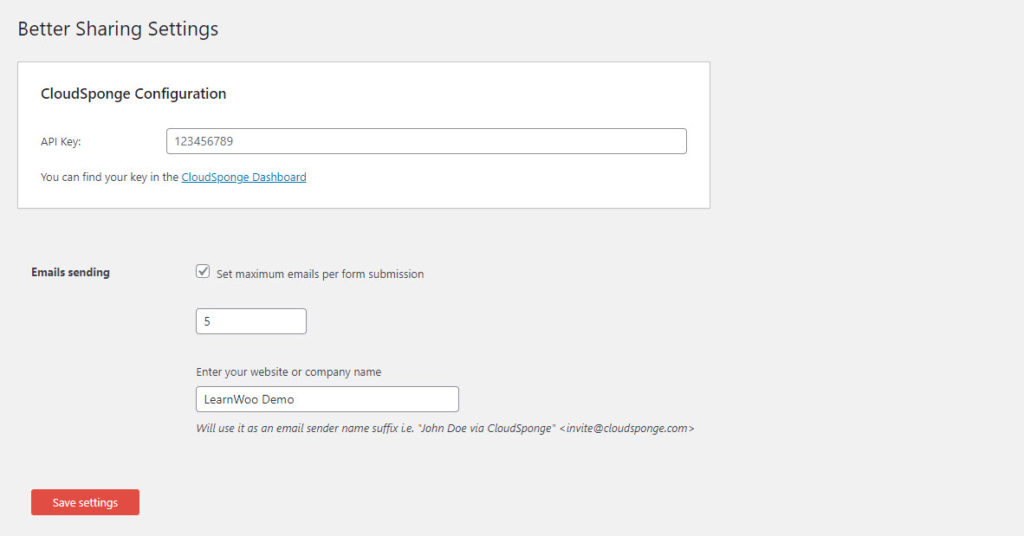 Creating email templates
You can create different email templates effortlessly using this plugin. Click the Add Email Template button to create a new template.
On the Email Template Edit page, you can add a name for the email, and customize Email Subject and Email Body. You can use different Template Variables to customize the Email body.
The USP of this template customization is the option to personalize the email body, and subject lines using imported contact information from the sender and recipient of the email. This personalization can directly impact and improve your referral email open rates.
UI Templates
With the help of the Better Sharing plugin, you will be able to create and customize UI templates to encourage your customers to share. Here you can choose to toggle any of the sharing channels on/off, and customize the social media buttons, referral links and email sharing options as per your requirements.
Once you customize the UI template, you can use the shortcode to display it anywhere on your site.
Here are some of the available customization options:
Interface Messaging:
Customize the Heading, Sub-heading for each channel on the sharing interface to match your brand's personality.
Referral Link:
Customize the main referral link to any combination of characters, of your choosing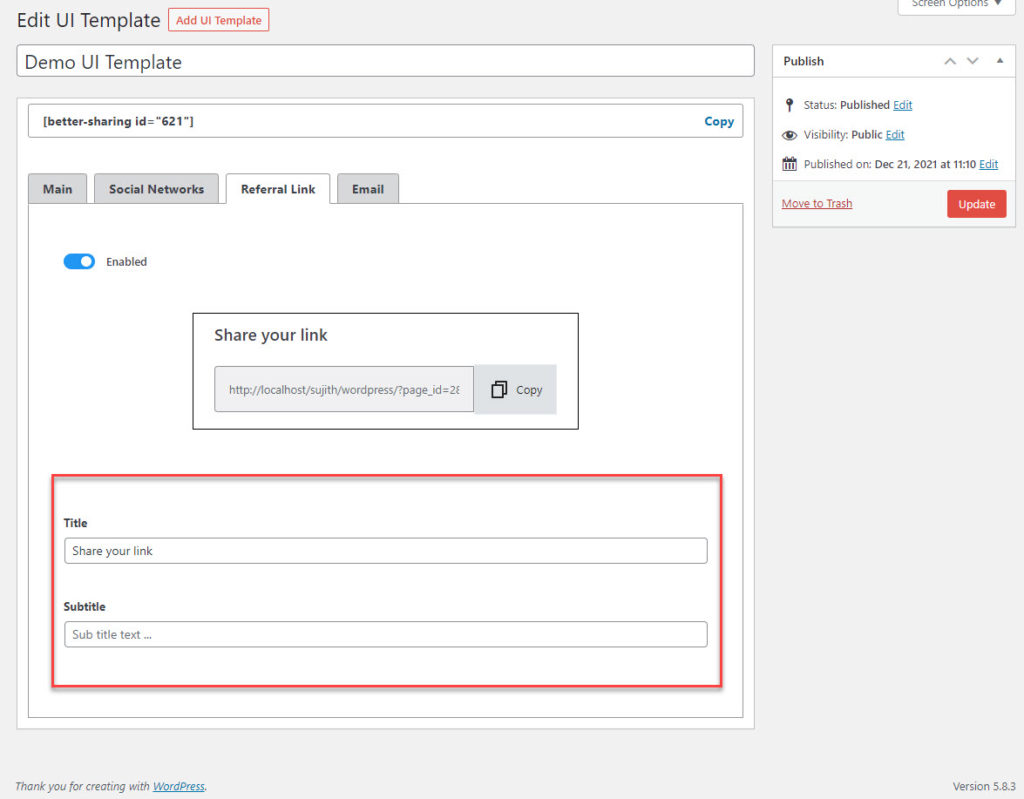 Social Media:
Choose to add in preloaded share messages on applicable social platforms.
Email:
Easily customize the out-going referral message, CTA, and placeholder text. You can also use pre-designed email templates to personalize your emails using contact information from the sender and recipients.
This is how the final interface looks on your website:
How to use the CloudSponge Contact Picker?
With the CloudSponge Contact Picker, you can let your users share their email contacts without any manual efforts. They can simply select to share with contacts already in their address book.
This will make the sharing experience seamless and will also ensure better email open rates for your referral emails since the contact picker can be set up to personalize emails using the contact info of the recipient and sender from the address books into the 'To', 'From', 'Subject', and 'Body' fields of an email. With the help of this extension, you can effortlessly integrate contacts from Google, Yahoo, Outlook, etc. Moreover, it offers great options to customize the user experience, thanks to JavaScript callbacks and web hooks.
Integrating the Contact Picker with the Better Sharing plugin is extremely easy as well. You have to register for a CloudSponge plan, and simply input the API key in the designated field under General settings of the Better Sharing plugin.
What do we think about Better Sharing Plugin?
Getting word-of-mouth publicity offers a great scope of growth for a business or eCommerce store. With the help of the Better Sharing plugin, you will be able to encourage your customers to share your website or product pages with their acquaintances. With the add-on, Contact Picker, you will be able to personalize your emails with sender and recipient details that will drastically improve the conversion rate of your referrals, as there is a personalized recommendation from the person who is sharing it. The plugin is straightforward to install and set up, and it is easy to customize the templates as well. For a website marketer or WooCommerce store owner, the Better Sharing™ plugin, and the CloudSponge Universal Contact Picker™ will be extremely helpful tools to grow their business.
We hope this review of Better Sharing plugin will help you enhance the visibility of your eCommerce store. Do not hesitate to leave us a comment if you have any queries or concerns.
Further reading