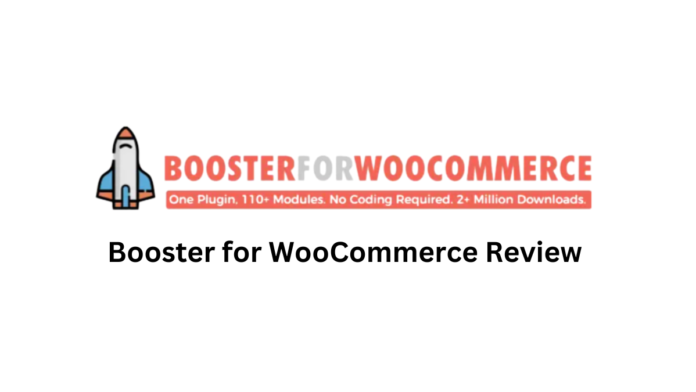 As a store owner, one should be aware that it's challenging to keep a profitable internet business if one oversees a large array of tasks. The Booster for WooCommerce plugin, which contains over 100 distinct modules, is one of the many plugins that are available to help you with the laborious procedure.
The website's loading performance will start to suffer if you continue to install multiple plugins. Using just the most essential plugins helps your eCommerce website function better and faster.
The Booster for WooCommerce plugin comes into action in such a way that it negates the need to have numerous other plugins on your WooCommerce store by handling all those tasks by itself.
We'll delve into the product and see how it might benefit your online store. Let's look at a few details regarding the WooCommerce plugin first.
Booster for WooCommerce: What is it?
The company behind the plugin is Booster.io, which was founded in 2014 and has gained immense popularity over the last couple of years.
Booster for WooCommerce adds a variety of features and improvements to the well-known eCommerce platform. While WooCommerce by itself is a highly effective platform, Booster elevates it by introducing capabilities that make it even more user-friendly and adaptable. Features like product modifications, automated shipping calculations, and automated tax calculations may all be added using Booster.
Additionally, you may add functions like automated stock management and product choices that make managing your inventory simpler. Additionally, Booster offers a variety of marketing options, like discounts and coupons, that may help you increase sales.
The following are the key aspects you should be aware of with this WordPress plugin:
More than 100 modules that can be independently engaged.
Tools for working with numerous currencies, as well as product pricing information.
Further control over the "add to cart" button, other buttons, and pricing labels.
Product handling adjustments, such as automatic SKU generation and many other things.
The ability to customize the shopping cart experience, including the ability to enable custom fields, deal with checkout costs, and add unique information to the checkout page.
Multiple choices for payment gateways, such as additional costs or discounts for particular gateways, as well as minimum and maximum amounts to activate or disable particular gateways.
Enhanced shipping and order processing features, such as a custom shipment calculation, the ability to configure shipping options according to cities, and delivery time estimates.
Overall, Booster is a very flexible plugin that may assist you in expanding your WooCommerce business.
The Modules
Since Booster for WooCommerce is entirely modular, you can only utilize it with the particular modules you choose to employ. Booster for WooCommerce categorizes the modules into 8 subgroups.
Prices & Currencies – This has 15 modules that may help you with a variety of tasks, including currency conversion, displaying several currencies for various items, and much more.
Button & Price Labels – The 5 modules under "Button & Price Labels" allow you to edit the wording on WooCommerce buttons or create new buttons and labels.
Products – 22 modules for products allow you to create new product kinds, set availability restrictions, add product input fields, and do a lot more.
Cart & Checkout – The 10 modules in this section allow you to modify the checkout process by adding additional details, fields, and more.
Payment Gateways – You may show numerous payment gateways based on different parameters using the 10 modules for payment gateways.
Shipping & Orders – You may create order minimums, add new delivery methods, customize addresses, and more using the 13 modules in the Shipping & Orders section.
PDF Invoicing & Packing Slips – Your store's functionality for PDF invoicing is added via this section, which consists of 1 module.
Emails & Misc – The 16 modules present in this section allow you to add URL discounts and modify mailings, among other things.
Pricing & Plans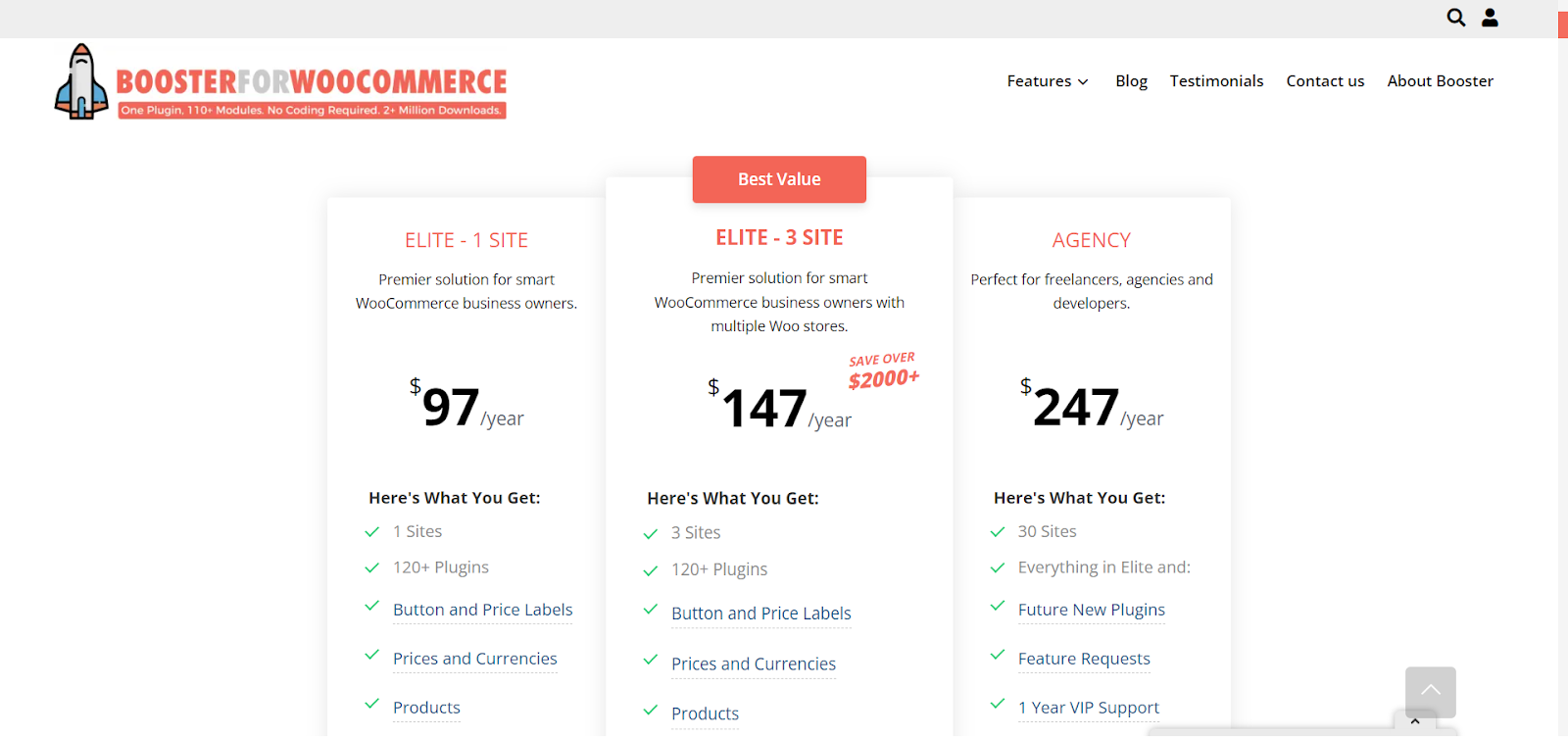 A free and paid version of Booster for WooCommerce is also available. Let's say you wish to access all the wonderful features mentioned in this Booster for WooCommerce review and make the most of this plugin (plus all the rest). In such a scenario, you may select from one of the following plans,
Elite -1 Site: This plan provides you with all the features listed above for the duration of 1 year and the allowance of 1 site for $97 annually.
Elite -3 Site: This plan provides you with all the features listed above for the duration of 1 year and the allowance of 3 sites for $147 annually.
Agency: This plan provides you with all the features listed in the Elite package along with any new plugins Booster.io releases and VIP support for the duration of 1 year and the allowance of 30 sites for $247 annually.
The main plugin may be tested out without cost, and a 30-day, no-questions-asked money-back guarantee is also available. This should enable you to determine whether this plugin can benefit you without incurring any unwanted costs.
Ease of Use
You must go to your WooCommerce dashboard from within your WordPress dashboard once you have installed and enabled the Booster for WooCommerce plugin on your website. From there, you can activate different Booster for WooCommerce modules.
Depending on your preferences, you can totally enable or disable a certain module. You ought should be able to access the module's settings after activating it and adding them to the WooCommerce product page. This isn't always the case, though, as it depends on the module. It's a good thing that the online documentation is outstanding, since it makes it easy to find what you're looking for.
Once you've located the settings and control panel for the modules you've activated, you can start fiddling with them. This plugin is ideal for individuals searching for a solution to totally modernize and revolutionize their online store, as well as those who want to quickly add a few important new features to their business.
Additionally, using Booster for WooCommerce allows you to work with only one plugin as opposed to a number of add-ons from various vendors. Code conflicts are hence less likely to occur.
Customer Service and Support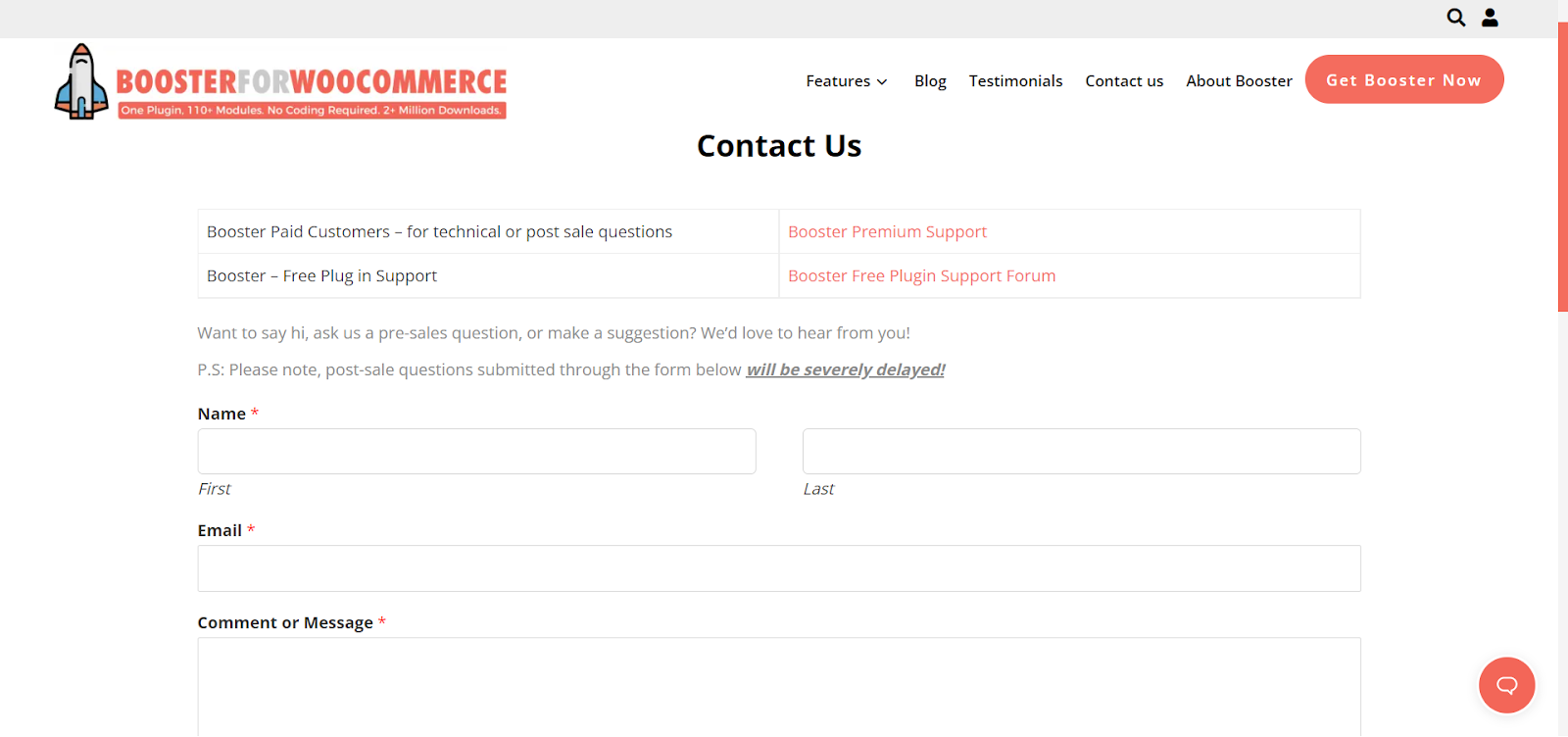 Many customer comments praise excellent service. They are renowned for providing timely answers to inquiries and expert support with any issues. One flaw in their assistance is the lack of live chat and 24-hour telephone customer service. However, this does not hinder support as their email support is on par.
They provide customer help forums with information on the majority of issues one can run across while using the plugin. By purchasing one of their premium plans, one may choose VIP support in addition to the standard help, which results in quick and priority service.
Plugin Booster for WordPress for WooCommerce is vulnerable to a security bypass flaw. If certain settings are enabled, exploiting this vulnerability can provide attackers access to functions that are otherwise blocked and then let them log in as any user.
Pros and Cons of Booster for WooCommerce
Booster for WooCommerce is a popular plugin, however, it might not be the best option for everyone. Consider these benefits and drawbacks before deciding whether to move forward or not.
Pros of the plugin
A full e-commerce shop solution is offered by the Booster for WooCommerce plugin.
Reduce the number of WooCommerce plugins that need to be installed by using the Booster.io plugin, which offers more than 120 plugins all in one.
The premium edition is reasonably priced and provides a wide range of features and plugins.
In terms of features, the free version of the plugin is quite comparable to the premium version and performs the same functions.
Cons of the plugin
Despite having a wide range of functionality, the plugin might not be the best choice for little features.
The extensive plugin library might negatively affect the server's performance.
There are presently no plugin demonstrations or tutorials accessible due to the overwhelming quantity of plugins that are available.
There are plenty of modules. Therefore, setting up these modules could take a while.
Conclusion
If you're looking for a one-stop shop to enhance your WooCommerce store, the Booster for WooCommerce plugin comes highly recommended. The plugin offers exceptional value for money and is not only feature-rich but also inexpensive. In addition, the creators of Boosters made sure that each of the more than 100 modules was thoroughly documented.
We hope that this post has given you a better understanding of the plugin, so you can decide whether it's right for your online store.
Further Reading