Last updated - August 2, 2022
WordPress is globally preferred as a content management system, and even users with no experience in web design and development has started to use it. Since WordPress is a self hosted content management system, you need to find hosting and domain name separately. Once you install WordPress, you still have a lot of different aspects to take care in order to build your site. In this article, we will discuss some of the basic steps required to build a WordPress website.
Easy Steps to Build a WordPress Website
Here is a quick look at the steps involved in building a WordPress website.
Sign up for a hosting service
Register a domain name
Install WordPress
Choose and install a theme
Add Content
Set up site navigation
Customize the site using plugins
Now, we will take a detailed look at each of these steps.
Sign up for a hosting service
As WordPress is a self hosted content management system, you have to sign up for a hosting service on your own. The hosting service you choose is a crucial aspect of your site as the site performance will be dependent on it. Based on the nature of your site, you can choose a suitable plan from one of the popular hosting service providers.
There are different types of hosting that you need to be aware of. These are shared, dedicated, managed, etc. Here is an article that discusses each of these options in
WordPress recommends a few hosting service providers as they offer the most optimized experience for your site. These options are Bluehost, DreamHost and SiteGround. In addition, you can also check out some of the other popular hosting service companies as well.
Choose and register a domain name
The next important aspect that you have to take care to build a WordPress website is choosing and registering a domain name. When you choose a domain name, it should be brandable, and easy to remember. You can use the name of some of the popular domain name generators to pick a suitable one. Once decided, you can register with a domain name registrar for a period of your choice.
Most hosting services offer free domain name registration for the first year. So, if you are choosing that option, you don't need to separately register the domain name.
Install WordPress
The next step after setting up a hosting service and domain name is to install WordPress. Now, this you can do manually, or rely on the options provided by the hosting service. Most popular hosting services offer one-click installation of WordPress. For each hosting service, the process might be slightly different, but you can find detailed instructions to manage it. If you need to manually install, you can refer to our article detailing the process of installing WordPress.
Choose and install a theme
Once you install WordPress, the next major part is the site design. WordPress handles site design with the help of numerous themes available for download. You will find a large number of free themes in the WordPress theme directory. In addition, you can find a lot of premium themes from third party developers as well.
Themes make it extremely easy to control the design of your site. On the WordPress admin panel, you can go to Appearance > Themes to activate or deactivate themes. From the settings option of the theme you are using, you will be able to make further customizations to your site design.
Most popular WordPress themes will be compatible with page builders, and lets you create web pages effortlessly. You can choose from some of the popular WordPress page builder plugins for effortless customization.
Setting up the site navigation
Now, you can set up the site navigation. This will determine how a user will be able to view your site from the frontend. WordPress provides two options for frontend display, you can either display all your latest posts, or show a static page. Depending on the nature of your site, you can decide on this. You will find the settings for this under Settings > Reading.
You can also add a site title and tagline. For this, go to Settings > General.
In the Appearance > Menus section, you can set up site navigation menus. You can first create a menu, and then add different pages to be displayed on the menu. Furthermore, you can easily rearrange the order of menu items.
Add content
The next step when you build a WordPress website is adding content. WordPress offers two content types – pages and posts. Generally, posts are time sensitive content, and will display the time of publication. Pages, on the other hand, represent static content, like your contact page, About us page, etc. You can create pages or posts by going to the respective section on the admin panel. For example, to create a post, you can go to Posts > Add New to get started. You can add a title, text content, multimedia content, assign categories and tags, and then publish the post.
Add more features to the site using plugins
WordPress is popular as a lightweight tool that offers only essential features. This is a great strategy as you will find an abundance of plugins that will help you add the features and the functionality that you envision for your site.
You can optimize the site for search engines, and also ensure better security with the help of plugins. In addition, you can add plugins to create forms, integrate analytics, and also for other aspects such as marketing and bookkeeping. One of the major areas that you can incorporate with your site is eCommerce. With the free WooCommerce plugin, you can transform your WordPress website into an eCommerce store easily. Once you start using WooCommerce as your eCommerce platform, you can further extend its features with the help of add-on plugins.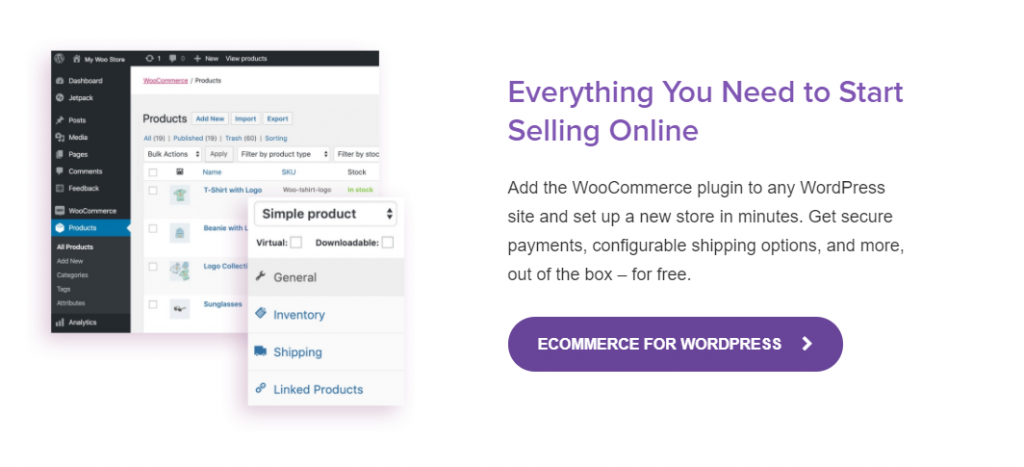 We hope this article has helped you understand how to easily build a WordPress website. Feel free to leave us a comment if you have any queries.
Further reading