When Jeff Bezos started Amazon, he had to work for hours to keep the system running due to the errors in code that would build up. Entrepreneurs at the beginning of the dotcom era had to deal with the aspects of coding when setting up an online marketplace.
But this has been made very easy with the help from WordPress technologies. What needed days can be done in minutes by simply clicking on the screen. Without writing a single line of code, WordPress has turned passionate entrepreneurs into millionaires simply by selling their products and services online via WordPress.
Today, we will show you how to create an online marketplace using Woocommerce without spending loads of money on your online marketplace.
Before we proceed further, it is a good idea to research the market by having a glance at the statistics.
What Makes Online Marketplace a Good Idea for This Time
People today rely on the internet for almost anything, entertainment, news, communication, education, and yes-for shopping. Ecommerce giants such as eBay and Alibaba still experience heavy profits for selling their products online. Moreover, previously online stores only sold physical products, but today, services and even digital products are also sold online.
Let the image below speak for itself.
As you can see from the above graph, the annual revenue for the top online marketplace is seen to steadily increase from 1997 to 2005. From 2005 onwards all of the online stores in the graph saw a continuous rise in their annual revenue
This proves that the number of online buyers rose with this as well. Statista predicts that consumers will spend almost a trillion online in 2023 in the U.S. alone. 
Remarkably, the giant online marketplace still allows you to start a business without having any products at all.  
Traditionally, a market place was always a place where buyers and sellers met in one place to bargain, to sell, negotiate and yes, to buy the goods. Today, buyers and sellers do all this online. Within a short period of time, deals can be over within minutes. 
For example, when Jeffry Star, an influential makeup artist on YouTube, announced his "Jawbreaker" pallet eyeshadow, it was all sold out within 5 minutes. His brand is known to literally cause the system to crash on shopify.com when new cosmetic releases are made.
Running an online marketplace is also very safe and secure. No need to make those long exhausting trips to the market to physically present and sell your products because thanks to the internet, you can expose your products online to thousands of users. Therefore, you have a higher chance of selling your products online.
How to Create Amazon-like Marketplace Using WooCommerce
As promised, we will show you how this is all done. This whole set-up is so easy that you can do this on your own. It will take around only 30-40 minutes to set up your very first online marketplace.
The Requirements for Starting an Online Marketplace using WordPress
A domain name (The name of your website, e.g freshstore.com)

Web hosting (With SSL Certificate)

A WooCommerce plugin (This is the basis for the online marketplace)

Dokan (This is a top Multi-vendor marketplace builder for Woocommerce.) 
Selecting the Right Domain and Hosting
Whether it is a website, blog or an e-commerce website, you have to buy a unique domain name and a web hosting from a respected service provider. This may cost around $30-$60 depending on what options you choose for storage and bandwidth.
You can buy a domain name and a web hosting from Bluehost or Namecheap, these 2 sites are very popular for providing the best deals.
Download WooCommerce for WordPress
Next, you need a suitable platform to set your online marketplace.
Yes, you've guessed it.
WordPress.
WordPress is the top CMS(content management system) platform to build any site. The WordPress platform lets you set up any kind of site, it is the only platform that Woocommerce will be able to function on.
So after you set your WordPress site, log in and click on "Add New" under Plugins.
Then in the search box type in the name "WooCommerce" and hit the Enter Key.
The WooCommerce plugin should appear. Now click on the "Activate" button and your WordPress site will take a few minutes to install.
Please have a look at the image down below to follow the steps.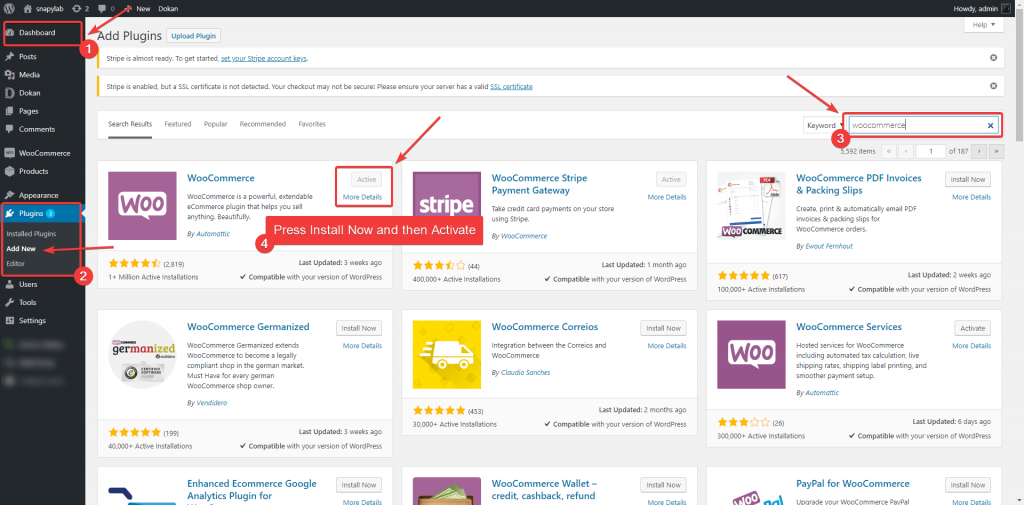 Now your online store is set to start trading. Nonetheless, there are still some more steps to follow.
DOKAN: A multi-vendor Online Marketplace Solution
WooCommerce lets you sell as a single user. 
Whereas Dokan lets you create an online marketplace where vendors or retailers can upload their products on YOUR e-commerce website.
With Dokan you don't need  heavy technological maintenance backed by experienced engineers. This multi vendor solution has no such hassle for you to worry about. You just click around to set-up your online marketplace. This is a plugin that gives anyone an opportunity to be an owner of an online vendor market-one that is controlled by you alone.
Sounds too good to be true?
If you would like to try out the Dokan plugin then you can try it out for 14-days with a refund policy. 
You do not have to create a new theme for your marketplace. It is compatible with almost all types of themes and plugins. The Dokan plugin also comes in with a lite version. Start-ups and small businesses will find this most beneficial since the lite version is free to use.
After installing and configuring the WordPress site with the Woocommerce plugin, login to your WordPress Dashboard with the credentials and go to Dashboard→Plugins. 
Search for the Dokan Plugin in the search box. You will see the plugin appear. Click to install and then activate the plugin.
A wizard will appear that will walk you through to configure Dokan Multivendor MarketPlace.
This video below shows the step-by-step Dokan installation process.
Setting Up Your Vendor Stores
You need to set the environment so your vendors can create their own stores and sell their products on your online marketplace. This is what sets Dokan apart from other e-commerce sites-it lets you create a multi-vendor marketplace.
So navigate to – WP Admin Dashboard → Settings → General and enable the Membership option to 'anyone can register'.
With this, your site is now ready for vendors to register on your site. There are no limits on the number of vendors on your site.
This is what the vendor registration will look like:
When a new vendor registers on your site, you go to: 
WP Admin Dashboard→Users.
Setting the Commission Rate
Dokan allows you to set the commission rate for each sale made by your vendors.
Just go to WP Admin Dashboard → Dokan → Settings → Selling Options → Admin Commission.
There are different categories of commission rates for all vendors and product categories.
The flat commission rate is for all vendors and product categories.
You set individual commission rates for different sellers or special categories.
Payment and Withdrawal for Vendors
Thanks to Woocommerce, there are several gateways such as Paypal, Stripe, Bank Transfer, and Cash on Delivery. So you will find the same facilities for Dokan except that it also includes Skrill and Wirecard by upgrading to Dokan Pro.
To withdraw an amount go to:
WP-Admin→Dokan→Settings→Withdraw Options→ Withdraw Methods
Then choose the desired withdrawal method for your vendors.
Next set the Minimum Amount, Order Status and Threshold for withdrawal.
If you are using Dokan Lite, you get all the basic facilities but Dokan Pro lets you use features such as variable product support, vendor management for vendors, frontend coupons, making announcements and more.
Dokan also lets you configure shipping settings. Your vendors can set shipping costs from their own dashboard. With Dokan Pro, vendors get access to 2 other shipping methods known as Zone Wise Shipping and Product Wise Shipping.
Dokan Vendors have their own Dashboard and Store View
Each and every vendor under your online marketplace will get a unique url for their individual shop. This includes their own front-end dashboards even in the free version. In the pro version, there are other useful extensions available.
A vendor's dashboard displays information such as Earnings, Pageview, Product Status, Sales and so on. Vendors can add and publish products from this very dashboard.
Vendors may need to view and make their own orders, this can be done from the dashboard as well. Withdrawal requests made by a vendor are allowed anytime if they meet the conditions that you have set in the settings.
Lastly, this is how the shop will look as shown below. Customization of shops and URL addresses made by vendors is allowed under Dokan.
If you need any help, please visit the documentation site of Dokan.
Compatible Themes for Dokan
The last step is to make the site visually appealing to customers and your vendors.  Dokan supports almost all themes provided by Woocommerce and ThemeForest. Check out these themes here. 
Please remember that all these themes are premium but you can Customise your marketplace with free themes too. This link has all the themes that are free to use. You can try Deep Theme, which is a multi-purpose theme.
In the image below, the Electro theme was used to set up the marketplace.
So choose a visually appealing market place and set a marketing strategy to market your business.
Last Thoughts
Setting up an online retail store with WordPress exposes your products and services online to a vast audience of millions of people. You could be exposed more if you own an Instagram account to promote your products. This increases the chances of your products being sold due to the very high number of users on Instagram.
Thanks to the WooCommerce platform, Dokan makes it possible to turn your online marketplace into a multi-vendor marketplace.
It currently has more than +30,000 active installations with 24/7 live support in case you need help with anything.
So if you want to start an online marketplace for a niche such as food then Dokan will enable you to bring different food companies or retailers to create an account on your website. So that they can host their food products on your platform. With Dokan you create your own marketplace with different vendors selling one or more types of niche goods as well.
Further reading