Every business needs a website in this digital age, including vacation rental owners. Having a website for your vacation rentals makes it easy to take direct bookings and creates online credibility for your brand. In this guide, we will walk you through the steps to building a vacation rental site and some tips to make your website stand out.
Let's go.
Benefits of Having a Vacation Rental Site
Here are some advantages of having a website as a vacation rental owner or manager:
Boosts Credibility
Every legitimate business needs a professional website to boost credibility. Having the website as a vacation rental owner, shows potential customers that you are a legitimate and trustworthy vacation rental company. Also, a website allows you to showcase your brand and rentals to potential customers.
Get Direct Bookings
Your website is your custom and branded platform that you can leverage to drive direct bookings without paying OTA fees. This is a great way to maximize revenue and provide a better customer experience. Guests can easily contact you, and you can gather repeat bookings.
Take Control of Your Marketing
Having a custom website gives you the freedom to take control of your marketing strategy. You can invest in SEO, create blog posts, add a review page and delve into other marketing strategies to improve your connection with the potential guests.
Step-by-Step Guide To Build Your Vacation Rental Website
Here are the steps to building a vacation rental website for your business:
Step 1: Think of a Brand Name and Create a Logo
If you already have a brand name, you can skip this step. In case you don't, put a lot of thought into what you want your brand name to be. Don't go for generic names or names that sound like a knock-off of another brand. You want something unique and memorable.
Also, you need a logo that represents and reflects what your brand offers. You can invest in getting a professional logo or take advantage of design tools to create one by yourself.
Step 2: Register Your Domain Name
Your domain name is going to be your website address. Ensure that you choose a domain name that is easy to remember and matches the original name of your vacation rental. Also, it would help if you researched to confirm that the domain name you want is still available. Once you have a domain name, register for it with a recognized vendor.
Step 3: Open An Account With a Hosting Provider
The next step is to get hosting services from a reputable hosting provider. WordPress is one of the most popular hosting services, but other hosting providers are also available.
Tip: Some hosting providers offer both domain names and hosting services, and this option can help you save some money.
Step 4: Choose a Website Builder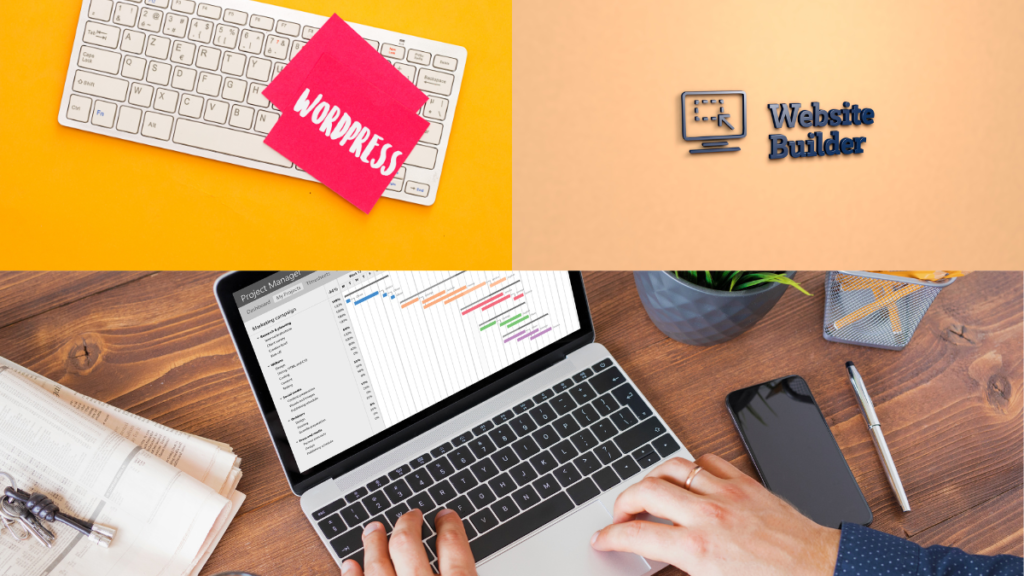 There are multiple options to build your website, and some of the most popular options include:
Property Management Software
A vacation rental booking software offers a website builder that lets the users create an out-of-the-box website with a direct booking engine. This website builder option requires no knowledge of tech or coding to create your website. Also, you can have access to a library of customizable templates and themes specifically designed for vacation rentals.
WordPress lets you customize your website the way you want. This reputable website builder comes with many plugins and templates you can pick from. WordPress can be a bit complicated if you are new to it, but there are tons of resources available online to guide you.
Drag and Drop Builder
Drag and drop website builder lets you create a website by dragging and dropping website templates of your choice. You can use a dedicated vacation rentals builder or general website builders.
Get Customized Website or Hire a Professional Developer
Another option is getting a customized website or hiring a professional website developer for your vacation rental. This is an excellent idea if you manage many rentals and require more sophisticated features. Although hiring a professional is more expensive, it is worth it.
Step 5: Launch Your Vacation Rental Website
Now that you're done, review your website to make additional changes and launch it when everything looks perfect. You can also add your website to platforms like Google My Business to help people find you easily.
Things To Note When Building A Vacation Rental Website
Here are some tips and features you need to consider when building a vacation rental website:
Embed a Booking Engine
A booking engine is a major part of your vacation rental website because that's how you accept online bookings without paying platform fees. Ensure that you use a website builder with a built-in booking engine that travelers can book through.
Focus on SEO
Search Engine Optimization or SEO is an umbrella term for techniques used to boost the visibility of your website on search engines (i.e., Google). Some SEO strategies include incorporating relevant keywords, making the website user-friendly, adding optimized images, using the right page title, and so on.
Prioritize User Friendliness
It's essential that your website is user-friendly if you want people to visit and stay on the website. When building a vacation rental website, give top priority to mobile-friendliness and minimum loading time.
A lot of people make bookings online, so ensure your website is optimized for mobile testing on multiple mobile devices. Also, ensure your website has a fast loading time to secure bookings. A good loading time for your website pages is 2 seconds.
Finally, invest in an attractive and sleek interface that will appeal to your target audience. A good idea is to download a beautiful vacation rental website template and incorporate it into your website.
Post High-Quality Pictures
One of the primary uses of your website is to showcase your vacation rentals, so it's important to post high-quality pictures if you want to impress visitors. Another vacation rental picture tip is to showcase your rentals from different angles. Also, ensure that the photos you upload are optimized for your website and mobile devices.
Provide a Comprehensive Portfolio
Asides from high-quality photographs, you will need comprehensive details about your vacation rentals to help visitors choose their next location. This includes a detailed property description, location, property type, rental rate, available dates, and more.
Include Key Pages
A good vacation rental website needs key pages like Contact Us, a Listing Page, and an About Us. You can also include other pages like FAQs, educational content, and testimonials.
Ensure Your Website Meets Security Standards
Another essential tip to keep in mind while creating a website is security. Secure your website with an SSL certificate, especially if you will be collecting personal and credit card information from guests. Making sure your website meets security standards will protect your guests' personal information and help visitors feel safe to use your website.
Don't Forget Terms and Conditions
Include Terms and Conditions on your website to help visitors with the information such as cancellation policies, final payment due, booking deposits, etc.
Bottom Line
Building a website is a great way to improve your business growth as a vacation rental owner. Ensure you pick the right website builder, add necessary pictures, and include quality pictures to increase the chances of booking. Also, incorporate necessary tips and marketing strategies to help your vacation rental website stand out from the competition.
Further reading