Last updated - February 24, 2020
Plugins make it much easier to manage a WordPress website or WooCommerce store. In the WordPress ecosystem, you will be able to find a suitable plugin for every functionality that you could imagine. However one of the challenges for a person not so familiar with WordPress would be to choose the best one from the numerous choices available. When you search the WordPress plugin repository, you will find a large number of options for each specific functionality. In addition, there are a lot of third party developers offering quality plugins. In this article, we will discuss some of the strategies you can adopt to choose a WordPress and WooCommerce premium plugin.
Be clear about your requirement before getting a plugin
There are a large number of plugins available in the WordPress ecosystem for a range of functionalities. Simply browsing through a list of plugins and choosing some of them that you think will help with your site management is definitely not the way to go. For example, if you search with the term 'marketing' on WooCommerce extensions store, a lot of options will be displayed with diverse options.
You should be familiar with your site and users, so that you can have a clear understanding of what additional feature is required. Now, when you have a clear idea of what additional feature or functionality you would like to see on your site, it is easier to choose a plugin. As a result, when you see a bunch of plugins doing a similar job, you can more readily identify the one you need.
Search for the plugin with the right keywords
Once you have a clear idea on the feature or functionality you want to integrate to your WordPress site, you can make a search for the plugin. WordPress plugin repository is one of the most popular places where you can find a range of free plugins. A lot of these plugins work in the freemium model with a premium version having advanced features. Finding the right free version from the plugin repository and then going to the premium version from there could be a strategy you could try.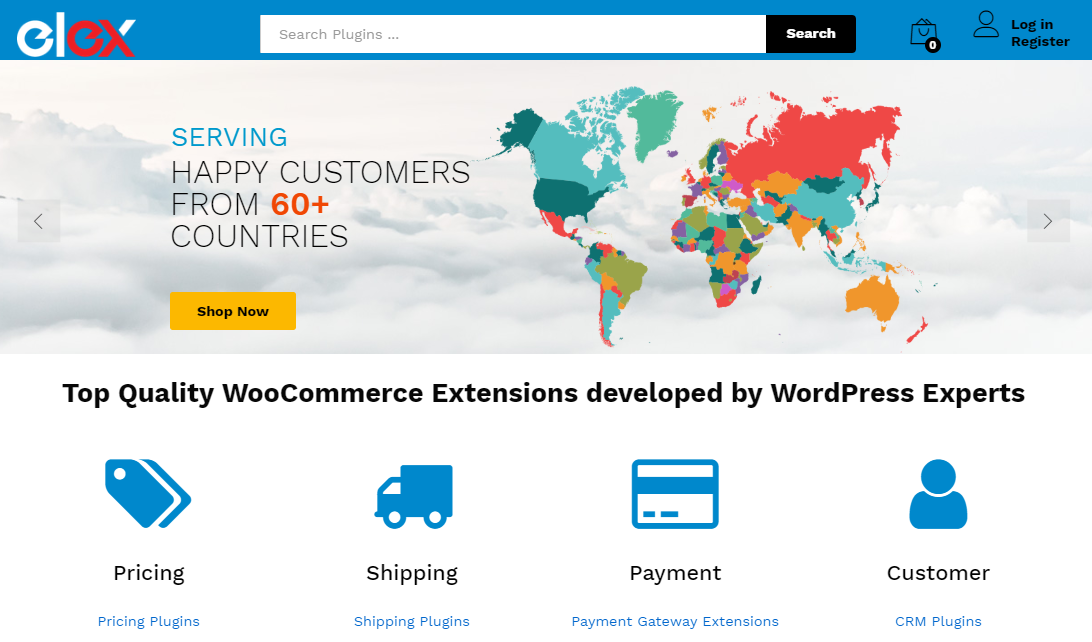 There are also great alternatives to WordPress plugin repository to find free and premium plugins. So it is a good idea to search on Google as well to make sure that you are not missing anything. Generally, the first page of Google results page will have some of the most popular options in a category. Combining searches on WordPress directory and Google searches will help you get a decent idea on what is available. If you are looking specifically for WooCommerce plugins, searching WooCommerce extensions store, YITH or ELEX sites might help you too.
Compare the plugins to find the best option for you
Now, if you have identified a few options based on your requirements, it is time to compare them and find the best of the lot. How will you do it? Let's discuss a few strategies
Ratings, Reviews and Updates on the repository
If you are looking at different plugins in the WordPress repository, there are several common strategies to compare them. You can open the respective plugin page and find information regarding the plugin's updates, ratings and reviews. On the top right you will see the last updated date of the plugin, followed by the number of active installs. If you are wondering how active installs are calculated, here is an article to help you out. You can also find which WordPress version it is compatible with.
Below these, you can also find the star ratings of the plugin. This is a clear indicator on how users are finding it to work with the plugin. Generally, more favorable reviews can be a positive sign. In addition, you will also find a Support section that indicates how support requests are handled by the plugin developer.
All these information could be pointers to the popularity and maintenance quality of a plugin. By analyzing these details, if you feel the plugin is a good option, you can go ahead and download it. Even websites selling premium plugins will mostly have ratings and reviews to help you understand the user responses. You can also check the support process on these sites, and probably have a pre-sale discussion with an agent before finalizing a purchase.
Check the quality of the documentation
A lot of plugins that you find in the WordPress ecosystem will be quite simple and intuitive to work with. However, you might still need the help of a detailed documentation to be absolutely sure about the working of the plugin. A good documentation should help you in installing and configuring the plugin on your site. It should also have pointers on how to achieve diverse use cases with the plugin. Most of the quality developers will provide detailed documentation and a knowledge base on their site.
Checking the screenshots on the plugin page also might be helpful in choosing the best one. By looking at the screenshots, you should be able to understand the backend settings and corresponding outcome on the frontend. You will also be able to understand whether the plugin's design and layout will fit into your theme's.
Understand the support process
When you choose a WordPress and WooCommerce premium plugin, you need to make sure that there are reliable support options. For the plugins to download from the WordPress plugin repository, you will find support primarily through WordPress support forums. This is a slow process and won't be the right approach if you are running a business. This is where premium plugins really standout from the free ones.
Most of the premium plugins that you purchase in the WordPress ecosystem comes with a limited period of support and updates. This will help you a lot in fixing any issues that you may face while using the plugin in quick time. Also, you will be able to get access to any updates made on the features of the plugin as well. So, it is important that you find out how the plugin developers handle support before you purchase it. As mentioned above, it is a great idea to have a pre-sale chat with the development team before making purchase. This will help you understand more about the support team as well as to have a clearer view on the return policy.
Compatibility with your theme and plugins
When you install a new plugin, it is very important that it works well with your theme and active plugins. A lot of plugin pages will have information about compatibility with themes and other popular plugins. If this is not available, it can be another good reason to initiate a pre-sale chat with the support team.
Even if you get ample information about the plugin's compatibility, experts suggest to not install a new plugin directly on a live website. You have to install it on a staging site that replicates your live site and look for possible conflicts. This will help you avoid any revenue loss in case of plugin conflicts. You can read more about how to deal with plugin conflicts in detail here.
Find time to read WordPress related articles to improve your knowledge
Now, this is going to help you in the long term rather than providing help to choose one at the moment. Generally, keeping yourself updated with the latest happenings in WordPress would help you a lot in making a choice. There are several websites and blogs that discuss the latest developments in the community as well as provide in-depth reviews on several tools. You can find some of the popular sites for WordPress related knowledge here. If you are more attuned to videos, do checkout some of the most popular YouTube channels on WordPress as well.
Blog articles and video tutorials can provide useful information on a variety of aspects on WordPress. This will equip you to make a decision when you are trying to choose one WordPress plugin over another. Moreover, when you are trying to pick a plugin, you can revisit these sites and check if a detailed review is available on that plugin as well.
Choose a WordPress and WooCommerce Premium Plugin Wisely
If you are managing a WordPress site, installing a plugin is kind of an inevitable aspect. For seasoned WordPress users, identifying a good WordPress plugin might be an easy task. However, for those who are new to the WordPress ecosystem, some getting used to can help. Hope this article has provided you some smart ways to choose a WordPress and WooCommerce premium plugin for your website or eCommerce store. Leave us a comment if you have a query or an experience to share in this regard.
Further reading