The cloud kitchen business model is designed to satisfy consumers' desire for hot and fresh meals by delivering food to their doorsteps. It's also known by the name of "ghost kitchen" or "virtual kitchen" because they do not have any physical access to the customers.
A virtual kitchen must have a complete online infrastructure that will enable customers to order and receive food right at their doorsteps. Are you looking for information on how to begin your own cloud kitchen business? Or are you unsure of which virtual kitchen model is the best one to go with? This blog will assist you with all the information you need.
Cloud kitchen, ghost kitchen, or dark kitchen are analogous words. They all share the exact aspect: meal production that is built exclusively for delivery and ordering of food with no dining-in space. Before deciding to get into this field, it is recommended to understand the business model.
This industry's global was worth $29.4 billion as of 2020. The market is predicted to be around $112.7 billion in 2030, and grow by 13% between 2021 and 2030. With the increasing demand for food delivery, virtual kitchens are growing in popularity even with traditionally physical food establishments and are adopting meal delivery concept without dining areas.
Table Of Content
An Overview of Cloud Kitchens

Benefits of Owning a Cloud Kitchen Business
Which Businesses can Incorporate the Virtual Kitchen Business Model?
History of Virtual Kitchens
Value of Virtual Kitchen to Customers

Different Types of Cloud Kitchen Business Models

Independent Cloud Kitchen
Cloud Multi-Brand Kitchen
Hybrid Cloud Kitchen
Collaboration Cloud Kitchen
Delivery App Owned by Cloud Kitchen
Full Outsourced Cloud Kitchen
Common or Commissary Cloud Kitchen Model
The Aggregator Model

Steps to Start Your Virtual Kitchen
Cost of Launch
Bottom Line
An Overview of Cloud Kitchens
Cloud kitchens are digital kitchens that prepare meals that are specifically designed for delivery. The concept functions as a restaurant in a virtual setting with no dining area. There are many more names that are associated with the cloud kitchen concept for example:
Virtual Kitchen
Ghost Kitchen
Shared Kitchen
Virtual Restaurant
Commissary Kitchens
Dark Kitchen
Shadow Kitchen
Benefits of Owning a Cloud Kitchen Business
This business model can be extremely beneficial and allows businesses to enjoy 30 percent growth in revenue. Let's look at the advantages of owning a virtual kitchen businesses:
Overhead costs/lower investment
Competitive Pricing
Manage and operate several brands efficiently
Kitchen shared by various companies
It's easy to establish an enterprise
More efficient
Menu flexibility
Scalable
It aids in building trust.
No matter how small or insignificant you would like to begin it is possible to quickly increase the size of your company easily. With the increasing popularity of cloud-based kitchens, it's the best option to go for the concept of a dark kitchen.
Which Businesses can Incorporate the Virtual Kitchen Business Model?
There are a variety of kinds of businesses that can consider having virtual kitchen. If you are one of the below, you can consider complementing your existing business with a virtual kitchen.
Catering business
Restaurants that offer delivery or takeaway
A meal kit or menu kit for businesses
Food truck business
Food vendors who sell food in packages
Food and beverage business that is home-based
Tiffin Service Business
There are many kinds of business models to begin your cloud business today in the highly competitive market.
History of Virtual Kitchens
The concept of ordering and delivery-only services isn't new. Seamless as well as Grubhub operate nearly 10 percent of their New York-based businesses from cloud kitchens since the year 2015. In the wake of the pandemic and lockdown outbreak eating habits of consumers have changed. A lot of people prefer food delivery online instead of eating out.
Additionally, the dine-in restaurant business was gaining a huge following due to outbreaks of disease, and the on-demand and ghost kitchen model witnessed a rise in popularity. Food delivery startups like Swiggy, UberEats, and Zomato have seen a dramatic increase in recent years.
It has also accelerated its expansion plans by incorporating ghost kitchens into its portfolio. This has also led to the rise virtual kitchens. At the present, most businesses manage multiple cloud kitchens to handle different food types from a remote the same location.
Value of Virtual Kitchen to Customers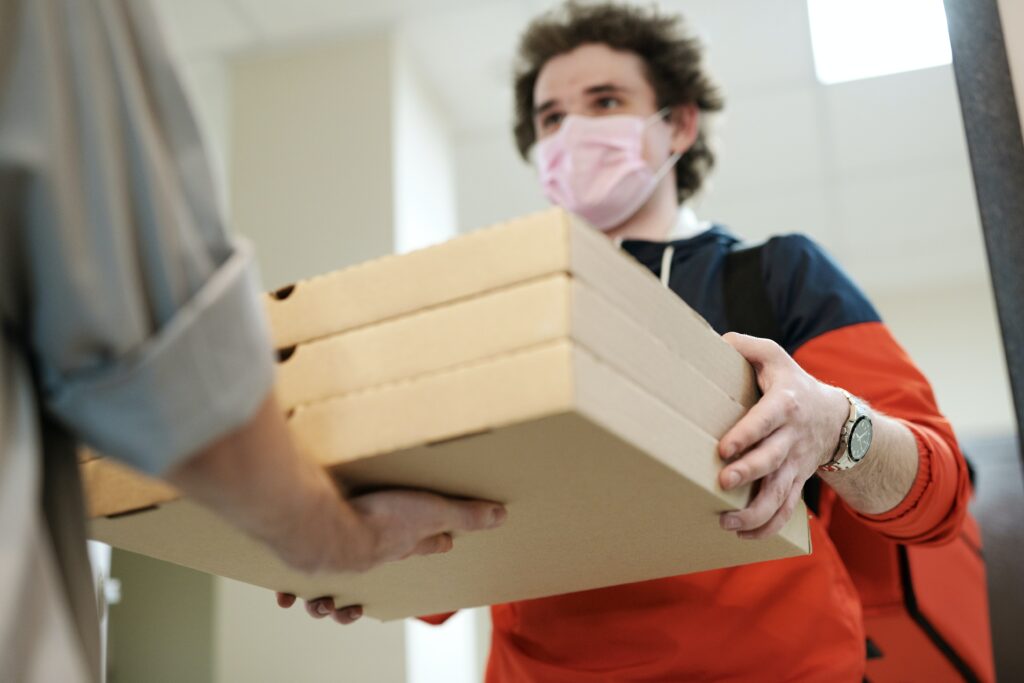 Gen Z and millennials are in a constant state of technology-based convenience. They want a wide variety of quality food options, but they aren't able to cook for themselves. They're prepared to pay higher service fees which are associated with dining-in choices.
Cloud kitchens are gaining attention. With an on-demand economy, they offer a reliable solution that can be tailored to the needs of the intended market. It offers great value to customers such as:
Customers are served meals in just a few clicks.
It's cheaper than dining-in alternatives.
There are a variety of dishes to pick from
The procedure is straightforward straightforward
Operational 24/7
Customers can make payments without hassles such as credit or debit cards, online banking, UPI, and more.
Cloud kitchens are aiming to capture a significant portion of young people and professionals who are eager to provide delicious meals that are delivered right directly to their homes. The cloud kitchen was designed to appeal to users who like to eat hot meals outside of their homes and rely in large part on apps from third parties for food delivery.
Different Types of Cloud Kitchen Business Models
Cloud Kitchens or ghost kitchens are gaining a lot in recent times. They have many advantages over traditional dine-in restaurant campaigns. There are many ways to run cloud kitchens.
It could be anything from delivery-only brands to restaurant kitchens that are operating a specially-designed commissary kitchen that houses various brands. Additionally, the primary reason for the popularity of the virtual kitchen is the ability to earn substantial profits through their business strategies. Let's examine various business models for cloud kitchens to discover the one that is the best.
Independent Cloud Kitchen
This type of model is ideal for those who don't wish to invest in a physical facility. Due to the increase in online delivery of meals, independent cloud kitchens have also grown quicker. It is a single company that cooks meals on online orders. Kitchens can focus on a specific cuisine in this model. It's a self-sufficient method of business for ordering orders and then delivering prepared meals.
Cloud Multi-Brand Kitchen
This model of business was first announced by Rebel in the year 2011. Cloud kitchens with multiple brands are complicated and use data to develop a business strategy. It's mostly dependent on an assessment of the trends in food within a specific area. Shared commercial kitchens are utilized to cook and prepare meals. It's an efficient method that generates profits while reducing operational expenses.
Hybrid Cloud Kitchen
A cloud kitchen that also functions as a takeaway restaurant are referred to as the hybrid cloud kitchen. It is an online kitchen but offers a restaurant where foodies can come to pick up their food items. The hybrid model makes use of one brand within one kitchen. It is equipped with multiple walk-in stores that provide delivery and takeaway service for food orders.
Collaboration Cloud Kitchen
Entrepreneurs earn their living renting out space to other business owners of cloud kitchens. The physical space is rented out to third-party brands. This serves as an incubator, or coworking area in cloud kitchens. The owner of the business is a landlord, not a business owner. In addition, the company provides utilities and equipment to make cloud kitchens functional.
Delivery App Owned by Cloud Kitchen
The business that offers an all-in-one app for delivery leases out kitchen space and assigns it to various new food brands. Food delivery apps handle the delivery fleet and online orders in addition to food delivery. The food brand and the delivery app are in a synergistic relationship within the cloud kitchen of delivery apps owned by the delivery apps delivery model. This model is employed by food aggregators such as UberEats.
Full Outsourced Cloud Kitchen
It's a new idea that consists of a completely off-sourced kitchen launched by Kitopi which is a food delivery service. Food preparation is shipped to the kitchen and then outsourced. The chef then adds the final touches, and the meal is delivered to the customer's doorstep.
Common or Commissary Cloud Kitchen Model
With this type of model, a variety of brands use commercial kitchen space available for lease. In the cloud model of shared or commissary kitchen model, multiple companies are under one roof. The cost is lower since the person shares the space in the lease in conjunction with other establishments rather than offering a whole space for rental.
Aggregator Model
If you would like to earn on a commission-based basis could look into an aggregator-based type of virtual kitchen. In this type of model, the owner of the business provides an internet-based food delivery service for cloud kitchens that allows them to take orders and efficiently manage delivery. The business owner does not own the kitchens, they simply take a charge of kitchen owners to sell food products on their platform.
You may have mastered the cloud kitchen business model well, so it is time to launch your own cloud kitchen business and earn money. If you're planning to open the darkest kitchen you've ever had, White Label Fox can help you to do the same.
Steps to Start Your Virtual Kitchen
There are some actions you must be aware of when thinking about beginning your dark kitchen, this includes:
Pick a location
Do not forget to obtain an authorization
Create your online cloud kitchen by partnering with the best tech partner
Find professionals to meet your company's requirements
Work with the most appropriate vendors
There's a lot more to think about when you are considering creating your ghost kitchen. make sure you follow the step-by-step procedure to avoid future headaches.
Cost of Launch
Initiating your virtual kitchen isn't an easy procedure. There are many things to consider and costs to pay for. The cost of establishing the cloud kitchen is contingent on many factors. They include:
You can pick the location
Cloud kitchen software for payment
Taxes and electricity
Technology and platform choices
Many factors affect the price of starting your ghost kitchen. An advantage in this business model is that you don't have to be a full-service restaurant for your delivery service. Just have a delivery app and begin offering your company service online.
Food companies are adopting the concept of a cloud kitchen because it helps them provide an amazing food experience to customers upon their request. It also allows establishments to gain customers from all over the world.
Bottom Line
Virtual kitchens have been disrupting the food industry as more and more people are shifting to ordering food online and having it delivered directly to their homes. However, some establishments hold an advantage due to their dining-in service; however, virtual kitchens are emerging as formidable rivals due to their range and ease of use.
Further Reading