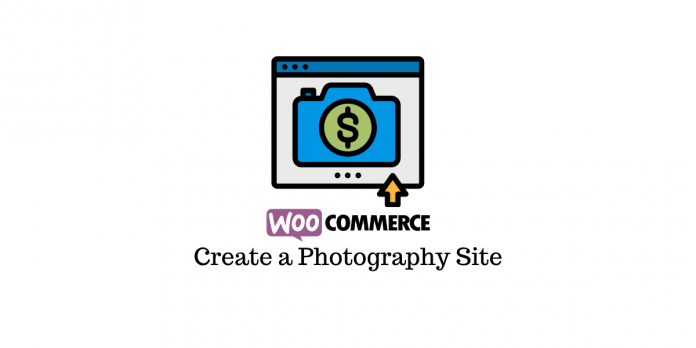 Last updated - March 21, 2022
If you are planning to sell photos online, WooCommerce will be a great platform to help you manage it. You will be able to create photo galleries and make the photos shoppable just like an other eCommerce product. Moreover, you will be able to restrict access to clients so that individual customers can access their own private gallery and choose photos. In this article, we will discuss all the aspects related to setting up a WooCommerce photography site.
Register your domain
To be able to create a WooCommerce photography site, one of the first steps would be to set up a WordPress site. As you probably know, WordPress.org is a self hosted, open source content management system. In order to create a site, you will have to register a domain name with one of the popular domain registrars. You need to choose a domain name that is easily recognizable by your clients. It could be the name of your business as well. Apart from the option of domain registrars, a lot of hosting services offer free domain registration for the first year. You can try out this option as well.
Sign up for a hosting service provider
One of the most important steps while creating a WordPress site would be to sign up for a hosting service provider. This is where your website will be saved. Depending on the size and scope of your site, your technical prowess, and the expected traffic, you can choose from different hosting options. There are different hosting options such as shared, dedicated, cloud and managed. For a new site, with low traffic expectations, shared hosting could be a cost effective option. However, you should ensure that the service offers easy options to scale the resources.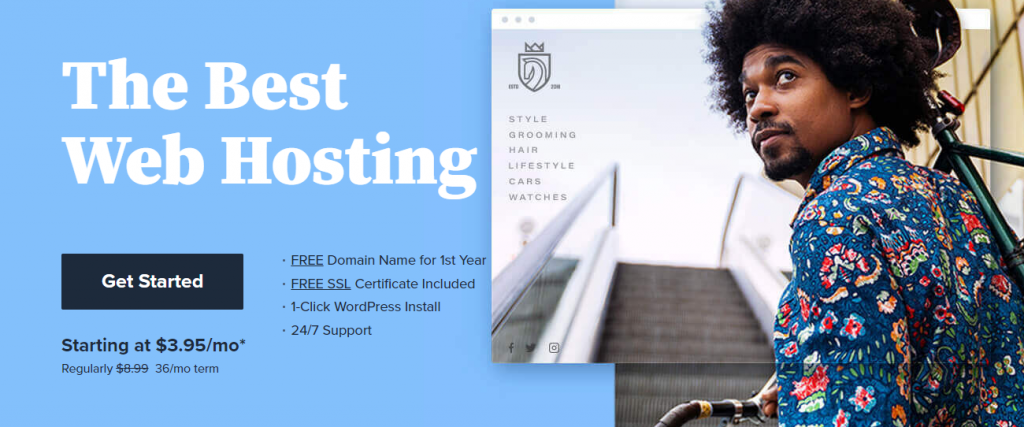 Install WordPress
Once you register your domain name and sign up for a hosting service, you will be able to install WordPress effortlessly. Most hosting services offer one-click WordPress install, and you can get started immediately. With managed hosting options for WooCommerce, it will be even better as there will be a team to help you get started. However, if you still want to install WordPress manually, you can manage it relatively easy through an FTP program as well.
Choose a theme
The design of a WordPress site is handled by themes, which are in essence a collection of template files that control the user interface. One of the main advantages of WordPress is that you will be able to find themes suitable for different industries. For a WooCommerce photography site, you will find a wide range of themes to choose from.
Install WooCommerce
Once you have set up a basic WordPress site, the process is pretty straightforward. WooCommerce is a free plugin for WordPress that will provide your site with eCommerce functionality. That means you will be able to add products with prices and other features, and your users will be able to purchase it by making a transaction. One of the main advantages of WooCommerce is that it allows selling different product types including digital downloads. If you want to sell prints of photographs or only digital downloads, you can easily manage both with WooCommerce.
Selling photos as WooCommerce products
Photographers would want to sell a collection of photos that are part of an event like a wedding, or sell individual photos as artworks. You can easily integrate additional features relevant to a photography website with the help of the WooCommerce Photography plugin. The plugin offers a great option to batch upload photographs and helps streamline the entire process of organizing and selling photos online. Customers will be able to browse through their collections and choose the photos they want to purchase. Here is how you can set up the plugin.
Step 1: Install and activate the plugin
You can install and activate the plugin just like you would for any other WordPress plugin. If you are completely new to WordPress and WooCommerce, please check our article with video – How to install and set up a WordPress WooCommerce plugin.
Step 2: Create Collections
To be able to sell photos online using this plugin, you will have to add the photos to collections. Collections are like categories that you can create separately. You can also create a collection while uploading photographs. Once the plugin is installed, you will be able to create Collections by going to Photography > Collections.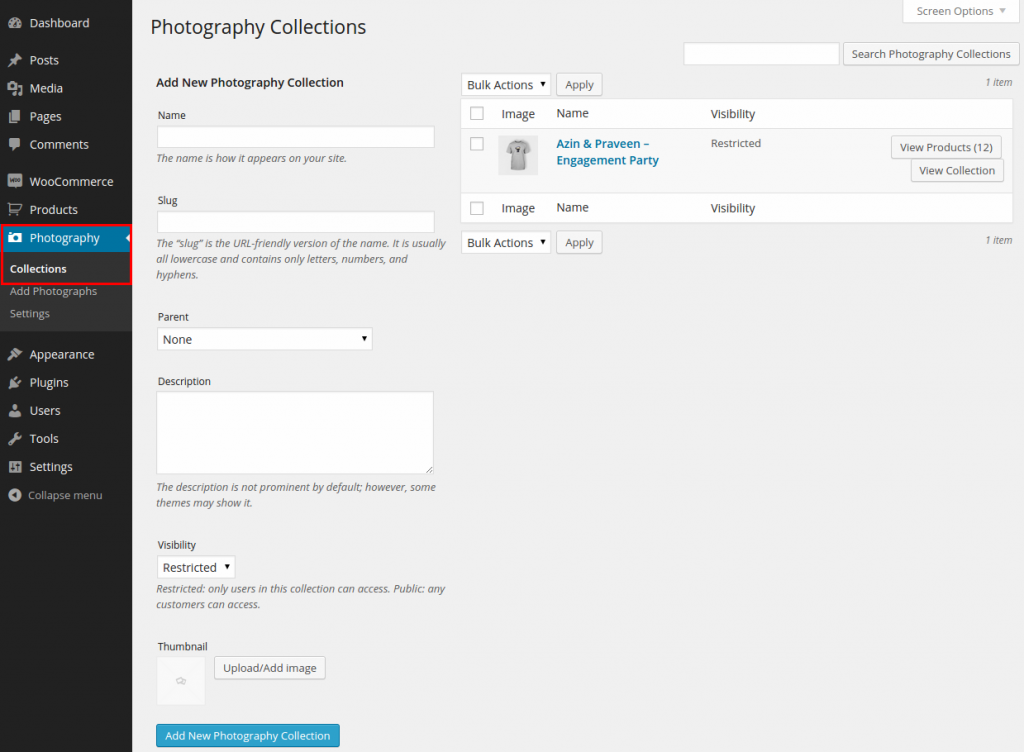 Creating a Collection is more or less similar to creating categories in WooCommerce. You need to enter a name, a slug and an optional description to the Collection. Here you can also add the new Collection to a parent collection, and upload a thumbnail image as well.
Now, one difference from WooCommerce categories is that you also need to specify the Visibility settings for each collection. In the settings, you will find two options to choose from – Public or Restricted. Any user on your site will be able to access the 'Public Collections'. Whereas, only users who are provided access in their user profiles will be able to view photos under a 'Restricted Collection'.
Step 3: Add photographs
The main advantage of this plugin is that you can bulk upload a collection of photos instead of individually uploading them. If you want to individually upload photos, you can add them using the default products settings for WooCommerce. Now, let's see how you can batch upload photographs using this plugin.
Go to Photography > Add Photographs.
Here you can add as many photos you want. You can specify an SKU Pattern, which will assign a unique identifier to your photos in a series. You can also assign a global price for photographs, which you can later change in the individual product settings if needed. Also, you have to assign the batch of photos to a collection. If you have not created any Collections before this step, or you want to create a new collection for the batch, you can manage it here as well.
Note: If there is a limit set to uploads by your hosting plan, it could impact the batch upload process. In case you are getting a timeout error while uploading images, you will have to contact your hosting service provider to increase the memory limit.
Step 4: Assign customers to collections
You can create user profiles for customers with the default WooCommerce settings. Go to Users > Add New to create a new customer profile. While creating a user profile for a customer, you can assign them to Collections. For example, if you have created a restricted collection specific to one customer, you can provide access to that customer through their user profile.
Now customers will be able to view the collections they have access to in their respective My Account section.
Customers will be able to easily select photos and add them to Cart for purchase.
Alternative option to create a WooCommerce Photography site
The above-mentioned plugin is an easy way to set up a WooCommerce photography website. However, you can try out an alternate approach with two plugins – WooCommerce Product Table and WooCommerce Protected Categories.
Here are the steps you need to follow to set up a WooCommerce photography site using these plugins.
Step1: Add photos as WooCommerce products
You can add photos one by one as WooCommerce products. You need to mark them as Downloadable in the Product Data meta box. Also, you can create variable products with different resolutions of the same image as variations.
If you want to bulk upload, you can either use an FTP program to upload images, and then a WooCommerce product import plugin to upload them as WooCommerce products. Or, you can use the Feed Them Gallery Plugin to manage this more easily.
Step 2: Display photos in table form
With the WooCommerce Product Table plugin, you will be able to display larger images, and add more details to each image. Moreover, your customers will be able to add multiple photos to the Cart in bulk rather than adding individual ones.
Step 3: Create client-specific areas
Using the WooCommerce Protected Categories plugin, you can password protect the images by specifying different passwords for different categories. This means that users won't have to create a WordPress account to access the photos. Also, they will be redirected to the right category based on the password they enter.
Additional features
You can add a bunch of additional features to your WooCommerce site for security and better customer experience.
Watermark to protect photos
When you are selling images in a WooCommerce photography site, image theft could be a concern for you. You can use the Watermark Pro for WooCommerce plugin to protect images that you sell. It will help you add custom watermarks to your product images in five different positions. You will be also able to customize the size, color, width, opacity, etc., of the watermark. Moreover, you can set the plugin to automatically add watermarks to any image that you upload to your site. Also, you will be able to easily remove the watermark without affecting the quality of the original photo.

Quick view
A quick view window will be a user-friendly way to present more product details to your customers. WooCommerce Quick View Pro is a popular option for your photography site, especially if you are using the options with WooCommerce product table plugin. It will help you include multiple images in a product gallery lightbox.
Image optimization
Since a WooCommerce photography site has to display high quality images to keep customers interested, it could lead to site performance issues. If your images are of large file size, it may lead to increased loading times and reduced user experience. To avoid this, you can use an image optimization tool such as Optimole. It has options for automatic image optimization, and lazy loading to improve the user experience. Moreover, it uses an image CDN and serve images according to the user's viewport.
Best Plugins for a WooCommerce Photography Site
Now, we will quickly look at some of the best plugins that you can use for a WooCommerce photography site.
This plugin will help you create attractive photo and video galleries in your site in quick time. It ensures that your site is fast and is optimized for search engines with features like meta data, deep links and pagination. Furthermore, it offers seamless integration with WooCommerce so that you can sell your photos, and also supports social media sharing and watermark protection. also, you will find a large number of templates, and the plugin itself is quite flexible to code-level customization.
You will be able to quickly create image and video sliders using this plugin. It is responsive, and will work seamlessly on all devices including desktops, tablets and mobiles. The plugin lets you create dynamic sliders using your blog posts, testimonials, social media images, etc. Moreover, there are several templates that you can use to easily customize the user interface on your site. Another interesting feature of the plugin is that it allows slideshow display in a lightbox. You can effectively use this plugin on your photography store as it seamlessly integrates with WooCommerce.
This is a unique plugin that will enable you to sell photographs on your WordPress site without WooCommerce. You will be able to sell photos and prints effortlessly using this plugin. You can customize the layout of the store in a variety of ways, and the plugin is compatible with any WordPress theme you may be using. The plugin also lets you integrate payment gateways seamlessly and also with other marketing tools like MailChimp. And with the help of extensions, you will be able to sell membership plans, prints, and also can backup to Amazon Cloud.
This is a great plugin that will help you enhance the appearance of your image galleries significantly. It offers four different layouts that you can use to display images in your WooCommerce photography site. Once you have configured galleries, you can easily convert them into WooCommerce products as well. In fact, you can even create individual photos into WooCommerce products if that suits your business model. The plugin lets you upload unlimited images to each gallery. Furthermore, it also offers image protection features such as watermark options and disable right clicks.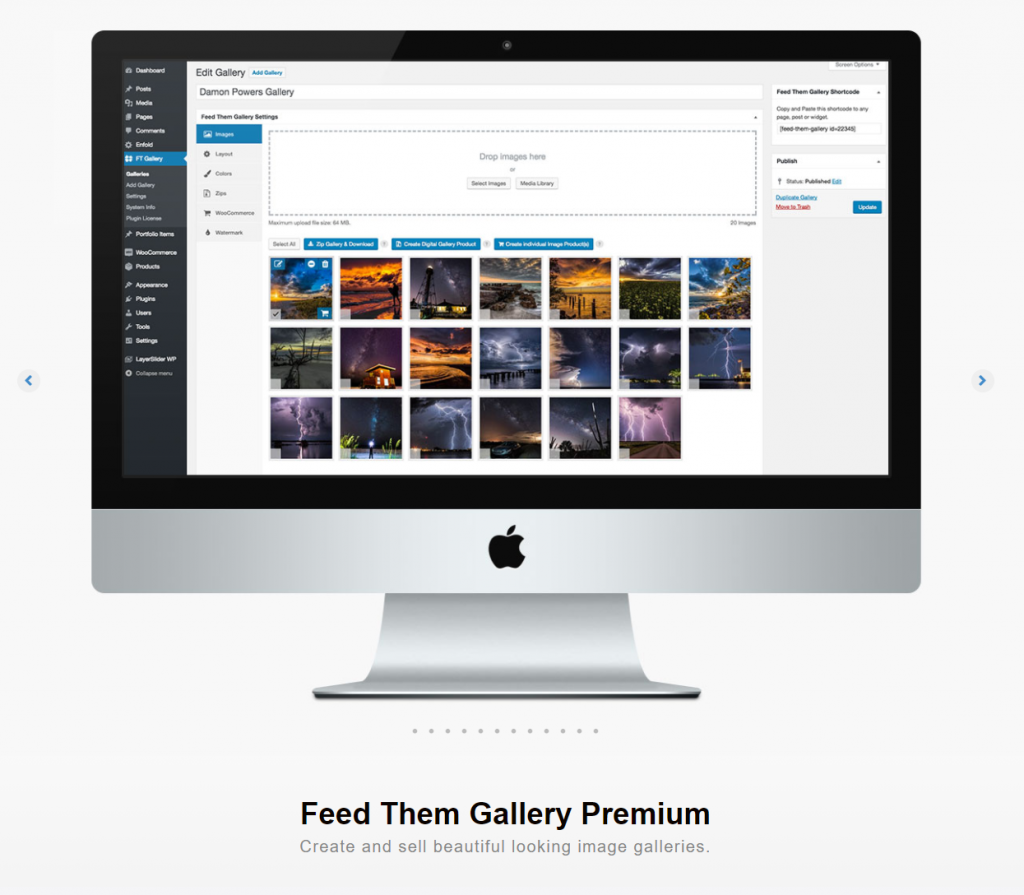 This is one of the most popular options in the WordPress plugin repository to create image galleries. You will be able to batch upload photos effortlessly, which will be a feature that most photographers will be looking out for. There are three different layout styles available, which can be further customized with interesting styles and effects. With the pro version of the plugin, you will get better support for your eCommerce store as well.
Hopefully, this article has provided you with an easy option to create a WooCommerce photography site. Leave us a comment if you have any queries.
Further reading