Popular web host Hostinger has a strong foundation for launching websites. From novices to big businesses, they provide a range of shared hosting solutions. Their plans come with a ton of helpful features, and their rates are reasonable.
Hostinger is renowned for its inexpensive prices and quick page loads. They are ideal for straightforward websites since they offer economy without sacrificing quality. As your business expands, you may upgrade to a more robust plan without changing hosts.
Additionally, you may get started without having any prior experience with web programming. It is one of the simplest web hosting alternatives available in the market.
What is Hostinger
Although Hostinger was established in 2011, its history dates back to 2004. The people behind Hostinger started out as a little web hosting business in Kaunas, Lithuania, and have since created a number of web hosting companies.
They were able to leverage this experience to develop the technology and knowledge they today employ at Hostinger.com. They are one of the fastest-growing web hosting businesses today, with over 24 million customers and registering more than 15,000 new subscribers every day.
Hosting Plans & Features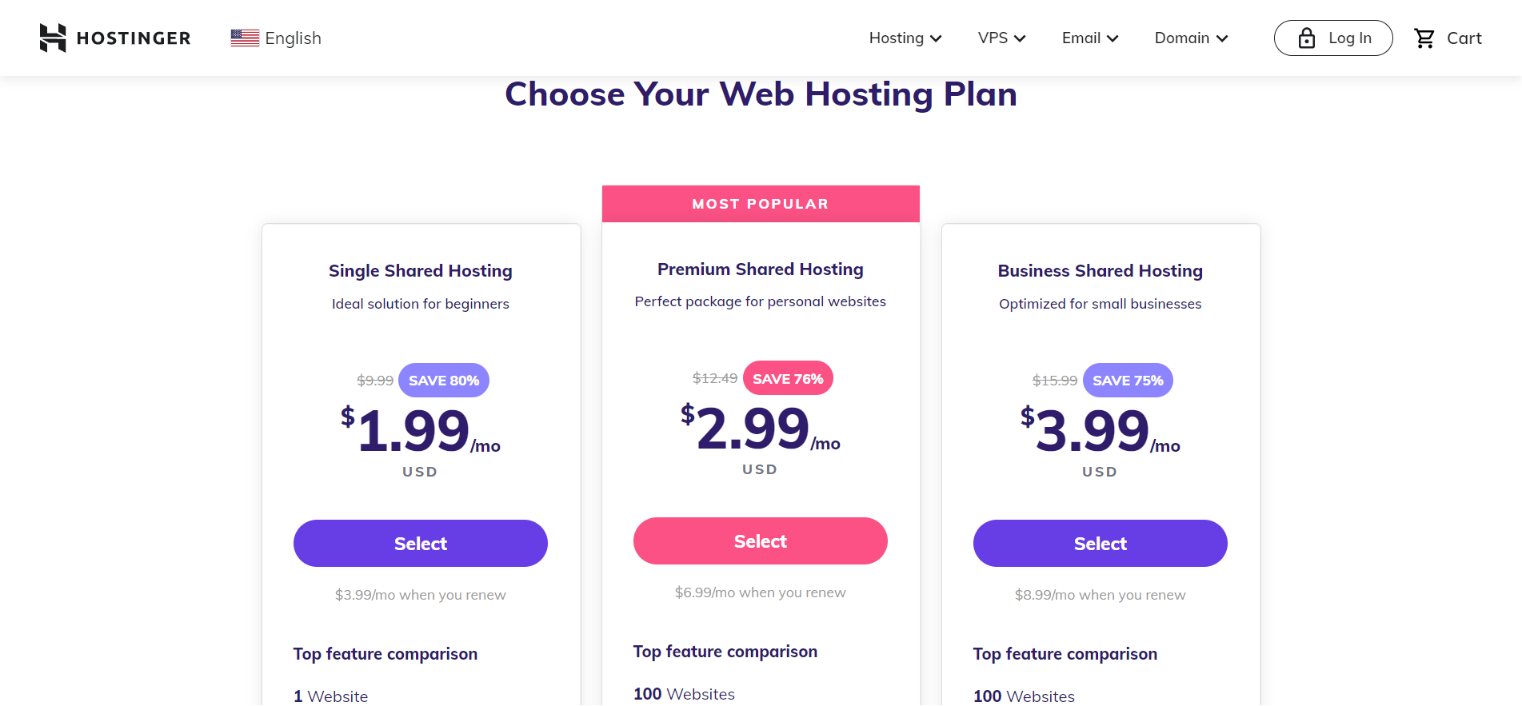 Hostinger offers a variety of hosting plans with different features. This covers cloud hosting, VPS hosting, shared hosting, eCommerce hosting, Zyro website builder, and other types of hosting.
However, shared hosting plans are their primary product. Let's look at these packages that Hostinger is offering.
Three levels of shared hosting are offered by Hostinger. Disk space, bandwidth, and the number of websites you may install vary across all tiers.
Single: The single shared hosting plan offers 30 GB SSD storage, 1 website, 1 email account, and up to 100,000 monthly visitors. There is no unlimited bandwidth or free domain name included in this service.
Premium: You may add up to 100 websites, 100 email accounts, 100 GB of SSD storage, and about 25000 monthly visitors with the Premium plan. It offers complimentary SSL, email, and other services for the first year.
Business: This plan comes with 100 websites, 200 GB SSD storage, and around 100,000 monthly visitors, making it appropriate for small business websites. Free domain names, SSL, email, and all other typical services are included.
One website, one email account, two MySQL databases, and no limitless bandwidth are all that the single package offers.
In addition to shared plans, they also provide Hostinger cloud, a cloud hosting plan for bigger websites, and VPS hosting, which comes with dedicated resources like CPU cores, SSD storage, and RAM.
A variety of applications and cutting-edge tools are included with Hostinger's premium shared hosting. Cache optimization, drag-and-drop file management, the PHP manager, and security features are all included.
A 30-day money-back guarantee and a 99.9% uptime guarantee are provided by Hostinger. This implies that you may terminate your account for any reason and receive a full refund of your hosting payments within the first 30 days of joining up. Domain registration costs are not included in the refund, and you get to retain your domain.
Customer Service and Support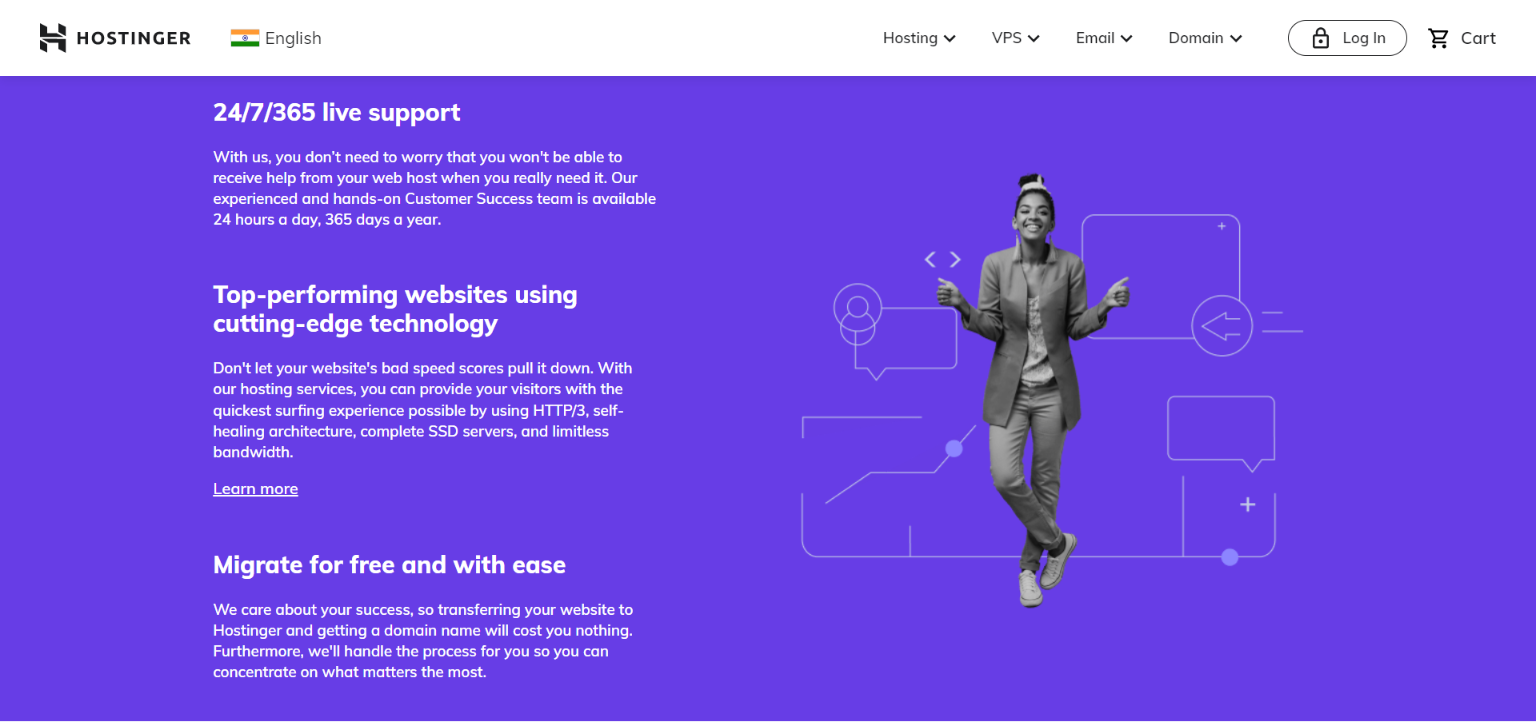 Hostinger offers live chat customer service around-the-clock. They don't currently provide phone support. Their technical support staff is knowledgeable and ready to assist as required.
Customers from across the world can get help from their customer success team in English. However, if you bought your hosting through one of their regional websites, you also have the choice of receiving customer assistance in that regional tongue.
Their customer service representatives impressed us with their quick response times and responsiveness. Other user evaluations have mentioned positive consumer interactions with the support staff.
In addition, to live chat, Hostinger offers a comprehensive knowledge library with in-depth, step-by-step videos that address the most typical client questions.
Ease of Use
Hostinger chooses to use its own hPanel platform rather than providing its shared hosting customers using cPanel. Users are wary of custom control panels, possibly because most of them are incredibly inadequate, however, hPanel is a rare exception.
It has a similar appearance to cPanel, for example, with server information (location and IP address) on a sidebar and vibrant icons for specific services arranged into categories with logical names, such as Domains, Emails, Files, WordPress, and so forth.
Even inexperienced users can access the majority of functionalities. For example, when you create an email account, all that is required of you is a password. However, a sidebar has more sophisticated features, including the ability to import current emails and set up SPF and DKIM records to authenticate emails and prevent phishing in a click or two.
Custom control panels are still bad news for hosting specialists, since all of their cPanel knowledge is useless, and they still have to navigate the menus and choices like everyone else.
However, overall, hPanel delivers a nice balance of strength and usability, and the platform gives everything you need to swiftly launch your website.
Uptime Guarantee
The monthly uptime guarantee for Hostinger is 99.9%, which is comparable to that of many other low-cost hostings.
You can get in touch with the business and ask for a credit of 5% of your monthly hosting charge if Hostinger doesn't meet that goal.
One of the least generous guarantees available is capping your salary at 5%. You normally receive far more from other hosts. For instance, ScalaHosting guarantees that if its uptime falls below 1%, consumers will receive a free month of hosting.
Locations for Data Centers
Data centers for Hostinger are located in Singapore, India, Brazil, the Netherlands, the UK, the US, and the UK. That's a lot more than the majority of hosts, and they're also spaced out more.
Having numerous data centers has the benefit of allowing more users to host websites close to their audience for the greatest performance.
The only possible drawback is that not all plans support all data centers. Hostinger's Linux VPS plans cannot be hosted in Brazil or India, however, the Shared, Cloud, and WordPress plans may be hosted in all seven.
Security
E-commerce solutions are necessary for making money online, and Hostinger provides a ton of them. You may obtain well-liked and practical solutions like OpenCart, PrestaShop, Simple Invoices, and ZenCart by visiting the Hostinger shop.
Hostinger offers a variety of technologies that enable you to safeguard your website. For instance, shared and VPS hosting plans provide free Secure Socket Layer (SSL) certificates, or you may purchase one individually. It is essential for security that the technology safeguards the connection between your website and a user's PC. Hostinger provides a lifetime SSL that renews on its own for a one-time fee of $11.95.
You may also sign up for Cloudflare protection, which protects your website from DDoS assaults and other dangers, for $19.99. Be aware that many Hostinger plans provide free Cloudfare if you sign up for at least a full year of service.
Pros and Cons of Hostinger
Although Hostinger is a well-known web host, it may not be ideal for everyone. Before selecting a strategy, weigh these advantages and disadvantages.
Pros of using Hostinger
Cheaper Price Plans: For customers who may only want to test out a concept, they offer very affordable hosting plans.
Great Performance: Taking into account Hostinger's pricing, their speed, and performance are excellent for this price range in the hosting sector.
Exceptional Customer Care: All of their plans come with outstanding customer support, which is quite helpful for new users.
Cons of using Hostinger
Plan Restrictions: Hostinger sets restrictions on its entry-level and budget hosting plans to maintain the viability of its low-cost hosting. To get around such restrictions when your website gets bigger, you can simply switch to cloud or VPS services.
No Daily Backups: Weekly backups are available instead of daily backups in their single and premium subscriptions. Regardless of the hosting provider's guarantee of daily backups, we advise consumers to always set up their own backup solution.
Conclusion
A flexible web host, Hostinger provides a blend of traditional and cloud-based hosting together with exceptional uptime and customer support. If you want to discover sandbox or competitive video games, it is also simple to use and provides game-oriented VPS servers. The lack of dedicated servers at Hostinger slightly deviates from the experience, but its robust cloud hosting makes up some of the difference.
I personally would stick to Hostinger's shared hosting alternatives, despite the fact that they also offer cloud and VPS hosting services.
Further Reading