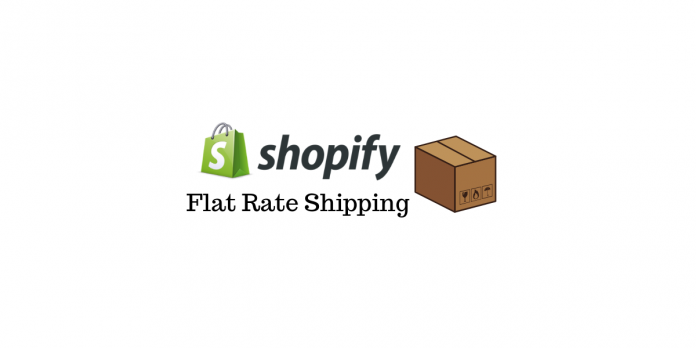 Last updated - February 24, 2020
If you are selling physical products on your Shopify store, shipping plays an important role i your business strategies. It is essential to get your shipping strategy right from the beginning as it is a significant factor of customer experience. You need to be very clear about how much of shipping costs do you want to levy on your customers. For this, you need to have a clear estimate of your costs in relation to your products' features and shipping destinations. Once you have a reasonable shipping strategy in place, it is not very difficult to set it up on your Shopify admin. In this article, we will discuss how you can configure Shopify flat rate shipping on your online store.
Flat Rate Shipping on Shopify
Flat rate is one of the best shipping strategies if you want better control over shipping costs. For older, larger stores, this might be a great option as the average shipping costs over a period can be used to calculate the flat rate value. You can set up flat rate based on the location of the customer, order weight or total order value. To set up a flat rate for a specific location, you can simply set up the rates in that particular shipping zone. For flat rate based on order weight or order price, you can specify the condition and set up a weight range or price range for it to apply.
How to Configure Shopify Flat Rate Shipping?
When you configure Shopify flat rate shipping, there are two major strategies – Based on Weight and based on Price. Let us see these in more detail:
Shopify Flat Rate Shipping Based on Weight
Weight-based shipping is a fairly accurate strategy because carriers determine shipping charges considering the weight of an order. And by correctly determining and adding weight for your products, you can avoid any surprises while actually shipping the products.
When you consider the weight of a package, you will have to take into account the actual weight of the products in a package as well as the weight of the package.
Now let's look at the process step by step.
You will be able to access the Shipping settings and configure Shopify flat rate shipping based on weight by following the steps below:
1. On the Shopify admin, click Settings and then Shipping.
2. Now, you will be able to see your shipping profile. Make sure you have correctly entered the weight of your package.
3. Click on 'Manage rates'…
4. Choose the shipping zone you want to set up a flat rate based on weight. Say for example, United States. Click the Add rate button.
5. A new modal window will popup to help you set up rates. Click on Add conditions (by default 'Based on order weight' will be selected), and set up the weight range and the rate associated with it. Click Done. For example, for United States shipping zones, we are adding a flat rate of $10 for product weight between 2 kg and 4 kg.
Now your customers will be able to see this flat rate on the checkout page, when they try to purchase a product that comes under this weight range.
Shopify Flat Rate Shipping Based on Price
To configure Shopify flat rate shipping based on price, access the shipping settings just like you did in the above scenario.
1. On your shipping profile, go to the shipping zone you want to update. For this example, we will set it up on shipping zone 'Australia'. Scroll down to the shipping zone you want to update and click 'Add rate'.
2. On the modal widow, choose the condition 'based on order price', and add the flat rate value as well as the price range. For this example, we will set up a flat rate of $15 for all orders between $15 and $75 on the store. Click the Done button.
3. Click Save and the new flat rate will be applied for customers under the shipping zone Australia.
Now when customers make a purchase from this shipping zone for order value between $15 and $75, the shipping rate will be $15.
How to Edit an existing flat rate on Shopify?
If you want to edit an existing flat rate on Shopify, you can do so simply by choosing 'Edit rate' after clicking the three dots option next to the rate. When you click 'Edit Rate', the modal window will appear, where you can make the changes. You can also click the Delete option to delete the particular rate from the shipping zone.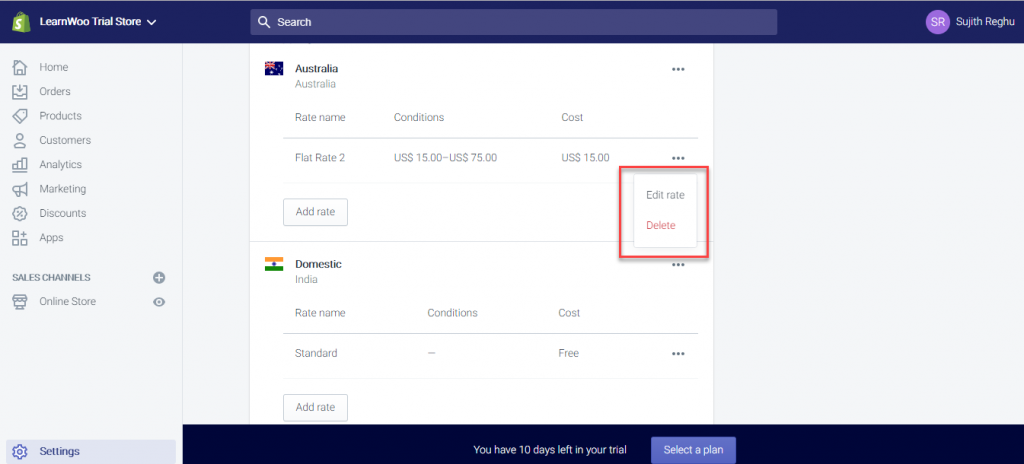 How to set flat rate shipping for a specific product?
You won't be able to set up a flat rate shipping option exclusive for a particular product. In such a scenario, you can create a manual order, or add a custom rate from the Orders page.
Other common shipping strategies you can use on Shopify
If you have a Shopify-powered online store, you can use several strategies to ensure customer friendly shipping options.  Here are a few options that you can try out.
Free Shipping
Free shipping is one of the most preferred options of customers on an online store. It will have a positive impact on your conversion rate as one of the main reasons for cart abandonment is often high shipping charges. However, offering free shipping is a challenge for a lot of store owners, as it can impact their profit margins. Store owners do try different strategies to ensure that they are offering free shipping without creating a dent in their pocket.
One way to offer free shipping without affecting your profit margin would be to include the shipping charge in the product price. By having an understanding of your average shipping cost, you will be able to hike up the product price to still offer free shipping. However, this is not a particularly viable option in highly competitive markets with several similar products available.
You can also try offering free shipping based on certain conditions. Just like flat rate shipping, you can set up free shipping manually based on conditions like order weight or order price. For example, you can easily add a free shipping rate to one of your existing shipping zones as in the below screenshot.
Similarly, you can set up free shipping conditions based on order weight as well.
Charge actual rates
While starting up the business, if you prefer not to carry the burden of shipping costs, asking the customers to pay the actual shipping cost might be a good option. There is an option available on Shopify if your business is located in the US or Canada to display the exact shipping costs. For this, you will be able to display rates of USPS or Canada Post as they are available on Shopify shipping as default options.
The shipping costs for each order will be calculated in real time and will be displayed on the checkout page. You can even add a handling charge to the displayed rates by setting up a percentage value. This will enable the customer to access the exact shipping rates in a transparent manner. Providing exact shipping rates on your store might be a great choice to improve the customer experience. It can also help in reducing cart abandonment due to unexpected shipping rates.
Best practices to create a robust flat rate shipping strategy
By setting up flat rates efficiently, you will be able to improve profit margins on your store. Now, let us look at a few practices you can adopt to create an efficient flat rate shipping strategy.
Have a clear idea on your average shipping costs
It is relatively easy to calculate the shipping cost, if all your products are similar in their weight and dimensions. In such cases, you can easily predict the shipping costs. However, a lot of stores will have products varying considerably in weight and dimensions. So for these, you will have to make some more calculations.
You need to consider the shipping costs at both extremes, and hit a middle ground with the flat rate. Also, you need to consider the frequency of orders received for each product. These aspects will help you create a more effective flat rate shipping strategy without over charging customers, and at the same time not losing out on profit margins.
Consider the locations you are shipping to
Another important aspect to consider while determining a flat rate shipping strategy would be the shipping destination. If you ship to diverse locations, consider the cost for each and set up a rate accordingly rather than going by the same rate for all regions. Another expert suggestion to handle location based shipping charges would be to have a storage facility in your most popular destination. That way majority of your orders can be fulfilled at a lower shipping cost.
Smart product pricing
You can make some adjustments to your product pricing to balance the shipping rates. If it works for your products and customers, a part of the shipping cost can be added to the product price. This is a feasible option, if you are primarily dealing with unique products that doesn't have much competition.
Shopify flat rate shipping for better customer experience
Hope you got an idea on how to configure Shopify flat rate shipping and various considerations for setting up a successful shipping strategy. Leave us a comment if you have a query regarding this.
Further reading