Last updated - February 7, 2023
Automation is all around us and there is no getting around that. In several areas of the marketing industry, automation has not only become conventional but also the default method of advertising. The marketing industry constantly has something to say about how to resist automation, counter it, or make use of the latest advancements, whether the technology upgrade is positive or negative. Automation was formerly a scary phrase since it indicated that you had to know how to code and have polished technical skills. But those days are long gone, automation itself has grown so streamlined and efficient that you can rely on the right tools and work more efficiently rather than working harder.
You'll see how simple it is to set up Google Analytics, advertisements, and Google Shopping automation for your eCommerce store after only a few clicks and approximately five minutes. No coding is necessary; you can just start and breeze through the setup. With just a few clicks, you can get your entire marketing and retargeting process automated! Before getting started, let's look at what automation in the context of Google Ads and Google Analytics is and how it may help you.
Key Benefits of Google Analytics and Ads Automation
The most significant advantage is the amount of time saved by employing a powerful automation tool to perform recurring, tedious jobs.
Increased productivity and effectiveness.
Scalability.
Concentrate your efforts on research and planning.
Spend time on things that will make a difference.
Increased testing capacity and quicker results.
What is Conversios?
Conversios is a WooCommerce advertising plugin that integrates and automates Google Analytics, Google Shopping, retargeting, and conversion pixel, as well as providing an interactive dashboard to increase sales. It is a small and lightweight WordPress plugin that makes use of the open source WordPress and WooCommerce libraries to automate the tracking of online sales in Google Analytics, the usage of dynamic retargeting tags, and full Google Shopping automation.
Conversios – Overview
Quantifiable & Actionable Tracking for Google Analytics
You can start making data-supported decisions to expand your online store. With Conversios, you can comprehend the behavior of your complete purchasing process and learn how visitors interact with your website from the landing page to the payment page! Later you can utilize this information to increase conversions and ad spending. It offers full eCommerce tracking, Google Analytics 4 tracking, reports on the customer on page and checkout behavior, a free Google Analytics audit, and much more.
Completely Automate Google Shopping with Google Merchant Center
With just a few clicks, you can easily list your products on Google Merchant Center and have access to millions of potential shoppers. Additionally, all you need to do to market your products on Google is to specify a budget and a timeframe. It includes managing your Google Merchant Center account, managing seamless, high-quality product feeds, managing smart shopping campaigns, managing actionable shopping campaign reports, and much more.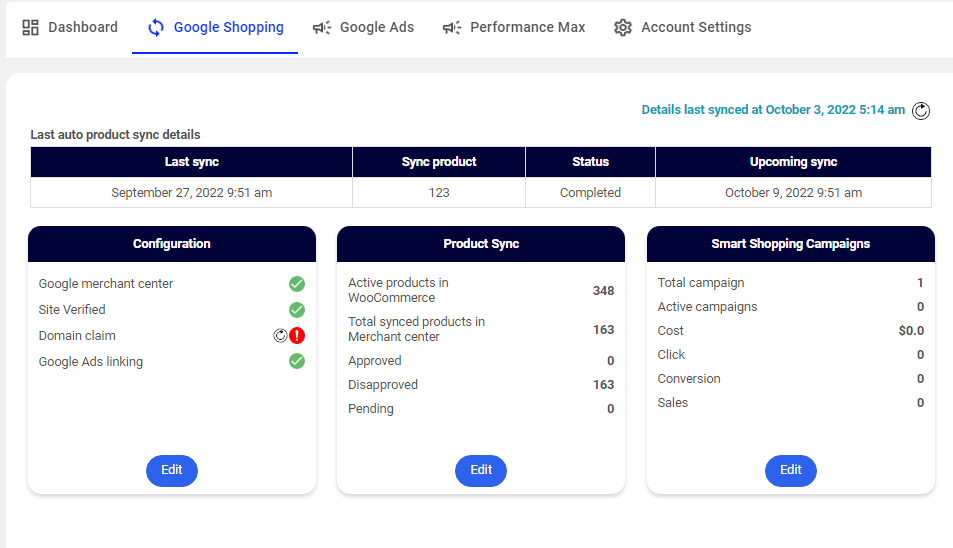 Google Ads: Simple Dynamic Remarketing
Dynamic remarketing advertising allows you to connect with visitors based on their previous website activity. It's simple to target cream customers with your top-performing items using Conversios has made this and many other tasks simple. It comprises Dynamic Remarketing tags for eCommerce events, Google Ads Conversion Tracking, Google Ads performance statistics in Google Analytics, a free consultation with a Google Shopping Expert (Book a demo), and much more.
Tracking Consumer Behavior
You can use this feature to monitor drop-offs at each stage of your shopping journey, from the homepage to the product page, the cart page to the checkout page, and the final order confirmation page. To enhance conversions and improve marketing effectiveness, you can identify the significant drop-off points at each stage and make data-driven decisions that are well-informed.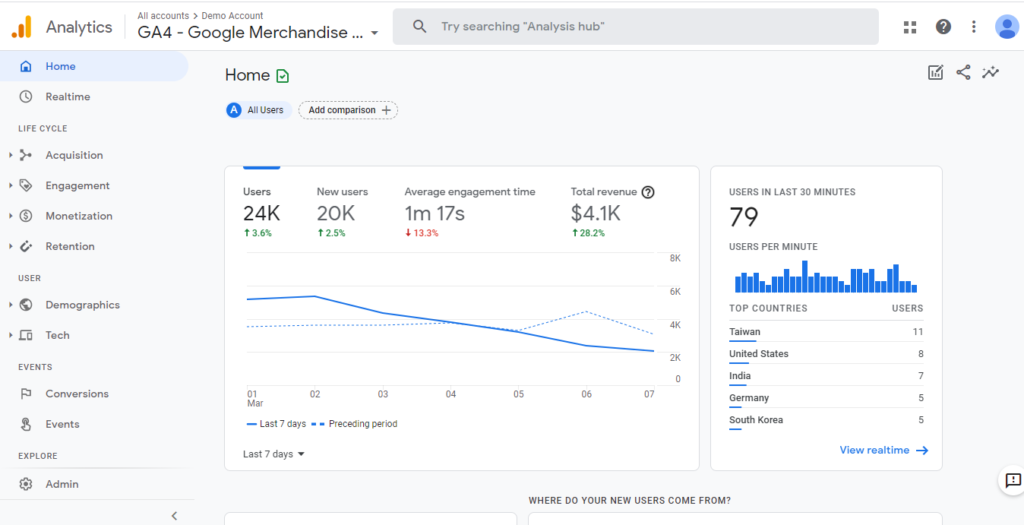 Link Between Google Analytics and Ads
Your Google Analytics and Google Ads accounts are connected when this functionality is turned on. You can view information about the performance of your ads in Google Analytics, import crucial e-commerce KPIs like clicks, conversions, and targets to Google Ads, and configure groups for retargeting ads.
Campaign Management for Smart Shopping
By developing smart shopping campaigns, you may run your campaigns automatically. When starting a smart shopping campaign using the plugin's dashboard, you only need to choose a spending limit and target location. The Google search and display network will then show your product advertisements to site visitors based on their previous online activity. You can also run google latest Pmax campaigns to target your audience. Learn more about Pmax campaigns here
Scheduled Automatic Product Syncs
The plugin periodically syncs products every 25 days once you've synced them with your Google Merchant Center account so that they don't expire and your product feed is always current and accurate. The interface of the plugin also allows you to schedule product sync according to your needs.
Seamlessly Sync WooCommerce Products
With just a few clicks, you can seamlessly sync your WooCommerce backend's product inventory with your Google Merchant Center account, and the plugin will take care of managing all of the recurring updates. The plugin creates top-notch product feeds in the merchant center account so that you can qualify for free listings across the Google search network.
How to Set up the Conversios plugin?
Let's walk through the step-by-step setup of the plugin:
Step 1. Download and Activate the Plugin
To effectively set up the plugin without any problems, you need a WordPress and Google Analytics account with admin-level permissions. You will have the opportunity to add, configure, or delete plugins after you log into your WordPress account. Then, from the left panel, click Plugins, then Add New. Type Conversios into the search box. Then, click Install and Activate to begin installing and activating the WooCommerce plugin. You will see that the Tatvic EE Plugin has been added to the left panel of your WordPress dashboard immediately after the Conversios plugin has been activated.
Step 2: Authorize the Plugin
On the left panel, select the Conversios plugin. It will direct you to the WooCommerce plugin configuration page. Sign in with the email address associated with your Google Analytics, Google Ads, and Merchant Center account. You will be directed to the consent page as a result of doing so. To finish the setup, click Proceed. Authenticate Tatvic to use your Google Account and merge it into a unified dashboard.
Step 3: Integrate Google Analytics
Here, we'll look at how to link your Google Analytics account to the plugin. The GA4 and Universal Analytics accounts' associated emails will be automatically fetched by the Conversios WooCommerce plugin. The email is the same ID that you previously provided. The needed option (either both or one of them) can now be selected, and you can enter the property ID from the drop-down menu. An option for advanced settings will be available to you. Accordingly, you can add, enable, or disable the options based on the needs of your company. The options are as follows:
Enhanced eCommerce tracking – With the assistance of the plugin, the main eCommerce metrics will be automatically recorded and tracked. It will thereafter be uploaded to Google Analytics.
Add gtag.js snippet – In order to track usage, it will automatically add a number of predefined fields to your WordPress backend.
Your Google Analytics account and the Conversios plugin will now be successfully connected when you click Next.
Step 4. Create or Connect your Google Ads Account
The integration of your Google Ads account will be covered in this step. You have two choices in this case. If you already have a Google Ads account, you can integrate it by choosing it from the drop-down menu, or you can set up a new one immediately from the plugin. You can either pick the proper account from the list of available Google Ads accounts to connect your account. Or else by clicking Create New, where you must choose Send Invite. You'll receive an invitation through email to complete the ads account creation process. This will successfully create or connect your Google Ads account.
Step 5. Create or Connect your Google Merchant Center Account
We'll now look at how to link your Google Merchant Center account to the plugin. You can choose between two alternatives at this point: either you can use an existing Google Merchant account by selecting it from the drop-down menu, or you can set up a brand-new Google Merchant center account straight from the plugin by simply entering your website, store name, and country. After you've created the Merchant Center account, click Finish to complete the setup process.
Step 6: Sync WooCommerce Products
The process for syncing your WooCommerce store's products with Google Merchant Center is covered in this step. Under Tatvic EE Plugin, navigate to the Google Shopping tab and then click Edit on the 'Product Sync' box. Clicking Sync New products on the product sync page will allow us to map the WooCommerce products to the appropriate product categories.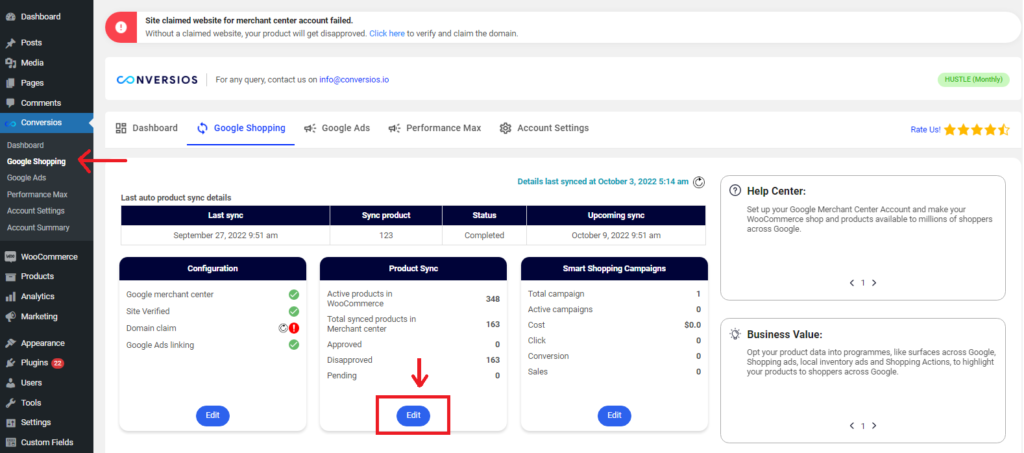 Click Next after mapping these products to the appropriate category and subcategories in the merchant center. Additionally, you will have to map the product attributes offered by WooCommerce to those offered by Google Merchant Center.
Attribute mapping must be done for the first five properties at least. The plugin generates them automatically for your benefit. The plugin has a number of attributes that you can map according to your needs, like color, age, GTIN, and MPIN. Additionally, it has attributes like shipping, tax, content language, target country, etc. that are advised to map because they are necessary for Google Shopping ads. The products will begin to sync with Google Merchant Center once you click Product sync.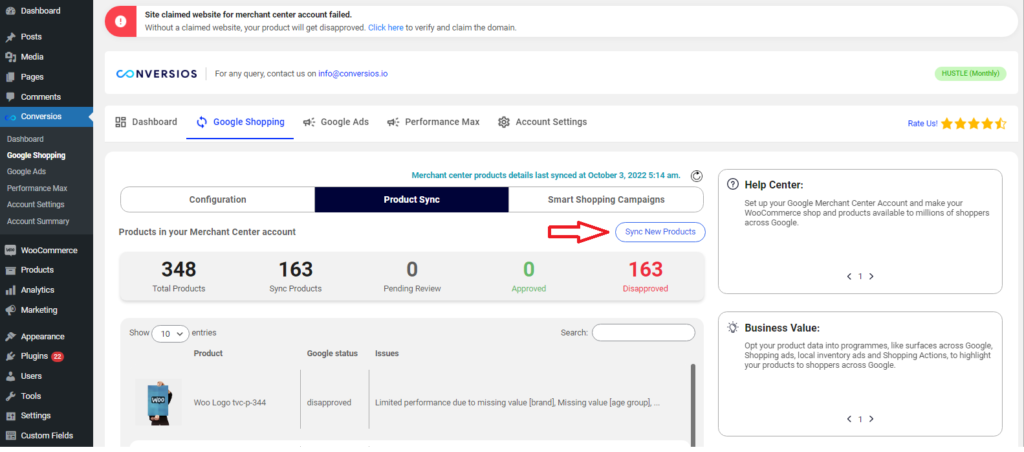 Other Noteworthy Features
Performance Max Campaigns
This is one of the features of the plugin that we absolutely recommend and appreciate. This feature enables you to set up high-performance Google Ads by just entering the campaign name, daily budget, country, and site URL.
Smart Shopping Campaigns
Another amazing feature that we love is the Google Smart Shopping Campaign that uses AI, and machine learning for bidding, ad placement, and ad targeting. All you need to do is enter the campaign name, daily campaign budget, and target country.
Facebook Pixel
The plugin assists in tracking additional e-commerce data including product views, add-to-cart, and check-out processes on Facebook by simply adding your Facebook pixel ID.
Conversios Pricing
The Conversios plugin is available in four pricing plans on a monthly basis. The free starter plan is a good place to start if you want to test the plugin's functionality. But we would recommend the Hustle plan which costs $19/month and includes a complete solution for your marketing and retargeting needs. The Growth and Leap plans also include a dedicated customer success manager, 24*7 customer support, and free Google Analytics Audit and Google shopping consultation. The only difference between the two is that the number of products that can be synced is limited to 5000 in the growth plan and it is unlimited in the leap plan. You can also check the website for discounts on the plans.
The pricing for the different plans are as follows:
Starter – Forever Free
Hustle – $19/Month or $179/Year
Growth – $29/Month or $249/Year
Leap – $49/Month or $349/Year
What do we think about Conversios?
With only a few clicks, you can completely automate your marketing and remarketing processes, which is really helpful for eCommerce store owners. With a user-friendly interface, the plugin is simple to set up. Additionally, the setup guides and video walkthroughs are reliable and will support you if you run into any problems when configuring. We put the plugin to the test and discovered that it worked seamlessly. This plugin might be quite useful if you want to boost your Google Ads, Google Analytics, and Google Shopping approach.
We hope this article has given you a good overview of the Conversios plugin and a viewpoint on its usefulness for Google Analytics and Google Ads automation. If you have any questions regarding the Conversios plugin, please let us know in the comments section below.
Further Reading