Last updated - March 1, 2022
Scalability is one of the most important factors that you look for in a hosting service when you are trying to choose one for your website or online store. You may find different hosting services out there with a wide range of features. However, if scalability is one of your primary concerns, what are your options? In our Convesio review, we try to find out why it is a preferred hosting service by businesses around the world. We will try to provide a realistic view of the features of Convesio hosting service, and help you choose the best package for your store.
Convesio Hosting – An Overview
Convesio is one of the popular hosting services available for WordPress that is automatically scalable and offers a state-of-the-art infrastructure for superior website performance. Convesio offers tailor-made solutions for different business models built on WordPress such as online stores, blogs, event websites, educational portals, membership sites, etc.
Convesio blends in open source and proprietary software to ensure a scalable environment to run your WordPress website. It also makes sure that your website is stable and secure with Google Cloud, AWS, Steadfast, Cloudflare, etc., in the background. Setting up and managing a website hosted on Convesio could be really effortless as they offer dedicated support services to help your website have the best infrastructure and an optimized performance.
Another highlight of Convesio is that they use the advanced Docker Container technology, which creates a lightweight execution environment, and as a result, is able to distribute your WordPress site's traffic into multiple instances. 'Fast Caching', 'Clustered Database', and 'Application Monitoring' are some of the benefits that Convesio offers. There is also continuous security monitoring that will provide the essential peace of minds to site owners. Moreover, you will find a range of high performance websites to be in their client list.
Feature Highlights
Now, let us take a look at some of the important features of Convesio.
Offers a highly scalable hosting solution – Convesio uses Docker containers to be flexible enough for automatic scaling.
Easily re-deployable – Components are stacked in different containers, and as a result, the site will heal itself from a downtime.
Cost effective – Easy scalability means you do not have to opt for the most expensive package anticipating additional usage.
Superior performance and reliable security – Cloudflare Enterprise features are integrated, and you can easily configure other security protocols.
User-friendly dashboard – Saves website owners from the troubles of relying on expert professionals for site management.
Choose additional resources easily – For each plan, you can easily choose additional resources.
Get help for site migration – You can easily get professional help for managing complicated tasks.
Why is it a great hosting solution for WooCommerce stores?
Convesio is a preferred solution for WooCommerce stores. Here we take a look at the reasons:
It will manage traffic variations efficiently and there won't be a downtime for your site, which is especially important for online stores.
The number of transactions and orders placed on your store will not impact your site performance.
High scalability means you can get resources updated instantly, and pay for them as and when you need, and consequently lower overall costs.
Easy to prepare the site for high traffic days like seasonal sales days.
Managing your product catalog will be seamless irrespective of its size.
Optimized site performance through Cloudflare Edge.
Caching is optimized to ensure it won't affect WooCommerce-specific functionalities.
Security features like constant monitoring, automated malware scanning, etc.
Round-the-clock customer support.
Optionally choose expert services for complex site management tasks.
How to get started with Convesio?
Getting started with Convesio is straightforward. You can create a trial account to start with. Once you have signed up with the credentials, you will see the dashboard.
Here you can either create a new site, or migrate an already existing site of yours. If you need help with the site migration, you can raise a support ticket, and get help from experts. Or, you can click the Create Your First Site button. For demonstration purposes, we will try to create a new site.
When you click the button to create a new site, a modal window opens where you can deploy your WordPress instance. Click the Set Advanced Options button to understand the details of the site such as PHP version, Web Server type, WordPress version, Database Type and also to choose whether to install WordPress after deployment. The latest versions will be selected by default for all these parameters, so you really don't need to change any.
Click the Deploy button.
Once you click the Deploy button, a new job console will be visible which will deploy your WordPress instance. Once it is complete, you can click the Close Job Console button.
Now you can go to the dashboard and see your site is ready.
Click the Manage button to get your site ready. The Manage button provides the following options:
Site Dashboard – You can go to Convesio's control panel to manage this site.
Login to WP-Admin – To go to the WordPress backend.
Visit Site – To see the site's frontend.
Set Site Name – Set a name for the site instead of the primary url.
Delete Site – Can delete the deployed site.
On the Site Dashboard, you can see an overview of all aspects of your site such as traffic data, load balancers, security aspects, performance optimization, etc.
Adding domain names
You can add domains to this site from the Domains section. While adding domain names, you will notice two Load Balancer IPs, please note to create A Record (the address record that links the domain to an IP address) for both.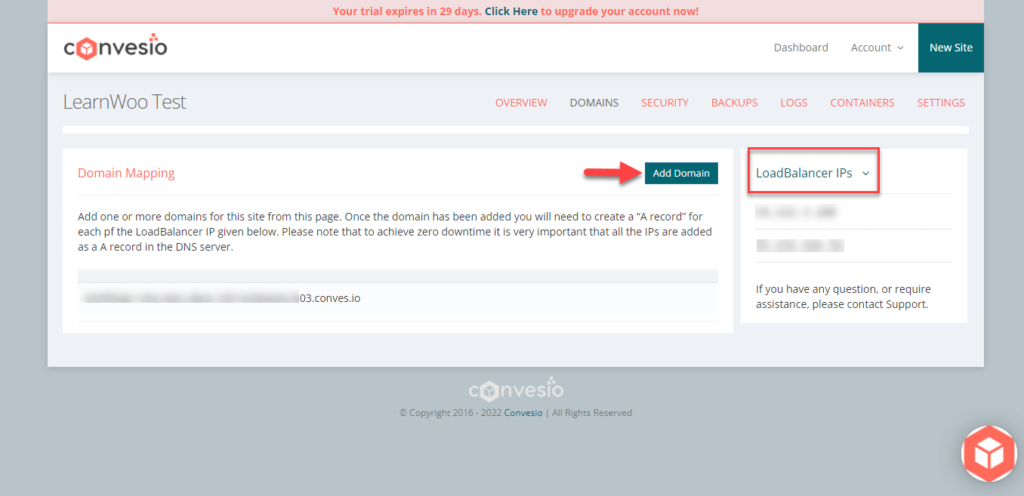 Configuring security protocols
From the Security section, you can manage SSL certificates, firewall access rules, and other security protocols.
From the Backups section, you can enable Automated backups, as well as preview screenshots, and manage tagging.
You can download service logs from the Logs section, and you can increase the number of containers to scale the service from the Containers section.
Other settings
From the Settings section, you can switch between PHP versions, and also restart or stop the site. The other aspects you can control from this section are:
Enable SFTP Access.
Update the contents of the site's PHP.ini file.
Enable automatic scaling.
Enable content caching.
View database settings.
Convesio pricing
Convesio offers different plans suitable for a wide range of businesses from small startups to large enterprises. Here is a detailed look:
Plan
Price (in $)
Feature Highlights
Starter (Level 1)
$50 per month
5 GB Disk Space
2 vCPU
512 MB Memory
4 Workers
50 GB Bandwidth
Manual Scaling
Shared Percona / Maria DB
Cloudflare Security
Business (Level 2)
$150 per month
10 GB Disk Space
4 vCPU
2 GB Memory
16 Workers
100 GB Bandwidth
Auto Scaling
Shared Percona / Maria DB
Cloudflare Enterprise
Business (Level 3)
$300 per month
10 GB Disk Space
6 vCPU
6 GB Memory
300 GB Bandwidth
32 Workers
Auto Scaling
Shared Percona / Maria DB
Cloudflare Enterprise
Business (Level 4)
$600 per month
10 GB Disk Space
8 vCPU
12 GB Memory
50 Workers
500 GB Bandwidth
Auto Scaling
Shared Percona / Maria DB
Cloudflare Enterprise
Enterprise (Level 5)
$1000 + $1,000 Setup Fee
50 GB Disk Space
16 vCPU
16 GB Memory
750 GB Bandwidth
Custom Workers
Auto Scaling
Dedicated Percona / Maria DB
Cloudflare Enterprise
Enterprise (Level 6)
$1600 + $1,000 Setup Fee
75 GB Disk Space
20 vCPU
24 GB Memory
Custom Workers
1 TB Bandwidth
Auto Scaling
Dedicated Percona / Maria DB
Cloudflare Enterprise
Enterprise (Level 7)
$2400 per month + $1,000 Setup Fee
100 GB Disk Space
24 vCPU
32 GB Memory
Custom Workers
1.5 TB Bandwidth
Auto Scaling
Dedicated Percona / Maria DB
Cloudflare Enterprise
Additional charges applicable for all packages
Disk space: $20 per 10 GB
Bandwidth: $20 per 100 GB
Off-site backup: $10 per 10 GB
Container: hourly basis at 10% of the monthly base price
What do we think about Convesio?
Convesio stands out from other hosting services thanks to the great scalability that it offers. It is really confidence inducing for businesses to go ahead without anticipating resource requirements in case of traffic spikes. Moreover, Docker containers offer great stability and self healing power to your website. We tested the service with the 30-day trial pack, and found it quite easy to get a new website live using Convesio. If a scalable, fast and stable WordPress hosting service is what you are looking for, then definitely give Convesio a try. You can get started with the 30-day free trial of Convesio without giving credit card details.
We hope our Convesio review will help you understand the salient features of this popular WordPress hosting service and its suitability for your website. If you have any queries or concerns, please leave us a comment below.
You can also check the below video for a demonstration of the automatic scaling feature of Convesio:
Further reading