Last updated - May 10, 2018
You have seen how to use free plugins to generate and print WooCommerce shipping documents such as Invoice, Delivery note, Label, etc. This article focuses on the advantages of using a premium plugin to do the same and more. You should be able to analyze whether paying a premium for the advanced features is really worthy of your business model.
This is a popular premium extension that you can install on your WooCommerce store to assist you with printing documents. In this article, we will look into some of the basic aspects of this plugin, as well as some of the advanced features that are not available in any other plugin currently in the market.
What does this plugin do?
This plugin helps you customize and print WooCommerce invoices, delivery notes, packing slips and shipping/address labels. All these documents are important to your store's shipping fulfillment. This plugin will automatically generate the documents based on a specific change in order status (this you can configure in the settings page). XAdapter Print Invoice plugin is translation ready. It supports every global language without hiccups; a feature loved by its users across the world. Basically, with the help of this plugin, you can drastically reduce the amount of manual work.
Apart from generating and printing documents, you can customize how they look with the help of multiple templates. And if you want to send these documents via email, that is also possible using this plugin.
How to configure the plugin?
You need to purchase the plugin and install the zip file in your WooCommerce store. Once it is activated, you can configure the settings.
Once the plugin is installed, you can see it in the WordPress admin panel of your site. There are two sections:
Print Options
Customize
The Print Options section has a 'General Settings' tab and a separate tab for each of the available documents.
The General settings section helps you configure some of the basic aspects of your shipping documents.
This includes company details, policies, etc under 'Generic Settings', and the address from which you are shipping under the 'Shipping From Address' section. Some of the advanced options that you can configure on this page are:
Enable preview before printing the document.
Add bar-code to invoice and shipping labels.
Add variation information to invoice, packing slip and delivery note, in case of variable products.
Add SKU to invoice, packing slip and delivery note.
Choose a packaging type – this includes 'Pack items individually', 'Weight based packing', 'Box packing', and 'Single Package per order'.
Add a font name to support languages like Chinese.
Include tracking number meta.
Display state name.
Once you configure the general settings according to your requirements, you can configure each specific document.
For example, if you want to configure the basic settings of invoice, got to the 'Invoice' tab. Some of the settings you can configure on this page are:
Enabling print invoice option.
Choosing a template that determines the look and feel of your document.
Additional fields on the checkout page – values can be added by customers.
Additional fields on the invoice.
Set a custom footer.
Now, you can further customize the invoice template according to your requirements. The plugin offers three standard templates, which you can use as a base to create custom templates.
You can directly go to the Customize section from WordPress admin panel and select the document you want to customize.
Alternatively, you can go to the specific document settings page under print options and click Customize.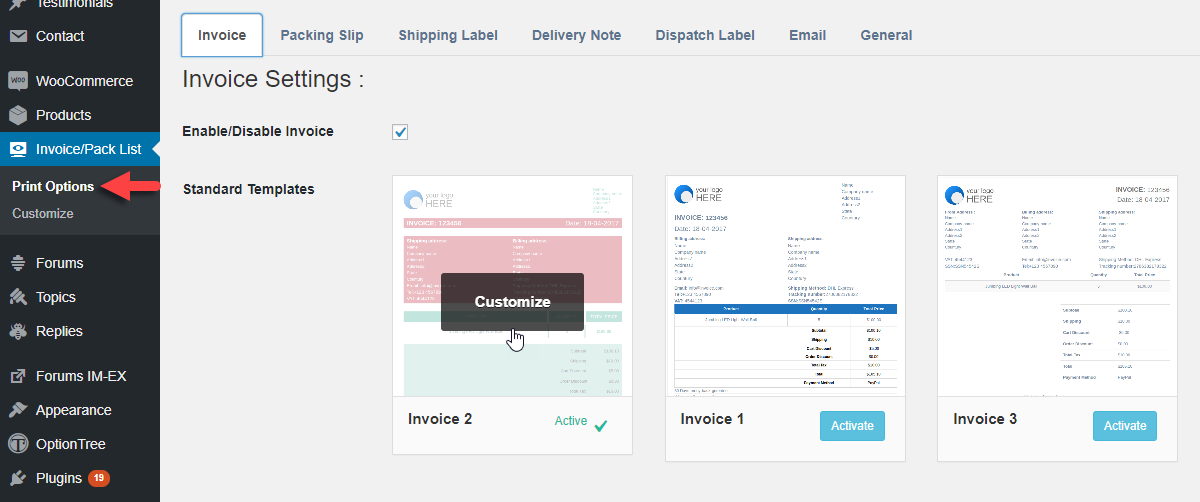 Again, we will see the invoice page as an example. You can use the I/O buttons on the right side to toggle specific field attributes on the document on and off. You can see the effect of your actions immediately on the left side preview.
Once you customize all the documents according to your requirements, you can see the plugin's magic on the orders page.
Just with a click on the orders page, you can print the required document.
Similarly, you can go to a single order details page and print documents from there.
The plugin is also compatible with WPML and a few other plugins like Extra Product Fields.