Last updated - September 23, 2022
It's not easy managing orders in WooCommerce. It has the potential to spiral out of control if not simplified, your company will be in disarray as a result. How can you manage orders while yet maintaining control over your WooCommerce store? What can be done to ease the burden of order management?
The sustainability of your eCommerce printing business is dependent on the successful implementation of a graphic design solution. People enjoy having the option to customize products however they please. When it comes to personalization, an online designer tool is really useful. Additionally, it can be difficult to discover a design tool that will perfectly suit your requirements and be appreciated by your visitors.
What is DesignO?
DesignO is a simple plug-and-play online editor that is supported by a centralized print order management system. It is an online visual design plugin for web-to-print retailers that is API-driven. Process management and print order tracking are both integrated into the user-friendly system and it is simple to integrate with all E-commerce stores, as well as B2B and B2C organizations.
You can control every step of the ordering process with the DesignO order management system. You can increase your consumer base by accepting different currencies and providing multilingual solutions. If you have more than one store, centralized management is accessible with multi-store support. Users of any device can utilize the mobile-responsive design tool from DesignO. 
Both seasoned designers and beginners can create templates and original artwork with complete control over customizable elements. You can either integrate your own photo library or choose from a predefined library of fonts and graphics. By sending messages and notifications from the system, you can keep your customers and employees updated at every stage of the order fulfillment process. Your storefront can be customized to fit the colors of your company.
This tool can be used by a variety of printers to streamline their customized print orders, including digital, marketing, photo printers, publishing houses, apparel designers, product branding suppliers, custom merchandise vendors, advertising companies, educational institutions, and trade printers.
Key Features of the Plugin
Any system or CRM can be integrated via APIs.
Mobile-responsive design studio featuring a canvas-like experience for users for the desktop version and an app-like UI for mobile users
Service in multiple languages and currencies
Support for many locations for professional printing services for B2B clients, branded storefronts, and particular B2C industries
Easy Template Maker with Complete Control to Design Customizable Elements
Clipart and font libraries that are already installed
From pre-press to printing, complete order management, print Job management, and workflow management are provided.
Full control is provided by a job dashboard and a job calendar.
Gives a quick overview of the status of the job schedule and operations in real-time.
emails and alerts from/to consumers regarding approvals and modifications
Access to the back-end is based on user roles to protect data.
Option to upload any stock picture resource of choice
Plugin Functionality
Dashboard
You can manage many online businesses built on different eCommerce platforms or the same platform through the DesignO consolidated interface. Doing so will guarantee that all of your purchases get through the production process and are dispatched on schedule. The dashboard displays sales, order summaries, hot-selling products, messages, and marketing data for each print store. The productivity of your operational processes can be increased by being able to view all eCommerce stores in real time.
In addition to the job's current state, the dashboard also lets you keep records of purchases that have been forwarded to pre-press, designs that have been delivered to design professionals and orders that are being die-cut. This makes it a priceless tool for enhancing your store's effectiveness. The dashboard is further divided into two sub-menus – job dashboard and job calendar that have detailed job-based and date-wise process updates.
Stores
The "Add Store" button makes it simple to add a new store, and the "Stores" tab allows you to view all the stores that have been added to DesignO.
Order Management
Order summaries, including those for active, despatched, and finished orders, can be analyzed under the order management tab. You may check which orders are presently on track, which are behind, and which are on hold by viewing the work summary as percentages. You can also get SMS notifications regarding the orders from your team to help you deal with any delays that might occur during the fulfillment process.
Products
You may view all of your current inventory under the Products page and add new products right from here.
Design Templates
The design templates tab contains the templates, categories, and the option to import new templates. It is the ideal tool for anyone wishing to give products a unique touch. Customers who use DesignO can quickly and simply design eye-catching templates for any product. For quick and simple creation of one-of-a-kind templates for your designs, use the integrated template builder, or import ones that already exist. Customers have a straightforward way to customize products thanks to DesignO's user-friendly editor, which is found in the admin panel.
Design Layouts
The design layouts tab is divided into two subcategories – Categories and Layouts which consists of all the created categories and layouts and the option to add new layouts and new categories.
Editable Artwork
You can quickly add and edit artwork and artwork categories under the editable artwork tab.
Printing Methods
Your entire printing process can be customized from the printing methods tab which is further divided into a color counter, quantity range, and square area.
Admin Images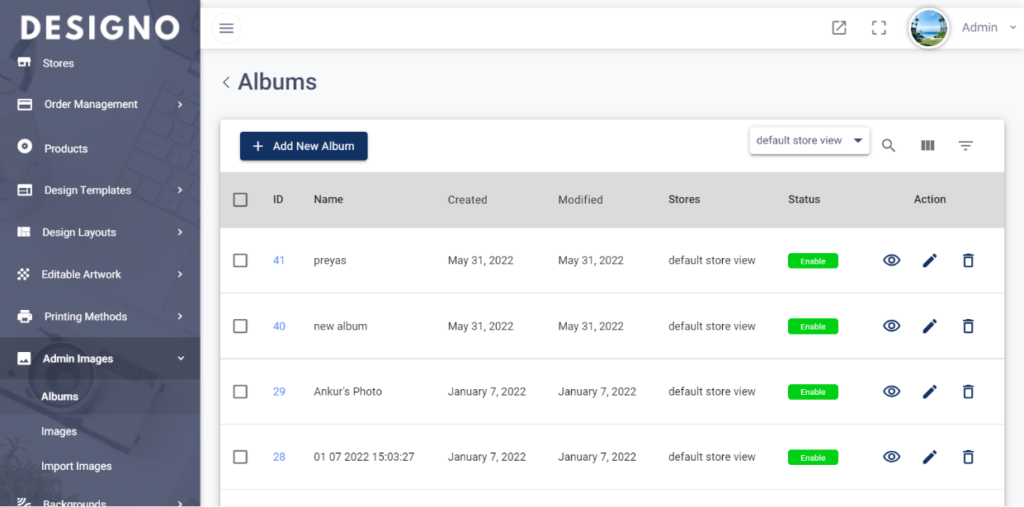 All the custom images, graphics, and resources can be added from the admin images section including the ability to create and edit albums, and images, and import custom images.
Backgrounds
The backgrounds, clipart, font, and colors can all be added and edited based on the store's design requirements.
Web2Print Setup
Under the Web2Print setup tab, role-based access control is a feature of the DesignO that enables you to design different roles and user accounts. As a result, access levels to the various components of the DesignO backend can vary depending on the role.
Access to confidential customer and business information may be readily restricted, and user permissions and access settings for teams can be modified based on your preference. By changing parameters based on the needs of the product, you can make sure that your items are printed correctly and in accordance with the selected settings. You won't be short on support for several stores, languages, and currencies thanks to a centralized administration system. More clients will be drawn to DesignO because of its straightforward payment methods and open pricing.
User Log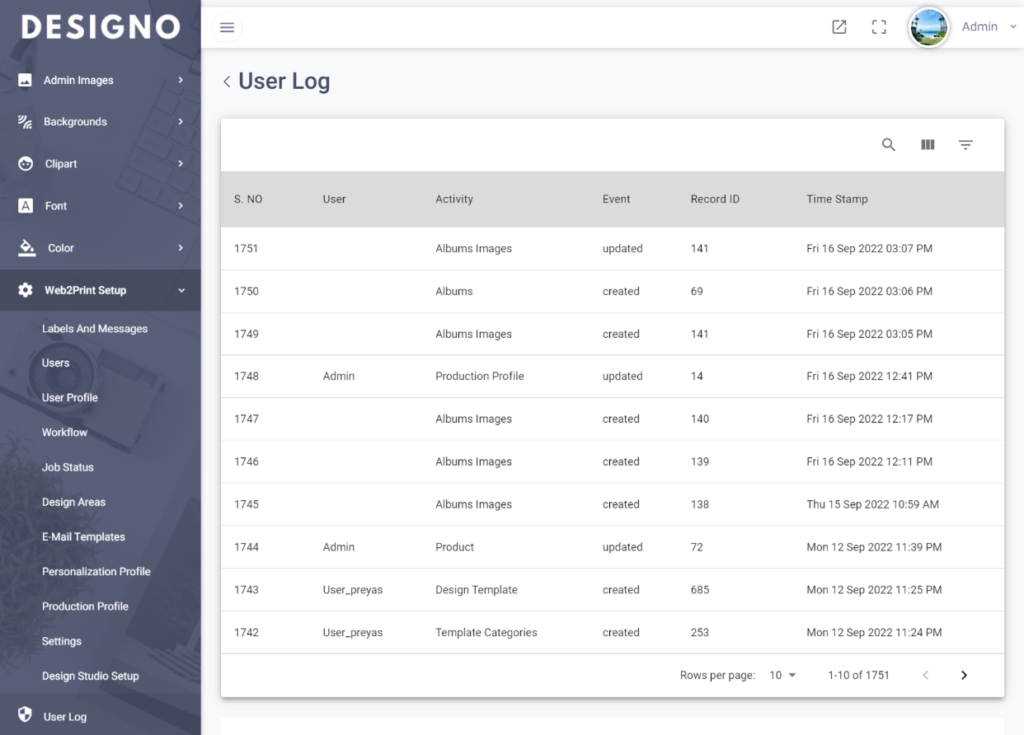 The user log shows all the user activity based on profiles and activity.
DesignO Review: Conclusion
It can be difficult to find the ideal online graphic design tool that raises output and expands your customer base for your online printing company. DesignO from Design'N'Buy provides comprehensive templates, limitless customization choices, and mobile adaptability. DesignO gives your consumers the freedom to create unique designs whenever and however they choose with simple integration. Therefore, add the DesignO plug-in to your website right away to start enjoying its many advantages.
Pros:
Free Basic Version Available
Easy to use editor
Mobile friendly
Powerful integration
Assistance in multiple languages and currencies
Pre-loaded clipart and font libraries
No coding or technical knowledge required
Ideal for a variety of uses
Cons:
Although this makes it possible for the tool to be very adaptable to your unique demands, the price is not disclosed.
Despite the fact that it is not difficult to set up, it does take some time to become used to all the sections and subsections of the tool.
Through its plug-and-play capabilities, business owners may effortlessly sell print services using any eCommerce platform. With a centralized print management system and a fully API-based plug-and-play solution, the DesignO online graphic design studio interacts with any backend or eCommerce software. It allows consumers to create original artwork for a variety of items. If you want to be successful, an individually tailored product design tool like DesignO will provide you with all of the resources you want. DesignO is the ideal choice for running a WooCommerce print shop if you run a store using WordPress as your backend.
Further Reading