WooCommerce's system status report is crucial for keeping track of your online store's well-being. Your WooCommerce site's performance can be impacted by a variety of variables, and the system status report offers helpful information about possible areas for development.
You can get a summary of your WooCommerce installation in the system status report, along with specific information about your server environment, WordPress settings, and installed plugins and themes. Using this information to resolve possible WooCommerce site issues may be very beneficial.
How to access WooCommerce System Status?
Under WooCommerce > Status, you can see the WooCommerce status page. You may go ahead and click Get System Report from here and paste this information into your help issue. This helps the support staff locate the issue with ease.
This section contains:
System Status
Tools
Logs
Scheduled Actions
WooCommerce Services (as long as you are connected to WooCommerce)
Importance of the system status page
Without having to log into your site, this one page may provide us with a wealth of information on your installation. We can check to see whether everything is up-to-date, whether you've loaded earlier marketplace plugins, and more. We can also check to see whether you are using the most recent plugin version and if there are any known incompatibilities. Run the most recent version of our plugin to fix many of our support problems.
The WooCommerce status page can be immediately analyzed, which enables us to offer support fast and effectively. This is the reason this crucial page is required while filling out help forms.
What is included on the system status page?
Quite a few sections of your website are accessible from this one page. It can instantly point up any potential difficulties caused by out-of-date plugins or incorrect template overrides.
WordPress Environment
Server Environment
Database
Security
Active and Inactive plugins
WooCommerce Settings
Theme details
Template overrides
Action Scheduler
Let us get into detail about each of the above-provided sections.
WordPress Environment
Details regarding your site and setup are provided in this area, along with an overview of your WordPress environment.
Server Environment
Details pertaining to your web hosting server are outlined in this section. You may learn more about your file upload size restriction and other things here. A warning will show up here if your PHP or MySQL versions are out of date.
Database
The tables and specifics of your database are described in this section. The tables in your database allow us to quickly determine whether you have installed and deactivated any additional plugins. This enables us to swiftly troubleshoot any plugin problems.
The entire size of your database is an additional crucial factor to take into account. Having this number be a very big amount might cause performance concerns if your site is already sluggish.
Security
This part will inform you if your website is SSL-based, and these days practically all hosting services offer this for free.
The above screenshot shows that my store isn't using SSL. However, because I'm testing this locally on my machine, this is acceptable.
Active and Inactive Plugins
From the standpoint of the support staff, this is conceivably one of the most crucial elements of the status page. We can immediately view the versions and installed plugins you have. For the purpose of debugging, this is crucial.
Settings
An overview of your WooCommerce installation's default settings may be found in this section. This can occasionally be useful when consumers notice problems with currencies or product types.
WooCommerce Pages
When you install WooCommerce and launch the setup process, these pages are generated. We may see this here if you bypassed the wizard or unintentionally erased any of these pages. These pages are essential to the proper operation of your website.
Theme
This gives details about the theme you are now using. This section of the status page is crucial since theme-related issues account for a sizable portion of help requests.
When upgrading and testing your website, a child theme is helpful. If your theme has any overrides, not using a child theme may cause issues when you update it.
Templates
The basic templates that your theme could be overriding are included in this section, along with any outdated template files. It's crucial to just replace the template files you actually need to when overriding them. Don't duplicate every template file from WooCommerce, since this has resulted in several support issues over the years.
Action Scheduler
The action scheduler is a program that enables you to plan tasks for background execution while your website is active. This section will list the planned tasks that have been completed or are expected to do so.
Tools
When you are having problems with fundamental WooCommerce systems like capabilities, sessions, and more, the tools tab might be useful. Tools for WooCommerce include: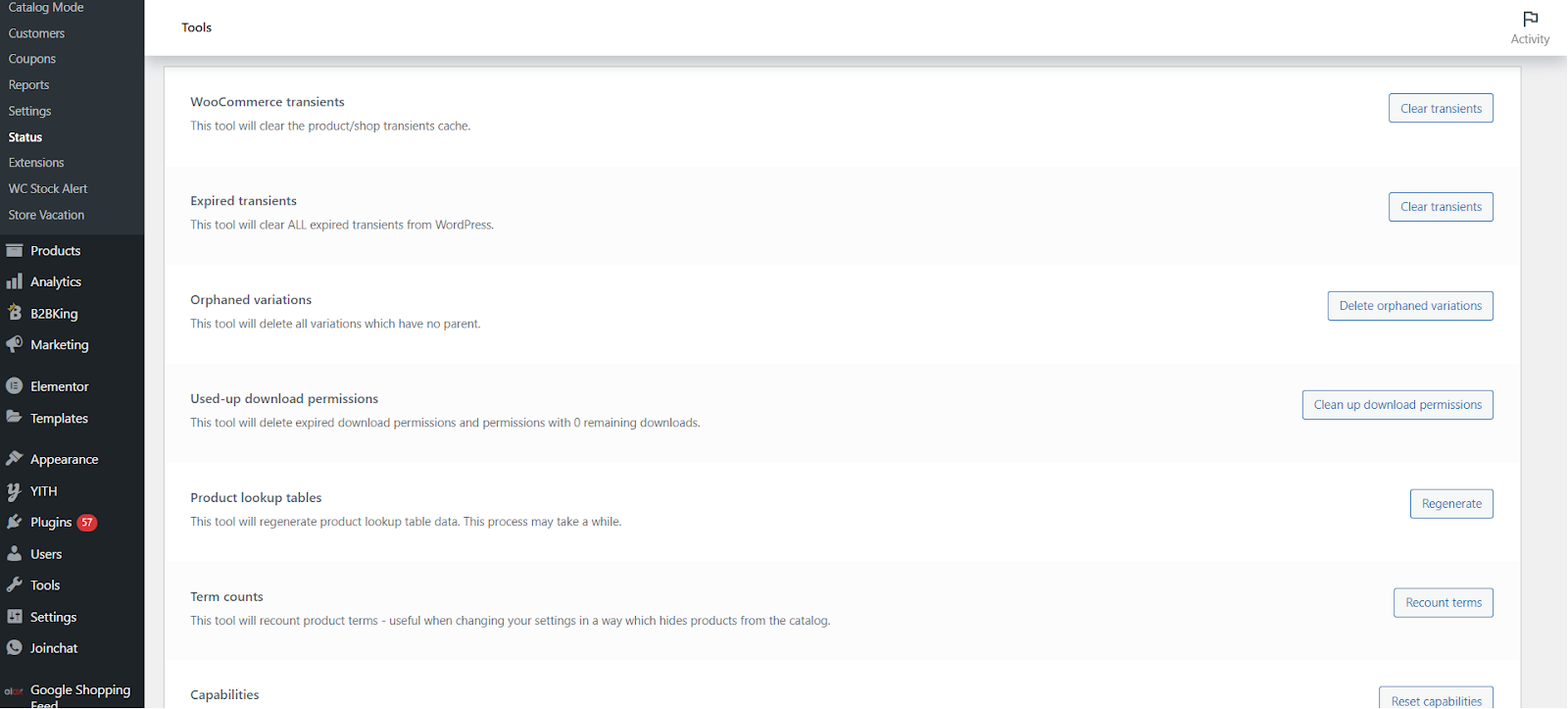 WooCommerce Transients – Database-stored temporary data. This may be the case if your database size is increasing.
Expired Transients – any expired transients, which is another technique to make your database smaller.
Orphaned variations – This is a technique to remove any variations from your database that don't have any parent products.
Used-up Download permissions – You can delete downloaded files that have expired or for which there are no more downloads available.
Product lookup tables – This contains information on product lookups. This can take some time to run, so don't do it unless you really have to.
Term counts – This tool can assist you in fixing these counts if you are showing your term counts, and you modify the visibility of a product in your catalog.
Capabilities – This will restore the default settings for the admin, shop manager, and customer roles.
Clear customer sessions – Remove all active client sessions, including carts, by selecting this option. If you have duplicate content problems or hosting-related caching issues, this may be of assistance.
Create default WooCommerce pages – If the WooCommerce default pages are missing, this will create them for you. Existing ones won't be replaced by it.
Delete WooCommerce tax rates – All of your tax rates will be deleted if you choose to erase WooCommerce tax rates. Use with caution, since there is no undoing this.
Regenerate shop thumbnails – This will update the thumbnails with the new sizes if your theme or shop thumbnail settings have been modified.
Update Database – This will bring your database up to date with the most recent WooCommerce version. Before proceeding, be sure you have a backup.
Logs
WooCommerce and other third-party plugins will store their log files on the logs tab. There is a good likelihood that there is a mistake in these log files if you are having any problems. These logs are typically stored for 30 days before being removed.
If you detect a warning on your front end that "Your site is having technical issues." Then look for fatal errors with the current date in the logs tab.
Scheduled Actions
All planned activities are shown on this tab. This is where you can do manual actions if you need to.
Conclusion
You can see that there is a wealth of really useful information accessible to assist with troubleshooting your WooCommerce store. We think that this is a crucial topic for your online business that you need to research and comprehend. It will enable you to swiftly identify website problems and guarantee that your site remains operational.
Further Reading