The WordPress Admin dashboard is where you control the varied aspects of your website. If you are a beginner to WordPress, you probably would like to have an explanation of the basics of site management. In this article, we will try to give you a comprehensive understanding on what the WordPress admin dashboard is, and how you manage different site aspects using it.
How to access WordPress admin dashboard?
You can login to your WordPress admin area by going to the url "https://yoursite.com/wp-admin". Once you login, the WordPress admin dashboard will be the first screen visible to you. This page gives you a good overview of the different aspects of your site. Some of the available data here are:
Site Health Status
At a Glance
Activity
Quick Draft
WordPress Events and News
Welcome
You can change the order of these widgets by drag and drop action.
You can enable or disable the options displayed here by accessing the Screen Options on the top right section of the screen.
Site Health Status
In the Site Health Status section, you can view recommendations for performance and security enhancements. You can click the link and go to the Site Health section to view more details. Also, from the admin panel, you can access it through Tools > Site Health.
At a Glance
This section provides you with details on the number of posts and pages on the site. It also gives details of the WordPress version, and mentions the theme that is active on the site. This section also displays the search engine visibility status of the site.
Activity
From this section, you can take a look at the recently published pages, posts, comments, etc. Here, you can click a link and go to the respective page.
Quick Draft
From the WordPress admin dashboard, you can even draft posts quickly. There will be fields to enter just the title and content. You can do further editing by going to the drafts section. Also, there will be a list of recent drafts available. From the Post section, you can go to All Posts, and then click the Drafts section to view drafts.
WordPress Events and News
The WordPress admin dashboard also offers a section that deals with WordPress Events and News. You can see upcoming events here. There is a field to enter a city, and it will show events close to that city. You will also find links to Meetups, WordCamps and News here.
As explained earlier, you can use Screen Options to hide different sections in the WordPress admin dashboard.
WordPress admin panel
WordPress admin dashboard offers an overview of what's happening on your site at a given time. You can use the WordPress admin panel on the left side to manage your site. We will also give a basic understanding of the WordPress admin panel as well. If you are the site administrator, you will be able to view all the sections. The default WordPress admin panel will have the following sections.
Dashboard
Posts
Media
Pages
Comments
Appearance
Plugins
Users
Tools
Settings
Apart from these options, based on the plugins you install, you might see other options as well. For example, when you add WooCommerce, you will see menu items and dashboard widgets associated with it.
Updates
By clicking the dashboard, you can see the sections as discussed above. In addition, you will find another option here 'Updates', which will give you details about all the available updates on your site. Here, you will see available updates for core WordPress, as well as for plugins, themes and translations.
Posts
On the Posts section, you will find the following options:
All Posts – view all posts
Add New – add a new post from scratch
Categories – create and manage categories.
Tags – create and manage tags.
Media
The Media section lets you handle different types of media on your store such as images, video, etc. The options here are:
Library – displays all the media added to your site.
Add New – lets you upload a new media file to your WordPress Media Library.
Pages
You can create new pages as well as view existing pages on this section. The available options are:
All Pages – view all pages on your store.
Add New – Create a new page.
Comments
You can view and moderate comments on your posts from this section. Please check out our article on editing and moderating comments, and how to integrate reCAPTCHA with WordPress comments forms here.
Appearance
From the Appearance section, you can control how your WordPress website looks in the frontend. The available options here are:
Themes – view available themes, activate a new theme, download a new theme.
Customize – helps you to control all visual aspects of your site including colors, backgrounds, and layouts.
Widgets – lets you add and manage widgets on your site.
Menus – helps you manage all aspects of your navigational menu.
Background – you can change the background image here.
Theme Editor – this section lets you make code-level changes to your theme files.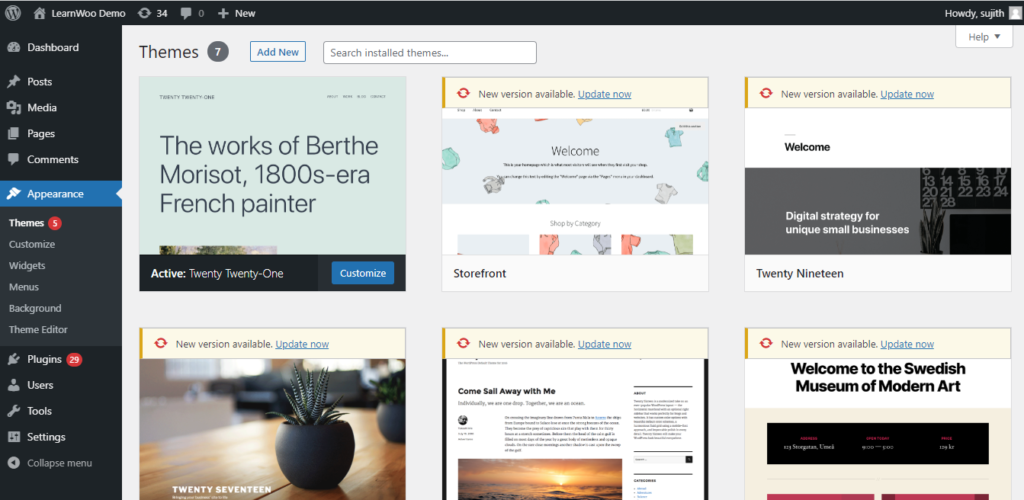 Plugins
The Plugins section lets you add new plugins and activate or deactivate available plugins on your site. Here, you will find three options:
Installed Plugins – here all available plugins will be visible, from which you can activate, deactivate or delete.
Add New – install a new plugin through this section.
Plugin Editor – option to apply code-level changes to your plugin; not recommended unless your are fluent in coding.
Users
User management is one of the much-loved features of WordPress. It lets you create user profiles with different capabilities to manage different workflows. This section will help you manage different users on the site. The sub sections are as follows:
Users – view all the users on your site with name, email, user role, number of posts, etc.
Add New – add a new user profile to your site.
Profile – view your own profile in the site.
Tools
You can access this section to find some tools that could prove to be useful for some special tasks related to your site. There are a few sub sections as follows:
Available Tools – you can find a link to the Import section
Import – lists out several tools that will help you to import posts and comments from other systems.
Export – lets you export data from your WordPress site into an XML file.
Site Health – indicates the performance and security aspects of your site.
Export Personal Data – helps you in exporting data of users as per requests.
Erase Personal Data – helps you to erase user data when specific requests are received.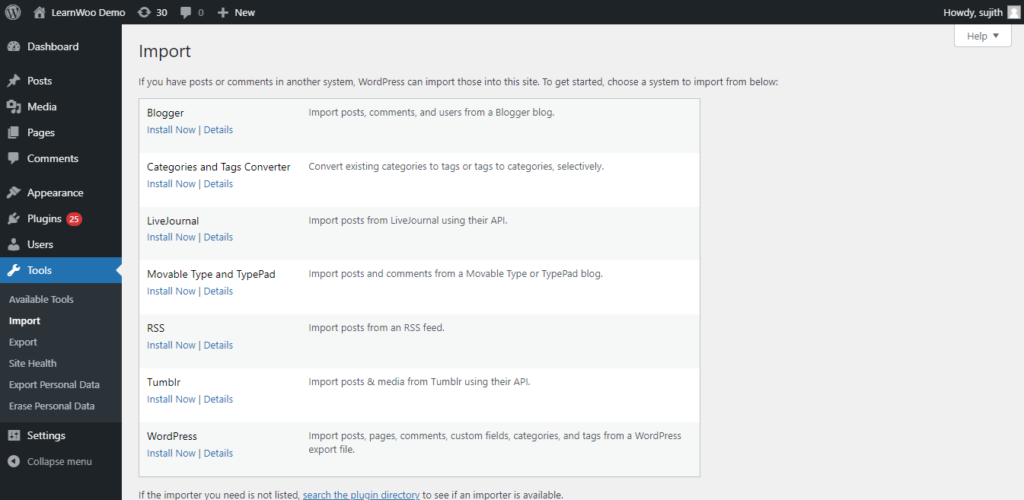 Settings
Your site's settings can be adjusted from this section. There are different sub sections such as:
General – lets you handle the general aspects such as site title, date and time format, language, time zone, etc.
Writing – manage default post settings and also configure credentials to publish posts through email.
Reading – provides settings to control the display aspects of your posts.
Discussion – helps you control comments settings on your site.
Media – lets you control image sizes, and also helps to organize media better.
Permalinks – provides you with options to manage permalinks on your store.
Privacy – offers an option to define privacy settings of your site.
WordPress toolbar
Another useful feature that you may need an introduction to as a beginner will be the WordPress toolbar. WordPress offers toolbar that will be visible when you are logged in to the site. This will be available both at the frontend as well as at the backend. This toolbar has options to help you toggle easily between the frontend view and backend view. You can use this toolbar to quickly perform certain tasks on your site.
Disabling the admin toolbar
For individual profiles, you can disable the admin toolbar. Go to Users > Profile. Scroll down to find an option 'Show Toolbar when viewing site'. Simply disable this, and the toolbar will be hidden when you login to the site.
Site administrators can disable this feature for other users as well by accessing their profiles.
Changing the admin color scheme
From Users > Profile, you will be able to change the admin color scheme as well. Go to your profile, scroll down to 'Admin color scheme' and choose the color scheme that you like.
Plugins to customize the WordPress admin section
In the WordPress plugin repository, you will find plugins that will help you customize the admin section. Here we take a look at a few of them.
With the help of this plugin, you will be able to edit the menu in the admin panel. You will be able to change the menu titles, headings, seaprators, etc. You can also show or hide menu items to specific users, or user roles using this plugin. Moreover, you will be able to create custom menu items using this plugin as well. And you will be able to easily revert the menu system back to the default one when required.
If repeated admin notices are annoying you and ruining your WordPress admin experience, this plugin could be helpful. It will help you selectively disable notifications from WordPress as well as from plugins and themes. If needed, you can make use of this plugin to disable all admin notifications on your site globally.
This is a feature-rich plugin that will help you customize your WordPress admin according to your requirements. You will be able to reorganize the default menu items on the WordPress admin panel. Moreover, you can rename the menu items and also add new icons thanks to the great collection of dashicons. The plugin also lets you move a top level menu item to sub level and vice versa. Furthermore, you will be able to make custom menus available only to specific users or user roles. Overall, this plugin could be greatly helpful for site administrators who have multiple websites and users to manage.
We hope this article provided a detailed view on the WordPress admin dashboard and its various capabilities. Feel free to leave us a comment if you have a query related to WordPress site management.
Further reading