Last updated - July 8, 2021
Divi is one of the most popular multipurpose themes in the WordPress ecosystem. In this review, we will look into the features of Divi WordPress theme, and try to understand what makes it so popular.
Advantages of choosing a Multipurpose WordPress theme
When you try to find a theme for your WordPress site, you will see a lot of options including multipurpose themes and ones suited for specific niches. If your business is focused on a specific niche and you have your way around a WordPress site, you can manage with it. However, if you are not much familiar with the technical aspects of a website, and relatively new to the WordPress ecosystem, a multipurpose theme could give you a lot of options. Let us see how.
Flexibility
One of the most important aspects of choosing a multipurpose theme is that you can use it to design different kinds of websites. If you are not really sure about the niche while starting out, a multipurpose theme could be a great option.
Customization options
Most multipurpose themes come with a wide range of customization options. You will find predefined templates, free demos, shortcodes, etc to manage customizations easily.
Extensions
A lot of multipurpose themes come with extension bundles to help you manage different aspects of your site. You will find different plugin for page builders, navigation sliders, custom fields, etc., with many multipurpose themes.
Cost effective
Multipurpose themes are a cost effective option thanks to the flexibility and versatility that comes with them. They often help in providing better user experience and thereby better conversion rates on your store.
Divi WordPress Theme
Divi helps you a lot in designing a beautiful WordPress site thanks to its amazing set of features. The highlight of its features is the advanced visual editor that makes designing a website extremely easy and fun. And, the thing to note here is that it is equally suitable for design professionals as well as users with no design experience.
Features
Let's take a more detailed look at the features of Divi.
Intuitive visual editing
You can edit your web pages effortlessly with Divi, even if you are not an expert of WordPress design. Create hover effects, shape dividers, border effects, etc., easily with it. The visual editor gives you an option to view the changes you make instantly and make modifications if needed. This could be a great help for beginners who are not well versed with design principles.
Drag and drop page builder
Moving visual elements on your site's frontend is a breeze with Divi. You really don't have to worry about complicated coding efforts to try out different visual styles and appearances. In addition, you can easily copy styles from one element and use it on another. Another feature is the extendable styles, where you can use a unique design style that you created at multiple locations.
Option for custom CSS
Though the settings are all about simplicity and easy design options for all users, Divi has options for seasoned designers and developers as well. It offers an advanced code editor with several features to help you manage code editing smoothly. You will find features like syntax highlighting, error reporting, color picking, etc., with it. Moreover, Divi helps you make your visual design more personalized using custom CSS.
Mobile friendly
One of the most important aspect to look for in a WordPress theme is responsiveness. Divi ensures that your site will be smooth and seamless on mobile devices as well.
Wide range of design elements
Divi offers a great range of design elements and options to help you experiment. You will get access to more than 40 design elements and more than 800 pre-made website layouts with it. You will also find several shadow effects, filters, background options and animations part of Divi. As a result, you will have great control over the design options and can make your site unique and appealing.
Easy text editing
Editing text on your web pages is extremely easy with Divi. You can type on the frontend page editor and see the results instantly.
Option to save your designs
Divi allows you to save your designs without any limits. You will be able to reuse your  designs in the future. It will help you streamline your workflow with an advanced design system.
Use design elements across your website
You will find global design elements with Divi, which you can use across the website. This will enable you to control site wide design settings.
Easy to correct mistakes while editing
Divi offers a modern interface to help you with your web design project. You can easily undo, redo and browse through your editing history. Making revisions to your design choices is extremely easy with Divi.
Helps with your conversion rate
Along with providing great options to help you design your dream website, Divi also helps in optimizing varied aspects of your website. Divi offers split testing to help you understand what works with your customer base. Moreover, you can find tools to create marketing popups and better social media interactions.
How Divi integrates with WooCommerce?
Divi offers seamless integration with WooCommerce, and that will help you set up a successful eCommerce store in no time. You will be able to create product pages and unique layouts effortlessly using Divi. It offers a WooCommerce-specific builder that will help you control your product page designs. There are 16 modules that will help you with different customization options that you may require on your site.
With Divi WooCommerce builder, you can customize your WooCommerce product pages and build product listings anywhere on your site. Furthermore, you can mix WooCommerce modules with standard modules and create unique designs.
Setting up your WooCommerce products using Divi
It is especially easy to set up a WooCommerce product pages using Divi. It will replace the standard WooCommerce product template into a set of modules, which you can customize fully using the builder. These modules will enable you to make a lot of customizations to make your product pages look exciting.
Depending on your products, you can choose different styles, and present your products in the best light. The Divi WooCommerce Builder ensures that you can make customizations without difficulties even if you are not an expert in coding or design.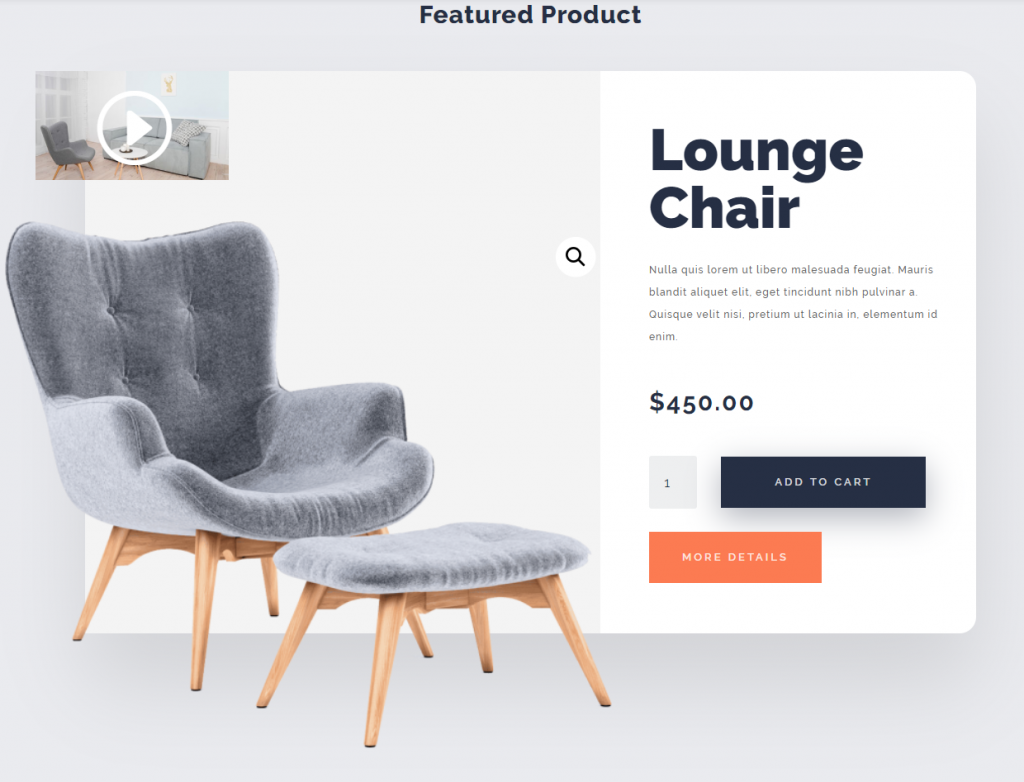 Pricing
There are two pricing plans, which you can use to get access to Divi. At $89, you can get yearly access to Divi, Extra Page Builder, Monarch social sharing plugin and Bloom email opt-in plugin for one year. You will be able to use these tools on unlimited sites, and will get priority support with this plan.
There is also an option to pay $249 as one-time fee, and get lifetime premium support.
Check out the Divi pricing plans here.
What we think about Divi?
Divi WordPress theme is surely one of the best multipurpose themes available at the moment. It blends in powerful features with user-friendly editing capabilities. If you are looking for a WordPress theme that will give you a lot of customization options, this one will not disappoint. Moreover, it has several demos that will help you get started with your website without delay.
Moreover, from an eCommerce perspective Divi fits in well with WooCommerce. The WooCommerce builder and dedicated modules make it extremely easy to design attractive product pages. Though you may take a little while to get used with the interface, it is pretty easy if you are mostly using pre-built templates.
When you consider cost effective, multipurpose themes for your WordPress site or WooCommerce store, Divi is surely one of the best options in contention.
Hope this review has helped you understand more about the features of Divi WordPress theme. Leave us a comment if you have a query.
Further reading