Last updated - March 24, 2023
eCommerce is a huge market and it is not necessarily restricted to the giants of the industry. Dropshipping, for example, can be a great way to start your own eCommerce business. Just as with any industry, doing market and product research can help you gain an understanding of your approach to your business.
Proper research before making a financial commitment to start a dropshipping business goes a long way in creating a profitable endeavor. Since dropshipping doesn't require you to produce and store the products you are selling, you have the freedom to pick the right product that suits your goals as well as market requirements. Let us take a look at some of the top dropshipping product research tools that can help you find the right products for your dropshipping business.
What is Dropshipping?
Dropshipping is a business model in which you can sell the products of others and take a commission from the sales you are making. The advantage of dropshipping is that you don't need to produce or manage the stocks of products you are selling. This relieves a drop shipper from having to worry about stock management and investing huge capital in production.
Though this sounds simple in text, dropshipping is by no means an easy business model as it has a lot of factors to consider like market demands, profit margins, and fluctuations in product supply.
Dropshipping is also a business model where even though you are showcasing and selling products through your store, the actual products get center stage among customers, thus making it difficult to grow as a brand in the industry.
No business starts making a profit from the get-go and dropshipping is no exception. But with the right research and understanding of the market, it can be a profitable business to get started in eCommerce.
What is a Product Research Tool?
Product research is a business owner-end study done to see what products are selling well in the market at a given time. It considers various factors like the price of the product, its availability, profit margin, and even analytical reports from search engines and social media platforms to understand user engagement. A tool for this, however, will provide a completely automated solution to product research and make it simple, especially for beginners.
Though this appears to be a narrow niche, there are great tools to do in-depth product research before committing to products as a dropshipping business owner. Here is our list of useful product research tools for business owners.
Tools to Consider for Dropshipping Product Research
Product Research for Amazon From Semrush
Semrush is a popular name if you have ever indulged in either digital marketing or search engine optimization. The Product Research Tool For Amazon by Semrush is an ideal tool to get started if you are using Amazon for your dropshipping business. It provides live and regularly updated data on the popularity of any product on Amazon. Another great thing is the inbuilt calculator that gives you an estimated return on investment on a product based, so you can understand how profitable a particular product can be.
Besides The Product Research Tool for Amazon, Semrush also has dedicated tools for keyword analysis and a competitor tracker for Amazon as well. If you are a dropshipper on Amazon, these tools offered by Semrush are all you need to have a total analysis of products, keywords, and competitors to have a successful dropshipping business.
As a bonus, you can get an exclusive free 14 day trial for the product research tool for Amazon and the competitor tracker for Amazon tools from the above links.
Pricing: The Product research tool for Amazon costs $9.99/ month, while the competitor tracker is $19.99/month. The keyword analysis tool for Amazon is available for free.
Sell The Trend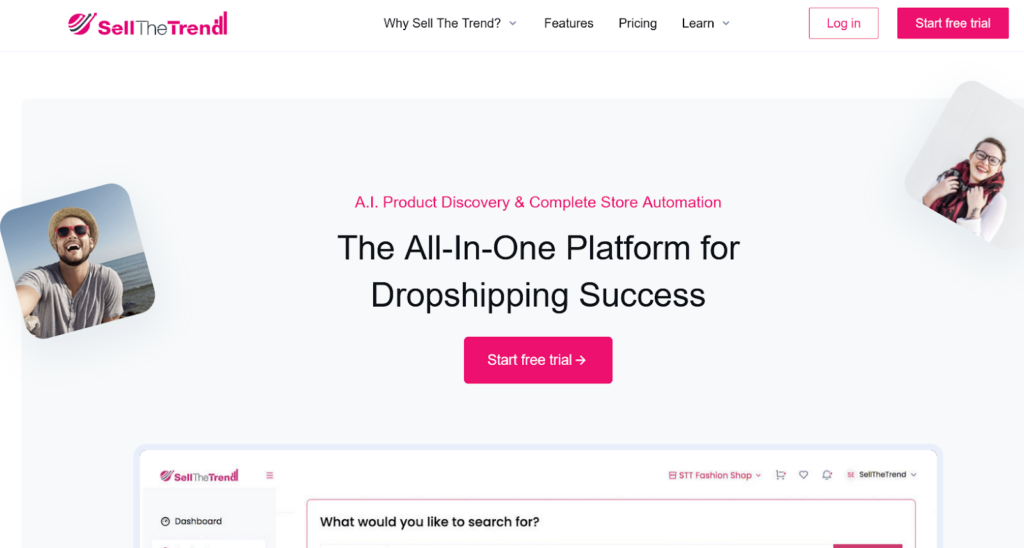 Sell The Trend couples as a dropshipping website builder as well as a product research tool. It has an inbuilt website builder that will create a custom website for products you want as well as provide a detailed analysis of products including the number of orders it is getting on platforms, product demand based on geographical location, and even a prediction of product performance to forecast its success.
Pricing: Subscription starts at $39.97/month for the monthly plan, the yearly plan costs $32 per month and also offers 2 bonus months for no extra cost.
Ecomhunt
Ecomhunt is a regularly updated website that curates successful products. Ecomhunt has different tiers of subscriptions to access the database of products to sell. While the list is available for free, access is limited. In the premium versions, you can check "live trending products" that give a better understanding of which products are in particular or in high demand at any given moment. It also provides tracker sessions for products that are available in the higher tiers of the paid plans.
Pricing: Starts for free with limited access to the database, while the paid plans start at $23, $39, and $49 respectively with increasing levels of features.
AliExpress Dropshipping Center
AliExpress Dropshipping Center is a great tool to conduct product research as a dropshipping business owner. The biggest advantage is the tool is free and it gives great insight into top-selling products. You can check out the "Hot selling", "Search by image" as well as "Sponsored products" to see which products are in demand and the different metrics for them.
Pricing: Free, you only need to sign up for an AliExpress account.
FindNiche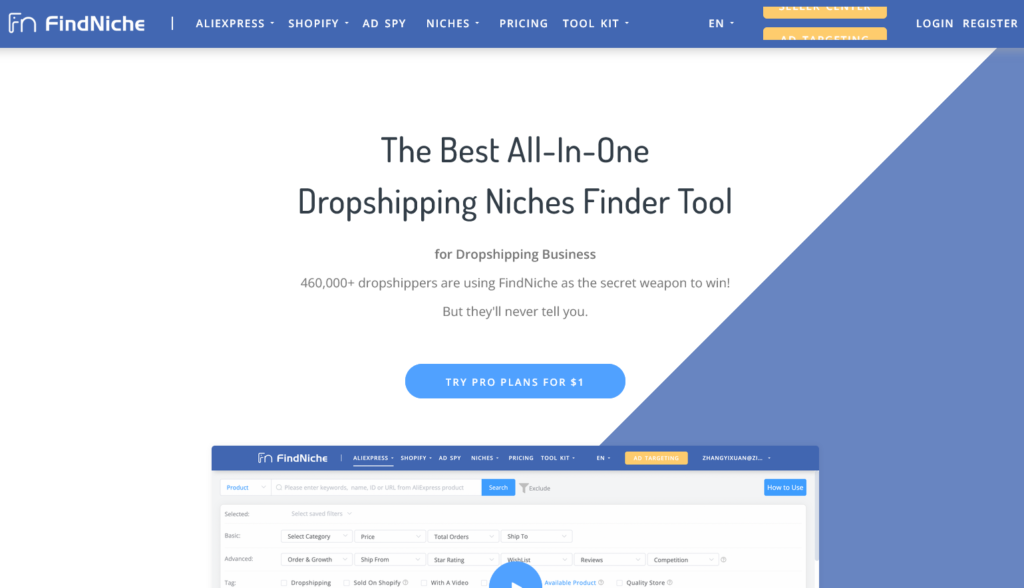 FindNiche is a product research tool specializing in products for both Shopify and AliExpress. The tool has particular categories for products such as finding niches, trending products, best sellers, and finding the right suppliers as well, on Shopify and AliExpress. The Store Search and Spy tool help in finding competitors as well as give an analysis of their sales statistics.
Pricing: Basic plan starts at $9/month and Elite, Premium, and VIP Enterprise solutions at $59, $99, and $200 respectively.
Thieve.Co
Next on the list is Thieve.Co, a tool that claims its product list is not just of the best sellers but curated and collected by experts in the niche. The tool uses data from millions of buyer actions to create a list of products that have high profitability. The product list also has an estimated rate at which it converts, called a conversion score.
Besides this, Thieve.co can also help create supplier-side product imagery which is an added bonus.
Pricing: While the tool is free, advanced data and predictions are available in paid plans starting at $29/month.
Niche Scraper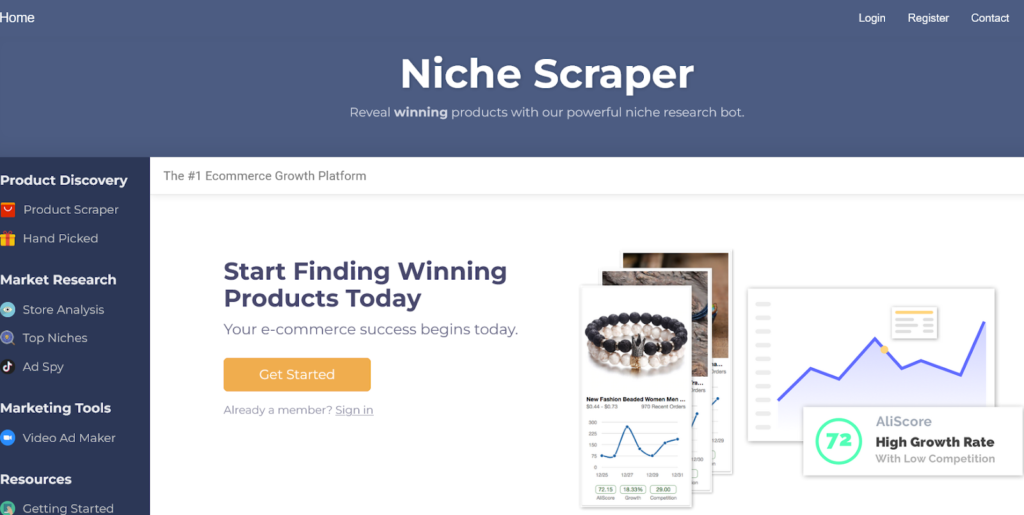 Niche Scraper as the name suggests is a tool that aggregates data on millions of products to create a list of high-performing products. The tool also observes data from similar shops to find the best-selling products. This tool is ideal for beginners because of its simple but comprehensive tool making product research achievable for everyone.
Pricing: Basic features are available for free, paid plan starts at $49/month.
AliShark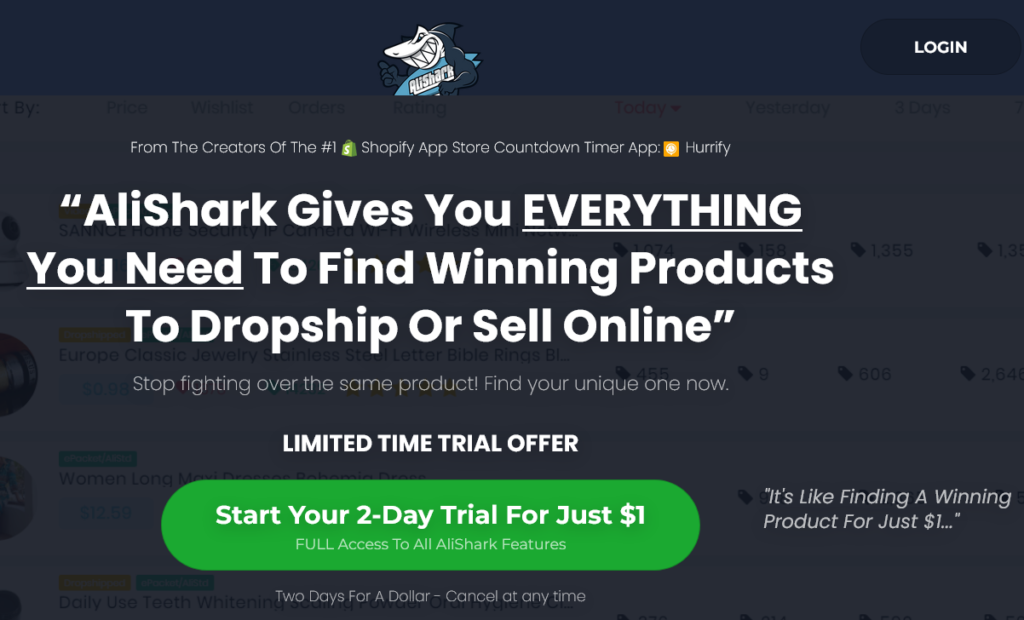 AliShark is a product research tool for AliExpress and other platforms to find the right products for dropshipping businesses. The tool produces continuous live results on products with an exhaustive report on each product to help choose the right product for dropshippers.
In addition, you can also see the performance history of products, their performance with respect to countries, and find competitors to make an informed decision.
Pricing: $20/month for all features.
Dropship Spy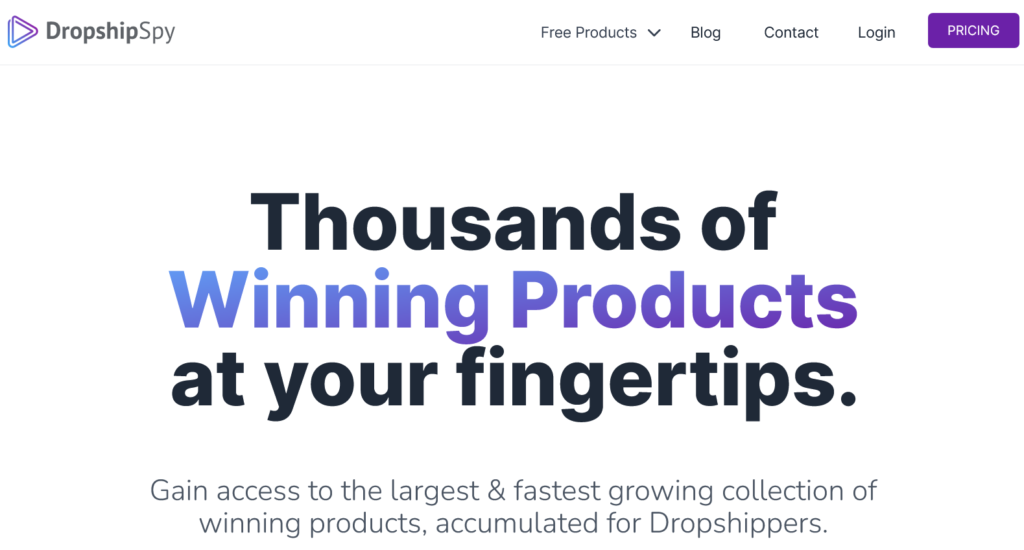 Dropship Spy goes a step further in analyzing platforms by analyzing data from social media platforms such as Facebook, Instagram, and Tiktok. With product history as well as profit data, Dropship Spy provides all the data needed for a dropshipping business to find and sell profitable, trending products. You can also create ad copies for products, profit calculations, and thoroughly analyze social proof information, and data of social media influencers in the niche.
Pricing: $39 per month for monthly plans, and $119 for the annual plan.
Pexda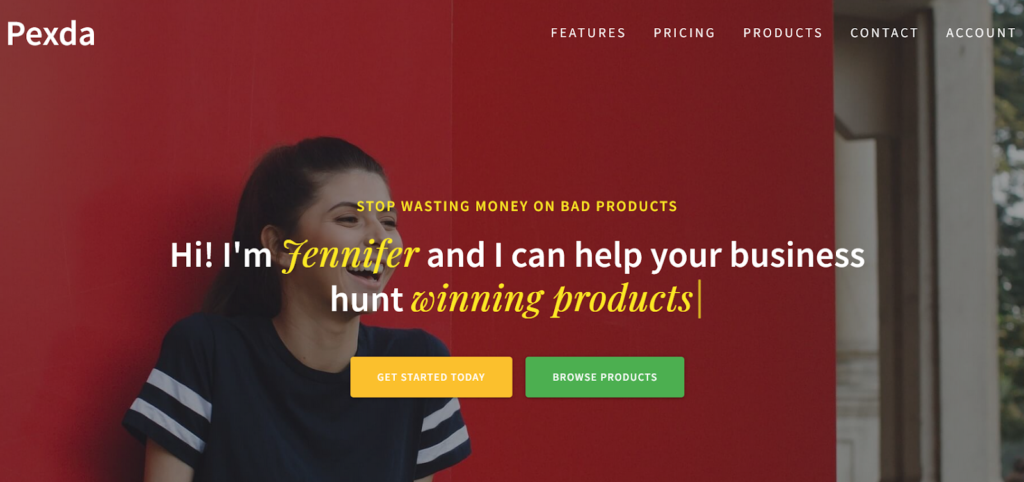 Pexda is a detailed product research tool for Amazon, Facebook, and AliExpress. Beyond providing data on top-selling products, the tool also assists in creating ad copies for social media, and even video ads for individual products. As with the other tools in the list, Pexda also has a product performance predictor that suggests which product will have a high demand in the near future to get a competitive advantage in the market.
Pricing: Standard plan costs $14.95/month while the premium and ultimate plans with advanced data and features are priced at $49.95 and $99.95/month respectively.
With proper product research and planning, you can create a successful dropshipping business that sells the right product at the right time. Do you know a product research tool that you use in your dropshipping that we have not listed? Let us know in the comments.
AutoDS is the leading all-in-one dropshipping tool that helps sellers automate their dropshipping business,allowing them to dedicate their precious time to the things they love in life.
Dropshipping with AutoDS saves you time. Quickly find and import trending products, monitor pricing & stock 24/7. Automatically process orders and more.
Key Features:
OUR SUPPLIERS: Sell products from hand-picked selection of dropshipping suppliers.
INTELLIGENT PRICING AND STOCK UPDATES: Scans your products 24/7 for updates and automatically edit this information in your store.
PRODUCT IMPORTS: One-click bulk import from 500M+ products and 20+ supported suppliers.
AUTOMATE ORDERS AND TRACKING UPDATES: Got an order? AutoDS automatically fulfills the order and updates your customer with tracking information.
PRODUCT RESEARCH SYSTEM: Instantly compare 8M+ trending products from global suppliers and add to your store in one click.
FULFILLED BY AUTODS: Automate orders, tracking updates, and returns without needing a buyer account.
Further Reading