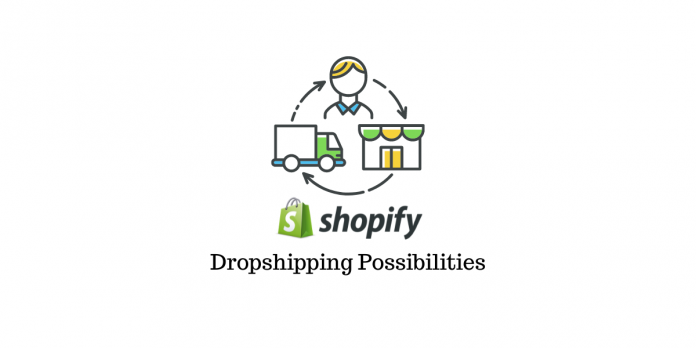 Last updated - June 30, 2022
Dropshipping is a retail model that makes it possible for people to set up eCommerce stores without needing to keep an inventory of the products they sell or handle the shipment process.
This is a highly accessible and straightforward business model that makes it possible for anyone to become an online retailer, thanks to a platform like Shopify. This is a leading ecommerce website currently with more than a million users. Shopify makes it easy to sell a wide range of products through dropshipping.
If you are interested in dropshipping through Shopify, it is important to first educate yourself on dropshipping, particularly how it works on Shopify. Here is a comprehensive review of how dropshipping works on Shopify and everything else you need to know about dropshipping.
What is dropshipping?
Simply put, dropshipping is a demand fulfillment business model where retailers do not stock the products they sell. Instead, they use their online retail stores as ordering points for buyers. When the orders come in, the retailer transfers the order and shipping details to a supplier who handles the shipping to the buyer.
In dropshipping, the retailer is an intermediary between a supplier and a buyer. They curate the buying process but never handle the items they sell.
The most significant difference between dropshipping and the standard retailing method is that you do not need to stock any of the inventory you sell in dropshipping. You only order on behalf of your client from a third party (manufacturer or wholesaler) who packs and ships it to your client on your behalf.
The advantages of dropshipping
There are numerous benefits associated with dropshipping as a business model for your online retail store.
You do not require a lot of capital
The most significant benefit of dropshipping is the fact that you can start the business with little to no capital since you do not need to buy inventory. You only pay for the product once the client has ordered and paid.
It is simple
Dropshipping is easy to start and manage since there is no inventory handling or shipping involved from your end. This gives you more time to better your ecommerce store design and marketing your store and the products you sell.
Reduced overhead costs
Since you do not handle inventory as the retailer, you enjoy a lower operation cost because you do not need storage for your inventory or to meet order fulfillment costs.
You can sell any product
When you start dropshipping, your online store can sell just about any product. There is no shortage of products on demand. Taking the time to learn what people are buying most can help determine which products to focus more on.
With the ability to sell just about anything through your ecommerce business, it is easy to expand your inventory to grow your business.
Disadvantages of dropshipping
Low margins
Since dropshipping offers an easy way of setting up an online store to sell products, many other people are doing the same thing you plan to do. This makes some retailers price their products low to attract buyers. This competition means that the returns from dropshipping are not always big.
Zero control over supplier and inventor issues
Not stocking the products you sell means that you cannot control inventory or issues with supplying. It is challenging to ensure the products you show in your store are always available.
This issue can be solved by using automation software for dropshipping that integrates and synchronizes your store with your supplier's inventory to ensure you are abreast of the products in and out of stock.
How dropshipping works on Shopify
To dropship on the Shopify platform, you can choose to work directly with a supplier located anywhere globally or use a Shopify application that connects to thousands of suppliers globally. Once your client orders a product, you can send it to your direct supplier or use the app to find the most convenient supplier based on your client's location.
If you are ready to start dropshipping on Shopify, here are a few steps you need to take to get started.
Set up your Shopify store
To set up your store on Shopify, you need to create an account from the Shopify website. This requires you to use an email address and set up a store name and a password.
When choosing a name for your Shopify store, you need to use a unique name that will stand out from the other stories on the platform. At the same time, it needs to remain simple, easy to spell and remember.
Fill in the information requested to complete the process. Once done, you can start setting up your store for dropshipping.
Setting up your dropshipping store
To get started, click on the Settings tab on the left-hand corner of the dashboard. Enter the business address and banking details like your checking account and PayPal details to ensure you can receive payments.
Once completed, go back to the settings tab and set up the other parts of your store. This will include shipping details and store policies. Remember to choose a theme for the Shopify store. To set up your store for dropshipping, you are required to add a sales channel.
You can do this from the sales channel tab from settings on your dashboard. Click on 'add sales channel' and choose from the sales channels selection. You can use a Shopify dropshipping app to connect with suppliers in and outside the United States.
Some of the most common apps you can use for your dropshipping store include:
Is Shopify good for dropshipping?
Shopify is one of the most popular dropshipping platforms today due to its ease of use and application availability for adding inventory to your store.
However, to determine whether it is the right platform for your ecommerce business and dropshipping needs, it is always advisable to start small. Work with a few suppliers and products to give yourself time to learn how the platform works and dropshipping in general.
Once you get more comfortable with using the platform for your online store, you can expand your store by adding more products as you work with more manufacturers. For any online store to work, you need to ensure you market it online by marketing the products you sell. Like any other platform, Shopify only works depending on your store marketing effort.
As you continue to gain experience on the Shopify platform, you can consider taking your online store to the greater heights where you use different apps as you use the most innovative ways of using social commerce in your marketing. 
Further reading