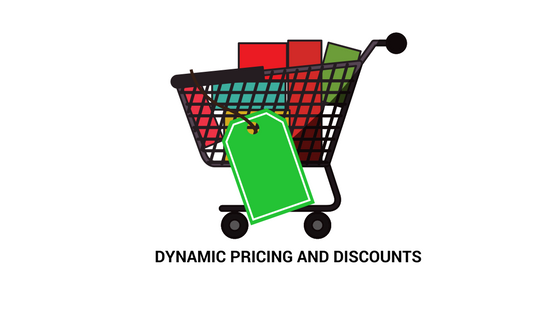 Last updated - September 24, 2020
As a small business owner, you might find dynamic pricing and discounts extremely useful in the eCommerce scenario.
Generally, Dynamic Pricing is a term that is associated with the demand and supply model followed by hotels, airlines, and cab hailing services. But WooCommerce Dynamic Pricing is slightly different in scope and execution and helps small business owners immensely.
This article tries to explore different ways in which small business owners can make use of this pricing strategy for better conversion and customer satisfaction.
What is WooCommerce Dynamic Pricing?
Dynamic pricing, in eCommerce terms, is a strategy to offer discounts to customers based on several parameters. Based on your business model, you can choose the appropriate pricing model from the below available options:
Product-based – You can offer a discount according to the number of individual products a customer is purchasing.
Role-based – Define a pricing strategy based on the customer's user role in your store.
Order based – This dynamic pricing strategy helps you set up a dynamic price based on the customer's total spent on an order. Apply the rule to only to certain roles, or to everyone.
Category based – You can do this in two ways:

Simple – Choose one category from all the product categories on your store to set the dynamic rate.
Advanced – Set a price based on multiple categories that you choose to apply the special price.
You can read more about these different strategies with examples in our article here.
How customers use WooCommerce Dynamic Pricing Extensions?
Customers often create innovative scenarios to make use of the many quality Dynamic Pricing Plugins available in the market. Here are some of the user stories:
Bulk Pricing can be as simple as in Sophia's food delivery business
Sophia is a small business owner from Wisconsin who has a store that delivers tasty food in the locale. Here is a simple strategy that she uses in three steps
All items in her menu are set at $12.

If a customer adds one to four items to the cart, the price of each item will stay at $12 per item (and hence the order total will be $48).

However, if a customer adds five or more products to the cart, the price of each item will drop to $10 per item. Example: A user adds 5 items to the cart. The total will be $50 rather than $60 (5 items × $12). If a user adds 6 items to the shopping cart, the total will be $60 rather than $72 (6 items x $12).



You can find the Dynamic Pricing Plugin that Sophia uses here.
Set a different discount rate for each product variation like Fernando did
Fernando runs a store that sells medicinal herbs in different sized bottles (2oz, 4oz, 8oz, 16oz, 64oz, etc.). He wanted to offer bigger discounts to loyal customers who were regularly purchasing from his store. He could do it in three simple steps as below:
Each bottle size is created as a product variation.
Then created a discount strategy with multiple user roles and multiple discount rates (Guest user – 10%, Returning customer – 20%, Frequent buyer – 30%, Regular Buyer – 40%).
Set product rules for different user roles (10% to 50%) by choosing each variable product.
Challenges in WooCommerce Dynamic Pricing
Setting dynamic discounts on your store might leave your with some challenges though.
One of the primary concerns is that it creates a certain perception of your store in the customer's mind. If your customer doesn't find value in buying a regularly-priced product from your store, then the whole pricing strategy is a fail.

With several price comparison bots and big players offering dynamic pricing all the time, there is pressure on small businesses too.
Customer response is always going to be a mysterious phenomenon. You need to constantly evaluate your efforts and make quick improvements in the pricing strategy.
How to overcome challenges in WooCommerce Dynamic pricing?
With the wise use of this hugely popular strategy, you can improve your sales and do it continuously.
Use dynamic pricing optimally to create your store's reputation. The value of your products should not go down as the price goes down.
Use it according to your product range and customer demographic
The bulk discount strategy works for Sophia's food delivery business because there are big families in the neighborhood. Chances are more than she gets orders with more than five items.
Fernando's medicinal herb business has a totally different perspective. His customers often come back periodically when a bottle is finished. So accordingly he devised his strategy.
Sophia's and Fernando's examples are really simple ones. You can achieve more complex outcomes with dynamic pricing plugins. Try out your own unique pricing strategy with a woocommerce dynamic pricing free plugin.
Maintain your customers' expectations all the time
Once you establish yourself in the market, ensure your customers' expectation is maintained in terms of pricing and quality. Sometimes, if your product is a real standout in the market, customers wouldn't really care if they pay a few extra dollars.
Try seasonal discounts depending on the nature of your product
For example, if you have some Christmas-themed decor items in your inventory, it's really a no-brainer to know when the demand will be.
Conclusion
Dynamic pricing is a great promotional strategy to enhance your sales in the current scenario. Big online stores and price comparison websites have made it somewhat of a norm, but use it only if your business demands it.
Make sure to use dynamic pricing optimally in a way that suits your product range and customer range. You need to understand customer behavior on your site right after a sale drive and devise pricing strategies accordingly.
Check out some of the amazing dynamic pricing plugins for WooCommerce listed below
ELEX WooCommerce Dynamic Pricing & Discounts,
WooCommerce Dynamic Pricing & Discounts,