Last updated - October 7, 2021
So, you've taken the leap and decided to join the fast-growing world of eCommerce. You're on course to develop an online sales platform for your business. You've allocated the budget needed to create your online store, drawn up operational plans, and decided on a range of products to sell online.
Except there's one thing missing.
You need an efficient and capable eCommerce team to run the show behind the scenes. Your team will manage content, collaborate with your marketing team, and gather and use online data to your business's advantage. They'll also coordinate your online store's sales.
But it can be challenging to know where to start when allocating eCommerce roles and structuring your team in the most beneficial way possible.
In this article, we share 15 tips on establishing and maintaining an efficient eCommerce team that will give your new venture the best chances of ongoing success.
Why eCommerce is Important for Businesses
Establishing an eCommerce platform is a crucial move in an economy that is increasingly moving towards digital retail platforms. eCommerce platforms can improve the recognition of your brand in the digital space. They enable you to reach new target audiences with your products and messages, and offer great products and customer service 24 hours a day.
Online shopping is more convenient for your customers. They can visit your store at any time, regardless of their schedules or availability. Providing customers retail experiences in the comfort of their own home is becoming the key to building sustainable income streams. Especially in light of the widespread lockdowns and social distancing protocols necessitated by the Covid-19 pandemic.
eCommerce is an easily scalable solution. It allows you to expand your product ranges and target audiences as your company progresses. Plus, it allows you to develop your business according to real consumer demand and engagement metrics. You can freely add additional products, payment options and features to your eCommerce site as it grows. Provided that your team can keep up with increased demand, of course.
eCommerce offers a huge range of opportunities for businesses. New marketing opportunities, the chance to expand product ranges, appeal to new audiences, and generate more sales are just some of what you achieve. If your eCommerce team can build you a user-friendly, optimized website, you can offer your customers 24/7 convenient, customized service. This will further boost your business and your profit margins.
15 Tips for Building Your Dream eCommerce Team
#1: Assess Your Staffing Size
If you're a digital-first eCommerce business that aims to scale in the future, start your journey by determining your individual staffing needs. You need to know which roles you must hire for, and at what points in your business's life you need to make those hires. You also need to know where those employees should be placed for maximum impact.
#2: Allocate a Manager
Every physical store needs a manager to direct its team and keep operations running smoothly. The same goes for your eCommerce store. Your pricing, sales, marketing and inventory all need to be actively managed to keep your venture profitable.
One of your first steps when establishing your eCommerce team should be to appoint an eCommerce manager to guide and direct that team. Smaller companies may not need a full eCommerce team or even a full time manager. But it's still important to assign the responsibility of managing your digital retail platform to a specific person.
Remember: If every member of your team is in charge, you can effectively say that nobody is in charge at all.
#3: Decide on Your eCommerce Manager's Responsibilities
Depending on the nature of your business and industry, the products and services you're selling, and the size of your business, your eCommerce manager may have varying responsibilities. Regardless, it's crucial to have a clear idea of what these responsibilities are, and to instruct your manager clearly about them.
Responsibilities may include:
Monitoring and improving online sales figures
Implementing eCommerce strategies, online marketing, and content management protocols
Determining eCommerce channel budgets
Managing eCommerce team members and their roles
Reporting to upper management
Activating online store accounts for new and existing customers
Gathering feedback from online customers
Managing eCommerce communications, services and process changes
Managing agreements with your eCommerce suppliers
Your eCommerce manager should have the ability to translate your business's mission, values, and products into a digital environment. Additionally, they need to have clear KPIs and goals to work towards.
#4: Establish Clear Expectations for Your Team
New team members will arrive at your business as 'blank slates', and will quickly start to adjust to your specific methods of operation. You can take advantage of this by setting clear ground rules and expectations from day one. It's important to set sales and time goals. But you also need to be clear on the type of team environment you want to establish.
Consider if you want to create a culture of shared communication and decision making, shared problem resolution, or shared responsibility.
If you do, tell your team members right from the start so that they know exactly what's expected of them. Using team management software like Monday.com and Hibox will assist you in keeping track of your team members' performances as they adjust to your way of operation.
#5: View Your Team Members as Individuals
Each of your team members is an individual with their own stories, perspectives, and experiences. Creating a strong team environment means honoring and respecting each individual's unique talents and insights. You must give each person the chance to contribute towards your eCommerce goals in a different way.
#6: Hire Website Management Staff
Your website's senior management team will form the backbone of your eCommerce platform. As a merchant, you should understand that the people in charge of your online business need to completely understand every aspect of eCommerce, inside and out.
Your website management team should handle the technical and administrative aspects of your site, along with your marketing, merchandising, and revenue generating processes. Equip them with an automated web management system like Adobe Experience Manager for even better results. Other professionals, including marketers, designers, and programmers, should fall secondary to this crucial role.
#7: Find Skilled Technical Staff
Next, you will need to hire technical staff to build and maintain your eCommerce site. If you operate a smaller business, it's potentially more affordable to temporarily hire a freelancer to complete these tasks for you.
There are two different technical skill sets to know about: front end and back end.
Front end staff design and program code. Back-end staff integrate websites with other systems like your shipping, accounting, and payment processing systems. These two skill sets encompass very different sets of abilities. So, it's important to assess which specific skills your business needs upfront.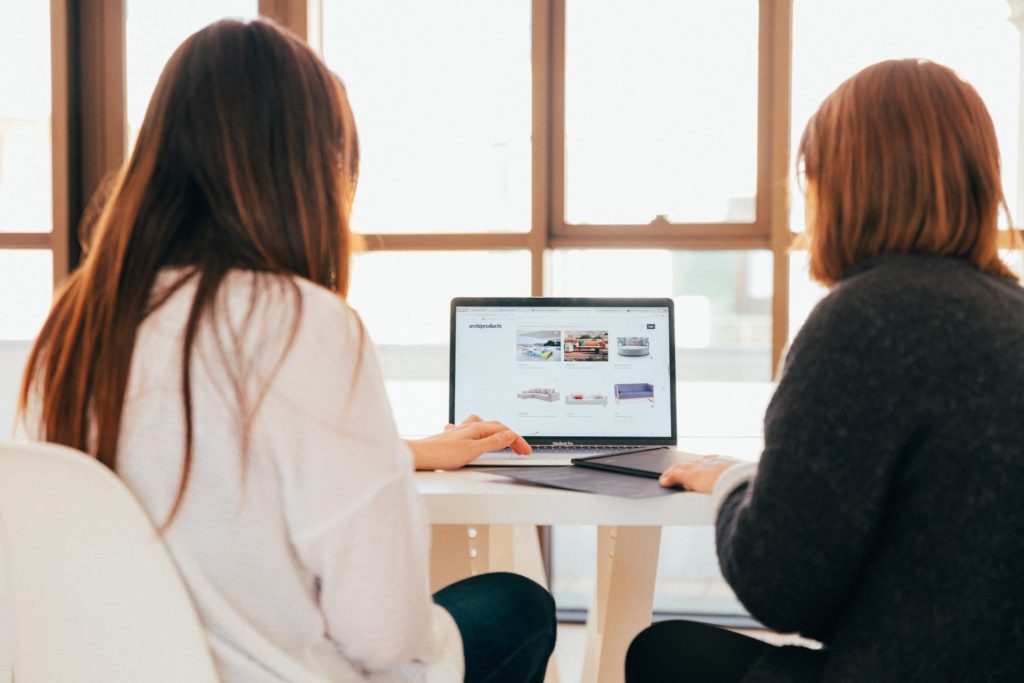 #8: Find Your Digital Marketing Experts
The next addition to your eCommerce team should be your digital marketing staff. Most digital marketing professionals will specialize in different fields. Take some time to decide on your primary marketing objectives before you initiate the hiring process.
Depending on your needs, you could hire:
An email marketing specialist, who has knowledge of constructing marketing mails and using metrics like open rates and click-throughs
A paid advertising specialist, who understands what paid options are available to you and how you can best use them to ensure success
An SEO specialist, who knows how to bring organic traffic to your website by boosting your ratings on different search engines with keywords and SEO-optimized content
An analytics specialist, who understands key tools like Google Analytics and knows how to mine data to drive conversions and sales.
#9: Hire Customer Service and Support Staff
Customers are critical to the success of your business. Without them, there will be no sales, no profits, and no future. However, simply having customers isn't enough to keep you going. Your customers need to feel satisfied and engaged to remain loyal to your brand. You will need a team of dedicated customer service employees to provide exceptional customer support at all times.
With busy schedules being the norm these days, the times your customers shop online may be rather unconventional. While this is a perk of always being open, it does mean that you need a support team that's readily available for as many hours as possible, every day.
When hiring support staff for your business, prioritize hiring workers with fantastic people skills. Your team needs to be able to handle your customers at their best and at their worst. In doing so, they'll keep them engaged and retain their custom in the long run. You can also use customer service software like GrooveHQ to provide a memorable experience for your supporters.
#10: Find the Right Accounting Staff
Depending on the size of your business, you may need to hire an eCommerce accountant to manage your company's finances. To keep track of income and expenses, and handle multiple transactions each day. Your hire should be capable of managing your finances and providing you with accurate advice regarding your eCommerce site's finances, investments, taxes, and more.
You can improve the efficiency of your accounting team further by investing in automated accounting and payroll management software for your business. Accounting programs like FreshBooks reduce man-hours that are otherwise spent on invoicing, reconciliations, and other essential aspects of bookkeeping. This allows your team to focus on more pressing financial matters to keep your business running smoothly.
#11: Onboard a Business Analyst
You may need a business analyst in your ranks to make key decisions about how to develop new products, enter new markets, and grow your eCommerce business. This position is usually filled by a seasoned senior consultant or industry veteran. Make sure that you budget accordingly to get the best possible guidance and advice—it's a worthwhile investment.
#12: Find Your Team an IT Technician
The right IT technician will assist your team in properly using your eCommerce platform's digital infrastructure. They can link online information with your logistics and inventory staff to efficiently move and track merchandise through the supply chain.
Furthermore, an IT specialist will store your data securely and safeguard your business systems against cybercriminal attack and other pertinent, potentially bankrupting risks.
#13: Hire Logistics Managers
Logistics managers are responsible for making sure that orders from your manufacturers and suppliers are transported safely and timeously to your warehouses. They manage customs clearance for cross-border shipments, conduct quality control checks, and make sure that adequate transport insurance is in place. A skilled manager will monitor your business's delivery fleets. And, they'll manage relationships with third party delivery services to ensure streamlined supply chain management.
The eCommerce shopping experience takes place digitally. But getting products to your store's customers will still happen in the real world. Your logistics manager's primary responsibility is to ensure that your business gets its goods from manufacturers to customers as quickly and efficiently as possible. If your budget doesn't allow for a logistics manager just yet, try an automated logistics workflow app. Software like Cflow can keep your logistics running smoothly.
#14: Consider the Resources You Need for Training
It's absolutely essential to account for the time you need to onboard and train new eCommerce team members when you make your hires. These processes can take valuable time away from senior team members, who would otherwise be focusing on growth and strategy.
You can use digital education and training tools like Apty and TalentLMS to streamline the onboarding and training processes. These tools will equip your team members with the skills they need to perform well in their roles.
#15: Regularly Reassess Your HR Investments
As your business grows, the number of people you will need to operate will expand exponentially. In SMEs without HR departments, company leaders need to devote large volumes of time to finding and training the right hires. Your business's hiring needs will change according to its scale, the products you sell, and the areas you are willing to service.
Use an HR management tool like Kissflow HR Cloud and Breezy HR to find the right team members for your business, while saving valuable time for your senior managers.
The Bottom Line
Creating a skilled and efficient eCommerce team will ensure that your eCommerce venture consistently meets its goals. Regardless of whether these goals are related to customer support, customer acquisition and retention, revenue enhancement or brand recognition improvement.
Additionally, you can use a wide range of automated software and tools to enable your team to work even more efficiently. In turn, this will encourage customers to keep coming back to your online store.
Further reading