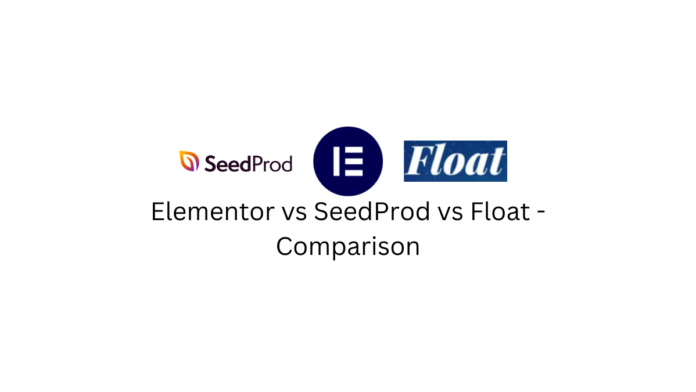 Last updated - February 20, 2023
Let us take a look at the features of Elementor, SeedProd and Float themes in this article, compare their features and see their pros and cons.
Elementor
Elementor is widely recognized as a top choice among WordPress themes.
It has established itself as a leading option in the market and faces stiff competition from other notable themes such as Divi and Astra.
Elementor Features
The Regen Drop Editor allows for unlimited creative freedom in building a website. With its drag-and-drop functionality and customizable features, you can create the exact page design you envision without the need for coding.
From a library of over 300 design templates, you can easily choose the perfect starting point for your project. With access to over 100 widgets, every aspect of your page can be tailored to your specific needs.
The responsive editing feature lets you preview how your page will appear on various devices, such as computers and phones. You can also enhance your WordPress capabilities by using the Elementor plugin, which is regularly updated to ensure optimal performance.
With global editing and a centralized control panel, adjusting the layout, style, and other elements of your page has never been easier. The paid Elementor Pro version includes additional options such as dark mode and the ability to set colors and reuse them throughout your site.
The Elementor boasts a wide range of useful features, such as contextual editing, shortcuts, inline editing, and right-click menus. Auto-saving is also available, so you never have to worry about losing your progress.
In addition to traditional background images and colors, you can also add videos or slideshows to your page. With access to hundreds of Google fonts, you can easily choose the perfect typography for your site, expressed in either pixels or Em.
To drive more traffic and sales to your site, consider incorporating e-commerce functionality. Design your site to be visually appealing and encourage visitors to make a purchase.
Create your own custom theme and make every aspect of your site unique, from the header and footer to 404 pages. With Elementor, the possibilities for web design are endless.
WooCommerce Compatibility
The advanced e-commerce functionality available in the Elementor Pro version allows you to establish an online store directly on your website. Here, you can showcase and sell your products with ease.
Customize your shopping cart by designing the look of the icon, whether the cart is empty or filled with items.
Dynamic WooCommerce tags further streamline the shopping experience by ensuring that any changes made in one location are automatically reflected site-wide.
SeedProd
SeedProd is widely considered a top-notch web page builder for WordPress, among other highly rated options such as Divi and Astra.
SeedProd Features
The Drag and Drop Builder feature of SeedProd is known for its ease of use, as attested by users including the author. The builder enables the creation of visually appealing pages with minimal effort, even for beginners, and without the need for any coding skills.
With the Preview function, users can check how their pages look before publishing, and the Layout Navigation tool facilitates the arrangement of various elements such as rows, columns, headers, etc.
SeedProd also offers a convenient Revision History feature, allowing users to quickly revert to previously saved versions. Additionally, the builder is designed to be fully responsive, ensuring that pages look great on all devices.
SeedProd boasts a vast selection of over 150 landing page templates and frequently adds new options. The platform supports the creation of various types of pages, including opt-in forms, thank-you pages, and more.
The Smart Sections feature enables users to create professional-looking pages without having a design background.
SeedProd integrates with Google Fonts, providing access to a vast library of font options, and also allows for customization via CSS. The builder can be used to create pages, posts, headers, and footers without needing to write any code.
Lastly, the builder includes a convenient feature for creating 404 pages to capture email addresses from lost traffic. With SeedProd, users can transform their application pages into visually stunning designs, elevating their brand.
WooCommerce Compatibility
The integration with WooCommerce allows for the creation of product pages, shopping baskets, and other eCommerce-related pages through the use of WooCommerce blocks and integrations.
This feature provides users with the ability to manage subscribers and track their numbers, whether through email or otherwise.
SeedProd offers a range of premium integrations, including popular email marketing platforms like MailChimp, Convertkit, and Active Campaign.
These integrations allow for the efficient gathering of subscribers and the ability to send them updates when new content is added to the site.
Float
Another theme from the Themify collection is the Float WordPress theme, which will be briefly introduced in this blog.
Another theme from the Themify family, Ultra, has also been covered in a separate article on the same blog.
Float Features
The Float theme offers a number of design features, including the ability to create floating effects through the use of the drag-and-drop builder.
This theme is also responsive and offers flexible design options, allowing users to quickly create attractive pages.
For those looking to save time, the Float theme comes with the option to import a finished demo, making it easier to get started. Users can also customize their CSS by adding their own code and accessing a wide selection of Google fonts.
The Float theme is compatible with the latest version of WordPress and also offers integration with WooCommerce, making it easy to set up an online store.
All that is required is to install the plugin.
Elementor vs SeedProd vs Float – Our Verdict
We will compare these three amazing themes through three categories: design, speed, and price.
Elementor vs SeedProd vs Float – Design
A very important category when choosing a theme is the design. In this field, two themes dominate, namely Elementor and SeedProd. Specifically speaking, the best theme of these three in terms of design is Elementor, followed by SeedProd, and finally, Float.
Elementor vs SeedProd vs Float – Winner: Elementor
Elementor vs SeedProd vs Float – Speed
The second category is as important as the first, and that is speed. In this category, I will say that the topics are equal. This means that all three themes are of solid speed.
Elementor vs SeedProd vs Float – Winner: Tied
Elementor vs SeedProd vs Float Pricing Comparison
Elementor Pricing
The Essential package is the first paid option, priced at $59. This package is limited to just one website but offers premium support and website kits.
Then there is the Advanced Plan at $99 which allows you to expand to 3 websites and includes all the features in the Essential Plan.
Next in line is the Expert Plan, which costs $199 and can be used on up to 25 websites. This package also includes all the features from the Essential package.
The Agency package is the third option, priced at $399, and can be used on an 1000 websites, making it an ideal choice for agencies. It includes all the features of the previous two packages.
Finally, the Cloud option is priced at $99 per year and includes built-in hosting, a free SSL certificate, 100 GB of memory, and the ability to connect your own domain.
SeedProd Pricing
The SeedProd platform is offered in four different editions: Basic, Plus, Pro, and Elite.
Starting with the Basic edition is the most affordable option with a regular price of $79. Currently, it is on sale for $39.50, offering a significant discount.
The Plus edition has a starting price of $199, but it is also on sale for $99.50, making it an attractive option.
The Pro edition, which normally costs $399, is also on sale with a 50% discount, bringing the price down to $199.50.
Finally, the Elite edition is the most comprehensive and expensive option, with a regular price of $599. This package also includes a premium feature, Domain Mapping, and it is currently on sale with a 60% discount, bringing the price down to $239.60.
Float Pricing
The Float theme is available in three different pricing plans. The first and most affordable option is the Single Themes package, priced at $59, which offers support and updates for one year and access to the Themify builder.
The most popular package among the three is the Master Club, priced at $89, which includes 42 themes with Photoshop files, 11 plugins, and 25 additional buildable plugins.
Lastly, there is the Lifetime Club package, priced at $249, which provides lifetime access to themes, updates, and plugins.
Each of the three packages can be used for unlimited locations and customers have a 30-day money-back guarantee if they are not satisfied with the theme.
Final Thoughts
While all three themes are good in what they offer, this article has shown a detailed view of them, with Elementor having an edge over SeedProd and Float in some aspects. We hope this article helps you make an informed decision on choosing your WordPress website builder. If you have any comments or suggestions. let us know in the comments.
Further Reading