Last updated - July 8, 2021
PowerPoint presentations provide a great way to communicate structured information to your viewers. It's so easy and simple to use. You can be as creative with your presentations as you like. Tons of free PowerPoint templates are available to make for an amazing presentation. Not to mention the user-friendly interface that displays all the tools to add effects, tables, graphs, and more.
Mind you… PowerPoint presentations are not ideal online content. But if you are planning on showing a summary of a presentation, share how-tos, or a simple presentation to show your products and services online, you will need to find a way to embed them to your website. Thankfully, there are a couple of ways on how you can embed PowerPoint presentations on WordPress. 
Method 1: From Google Slides to WordPress
Let's start off with something easy. Embedding PowerPoint presentations on WordPress from Google Slides is very simple. What you need to do is to copy-paste a code snippet in the HTML text editor. Here's how to do it:
Step 1: First, open up the Google Slides presentation that you want to embed in your site.
Step 2: Click on File.
Step 3: Select Publish to the web.
Step 4: In the pop-screen, select the Embed tab. Then, configure the presentation's settings. Once you're done, click on Publish.
Step 5: Copy the code snippet in the text area.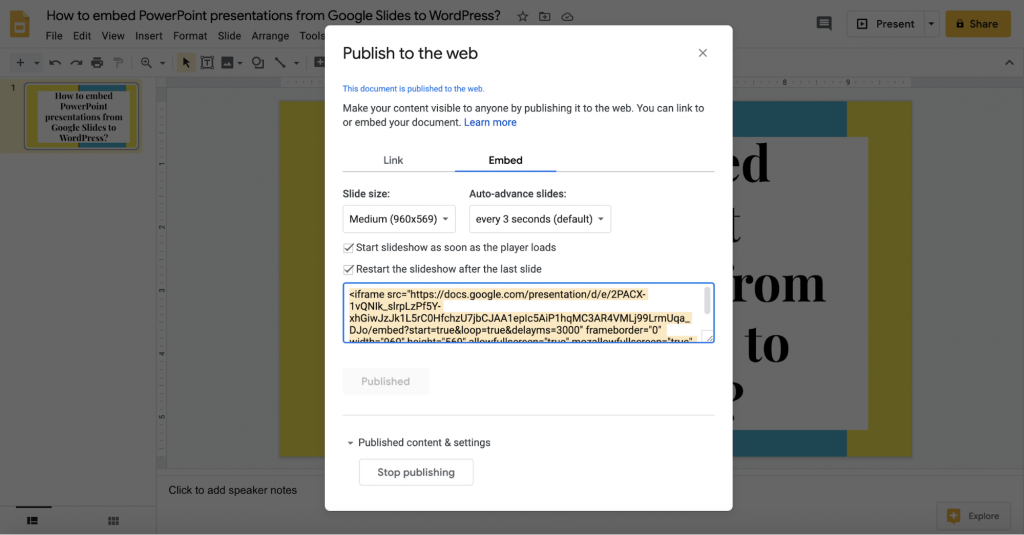 Step 6: Then, log in to your WordPress website and open up a post. Check if this post is the one you want to embed the presentation to. Head over to WordPress' HTML text editor and paste the code snippet of the presentation.
Now, you can either publish the post or save it as a draft and preview it. The presentation should appear in the post. This is how it should look like:
Pros:
Publishing to web is very easy

Slides are stored in Google Drive

Can be accessed anywhere 
Cons
Google Slides is internet-dependent

Pasting snippet code on WordPress can be a little complicated
Method 2: Through WordPress Plugin
Another way to embed PowerPoint presentations is through embedding it directly from your computer's drive. This method is great if you only upload presentations on your site once in a while.
Step 1: First off, log in to your WordPress website and head over to Plugins > Add New. Then, search for Embed Any Document plugin and install it.

Step 2: Once the plugin is installed, go to the General Setting screen by heading over to Settings > Embed Any Document. The General Settings screen allows you to configure how the presentation will appear. Also, it lets you enable the download link as well as setting the download link's text.
Step 3: On your WordPress site, select a post in which you want to embed a presentation. Click the Add Document button on the editor screen.
Step 4: After clicking the Add Document button, a pop-up box will appear prompting you to choose which upload method to use. In here, click on the Upload Document option. Then, using the WordPress uploader you can now upload your PowerPoint presentations.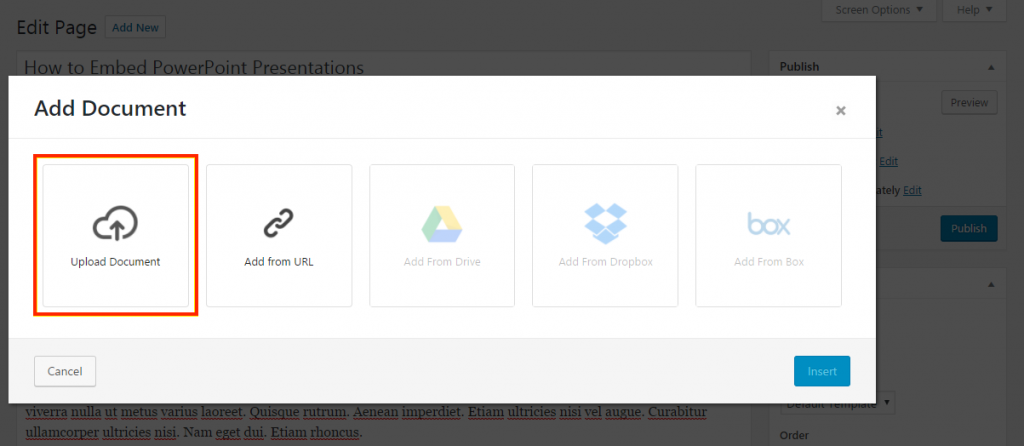 Step 5: Now, your presentation is already uploaded in the back-end. You will then see a pop-up screen that lets you modify and review your presentation's display settings. This also generates a shortcode.
Step 6: After you have reviewed everything, click on the Insert button to add the shortcode to your page. And that should embed the PowerPoint presentation to your site.
Pros:
Presentations are stored in your own server

Perfect for frequent usage
Cons:
Third-party installation is needed

Has file-size restrictions

Some PowerPoint effects aren't preserved

Presentations take up the server space

It sometimes slows down the server 
Method 3: Embedding from SlideShare to WordPress
Embedding PowerPoint presentations to WordPress can also be done by third-party service. SlideShare lets you upload presentations, infographics, documents, and videos to share with your website. 
Users can upload PowerPoint, PDF, Word, or OpenDocument format files. Businesses or individuals that publish many presentations on their site use this – as uploading and sharing to WordPress sites is seamless.
Step 1: In your SlideShare account, select the presentation that you want to embed to your WordPress website. Select the URL in the address bar and copy it.
Step 2: On your WordPress website, select a page or post that you want to embed a presentation to. Select the Text tab on and paste the URL link in the post.
Next, you can publish the post or save it as a draft. If you click the Preview button, it should look something like this: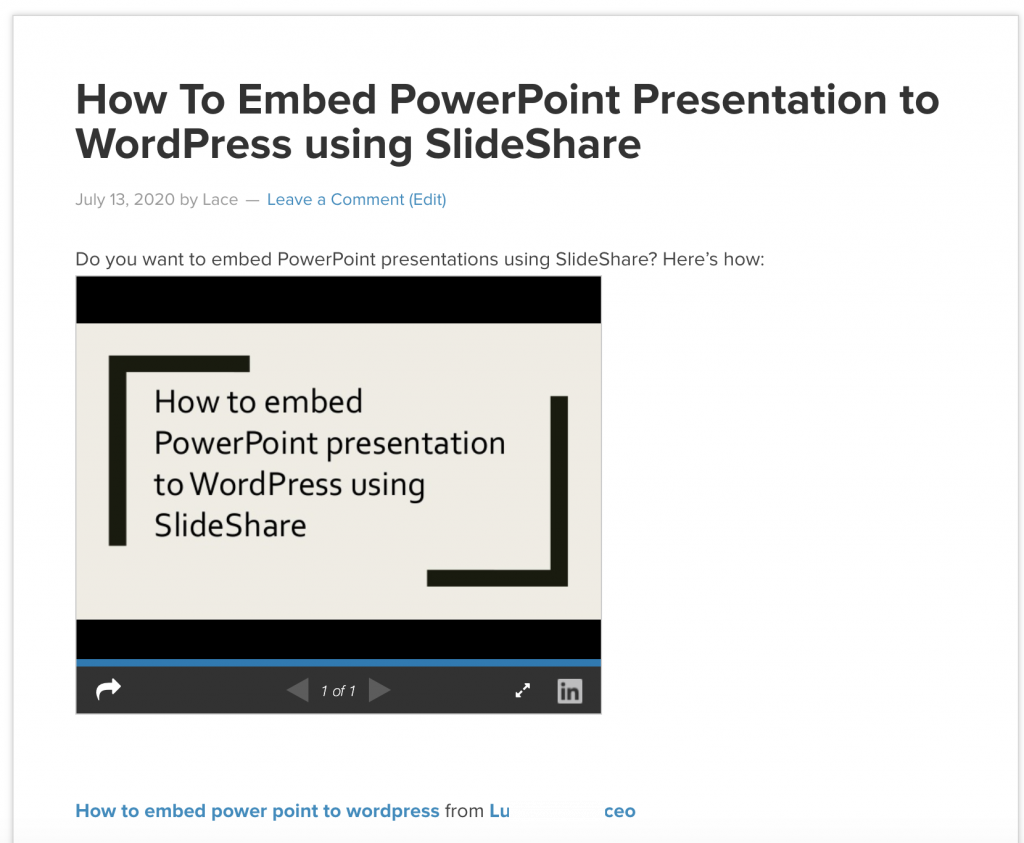 Pros:
Presentations are stored in a cloud

SlideShare can be accessed anywhere as long as there's a stable internet

Contents can be set either to private or public
Cons:
An account in SlideShare is needed

Some effects won't be preserved
Method 4: Upload presentation to YouTube
Having videos to watch on your website gives it an extra something. In fact, there are viewers who prefer to watch something than reading. So, if you want to embed PowerPoint presentations on your website, this is another way to do so.
Step 1: Export your PowerPoint presentation to a video. Head over to PowerPoint File > Export > Create a Video.
Set your presentation to the highest quality, YouTube will be the one to compress it. Also, if you don't have any narrations on your presentation you don't have to set anything for its settings. You can change the time of the duration that you want for each slide. 
After setting everything, PowerPoint will then export a video file once you click Save.
Step 2: Upload the video file on YouTube.
Step 3: Click the Share button of the video and copy the link provided.
Step 4: Select the page or post that you want to embed the YouTube. Next, paste the link on the editor's screen. You can publish or save it as a draft. Once you click Preview, you will see the YouTube video embedded in your post.
Unlike the other methods, embedding a PowerPoint presentation on WordPress through YouTube is easier as it does not require any third-party apps or services. 
Pros:
No third-party apps or services needed

No file-size restrictions

Can upload high-quality PowerPoint presentations
Cons
Videos are not interactive unlike a PowerPoint presentation

YouTube videos can be deleted without prior notice
Conclusion
PowerPoint has proven to be a very useful tool in conveying presentations. May it be for educational or business purposes. It gives structure to your content and extra life – with creative designs and fun tools. Hence, it is an amazing way to drive up traffic to your website. Each of the methods above has pros and cons. Assess them to know which suits you. Regardless of the method used, it seamlessly embeds your PowerPoint presentations to your website.
Further reading