Last updated - July 19, 2023
Videos are all the rage and the most popular form of content on the internet nowadays. With the growth of the internet and faster network speeds worldwide, videos have become more accessible to users on all major websites. Facebook, TikTok, Instagram, and YouTube, all social media platforms focus on video content to for increased user engagement and conversion.
There are a few reasons for videos having multiple advantages over other media formats online. Firstly, videos can be useful to explain difficult ideas and keep the attention of website visitors while managing that. Search engines like Google also favor websites with rich media content like videos and images and this helps in ranking higher in search engine result pages. To add to these, videos can also help build your brand reputation and grow trust among your audience.
If you have not considered creating videos and adding them to your WordPress website, it is high time you did it for immediate benefits from SEO, increased conversion, and an overall improved user experience. As a website owner, you can definitely reap benefits from including video content and it is even worthwhile to invest in video content creation that can complement your website content.
These are some of the reasons videos have gotten easy to add to WordPress websites as well and there are several ways to embed videos into your website. You can opt for direct upload where you can upload videos directly to your website or you can upload your video to platforms like YouTube, Vimeo, DailyMotion, etc, and embed them to your website.
Embedding Videos vs Direct Upload
While WordPress allows for directly uploading videos to your website, this is not generally advised because of several reasons. Firstly, adding videos to your website takes resources out of your website's servers, making them slow and affecting user experience and long loading times are also bad, SEO-wise.
Secondly, the website hosting provider you are using may limit the size of video uploads and you may have to pay more for uploading large files, making it economically less viable. Uploading videos to platforms like YouTube can be a better alternative as they don't have such restrictions and you can directly embed videos you have uploaded from YouTube to your website. For the end user, this makes no difference while it is very beneficial to have more content with lesser resources, as a website owner.
Why YouTube?
YouTube is the second most visited website in the world, right after Google. YouTube has 1.7 billion unique visitors every month and is only projected to grow higher as YouTube Shorts has been competing with platforms like TikTok and Instagram for short video content engagement from its visitors. Uploading videos to YouTube and embedding them on your website also gives way for you to have a presence on the platform and bring visitors to your website from there. It also offers a lot of features compared to other video platforms and works well with WordPress, overall.
How to Embed YouTube Videos into WordPress?
Initially, it took a lot of manual work to embed rich content like videos in WordPress, especially from external platforms like YouTube. But ever since WordPress rolled out the 2.9 version, you only need the link you need to embed videos from YouTube to WordPress.
There are multiple ways to achieve this besides direct embedding and let us take a look at all of them and how they can all be beneficial to your website.
1. Direct Embedding with oEmbed
oEmbed is the first way we just discussed above. Open the video you want to embed to your website from YouTube, copy the URL and paste it in a new block in WordPress and you will see that the link is automatically converted to a video thumbnail. This is one of the easiest and hassle-free way to embed YouTube videos to WordPress. One thing with YouTube URL is that when you are copying the URL using the share button, there is an option to set from what time stamp you want the video to be played.
This can be useful if you are sharing a long video and want to directly show it to your viewers without manually adding the time stamp for them to move there.
Copy and paste the link and it will be converted into a YouTube video.
2. With Gutenberg Block Editor
In the Gutenberg Block editor, add a new block and click on the plus sign, you will see the supported block formats in the menu. Search for the YouTube block. Add the video URL you want to embed, and WordPress will directly convert it to a YouTube embed. If you had put a starting time for the video, it will start from it as well.
3. Using YouTube Embed Code
There is another way to embed YouTube videos to your WordPress which is using the embed code. While sharing a URL from YouTube, you might see the </> symbol next to other shareable platforms. This is the embed code given by the platform to embed videos in other places.
You can select to add video player controls and enhanced privacy mode, as well as choose a starting time same as when you are directly copying the link to share while creating the embed code in YouTube. Copy this code and open your WordPress editor. Add a new block in the Gutenberg Block Editor and paste the code, and it will be converted to a YouTube embed directly with the starting time, playback control and privacy mode as per your choice.
Off the default ways you can embed videos to WordPress, this offers more in terms of features to your embedded videos.
4. Adding YouTube Videos as Widgets
Now let's see another way to embed YouTube videos to WordPress, which is in the form of widgets. Embedding videos to widgets in places such as sidebars or footers and headers can enable them to show up website-wide in all posts and pages. Here is how you can embed YouTube videos to your WordPress website's sidebar as a widget, or in the footer, etc depending on the theme you are using.
Go to your WordPress dashboard and go to Appearances > Widgets.
Here you will get to edit sidebar widget, footer and other content that is typically shown universal across your website. Once inside, how you view and make these may slightly vary depending on your theme as well. Let's add the video to the website's footer as an example.
To do that, click on"Footer Column1″ and you will get a block where you can add content to the first part of your website's footer. Here, you can embed the YouTube video in any of the way you have seen above to add the video to the website.
Let's try the direct embed method now and it will be embedded and the backend preview will look like this.
This method is useful for displaying video content such as your brand story or the latest video released by your brand's channel and similar generic content throughout your website.
5. Embed YouTube Content with Plugins
Another method you can embed YouTube videos to WordPress is with plugins. Plugins have several advantages over the default video embedding methods offered by WordPress. Plugins offer more customization in embedding videos such as adaptable screen sizes, customer player controls, show custom thumbnails as well as the ability to embed and display playlists as well as whole channels as required.
Using a plugin also take some weight off the website and make it a tad faster. Plugins are also dedicated and so they offer a smoother video playback experience as opposed to the default features offered by WordPress which can be limited. Let's now see how you can use ELEX WordPress Embed YouTube Video Gallery Plugin to enhance the video embedding process on WordPress.
ELEX WordPress Embed YouTube Video Gallery for Further Customization
To begin with, download the plugin which you can avail at $79 for a single site license and $119 for 5 sites and $199 for 25 sites and the license comes with support and updates free for a year.
Once you have downloaded it, install it in your WordPress back end and enter the unique API key you will have received during the purchase to activate the plugin. Once installed and activated successfully, get started with configuring the plugin. You can now access the plugin from your WordPress dashboard menu, click on the plugin name in the menu to configure the plugin.
Click on "Create Gallery" to get started.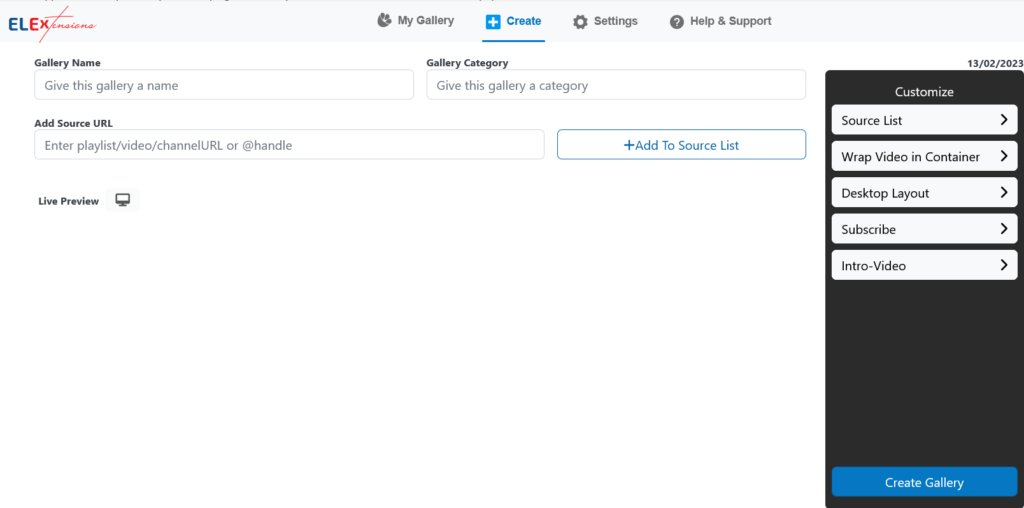 In the creation menu, add the URL of the video/playlist/ or the channel you want to embed and give it a name. You can also add it to a category for better organization and as you work on creating the gallery, you also get a live preview of how it is reflected on your website below.
The other customization features can be accessed in the customize menu which is to in the right.
In the "Source List", you can edit the source of the video gallery you are embedding.
The "Wrap Video in Container" allows you to put the gallery in a separate container. By default, the gallery will be transparent and will have the background color same as the website. If you turn on the container feature, you can choose to show the gallery in light mode and dark mode.
The "Desktop Layout" allows you to decide the number of videos in the rows and columns and the type of pagination you want.
You can also add a link to subscribe to your channel and an intro video, will be displayed prominently in the gallery.
You can now add the created gallery to your website as a shortcode from the "My Gallery" menu.
Let's move to Gallery Settings where you can configure some other parts of the gallery. First is the configuration settings.
Here you have the API key required for the plugin to work smoothly as well as the auto sync time interval in which you want your gallery to sync and update the gallery from YouTube.
Next is the Video Player Settings where you can set up some of the universal visual aspects of the videos in the embedded gallery.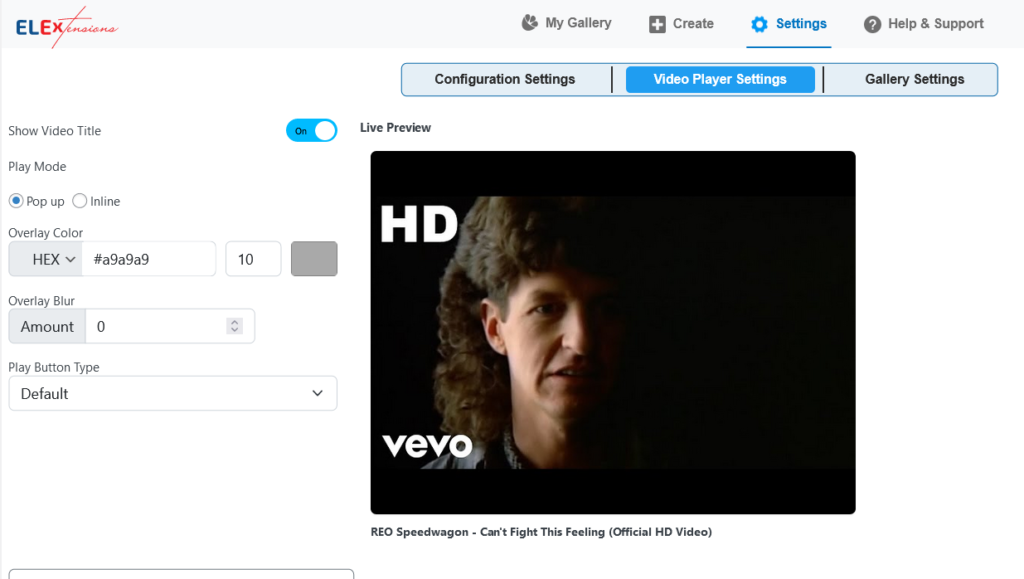 The default settings give a presentable gallery but you can tinker around if you wish and change up how it looks. You can toggle the video title on or off and choose between an inline play or as a pop up. If you go with the pop up view, you can the color and percentage of overlay. Besides these, you can also customize the play button.
You can pick between Circular and rectangular for the play button and the background and the icon color of it as well. Play button animation on hover can be chosen between the default, fade in-out or slide up-down.
Next, there is the gallery settings where you can configure the gallery as a whole. You might have seen some of these while creating the gallery, if you feel like changing up the existing gallery, this is the place for it.
Here, besides the settings you saw while creating the gallery such as Color Mode, Wrap Videos in Container, Toggle Subscribe Button, and pagination, you can also choose where the header should be displayed, as well as shadows to the individual videos.
This is a overall view of the working of the ELEX WordPress Embed YouTube Video Gallery. Create and customize your YouTube galleries as you want and add it to your WordPress website in the form of shortcodes quite easily. Check out the plugin to get started.
Besides the ELEX WordPress Embed YouTube Video Gallery, here are some other popular plugins to add video galleries to your website you can check out.
Smashballoon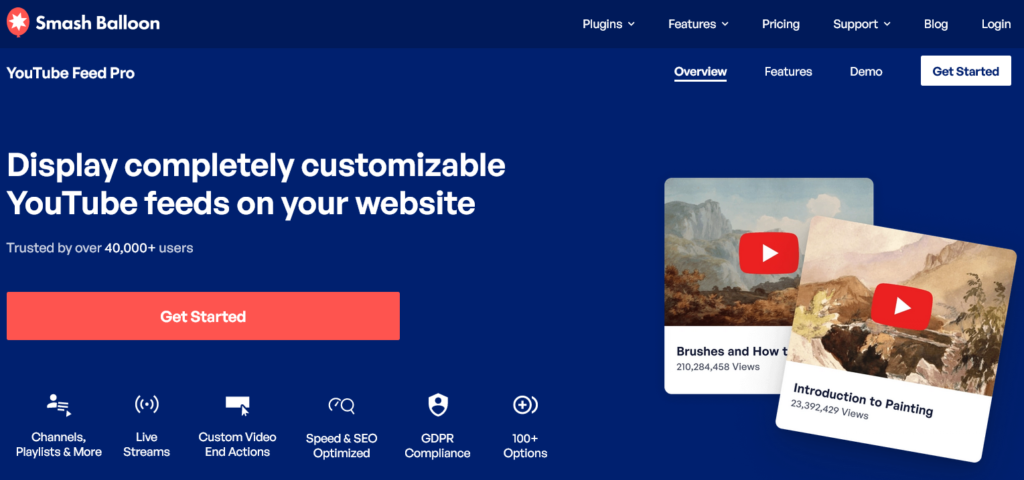 Smashballoon is another useful plugin for embedding video galleries to WordPress websites. The setup of galleries is easy with this plugin and the customization options allow you to display your YouTube content dynamically. You can also filter and display videos from a playlist or a channel based on the keywords in their titles and descriptions.
Pricing: The plans are available for platforms like YouTube, Instagram, etc individually at $149 per year. You can get a bundled subscription is available at $299 which is cheaper if you intend to use all of them in your website.
Embed Plus
EmbedPlus is an excellent option if you are looking for a comprehensive YouTube plugin for WordPress. EmbedPlus allows you to add individual videos, playlists, channels, and shorts to your website quite easily. The plugin can be used with the classic and Gutenberg editors and it is also compatible with popular page builders like Elementor. With EmbedPlus, you get flexible playback control, giving a smooth experience for viewing YouTube videos and playlists in WordPress.
Pricing: The basic version is available for free in the WordPress plugin store, the paid plan starts at $39.99.
Envira Gallery
Envira is a drag-and-drop WordPress plugin that enables you to build YouTube video galleries with relative ease even for beginners. It offers numerous features, like video gallery templates and it also integrates with WooCommerce, Instagram, and other social media platforms and video platforms like Vimeo and Wistia. You can organize your video content by tags and albums using Envira, making it a versatile solution to add video galleries to WordPress.
Pricing: Annual plans start at $20 or you can avail the lifetime plan at $209, unlocking all the features and priority support.
YourChannel
YourChannel is the last in the list, and offers ways to create custom playlists, searching videos and playlists, and video playback control. While the free version offers enough features to create decent video galleries, the paid version offers more features like blacklisting videos by keywords, slider and carousels to display YouTube video galleries.
Pricing: The free version is available in the WordPress store, you can unlock all the features with the paid version which costs $29 per year.
Final Thoughts
As you have seen, adding video elements to WordPress is quite easy and it is possible to add it in a variety of ways. Whether you are a eCommerce website owner or a content creator, creating and embedding YouTube and other video content can benefit your website and your business in the long run as well as right away. We have provided you all the ways you can do that in this article, so get started and bring in that traffic to your website now!
If you have any comments, suggestions or questions regarding adding YouTube videos to your WordPress website, let us know in the comments.
Further Reading