Last updated - March 31, 2022
When you launch your online store, the most crucial question that pops out is how you're going to accept payments. Enabling online transactions allows customers to purchase products/services from your website. But they expect payment methods to be secure and quick. 
A secure payment gateway on your website not only streamlines the transaction but also lets customers trust your business.  
Here, we will guide you through some valuable tips for setting up a payment gateway on your site. 
But before that, let's understand what actually is a payment method?
As a freelancer or merchant you can get paid through an invoice but on a website you need to set up a payment gateway to collect payment! The traditional way to collect payment virtually is through a payment gateway or a merchant account. 
A merchant account refers to a business account. A payment method works as a connection between your merchant account and your online store. Now, it takes just a day or two to set up a payment gateway on your website.
You can choose from these most popular payment gateways:
In today's day and age, PayPal is an eminent name in the payment gateway domain. Customers all around the world have shown their trust in this name. Businesses of all sizes can use PayPal to accept payments by phone or online.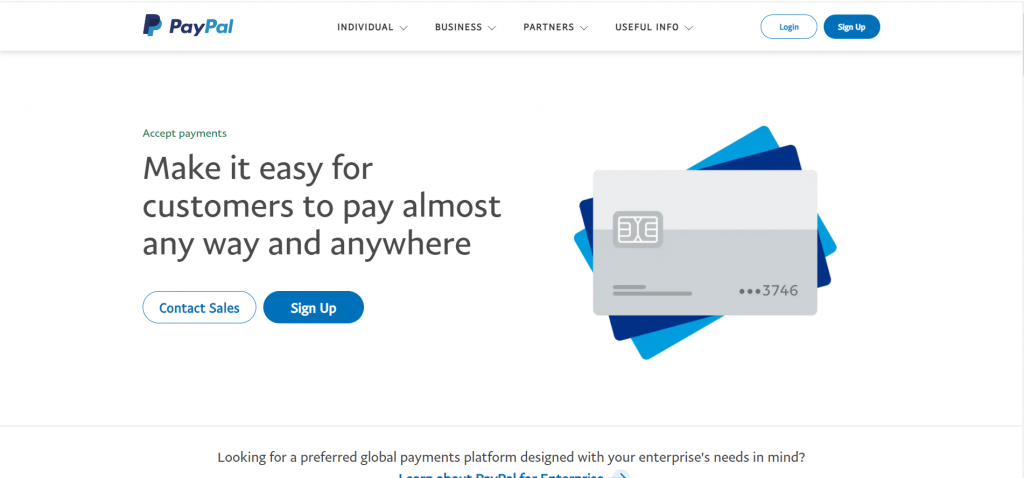 PayPal Credit, PayPal, and Venmo are some of the accepted payment types. The best thing about this payment gateway is that it features an added security that provides fraud protection. 
As far as processing fees are concerned, it starts at 2.9 percent. It also includes a $0.30 fee per transaction. 
Stripe is yet another name famous for providing a complete payment gateway. It facilitates billing options for customers along with in-person and online payments. When processing payment for your website, Stripe offers data security as well.
Its processing fees start at 2.9 percent, along with a $0.30 per transaction fee, which you'll get in their Integrated Plan. 
You can also opt for their Customized Plan that they can customize to suit your business requirements. 
This payment gateway simplifies payment processing for merchants. It allows them to accept funds through various processors such as Credit Cards, Apple Pay, and PayPal. It also provides invoicing, e-check payments, recurring payments, and fraud protection all through one gateway. 
They charge a 2.9 processing fee plus a charge of $0.30 for every transaction. 
Square is a digital payment gateway that enables businesses to accept funds via POS ( contactless point-of-sale),  online, and in-person payments. The Square Reader allows credit card payment just by connecting to a mobile device. 
It charges a processing fee of 2.6 percent along with a $0.10/ transaction fee.  
Payline allows easy payment processing for small businesses to Fortune 500 Companies. It features web solutions that can integrate with more than 175 virtual shopping carts. Besides, it also has mobile apps for payment processing. Moreover, the integration facility with QuickBooks lets it simplify payroll management plus business financials. 
It includes a monthly fee for brick-and-mortar shops along with a minimal fee for every transaction. However, for online shops, the monthly and transactional fees go a little higher. 
Big brands like Microsoft, eBay, Spotify, and Uber use Adyen to simplify their payment transactions. The software allows you to accept payments made through a single platform. It also gives you some handy tools to counter risks.
It supports over 250 payment methods and provides transactions in 150 global currencies. What's more? The payment software also facilitates data analysis for getting insights into customer behavior. 
Its processing fee varies as per the payment method. It includes interchange pricing along with an additional transaction charge. You have to have a merchant account to leverage its interchange pricing. 
Establish a connection between your payment gateway and payment form
Payment form makes it easy to accept payments on your site as it collects customer data, quantity of items ordered, and order type. All you need to do is to sync your payment form and payment gateway. On the other hand, if you are looking for a hassle-free solution for salary payments to your team, a pay stub generator with year to date could be a great option to consider.
Follow these best practices for secure and safe payment collection online
When the payment process takes place, it's important to ensure customers get a great user experience. The easier customers will find to pay, the more they will complete the checkout. Many things go into a seamless payment process. Here are the best practices you must consider for your store.
Integrate multiple payment gateways
Customers have different likes. They may choose to pay differently. So, it's important to include various payment options. This will let your customers know that you're providing payment options as per their needs. This goes handy in terms of international customers. 
Include an SSL certificate
Customers provide you with their sensitive information; hence, before doing that, they need to know whether your site is trustworthy. An SSL certificate helps you show them that your site is secure and encrypts their payment details. Make sure to display this certificate on your website. You can show this during the checkout as well. 
Eliminate forced account creation for payments
Often, customers change their minds when merchants ask them to create an account before payment processing. In addition, the forced sign-up drives them away if they are one-time purchasers. So, eliminate account creation. 
Ask only essential details
Consider asking those details from your customers that are necessary. But ask them during the checkout. The simple the checkout is, the satisfied the customers will be. Also include an explanation for asking for details such as 'phone number.'  
Make error corrections simple
During checkout and payment processing, there are few things that make customers frustrated. These are filling out the form for payment and having all the details erased due to an error. Or, in some cases, not finding out the error. So, fix it before customers run away. 
Highlight the missing fields
Make sure to highlight the fields that customers miss to fill, like an expiration date on their card or email address. Also, don't clear the details that are already filled in. 
Conclusion
The best way for collecting online payment depends on the type of business you choose. Take, for example, an e-commerce store and a spa center. While the online store sells 1000 products per day, the spa center looks forward to accepting deposits when clients schedule an appointment. As a result, both have different payment needs. 
Consider the best options for you after weighing all the available options. Then, make sure to go through all the features and pick the one that suits your business. 
Focus on information safety and security to render seamless payment processing on your website. After all, you want your customers to be happy, don't you?
Further reading