Last updated - September 14, 2022
Managing a WooCommerce store comes with its own challenges. Importing and exporting products to and from your store is one process that could be challenging for many store owners. This could be a bigger hassle if you are dealing with a large number of products and diverse product properties. Naturally, you can try out the default WooCommerce feature for importing and exporting products. However, for advanced features, you can always rely on plugins. In this article, we will list out some of the best free plugins that will help you with WooCommerce product import and export.
This is one of the most popular options to import and export WooCommerce products. It works with simple products and lets you easily move product data through CSV files. You can simply enter the product details into a CSV file in the specified format and map the column headers correctly. During the import, data from each of the column headers will be correctly assigned to the respective product fields. And when you want to download product data from your store, you can simply download them into a CSV file. With the premium version of the Product Import Export plugin, you can achieve several advanced functionalities such as automatic import or export, filter options, support for product reviews, etc.
Features
Import WooCommerce product data from a CSV file.
Export product data into a CSV file.
Works on simple products.
Export products to XLS.
Supports import of product images.
WP All Import is one of the most popular plugins for WordPress data import. By incorporating this add-on, you can quickly import product data to your WooCommerce store in bulk. It has a drag and drop interface, which will help you map the product data from the file to the respective WooCommerce fields. The plugin gives you great clarity while importing product data and it supports only simple products. Check out the premium version of WP All Import for support for all product types, cron jobs, and more.
Features
Import product data to WooCommerce with a simple, drag and drop interface.
Supports CSV and XML files of all structures.
Seamless operation with large files.
Visual interface to help you easily map product data.
WP All Export plugin lets you easily export data from your WordPress site into a CSV or XML file. It supports migration of several types of data from your site for editing, or to be used by third party tools. You can export your WooCommerce product data and create an affiliate feed effortlessly using this plugin. Check out the premium version of WP All Export for extended functionality.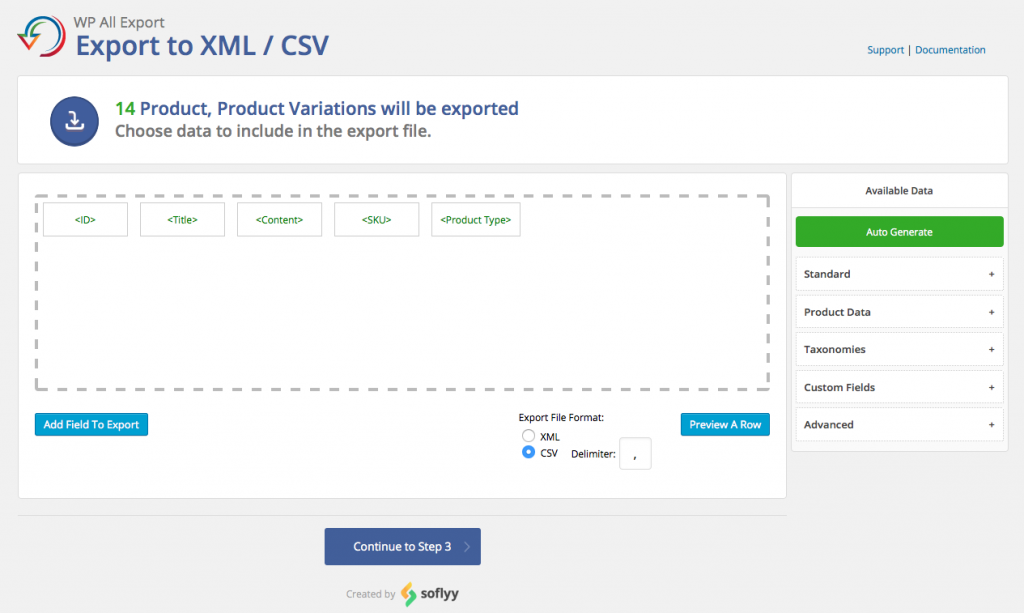 Features
Create a CSV or XML file with WordPress site data.
Drag and drop interface to help you easily select specific data for export.
Flexible with all file structures.
Supports custom fields and custom post types.
Integrates seamlessly with WP All Import to help you create sample files.
This is a comprehensive option to export WooCommerce data. You will find that it supports several types of product data and also multiple file formats. The plugin offers a large number of filters so that you can specifically define what you want to export from the store. With the free plugin, you can export products, orders, categories, tags, etc. And, with the premium version, you will be able to migrate several other kinds of data such as Subscriptions, Bookings, Vendors, etc.
With the help of this plugin, you can easily import products to your WooCommerce store from CSV or TXT files. The plugin helps you add new products to your store, as well as to delete or update existing products. You can also use this plugin to import product images, categories, tags, etc. Moreover, it supports a range of product fields including Price, Description, Tax status, etc.
Features
Import product data from CSV or TXT files.
Update or delete existing WooCommerce products.
External cron commands are supported.
Helps to update product images, categories, tags, etc.
Supports a range of product fields.
With this free plugin, you can import and export varied site data including posts, pages and custom post types. However, you will have to use the premium version of Woo Import Export plugin to be able to move WooCommerce products seamlessly. The plugin supports several file types including CSV, XML, XLS, XLSX, TXT, etc. In addition, it has advanced features such as an option to pause and resume the import and export process. Furthermore, extensive filters will help you make the process extremely smooth.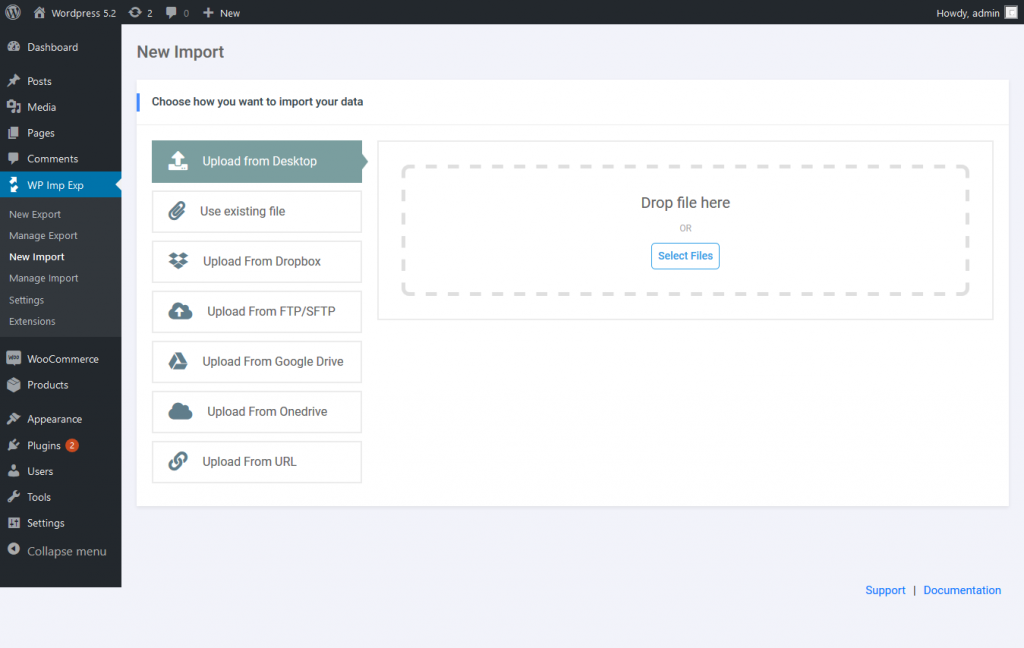 Features
Option to import and export WordPress site data with support for multiple file formats.
Premium option to allow movement of WooCommerce product data.
Option to pause and resume import/export.
User-friendly option to map product fields.
Filters to help you specifically choose data for import/export.
You can manage the import and export of WooCommerce products effortlessly in Excel file format using this plugin. The plugin lets you import and export simple products from and to your store without any upper limits. The plugin is extremely easy to use, and even new users of WordPress may find it quite easy to manage. It offers a simple option where you can drag and drop Excel columns into product fields. Moreover, since it is Ajax enabled, the operation of the plugin is quite zippy, and it will not impact your site performance negatively.
Features
Easily import and export bulk WooCommerce product data.
Support for simple products.
Drag and drop interface for easy mapping.
Ajax-driven for better performance.
You can use this plugin to import and export WordPress site data in two different file formats – CSV and XML. To support WooCommerce product data migration, you can make use of the free add-on, Import WooCommerce, along with this plugin. It will help you move data associated with all your simple products. Interestingly, the plugin offers automatic mapping, where CSV file headers and product data fields will be matched without manual efforts. For automatic mapping while importing products, you need to ensure that the CSV file headers have the same names as the WooCommerce product fields.
The plugin offers a pro version, which supports all default WooCommerce product types as well as some unique ones created by other plugins.
Features
Import and export WooCommerce product data.
Automatic mapping.
Detect duplicates easily.
Support for gallery images import.
Move unique product types with premium ad-ons.
Hopefully, these free plugins will ease your job for WooCommerce product import and export. Leave us a comment if you have a query.
Please check the below video to understand the basic export and import process on a WooCommerce store:
Further reading