Last updated - February 8, 2023
Cart abandonment is not something you can avoid when you manage an eCommerce store. Customers will keep on adding products to their cart and not complete the purchase due to several different reasons. However, with timely emails, you can convert a lot of abandoned arts into successful sales. If you have a WooCommerce store, there are several free and premium plugins that will help you recover abandoned carts. In this article, we will explore some of the best free WooCommerce abandoned cart recovery plugins.
You may recover abandoned carts using the ELEX WooCommerce Abandoned Cart Recovery with Dynamic Coupons (Free) plugin by sending a series of pre-planned, Rule-based reminder emails that also include dynamically produced smart coupon codes.
If the cart is not retrieved within a given period of time, you can select an expiration date for it, block emails, include customized GDPR messages, filter the detailed graph-based reports based on a custom data period, and much more in the plugin's premium edition.
The problem of abandoned shopping carts, which is both frustrating and alarmingly common, is certainly familiar to you if you work in the eCommerce sector. Many factors may cause customers to abandon their shopping carts. You will be able to effortlessly retrieve your lost sales once you've installed the ELEX WooCommerce Abandoned Cart Recovery with Dynamic Coupons (Free) plugin, and you can do so without spending any money. It contains every feature a store owner may want to recover abandoned carts.
This plugin will help you send automated emails to customers reminding them about products in their cart. You can send these reminder emails to both registered users as well as guest users on your store. The plugin will help you identify information on a cart including the products in the abandoned cart. Also, it will enable your customers to reclaim an abandoned cart in a single click.

While using the plugin, you will be able to track the recovered orders value. This will enable you to understand the volume of sales you could recover, thanks to reminder emails. Moreover, the plugin sends notifications to store admins, when an abandoned cart is recovered. You will be able to create a series of reminder emails starting one hour after the customer abandons a cart. The plugin offers an email template by default. However, you will be able to create unlimited templates including custom variables. In addition, the rich text editor too will help you create templates using HTML codes.
The plugin stops the notifications when a customer makes a purchase from the abandoned cart.
This is an all-in-one marketing plugin that you can use on your WooCommerce store. It has certain features that focus specifically on reducing and recovering abandoned carts. When customers add products to their cart, you can offer them discounts or other rewards like free shipping to encourage them complete the order. It also provides an option to display a countdown timer to create a sense of urgency to complete the order. Also, you can display the offer only when customers are trying to leave the cart page.
The plugin also helps you send customized emails based on user's cart as well as browsing history. You can customize the templates according to the specific requirements of your store as well.
CartBoss is a solution for recovering abandoned carts with text messages on autopilot. And the solution is simply amazing! The messages are already prepared and translated into all the languages they support sending. Even more, the language of the recipient is automatically detected, so no additional settings are needed – everything works out of the box with CartBoss!
This powerful SMS cart recovery service seamlessly integrates with your WooCommerce checkout and offers features that optimize your cart recovery by making it extremely easy for the recipients to complete their checkout process in a matter of seconds. The checkout form is automatically filled with the customer's information and the special offers sent are auto-applied to their cart – not even the coupon codes are needed to be created on the website as CartBoss does that on its own.
CartBoss offers a full suite of tools including customizable messages, various types of special offers that work out of the box, link shortening and UTM tracking, and much much more! There are also no limits to the messages you can send – so you can follow up with as many customers as you need!
This plugin helps you get a clear understanding of the cart abandonment rate on your store. Accordingly, you will be able to send follow up emails to try and recover abandoned carts. This plugin records the entire cart activity right from the time a customer adds a product to cart. In addition, it will also provide the associated email id in case of registered users. If email id is not available, the plugin provides the ip address of the user.

While recording, a cart is categorized as abandoned when there is no activity for 15 minutes after adding a product. In case the customer comes back and completes the purchase, the cart will be saved as 'Recovered'. This will give you an exact idea on how to approach abandoned carts on your WooCommerce store.
Jilt for WooCommerce is a comprehensive email follow up plugin that you can install on your WooCommerce store. It helps you identify abandoned carts on your WooCommerce store, and send automated emails to persuade customers to complete a purchase. More importantly, the plugin helps you create multiple emails in a campaign according to your requirement.
In addition, the plugin offers an in-built email builder that will help you create and edit templates on its visual interface. Furthermore, this plugin helps you a lot in improving your post purchase follow up emails as well as transactional emails.
Retainful is a prominent Email marketing automation plugin with which you can send email automatically and drive sales on auto-pilot. Retainful is also packed with a Cart recovery feature that lets you recover your abandoned carts and convert them into revenue effortlessly. You can initiate cart recovery campaigns instantly using the pre-built automation templates and send a series of well-timed recovery emails to remind the customers of what they left in their cart. Retainful will automatically send these emails at specific intervals until the customer returns to the store and recovers his cart.
Retainful has three cart recovery emails by default but you can create and customize as many emails you need for your campaign.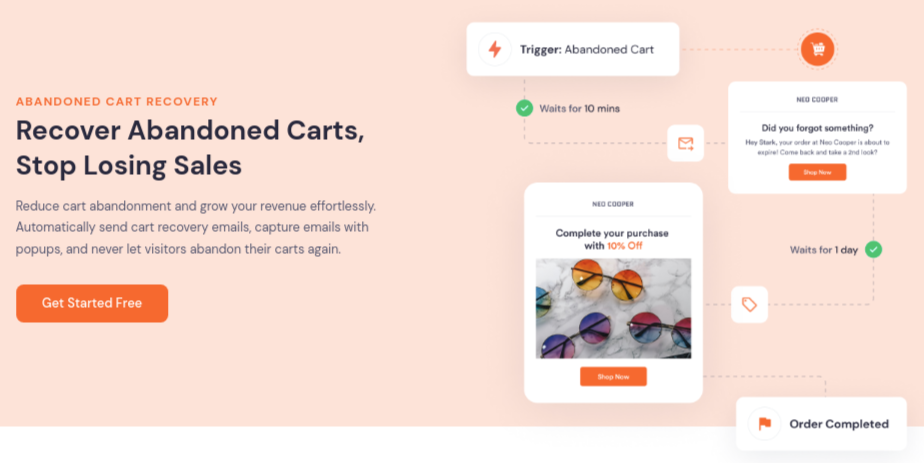 What makes Retainful special is the features it has to prevent cart abandonment. It is loaded with Exit-intent popup, Countdown timer feature that can encourage the customers to complete their purchases. Its Add-to cart popup feature lets you collect the customer's email before he abandons his cart. This will help you to send cart recovery emails later. It has an intuitive interface and a responsive Drag & Drop email builder that makes template customization worthwhile.
ActiveCampaign is a popular email marketing tool that will help you recover abandoned carts too among several other things. With the help of this free plugin, you will be able to sync your WooCommerce customer and purchase data to ActiveCampaign in real time. You will be able to specify how long a cart needs to be inactive for it to be considered abandoned. You can configure cart abandonment emails so that they will be automatically sent whenever a customer abandons a cart.
Furthermore, it will provide an option that will enable customers to opt in to your marketing communication. Please note, ActiveCampaign is a premium service even though you can get a free trial for 14 days.
This plugin captures user activity to help you approach later to encourage them to complete a purchase. It is equally useful for both registered users as well as guest users. For registered users, the plugin will capture the cart as and when a product is added to the cart. For guest users, it helps to display a message to save the cart by entering their email id whenever they try to leave the page. This will help you contact them later to try and push for conversion. In addition, the plugin also helps to save data entered on the checkout page for guest users. This will enable them to checkout faster in case they come back and try to finish the purchase later on.
When users come back and completes purchase, they will be removed from the captured fields. This one is another option you can try out from the list of free WooCommerce abandoned cart recovery plugins.
This is another simple option you can consider among free WooCommerce abandoned cart recovery plugins. Just like all the other plugins we have seen, you will be able to remind your customers to complete a purchase when they abandon a cart. It will also help you customize your email templates that you want to send to customers. The plugin provides an option to send cart abandonment emails manually to individual users or to multiple users in bulk.
You can choose the time period with which you need to consider an inactive cart as abandoned. This is a simple plugin that will help you be in control of your sales figures.
When clients leave before finishing the checkout process, the WooCommerce Cart Abandonment Recovery plugin provides a free option to recover lost money. It makes use of an adaptable email follow-up process that sends a number of followup emails to customers to help motivate them to finish their purchases. The plugin will send the customer an email after set intervals, urging them to finish the checkout process and offer a discount as an incentive, if they leave before doing so. Understanding your customers' behavior is made easier by the plugin's abandoned cart reports. Due to its straightforward and effective features, the plugin is ready to use right away, making it one of the best free abandoned cart plugins for WooCommerce.
CartBounty allows you to record and reclaim abandoned shopping carts. You'll receive alerts from CartBounty about recently abandoned carts and be able to remind customers. WordPress can be used to send these emails in the free version, but Mailchimp is integrated in the paid version. As an added bonus, CartBounty features a useful "remember checkout fields" function that enables users to reload the checkout page without losing any of the shipping information they've submitted. By preserving data from the WooCommerce checkout fields even before a customer submits their order, CartBounty assists you in rescuing abandoned carts. To collect information from unregistered users, you can also show exit-intent popups. Because customers won't have to enter their information again if they click to another page, the checkout process is way more seamless.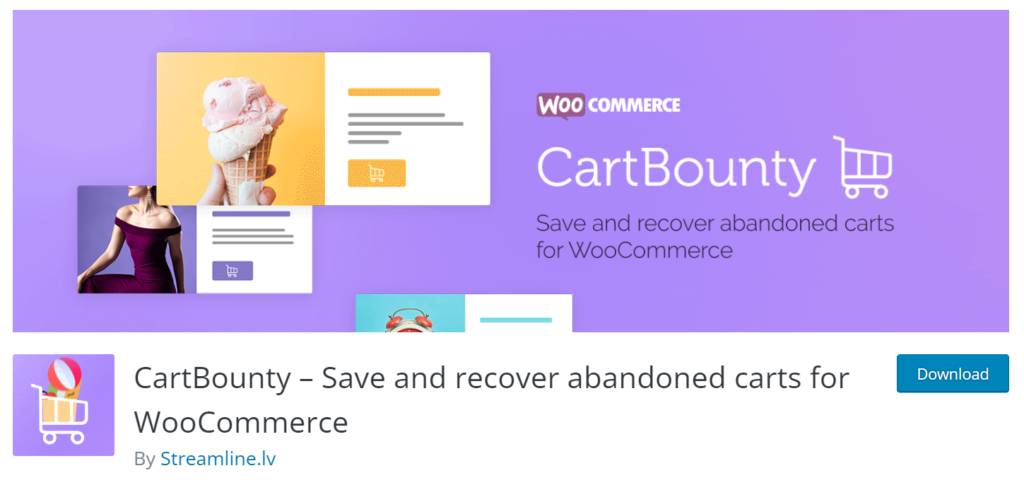 Metorik is a service that automates email campaigns and provides data for WooCommerce. If you want to send emails that are automatically sent when a customer leaves their shopping cart unattended, Metorik is the plugin you need. Not just when shopping carts are abandoned but also at other important times, it enables you to send targeted, automated emails. You have access to a variety of templates, and you may use variables to customize your emails. Along with offering customer recovery options, Metorik gives you access to information about how customers and visitors engage with your website. To get back customers who may have abandoned their carts, you can keep track of every cart on your website, provide special deals, and send reminder emails. Metorik is a collection of tools designed to make managing your WooCommerce store easier.
The free Hubspot integration will seamlessly synchronize WooCommerce users' purchases to the Hubspot CRM. The activity list, workflows, and other processes are automated by this Woocommerce abandoned cart recovery plugin. Activating the abandoned cart settings in the plugin allows you to see the abandoned items in your Hubspot account as well as identify the customers who have abandoned their carts. WooCommerce synchronizes users, orders, and products with HubSpot CRM. You may view the information in your HubSpot dashboard each time an action is taken. With the help of the plugin, you can quickly locate the users who added products to their cart but abandoned the checkout process. Another fantastic feature of the HubSpot for WooCommerce connection is the ability to track recovery emails and conversions. To turn unregistered visitors into customers, you can use smart lists, automation tools, and email marketing campaigns.
Free WooCommerce Abandoned Cart recovery plugins
Cart abandonment is unavoidable on an eCommerce store. However, you can reclaim a lot of these abandoned carts with the help of timely interactions with customers. Hope the above mentioned free WooCommerce abandoned cart recovery plugins will help you reclaim a lot of potentially lost sales on your store. Leave us a comment if you want to share your experience with any of these plugins.
Further reading