Last updated - February 9, 2023
As a content management system, WordPress is hugely popular. This popularity reflects in a large number of eCommerce stores that run on WordPress WooCommerce too. One of the most important aspects that play a role in the success of an online business might be the look and feel of the site. For a WooCommerce store, you also need to make sure all the eCommerce functionalities are working as expected. In this article, we will discuss some of the best free WooCommerce themes in the market at the moment.
Storefront is arguably one of the best free WooCommerce themes that you can get for your online store when you start out. It is quite flexible and intuitive and offers the best integration with WooCommerce. The flawless integration with WooCommerce ensures that you won't face any conflicts with other plugins. It checks all the right boxes required for a modern theme such as responsive layout, SEO friendliness, flexibility, etc. Moreover, you can easily customize Storefront to suit your product range and brand identity. Here is an article that will guide you in creating a Storefront child theme.
Storefront is a clear winner when it comes to WooCommerce integration. WooCommerce has kept Storefront really light by keeping it free of any shortcodes, sliders and page builders. And, if you want any of these features, you can easily integrate a compatible option in the market.
Botiga is an impressive, free e-commerce theme that boasts a sleek and minimalist design. It is highly customizable, and is flexible enough to work with a wide variety of businesses and brand styles. This theme also includes multiple product listing types (including quick views and card layouts) as well as product galleries, recommendations, and filters.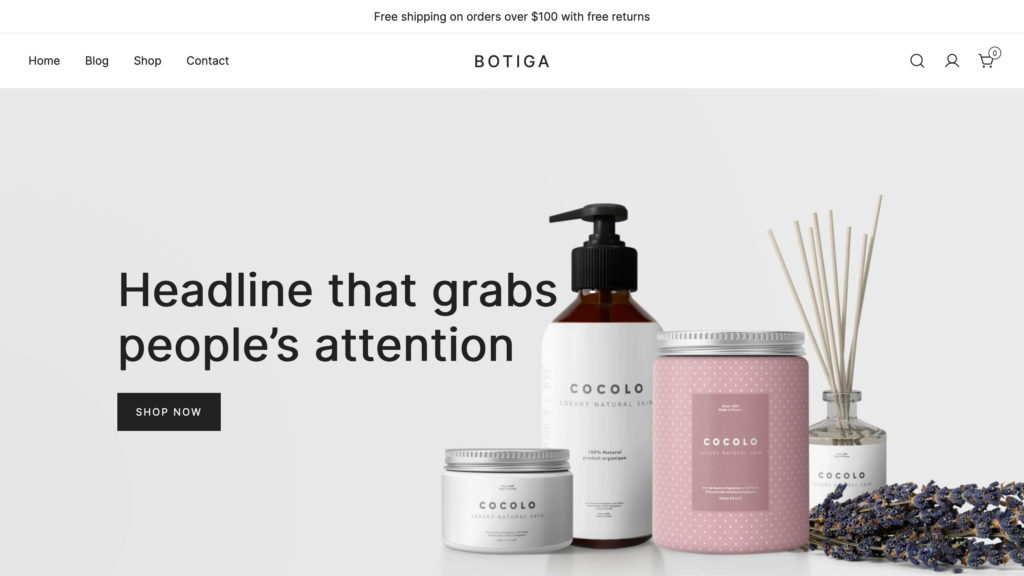 With Botiga, you can easily add a blog to your online store thanks to six different archive layout options. You can use the customizer to quickly change the pre-set color palettes and typography, in order to personalize your store in real time. All in all, Botiga is an excellent option if you're looking for a simple yet elegant foundation for your WooCommerce site.
If you are looking for a lightweight theme for your eCommerce store to ensure superior customer experience, give this one a try. It is a multipurpose theme, and will work with online stores of different niches such as apparel, accessories, furniture, etc. It offers seamless compatibility with WooCommerce, and has 9 different homepage styles that you can experiment with. The theme focuses on superior site performance, and also ensures better SEO capabilities for better visibility.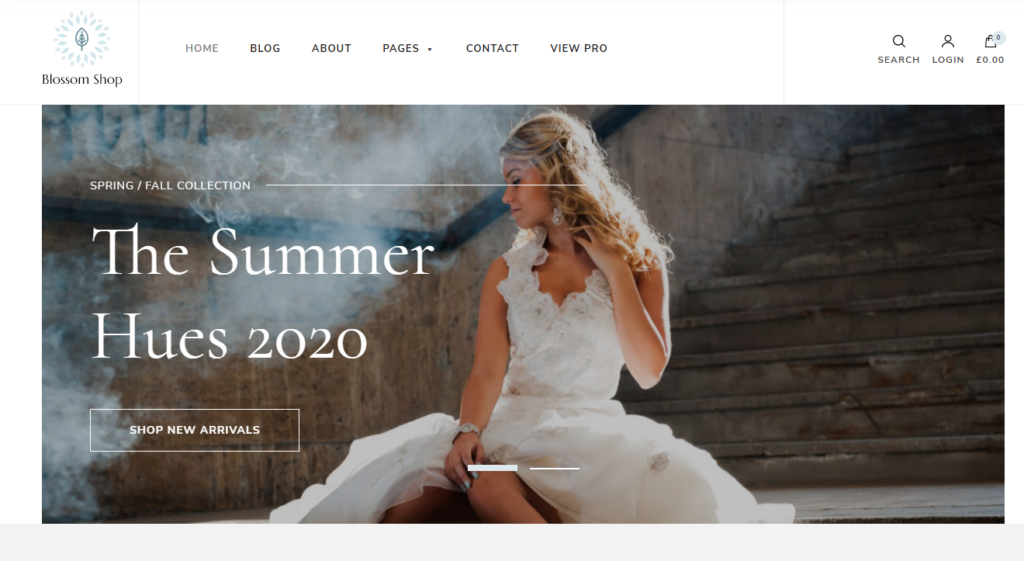 The theme has a real time customizer that will help you create site design effectively. Blossom Shop also offers excellent scope in social media integration with global options available. It also has several other features like support for mega menus and email newsletter subscription.
For great website performance, you can try out the highly optimized Rishi theme. It assures great results in different page speed test tools such as PageSpeed Insights, Pingdom, GTMetrix, etc. Rishi works seamlessly with WooCommerce, and several other popular page builders and SEO plugins. Getting started with this theme will be quite easy, as you will find a great range of pre-built templates that can be easily imported. Moreover, it has a lot of customization options for headers, layouts, colors, typography, etc.
The live editing feature will help you experiment with different styles effortlessly. Furthermore, it is built on modern technology and will ensure great search engine visibility for your site.
Rara is a powerful theme that you can use to create a customer-friendly online store. It offers a bunch of pre-designed website templates that will help you get started with your site design almost instantly. Once you have the basic structure ready, you can use the flexible customizer to make modifications according to your branding needs. The theme is responsive, and offers great choices in terms of colors, fonts and typography.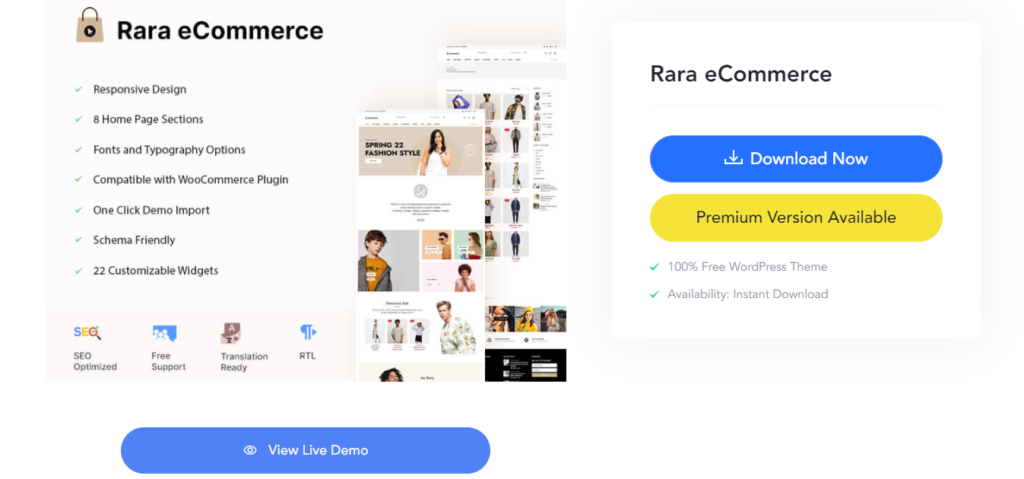 Rara eCommerce theme is compatible with WooCommerce, and you can use it for a wide range of eCommerce stores such as apparel, electronics, organic food, furniture, and more. You can use it with page builders like Elementor, for any additional customization. The theme will definitely contribute to your conversion boosting efforts.
OceanWP is one of the most popular free WooCommerce themes at the moment. It is a lightweight and responsive theme that can be used for a variety of businesses. One of the most preferred traits of this theme is the ease of customization. It is compatible with almost all of the page builder tools including Elementor, Beaver Builder, Visual Composer, etc. Moreover, the code also allows developer level changes easily.
With OceanWP, you will find perfect compatibility with WooCommerce, as well as several options to enhance your conversion rate. You can purchase extension bundles from OceanWP website, which includes priority support, updates, several demos and useful plugins. Don't forget to use the discount code "LW15" while purchasing extension bundles to get a 15% off exclusive for LearnWoo readers.
Astra is a fast, lightweight WordPress theme preferred by a lot of WooCommerce store owners. It is a multipurpose theme that can be used even for a blog, portfolio site or business website as well. The theme has schema markup and AMP integrated with it, so you have nothing to worry in the SEO side. Astra is a highly customizable theme as it is compatible with most popular page builder such as Elementor, Visual Composer, etc.
Hestia is one of the popular free WooCommerce themes that are available in the WordPress theme directory. With over 100,000 active installs, it has a solid reputation among the WordPress community. With a sharp design and sensible features, this one captures the hearts of its users quite easily. WooCommerce integration happens quite effortlessly and you don't require extensive coding skills to set this up.
You can customize your website according to your liking with the help of Hestia. Adjust the color tone, design detail and layout real time and instantly see the changes. Custom background is available with Hestia without the help of any additional plugin – choose from video, image or media slider. Mega Menus is another feature that would help you rearrange and organize your sub-menus. Hestia assures fast loading times and it can be set up and configured in a matter of seconds. Along with an SEO-friendly structure, it also comes as translation-ready and offers RTL language support.
Neve is a popular, responsive theme that can be used for a range of websites. You can use it to create business websites, blogs, portfolio sites, and eCommerce store. It offers a perfect integration with WooCommerce, and helps you set up a beautiful store in a matter of minutes. The minimalist design and the lightweight code makes Neve extremely fast, and your customers will love the quick-loading pages. This popular option among free WooCommerce themes is SEO friendly as well to ensure top ranking for your site on search engine results pages.
GeneratePress is a fast, functional theme for WordPress, which you can use to create a good website. The theme is lightweight and uses Gutenberg editor to help you with easy customization. Moreover, you can also use page builders like Beaver Builder and Elementor, as they are fully compatible with GeneratePress. It is fully compatible with WooCommerce to help you set up a successful WooCommerce store. The theme options have an exhaustive set of features like multiple widget areas, sidebar layouts, color presets, etc. This one is growing in popularity among free WooCommerce themes with over 100,000 active installs.
Mesmerize is highly customizable and helps you create a good looking website without any coding knowledge. There are several demo content versions, which you can easily customize to suit your store and products. Options like gradient overlays, multimedia backgrounds, etc., can help you create a professional website in quick time. Mesmerize offers a seamless integration with WooCommerce, and you can easily create a customer-friendly eCommerce store. In addition, you can use it to create other business websites as well.
Defined as powerful and versatile, Shapely is quite loved in the WordPress community with more than 100,000 active installs. With a great range of customization options, this one stands tall with superior design as well. The premium feels and sharp use of graphics definitely adds a certain charm to Shapely.
You'll find a lot of widgets that would provide awesome flexibility to organize the content. This theme with its responsive, mobile-friendly design is compatible with a range of commonly-used plugins such as Jetpack, Yoast SEO, Gravity Forms, etc. The one-page layout would be particularly useful for business websites. Informative documentation and dependable support definitely add value to this theme.
Futurio is a multipurpose theme that is growing in popularity among free WordPress WooCommerce themes. It is a perfect fit for portfolio sites, business sites, blogs and eCommerce stores. Compatibility with popular page builders such as Elementor, Visual Composer, etc., makes it a great option for customization. As expected, it offers a hassle-free integration with WooCommerce as well. Futurio is responsive, SEO friendly and translation ready, and can be a great help to design a beautiful WordPress site.
You will get several demo sites to start with when you install Zakra on your WordPress website. This will equip you to customize your site easily according to your liking. Just like a lot of other free WordPress themes, this one too is multipurpose and can be used on a variety of sites including eCommerce sites. Creating desirable layouts won't be a problem with this theme as it is compatible with Elementor and other popular page builders. This responsive theme is compatible with Gutenberg and is SEO friendly.
This is a child theme of Mesmerize and offers great flexibility to create a stunning website for your business. It offers several options to help your site really stand out from those of similar businesses. Moreover, you can easily build pages by using the predefined demos, and then modify the content, design and layout to suit your brand's. The customizer also allows live editing, which can make customization really fast while using this theme. Highlight offers a great integration with WooCommerce as well. It offers pre-defined pages that will help you display products on your homepage.
This is a flexible WordPress theme that focuses on site speed, functionality and customization. It offers an in-built header and footer builder, which will help you personalize your site as per your wish. Moreover, the theme is compatible with all the popular page builders such as Beaver Builder, Elementor, Visual Composer, etc. You can use this theme to create diverse types of websites including business sites, portfolio sites, restaurants, eCommerce stores, and more. It offers great compatibility with WooCommerce as well.
OnePress is a popular one page WordPress theme, which you can use to create diverse sites according to your business. The responsive theme offers custom content blocks to make customization simpler for you. It offers an extensive theme customizer, and features like parallax background effects. OnePress is SEO friendly, and ensures fast loading of your website pages. Customizable theme widgets and page templates will help you a lot in managing different design requirements with ease.
Ashe is a great theme to manage WordPress blogs of diverse themes. This theme will help you highlight recent posts effectively on the homepage. It also offers promo boxes, which help you display custom links or banners in the header area. Since it is compatible with WooCommerce, you can also sell products on your website. The theme is responsive, translation ready and SEO friendly, and offers great options for customization.
This is a flexible and lightweight theme that is ideal for your WordPress site. One of the highlights of the plugin is the extensive customization options, which will help you modify text, content, layout and colors with ease. Even if you don't have much coding knowledge, you will be able to choose a navigation flow and design style suitable to your tastes using this plugin. There are more than 50 predefined content sections, which will be extremely helpful to get started with this theme. It's compatible with WooCommerce and you can create a beautiful eCommerce store with this popular choice among free WordPress WooCommerce themes.
Total is a complete theme that offers great design options and bright colors. You can easily customize it, as the live customizer makes matters much easier for you. It also offers unlimited options when it comes to the choice of color. You will be able to choose any color according to your brand's requirements. The theme helps you create a one-page website with smooth options for scrolling as well. Moreover, the animated text slider significantly enhances the visual appeal of your website. You will find 10 homepage sections that will help you customize the layout as you wish. As expected, Total is perfectly compatible with WooCommerce.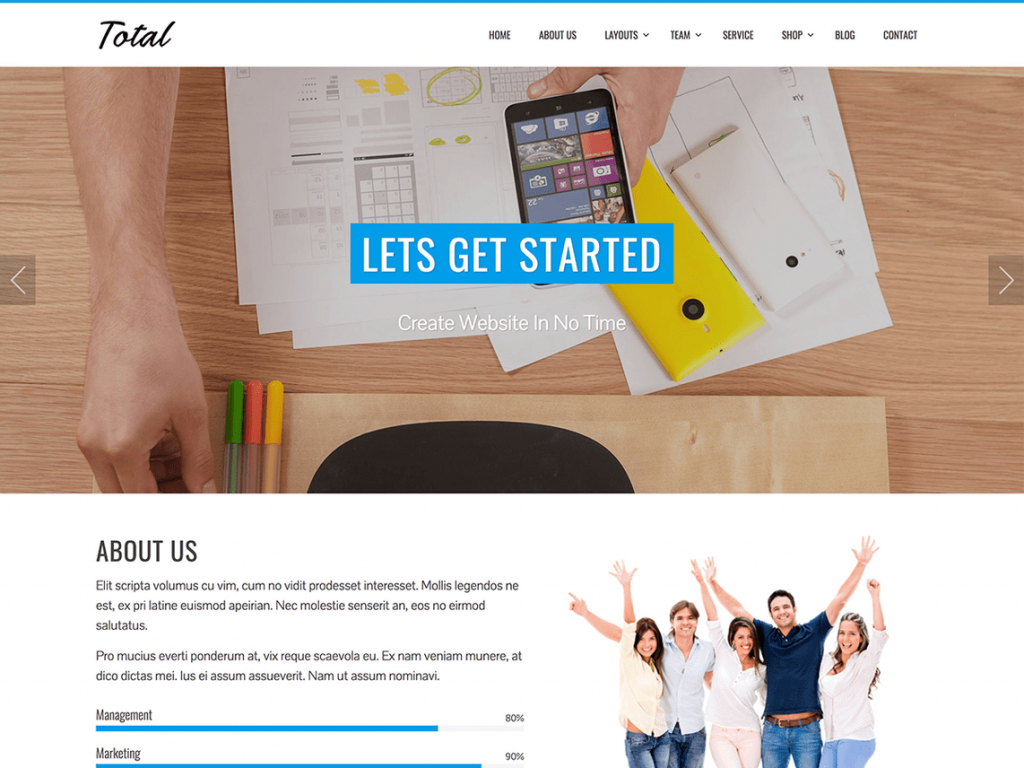 Shopping Cart, as the name suggests, is a great theme for eCommerce stores. It has a great range of features that will help you customize your site they way you want it. Though it is primarily suited for eCommerce stores, you can use this theme for creating business sites as well as blogs. Apart from WooCommerce, the theme is also compatible with several major WordPress plugins such as Jetpack, Contact Form 7, bbPress, etc.
Rife Free is a multipurpose theme that it growing in publicity in the WordPress community. It is WooCommerce compatible, and will help you set up a functional eCommerce store pretty fast. You can even create business sites or blogs using this theme. It offers several features like one page mode, Google Fonts, hidden sidebar, etc. The theme options are extensive and provides you great options to customize your site. Integrated schema markup will help with SEO efforts. Also noe, the plugin is compatible with Elementor, the popular page builder solution.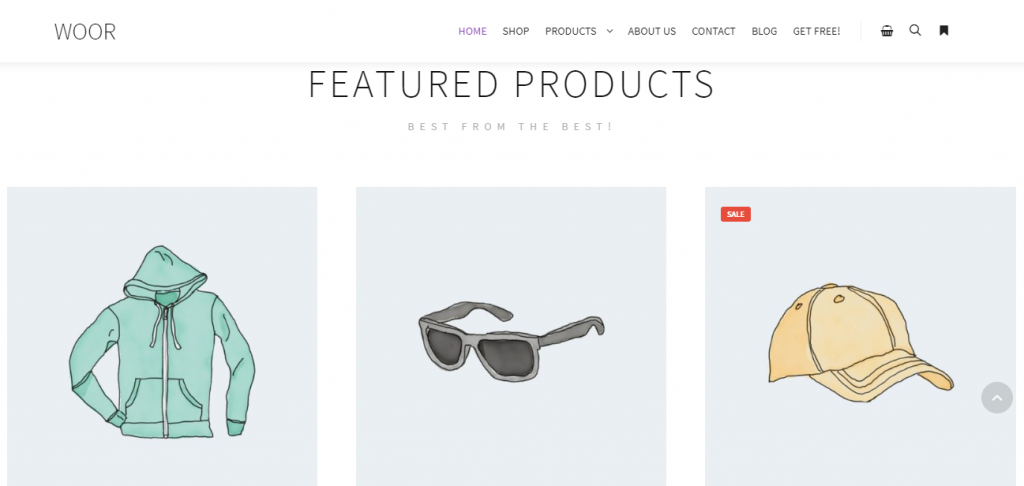 Multiple pre-designed demos and a responsive layout make this theme a favorite of many WooCommerce store owners. It is flexible and offers a plethora of features to set up a great eCommerce site. It comes loaded with SiteOrigin Page Builder, that has an easy to use drag and drop interface. You will also get the flash toolkit plugin that will help you enhance the features of the theme. The theme comes with multiple widget areas that give you more room for design enhancements. More than 18 custom widgets would give you ample options to try out different layouts.
Moreover, the theme come s with multiple color options, so that you can make your store as colorful as you want. Without saying, the theme is translation ready and has good SEO compatibility.
Shopper is a great WordPress theme that you can use for your WooCommerce store. It features a minimalist design, and quite good looking elements. It provides great options for customization and is compatible with multiple browsers as well. The theme is responsive and will offer user friendly layout on all devices. Shopper is SEO-friendly theme that will ensure your site is always on top of search engine rankings.
Tyche is another powerful WordPress theme that will give you a solid design and useful functionalities. The deep integration with WooCommerce will help you create a customer friendly and product oriented online store. It offers a live customizer that will help you a lot to personalize your website according to your preferences. Built-in social media sharing options and compatibility with contact forms add to the value of this theme, a unique choice among free WooCommerce themes. The theme also boasts a clean code that is lightweight and loved by search engines. Overall, Tyche is a great option to set up a WooCommerce store.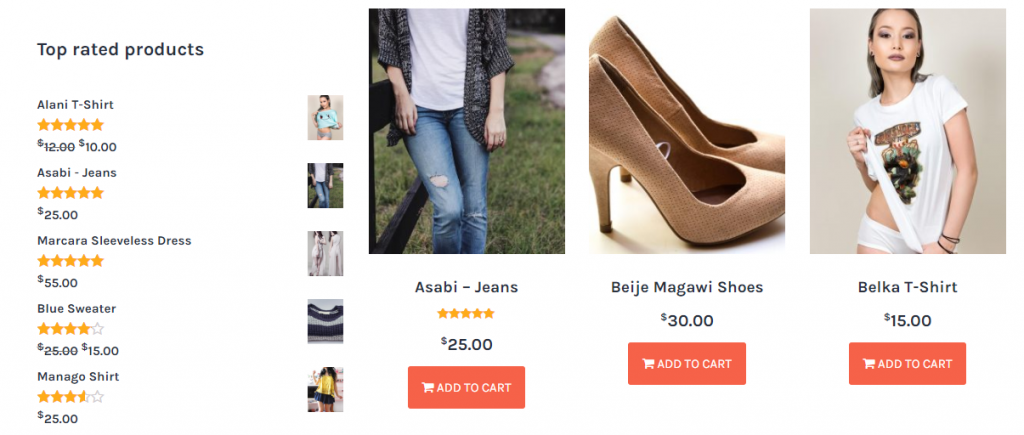 Hugely popular in the WordPress-WooCommerce community, Spacious has multiple page layouts, templates, blog display types, widgets areas, and custom widgets focusing on a superlative WordPress experience.
The theme boasts a responsive design and it is translation ready. The business template is a unique feature that focuses firmly on getting a professional appeal to your store. There is an option to choose the boxed or wide layout according to your design choice. Amazing support and well-structured documentation complete the wholesome nature of this versatile theme that has over 70000 active installs.
Awesome customization options help this plugin to be among one of the best available free WordPress WooCommerce plugins in the market. The powerful drag and drop features allow even people with minimal computer knowledge to customize their site brilliantly. You can control aspects such as page layout options and sidebar display on all pages. Responsive design makes your store mobile and tablet friendly. Integration with WooCommerce is smooth as well. If you want to make your WooCommerce store standout and the same time reflect your signature style, then 'Make' is the way to go.
Ample is a WooCommerce compatible theme that offers nice design options. It has a built-in image slider that will help you organize your content in a visually appealing manner. The theme also offers a live customizer, advanced typography, multiple color options, and a user friendly footer editor. Ample is flexible as it allows you to use custom CSS to change the look and feel of the site. Also, it offers demo content to get you started with the site design easily.
Excellent is an easily customizable, multipurpose WordPress theme, which you can use for a variety of websites. It is fully compatible with WooCommerce, and you can easily create a set of products on your store while using this theme. Infinite color options will help you design your site in accordance to your brand requirements. This theme also has several social media button integrated with it, and also offers a search engine friendly code.
Boutique Best Free WooCommerce WordPress Theme is great theme for any ecommerce shop, with clean design and minimal layout. Boutique ecommerce theme has minimalist style and mobile friendly design. With Build in responsive slider and carousel to showcase your featured products. This is fully responsive and SEO optimized theme to help you sell your product online with the most popular plugin WooCommerce, easy to setup and install this theme will help you showcase your product in grid layout and add to cart option to quick checkout.
Varied types of businesses can use Illdy for setting up their websites. Real-time customizer offers everyone, including design novices to try a hand at website building using this theme. There are even additional options for customization. A full-screen hero image that helps to highlight the most important point of your business is a unique aspect of this theme.
Like most other popular WordPress themes, Illdy too provides flawless support to a lot of WordPress plugins such as Jetpack, iThemes, Contact Form 7 etc. Unlimited color options and vector-based icons offer great creative scope while setting up your site using this theme.
The bootstrap framework provides a responsive design and improved mobile friendliness. As expected, good customer support and quality documentation contribute to the overall feel-good factor of this theme. More than 20000 active installs surely reflect the rising popularity of this theme. Design-wise Illdy does provide some pleasant surprises with its sleek and stylish visual quality.
This is a flexible and powerful WordPress theme that will help you create an efficient WooCommerce store. It offers a live customizer that will help you personalize your website easily. Moreover, it offers several shortcodes, which you can use to enhance WooCommerce functionality. It supports all the major page builder plugins, and also has several child themes for you to try out. This fast and lightweight theme is SEO friendly, and offers in-built social media integration.
When it comes to popularity, Responsive stays right on top in WordPress theme directory. With more than 80000 active installs, there are only very few themes that beat this one. With a fluid grid system, this one transforms into any display quite effortlessly. Whether it's on the desktop, mobile or tablet, your customers can expect an efficient user experience with this theme.
The features list ticks all the right boxes – smooth WooCommerce integration, SEO friendly, Translation ready, browser compatibility, RTL language support, and more. The clean framework and the neat layout makes it child theme friendly too. As is the case of most plugins in this list, Responsive also offers reliable support and quality documentation.
eStore is a responsive and completely customizable theme suitable for your WooCommerce store. In addition, it is compatible with many popular plugins such as YITH Wishlist. In fact, eStore is a theme that will contribute a lot in attracting and retaining more customers on your store. eStore ensures a perfect integration with WooCommerce, and you can set it up within no time. The theme offers great flexibility with colors, as you can color code your categories with colors of your choice.
Moreover, you can create a collection of products from different categories to be displayed on your site. Also, you will find more than 10 widget areas and over 12 custom widgets with this theme. The eStore theme is translation ready and SEO friendly too. It is optimized for speed and ensures great loading speed for all your pages. The extensive documentation and dependable support should help you in case you face any difficulties with the theme.
TheShop is a simple, but very functional option among free WooCommerce themes that you can make full use of. Custom front page, dual menus, multiple font and color options, etc. are among the highlights of features. It is pretty easy to set up – even without any coding knowledge, you can configure it with the help of tutorial videos. You will find the two-page layout, one for the homepage, and another one for full-width pages. The theme offers great features to customize the colors to suit your needs. In addition, you will get access to over 600 Google fonts.
Moreover, TheShop supports multiple browsers and has regular updates and bug fixes. The ease of use and attractive design make it stand out among other similar options.
If you are planning to build a website for news, magazine, publishing or informative blogs then this responsive theme is one of the best options available. You have the options to customize background, font color, type a custom header, configure menu options, additional features for footer and sidebar, etc. This theme allows RTL language support and is translation ready.
Sydney is a business theme fully compatible with Elementor and has multiple customization options such as layout control, full screen slider, header image, logo upload, sticky navigation and access to Google fonts. Additionally, this theme provides construction blocks to build an immersive website for personal or business use. If you are planning to use Elementor with this theme you can read this guide on Complete Elementor Page Builder Tutorial (with Video).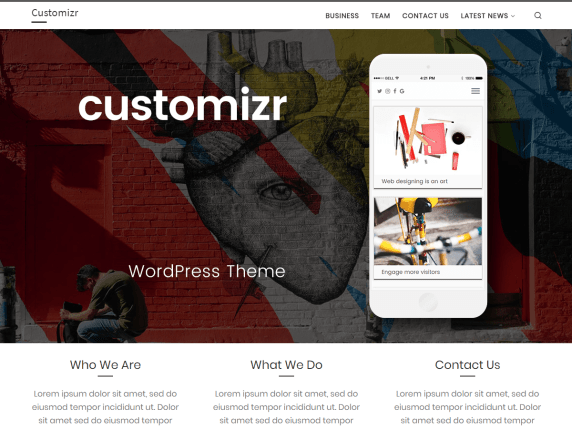 Customizr is actively used by more than 100k users across the world due to its simple yet fast loading time. Provides an engaging user interface on smartphones and additional features such as custom color options, menu design, sidebar, RTL language support, threaded comments and BuddyPress.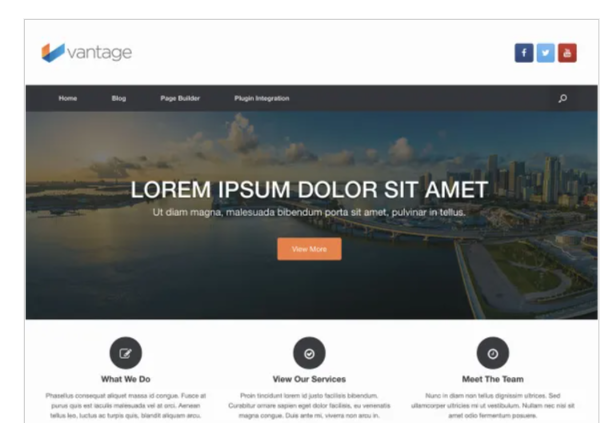 Vantage theme is perfect to start a business website, portfolio or an online store. A flexible and multipurpose theme with integration options such as page builder and other powerful plugins on WordPress. Vantage is fully customizable allowing you to include smart slider, footer widgets, post formatting, right sidebar, custom background, etc.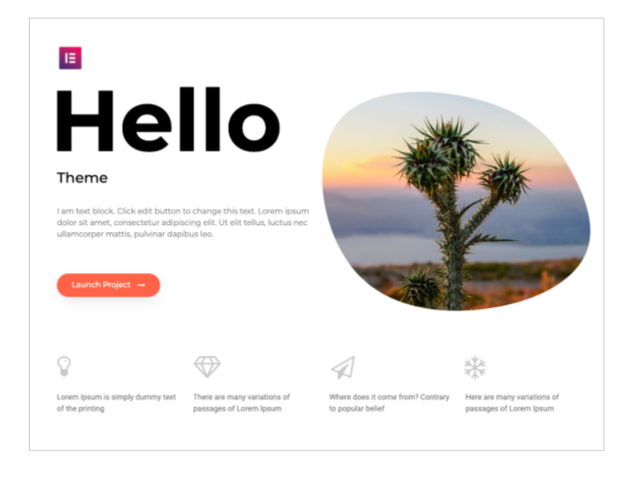 A plan and lightweight theme designed for Elementor page builder. This theme is specially designed to customize using the Elementor page builder where you can write custom texts, change color, background, add featured images, include threaded comments, links, video links, forms and much more. Read this article to learn Elementor features and how to use it.
A classic WordPress theme built with HTML 5 and CSS 3. This theme includes a responsive framework from Bootstrap to make it mobile friendly. Completely versatile with easy to customize options, loaded with extra features which are perfect to build an eCommerce store.
Calibri is a multipurpose theme that allows drag and drop options to build an amazing and personalized website. It is packed with 5 header designs, 35 content ready blocks and a predesigned homepage. The customization options in Calibri include video background, slideshow, header and title etc. The responsive design works on both desktop and mobile
Kadence is a lightweight theme that is easy to customize with global fonts and color controls. The drag and drop feature for header and footer allows flexibility to the site admin 3rd party plugin integration allows extensive support and additional features to build an immersive eCommerce store.
How themes help with a successful eCommerce store?
As you already know it, themes play an important role in the success of any eCommerce business. Here is a look at some of the facets of a theme that can influence your online store's power to attract and retain customers.
Aesthetics
Aesthetics plays a major role in the minds of users, from the time they first land on your site itself. You need to be perfectly aware of the power of this aspect to attract customers. Your site should invariably emanate a sense of modernism and quality without diverting focus away from the products. Also, your site's look and feel should complement the nature of the products that you are selling. For example, the aesthetics of a fashion store would be surely different from that of an electronics store.
Ability to adapt to change
eCommerce is all about flexibility and your success depends a lot on how quickly you can adapt to evolving requirements. That is where multipurpose themes with several customization options become useful. The latest eCommerce platforms and tools are regularly getting updates, and if your theme is not keeping up to that you might land in trouble. Moreover, if you are diversifying your product range, the theme options should have enough scope to alter the design language. Changing your focus in terms of products might also mean a change in your user base. And if you need to make necessary adjustments to suit a different audience, your theme should be able to adapt.
Responsive design
In the changing landscape of business, mobile commerce is one of the most prospective opportunity. Studies have pointed out that the upcoming generation is widely preferring mobile transactions. Having a responsive layout in your theme makes a lot of difference in this aspect. Basically, whatever changes you make to your site's design and layout should reflect appropriately on all devices and resolutions.
Multiple browser support
Similar to the case where users browse from different devices, there are also several browsers that your users would prefer. Not having support for a particular browser would mean that you are losing out on potential customers who are using that browser. You need to ensure that the theme you are choosing supports multiple browsers.
Ready for translation
This is especially important if your business model has a focus on multiple international markets. In such a scenario, you need to ensure that your site is ready for translations. Most of the popular themes that we have discussed in this article make sure that is compatible to WPML. You might also need to pay attention to languages using the right-to-left flow of the script. By ensuring the support for translations, you can ensure that you are not losing out on potential customers due to language barriers.
Conclusion
When you are planning to set up an eCommerce store with WordPress and WooCommerce, one of the first concerns would be to get a suitable theme. Thankfully, there are numerous options in the community to find one that is appropriate for your products and customers. However, experts advise doing a thorough research on your market before identifying the best theme for your site. Several factors like responsiveness, customization options, translation readiness, flexibility, etc., can influence the success of your store. Once you are convinced on the facets you are looking for in a theme, you can search the WordPress theme directory for a great option. This article has provided you a list that includes some of the best free WooCommerce themes currently in the market.
Further reading