Last updated - June 14, 2019
Shipping can be quite a challenge for eCommerce store owners if not addressed carefully. It can also be a time consuming process if you have to transfer your order details manually to the shipping carrier. One of the best ways to handle shipping requirements on your WooCommerce store would be to integrate the shipping carrier. If your business is based in the US, naturally USPS would be one of your first considerations for shipping carrier integration. In this article, we will introduce you to some of the best free WooCommerce USPS shipping plugins that you can install on your WordPress eCommerce store.
This is one of the most popular options among free WooCommerce USPS shipping plugins in the market. It helps you display domestic and international USPS services and their real time rates on your cart and checkout pages. The plugin automatically determine the shipping costs for an order based on the weight and dimensions of the products as well as the shipping destination. It will list out all the available shipping services from which your customers can choose the suitable one.
With the help of this plugin, you can access the click-n-ship rates, which are the online discounted rates. If you want to keep the normal offline post office rate, you can do that as well. The plugin also offers an option to restrict media mails by using shipping classes. Furthermore, the plugin also offers a fallback rate option, which will help your customers to checkout even if the API does not return rates. It also offers an option to display all available rates or only the cheapest one.
If you are an eVS customer (high volume) of USPS, you can use the premium version of WooCommerce USPS shipping plugin to print shipping labels as well. The premium version also offers advanced features like box packing options and shipment tracking.
If you have a Stamps.com account, you can use this plugin to integrate USPS services and rates on your WooCommerce store. Just like the above plugin, you can integrate domestic and international shipping services and their rates on cart and checkout pages. The shipping costs will be calculated based on the weight and dimensions of the products as well as the location of the customer. It also offers an option to modify the name of each service that you offer.
This plugin too has an option to add a fallback rate, which will help customers checkout even in cases where USPS services are not displayed. The premium version of this plugin will help you to completely automate USPS shipping on your store. Along with the option to display live rates, you can also print labels and provide shipment tracking to customers.
In addition to USPS, you can also display services and rates of FedEx and UPS as well if you are using this plugin. If your shipping strategy involves multiple shipping carriers, this plugin can be really helpful for you. You can choose Residential or Commercial rates to display according to your requirements. It also helps you set up a fallback rate to ensure the best customer experience on your store. The plugin uses EasyPost API to give you access to real time rates of multiple carriers.
The premium version of WooCommerce FedEx, UPS and USPS plugin has advanced features like automatic box packing, printing shipping labels, shipment tracking, etc.
If you are looking to integrate multiple carriers and advanced conditions to your shipping strategy, then this plugin can be a good option. It helps you offer domestic and international services of multiple carriers such as FedEx, UPS, USPS and DHL on your store. You can calculate shipping costs based on product price, category, number of items, shipping class, etc. It will also help you to set flat rates on particular categories. This plugin also helps you set up a fallback rate as well as helps you import records in bulk.
Checkout the premium version of multi-carrier shipping plugin to understand the full set of features.
WooCommerce offers a free shipping option that will help you access USPS discounted rates as well as print labels from the store admin. You can print labels right from your WooCommerce store admin, if you have a label printer. With labels already printed, you can simply drop off packages at the post office without much delays. However, please note, this plugin will not help you display accurate USPS rates on your cart and checkout pages.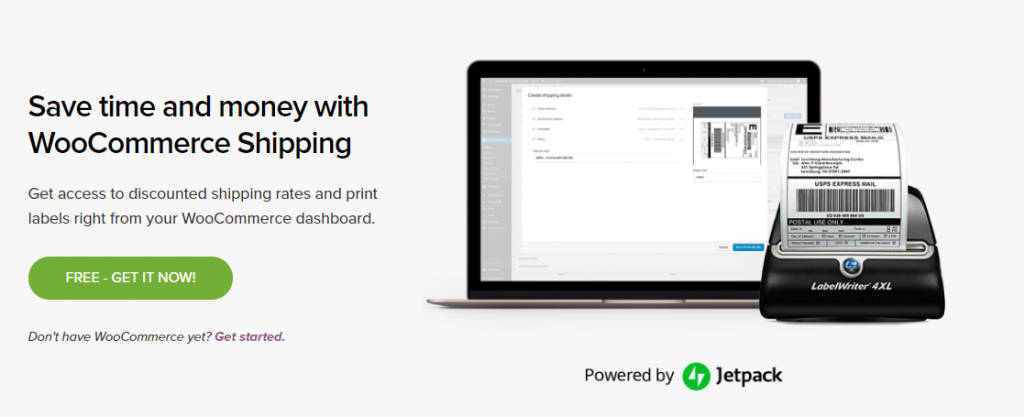 You can use the USPS Shipping Method Extension to display real time rates of USPS services to your customers.
A few advantages of using USPS Shipping on your WooCommerce store
USPS is one of the largest shipping service providers in the world. It has the largest coverage in the United States, and has access to several locations that can't be accessed by other carriers.
Cost effectiveness
A lot of small businesses in the US prefers USPS as their shipping carrier, particularly if they have small sized products. Compared to other carriers, USPS offers the cheapest rates for small products. USPS also offers free flat rate boxes, which can be another cost effective option for a lot of businesses. If the product fits in the box, you can send it through the flat rate box irrespective of the weight of the package. This can be beneficial for store owners who have smaller sized products that are on the heavier side.
Quality service to even remote locations
USPS ensures a quality delivery experience for both shippers and customers. They have exclusive access to certain locations in the US. Moreover, the cases of lost or damaged shipments are extremely rare when you are using USPS shipping services.
Mailbox and PO box delivery
USPS has certain convenient delivery options such as mailboxes and PO boxes. They will deliver packages to such locations, which can be a convenient option for many of your customers.
Explore free WooCommerce USPS Shipping Plugins
If you have a small business in the US, chances are high that you would want to use a prominent shipping carrier for your shipping needs. Hope this article has a provided you a few options for best free WooCommerce USPS shipping plugins that you can install without additional costs. However, for advanced features, you may have to go for one of the premium options of these plugins. Let us know if you have any queries, or insights to share.
Further reading