The coronavirus pandemic is gripping the world and slowing down businesses globally. At this point, it is important to take essential steps to save a business. Several organizations are actively involved in the global resistance against this pandemic. Also, many businesses are using this time to create online sales channels. If you already have an eCommerce store, you might need to make announcements and updates on your site. In addition, those businesses and organizations who are actively helping in the fight against the pandemic may need new features on their sites. In this article, we will list out a few free WordPress plugins that could be useful for those who are helping in the resistance against COVID-19.
A lot of websites would want to keep their users and customers updated regularly. This plugin helps you put a notice on your website effortlessly. It is in fact a simple solution that will help you get the message across. Moreover, the plugin offers shortcode support to display any additional data that you want to communicate to your customers. You can use the plugin to display custom notices as well as specific data related to the pandemic in your location. The plugin is quite lightweight and will not affect the other functionalities on your store.
You can use this plugin to display worldwide COVID-19 related data on your WordPress site. The plugin helps you offer the global data or that of a specific country that you want to focus on. There are three available shortcodes to display data in a format that you choose. One option is to display global data long with a country that you select. Another option is to display data of all countries in a table. There is also an option to display a map along with the data related to a country. You can find the shortcodes from the plugin page.
You will be able to display COVID-19 updates on your WordPress pages, posts or widgets with the help of this plugin. It will help you display details like the number of infections, deaths, recoveries, etc., specific to a region. There are different shortcodes available with the plugin to display custom data. You will find one shortcode to display the default data as well as a few advanced ones to display specific data.
The plugin also has an advanced version that will help you display simple text, list, advanced data table and a statistics map. This version also offers six different card layouts.
Provide live coronavirus updates to your audience using this plugin. You can display global information as well as country-specific information as per your requirement. In addition, you will be able to attach geographic information to your posts and pages. These include shortcode based information, geo tag, Google Maps on posts, etc. The plugin also helps in improving conversions and SEO efforts on your site.
One of the main advantages of this plugin will be that you will be able to create landing pages, content, and marketing campaigns specific to locations. You can also block access to specified IP addresses and also block access based on location. The plugin is quit easy to install and set up.
If you are interested in displaying critical data related to coronavirus pandemic, you can try out this plugin. You will be able to display worldwide data or country specific information as per your requirement. The plugin supports widgets, shortcodes and Elementor to display updated information on coronavirus. It also provides an option of a popup to share coronavirus related information.
Regularly communicating to customers is really crucial during an emergency. This is even more important if they have purchased long term subscriptions or recurring services from you. You may need to communicate to customers how you are planning to get through the tough period. Also, your customers need to get in touch with you whenever they need to resolve issues or have some concerns. This plugin is a great option if you are looking for free WordPress plugins to create a customer support platform.
With the free version of the plugin, you will be able to create a WordPress helpdesk that is capable of managing unlimited tickets and agents. You will be able to create custom support forms to let customers get in touch with you. In addition, it offers features like automatic conversion of emails to tickets, file attachment, customizable replies, etc. in the free version. Moreover, the plugin has an Ajax-based user interface that makes sure your customer support is fast enough. The free plugin also offers spam protection and extensive reporting features.
During a pandemic, there is a possibility that some businesses would want to sell essential goods with discounts. If you have an online store based on WooCommerce, and you want to set up special discounts on your store, you can use a dynamic pricing plugin for that. You will be able to create discounts specific to products or categories using this plugin. The plugin also allows you to specify minimum and maximum quantities to be able to avail the offer.
If you are creating tiered pricing based on the quantity of the purchase, you can display the pricing table on your product pages. This will enable customers to choose the right quantity while making the purchase and get the best benefits. Once you set up a rule for a product or category, you can limit it to specific user roles, or time periods. In addition, the plugin also offers an option to set a maximum discount that will ensure that your store's profitability won't be affected.
You can create custom COVID-19 popups on your web pages using this plugin. It offers a large number of customization options to adjust colors, background images and more. Also, the plugin offers an option for live editing, where you can watch the changes you apply before applying it. The popups created using this plugin are responsive, and will work perfectly on any device.
With the power of cloud computing, you will be able to apply these popups on different pages. Moreover, the plugin offers elements for call to action buttons, images, and other documents. Also, it supports text in different languages. Please note, the free version of the plugin will have POWr branding and will have only three elements.
Barn2Media offers free plugin for those helping with the pandemic
If your business is helping in the fight against coronavirus distributing food or medical supplies, you can get the WooCommerce Product Table plugin free. All you have to do is raise a request for the free plugin detailing how you are helping out in the cause of fighting against the pandemic. They offer free extension of the license till the crisis is over. You can find out more details on the free plugin to those who help in fighting coronavirus here.
More about WooCommerce Product Table plugin
This plugin will help you create a table of your products so that customers can easily choose multiple products in one go. It helps customers avoid going to separate product pages to place an order. This is a very useful option when you are selling grocery or medical supplies on your store. Moreover, the filtering options will help to improve the user experience significantly on your store. Also, you will be able to control how information is organized in the product table.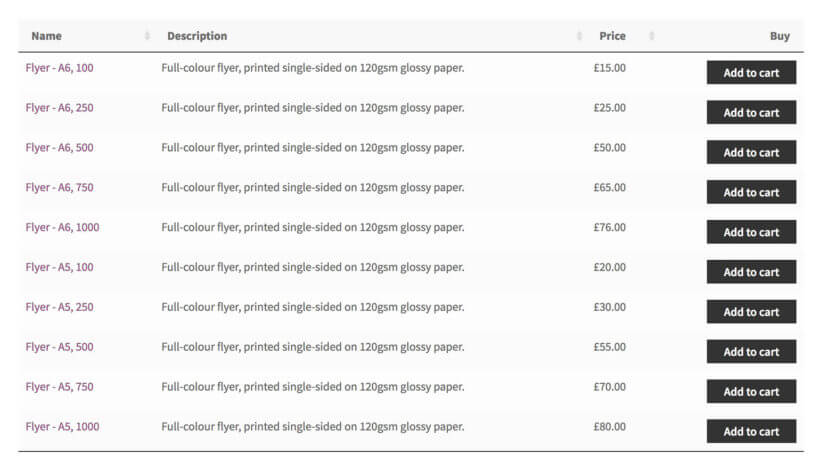 The plugin is quite easy to install and configure. It will be quite a useful option when you want to provide customers with a quick option to select products and checkout from your store.
Easily create a WordPress eCommerce site
A lot of businesses with physical stores are considering to open an online sales channel owing to the unforeseen lockdown to fight the COVID-19 pandemic. If you are looking to find help to create an online store by yourself, we have a list of resources to help you out. Here is a quick list that could be useful.
Hopefully, this article has helped you with some useful free WordPress plugins. Let us know in the comments section if you have a query.