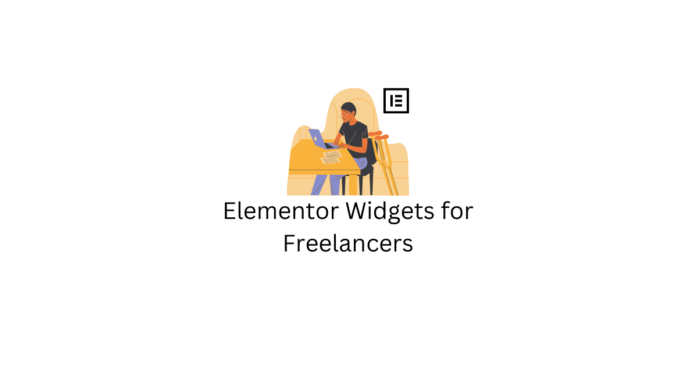 Last updated - March 20, 2023
Being your own boss as a freelancer is the best feeling ever. But why do most freelancers fail? There are multiple reasons for failure but I will share the short story of a freelancer who jumped out quickly to the main reason.
For my services when I first began freelancing, I was charged a tiny hourly rate. Bidding on projects is a time-consuming process, and some of them turn out to be unsuccessful. As soon as I launched my website, I began receiving inquiries about my services. My website led them to my contact information and they reached out to me to collaborate. A professional website is essential for freelancers with so much competition.
shannon89Freelance Copywriter
So here we have the main reason for failure which is having no personal website for freelancing. If you are thinking customizing a website costs you a lot, then don't fret.
All the free Elementor widgets mentioned in this list can help you create a successful website to showcase your portfolio, accept inquiries, and share content. From the most popular Elementor Addons/widgets to the most effective, they're all here.
What is a Widget And why Freelancers should use it?
The term widget refers to a collection of simple, easy-to-use software applications that can be deployed on various platforms. Easily embedded into the body of websites, widgets serve as independent applications. The widgets can be customized to respond to the website's identity and work with real-time website data. There are many types of widgets available, such as event countdowns, website visitor counters, clocks, and weather reports.
There is a common misconception that bells and whistles such as these require a web developer to install. Nowadays, it's as simple as copying and pasting a few lines of HTML code.
Purpose of Widgets
Widgets make simple sites more functional and fun by engaging visitors, providing valuable insights, and providing valuable insights.
Make your website more user-friendly by improving the way people interact with it. Your website traffic will increase and your business will grow in a similar manner. User engagement on your website gives you a chance to gather information about your existing and prospective consumers.
The simplicity of usage of widgets is one of their main advantages. Without getting too far into the design, you may increase the features and user experiences of your website with some fundamental expertise. Widgets are the way to go if you're searching for a solution to improve customer satisfaction and a new source of user activity data.
If you are confused with Elementor, Click on this to Get Details on Elementor Tools for WordPress Websites.
Pros Of Elementor Widgets for Freelancer Portfolio Website
As you are already aware, choosing pre-made template packs is essential when building a freelancer portfolio website. Let's now go over the top seven advantages of employing elementor widgets to build a freelancer portfolio website:
Showcase All of Your Creative Work Here
Showcase your work in a way that is distinct from others.
Increase the legitimacy of your freelance work
Establish Direct Contact With Prospective Customers
Make customers aware of your service.
Display Your Client Testimonials
Post Your Gorgeous Works On Social Media Websites
Free Elementor Widgets For Freelancers
Slider
In order to attract visitors' attention, you can use the Slider widget, which allows you to post eye-catching pictures with titles, descriptions, and links. Freelance web developers will love the slider widget. It enables you to efficiently design custom layouts for your client's websites.
Several navigational, animation, and customization options are available for this widget. The slider embraces innovative features that allow you to create awesome sliders almost instantly! Adding captivating hover and animation effects to layers is simple and easy. Make your slides stand out with unique backgrounds including gradients, images, videos, slideshows (Ken Burns effect), parallax effects, and more.
Features
Add modern background, navigation, mouse features, and more
Quickly edit the slide and get a stable live preview.
Add ∞ slides and layers.
Place any object on the slide.
Gallery
Freelancers use gallery widgets for their websites to exhibit their services through images for clients. This widget helps to fascinate your images in the most organized way. The gallery widget allows a visual editor that you can use to customize your website with just about any type of image you can think of, making it the perfect plugin for designers and novice webmasters alike. With customized styling options and animating features such as hover effects and filter animation, you'll be set. Animations made with the Simple Gallery widget are fully responsive and display in their best format for any display device. Plus, you can add popup features that are particularly good for getting a web user's attention.
Features
Free hover effects
Free Animations
Mobile responsive & Popup Style
Image Title & Caption
Social sharing and download option
Heading
Bored of using those plain-old titles on your freelancing website? If so, utilize Animated Heading Widget for Elementor. It's capable of putting animated headings and hundreds of unique effects and features to use. It's fantastic for people who create sites and need Elementor Headings. With the Headings Widget, you are able to construct an attractive header complete with subtitles, a description, style control, and a background image.
Features
Personalize Your Headings with Custom Icons
Utilize the masking option for your heading
Add an icon to your heading background
Apply border style
Menu
Organize pages on your freelancing website using the Menu widget. Display pages, categories, and custom links in the sidebar of your website with the Custom Menu Widget. This theme's clean and minimal design makes for a professional website that you'll enjoy with your visitors. As a freelancer, a menu on your website will help visitors browse your content. In addition to its interesting navigation, it makes sense for single-page layouts due to the hierarchical style of the menus.
Feature
Apply different layouts like dropdowns, sliders, and according to your menu.
Set your own alignment.
Set the custom width of your menu.
Design A Beautiful Sliding Sidebar Menu.
Appy various animation, color, and hover effects.
Testimonial
Having an extensive number of positive testimonials for freelancers' websites to prove their credibility and expertise. So, the testimonial widget for Elementor is the perfect tool for creating amazing testimonials for your freelancer's website. The clean and minimalistic layout of this widget makes navigating a website using it a breeze for freelancers. Featuring more than 10 unique layouts, it offers more than just an ordinary testimonial widget. You can showcase customer satisfaction, trust, and social proof with majestic testimonials. Plus, the widget allows you to add images or GIFs as backgrounds for an eye-catching experience for site visitors.
Features
Add & style the essential features of the testimonial widget such as image, rating, quoting, etc.
Make Your Website Authoritative and Trustworthy with different styles
Adjust alignment
Minimalistic layout
Responsive design
Dark theme option
Contact
Optimizing your contact form not only gives potential clients a great first impression and facilitates better discussions, but it also streamlines your process. Contact Form for Elementor is another amazing tool that can help your website users to reach you. The contact form is a commonly used widget to increase engagement and help users with their queries. Contact forms are a typical segment of most websites. As a freelancer, you can market your services and push your customers to contact you. This fantastic elementor widget for freelancers has sections and elements to access yourself in the best possible light.
Features
Personalize Your Simple Elementor Contact Form
Avoid Spam with the reCAPTCHA Feature
Customized Email Template on Your Contact Form
Image
Ideally, your portfolio should consist of large, attractive images, like a banner on a web page, which catch a visitor's eye immediately. If you don't use images for your job, for instance in this instance, writing, for example, you can take a snapshot of the web content you've written or upload a PDF of your print materials. Image widget is another fantastic free Theme Builder that helps in building an amazing website. WordPress allows you to add featured photos to articles or pages, so why is this functionality required?
Be sure to provide information about each project you showcase, including the brief, the client, and the results you achieved.
Feature
Dynamically exhibit the featured image of your previous work.
Apply hover effects
Adjust width and height
Personalize with CSS filter
Button
At every endpoint, make sure you have a call to action to keep your audience interested and moving toward your conversion goal.
To increase user interaction with CTAs, here are some tips:
Describe your button's benefits in language that encourages your visitors to click it
Make sure your headline and CTA button work together when you write them
You must consider the size of your CTAs because mobile usage is on the rise.
If your CTA is too small for your thumb, you may not be able to click on the link. Designing CTAs that are the right size is critical because size matters. The free button widget for freelancers is an easy-to-use tool to display your call-to-action buttons. You can add multiple buttons and also add a title, image, icon, etc. Whether you choose to use style options or hover effects is up to you.
Feature
Add a unique shade to your buttons.
Explains the CTA to visitors.
Add a customized image of your choice to give buttons.
Add Hover Styling & Animations
Use Free Elementor Templates Kit
Create a responsive website with free Elementor templates. Designers, developers, and freelancers will benefit greatly from the free Elementor templates.
There are a wide variety of elementor template kits available for freelancers to use for their client's websites, including landing pages, resumes, law agencies, companies, accounting, lawyer, fitness templates, etc. These templates allow you to save hours of time and effort and are a huge time saver. A website can be made faster with this approach.
Almost every Elementor site includes an Elementor header and Elementor footer. You can also find these on this site. By offering free Elementor templates with header and footer sections, you can create a website using the Elementor page builder.
Use Free Theme Builder
The best and most suitable option for freelancers is to utilize a theme builder for website customization. It has WooCommerce support and is compatible with all the most common WordPress plugins.
This is a brand-new design template. In freelancing, a free theme builder is a sufficient design editor to make use of the different designs and features. With plenty of design options, and the ability to add elements by drag and drop, you can easily make a design from scratch. And it works well with most themes, designs, and layouts. Also, you can use any basic theme. However, it also works with your own custom theme.
These are just some of the theme builders you can use when building client projects, and they may help lead you in getting your freelance projects. All you need to know is that these relatively simple and handy building tools can be put to use when you are working on your WordPress freelance projects. Now with the drag-and-drop Xpro theme builder, it's never been easier to create a theme for your freelancer website that fits your needs exactly, by simply pointing and clicking.
Xpro theme builder comes with 20+ full themes, 13+ page templates, and more. You can start with a theme builder to customize your website in no time.
Furthermore, personalized ready-made pages, blocks, and sections such as emails, social profiles, testimonials, contact forms, galleries, and much more. Simply drag and drop these features and turn your page visitors into potential customers.
Key Takeaways
Get full control of your website with these remarkable theme builder features:
Design Custom Blocks For Unique Pages
Header
Footer
Singular
Archive
404 pages
WooCommerce
Design Your Freelance Website With Free Elementor Widgets
Getting started using Free Elementor Widgets is easy and doesn't require any coding knowledge. Simply open up the plugin library and browse through the selection of available widgets. There are widgets for almost any purpose you can think of, from contact forms to photo galleries to social media feeds. Once you've selected a widget, you can customize it to fit your website and make it look exactly how you want it. Installing Free Elementor Widgets takes just a few minutes, so you'll be up and running in no time!
No matter what entrepreneurial line of work like freelance writing, I've found that a well-designed, functional, and engaging website will help you build a customer base. When you have a WordPress theme that embodies your creative vision, you will not need to be a WordPress developer to have a beautiful site online. Employ these free elementor widgets, templates, and theme builders to excel in your freelance career.
Further Reading