Last updated - November 30, 2021
For a WordPress site owner, a managed hosting service is a hassle-free option. In addition to providing a great technological infrastructure, a managed hosting service offers essential help for site management as well. You will get expert assistance in several aspects such as WordPress installation, site performance optimization, backups, security updates, etc. In this article, we will discuss some of the best fully managed WordPress hosting services that could be useful to you.
SiteGround is a recommended hosting solution for WordPress that offers powerful managed hosting services. They have a range of plans for all kinds of websites, and are quite prompt and fast when responding to your requests for help. Right from WordPress installation to site migration, you will get help from a friendly team of experts. Moreover, they take extreme care in performance optimization, security management and WordPress updates.

Features
Recommended hosting service provider for WordPress sites.
Assistance in WordPress installation.
Free Migrator plugin to assist site transfers.
Reliable infrastructure backed by Google Cloud.
Automatic WordPress updates and custom firewall rules.
Great performance ensured with caching, optimizer plugin, and CDN.
Quick response time and prompt resolution of issues.
Managed hosting plans of SiteGround start from $6.99 per month.
If you are looking for a fully managed WordPress hosting service, Cloudways is a great option to check out. You will be able to choose from a range of IaaS providers such as Digital Ocean, AWS, Google Cloud, etc. The advantage of this service is that you will be able to choose a plan according to your requirements. There are plans suitable for individuals, agencies, small to medium businesses and eCommerce stores. In addition, you will get excellent support round the clock.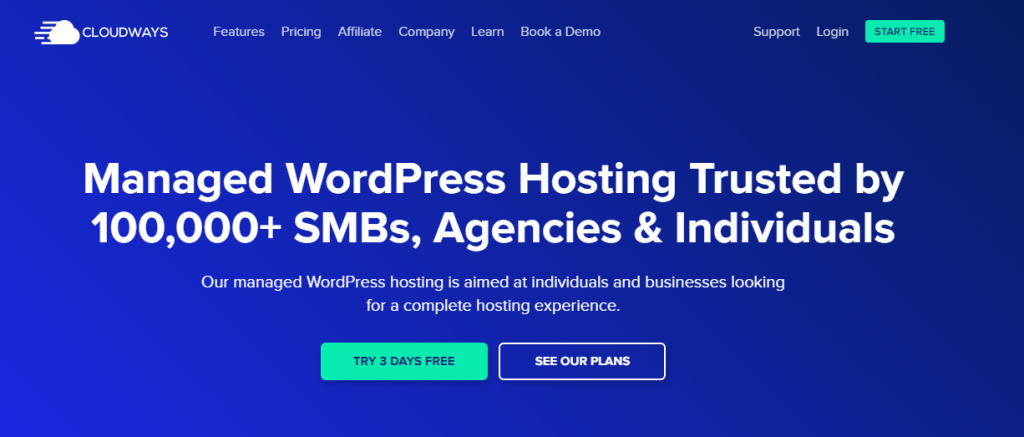 Features
Comprehensive managed WordPress hosting options with a choice of cloud IaaS providers.
Choose a hosting service according to your requirement.
Optimized technology stack for excellent site performance.
Automatic WordPress migrations.
Excellent security features.
Easy scaling.
Conducive environment for technical collaboration.
Reliable support from a team of experts.
Cloudways managed hosting pricing plans start from $10 per month.
For excellent speed, security and scalability for your site, check out the managed hosting services of Bluehost. It will take care of your growing demands as your business evolves with a comprehensive package. Some of the top features of this service includes multi-tiered secuirty, multi-layered caching and auto scalability. Additionally, you will find SEO recommendations, centralized social media control and other marketing tools to grow your site. Furthermore, you will find reliable, round-the-clock support as well.
Features
Comprehensive managed WordPress hosting service.
Advanced features such as SSD storage, more than 200 edge servers, multi-layered caching, etc., to ensure site performance.
Multi-tiered security features.
Free site migration.
PayPal integration for online stores.
Dependable support.
You will find Bluehost managed WordPress hosting plans starting from $14.95 per month.
Kinsta is a popular managed hosting service provider that is good for websites of all sizes. They offer cutting edge technology and dedicated support to ensure that you have peace of mind when it comes to site management. The overall experience with this hosting provider will be equally good for beginners as well as coding experts as it is simple and has advanced features. Kinsta offers a convenient dashboard that will help you control your site, along with powerful analytics features.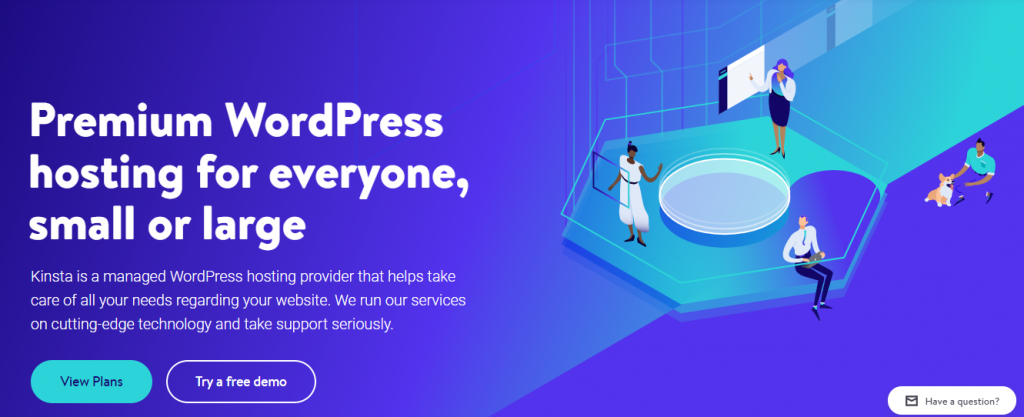 Features
Fully managed hosting service suitable for websites of different sizes.
Excellent security features with constant monitoring.
Advanced technologies to ensure high speed and performance for your site.
Auto-scaling to manage any sudden surges in traffic.
Excellent support to help you with your workflow.
Kinsta Managed Hosting plans start from $30 per month.
WPEngine offers one of the most reliable managed hosting services for websites and businesses of all sizes. It will offer great speed and performance consistently for your website. In addition, you will find excellent security features such as continuous monitoring and automatic updates. Furthermore, you will get access to a range of design and development tools to help you stand out in the market.
Features
Fast and reliable hosting service for businesses of all sizes.
Optimized platform to ensure the best site performance at all times.
Continuous monitoring to ensure your peace of mind.
Wide range of design and development tools.
Committed support from a team of WordPress experts.
The managed hosting plans of WPEngine start from $25 per month.
Hostinger offers a secure and fast WordPress hosting service for different website needs. It is an easier choice for WordPress beginners as the service is intuitive and simple to use. You will find excellent security features including an SSL certificate and protection from Cloudflare. Additionally, you will find a range of plugins and themes that you can use to customize your site.
Features
Optimized WordPress hosting plans.
Enhanced security with excellent monitoring to prevent attacks.
LiteSpeed servers, caching plugin, SSDs and multiple data centers.
Flexible environment for developers.
The WordPress Pro package will cost you $11.59 per month.
Liquid Web offers managed WordPress hosting through its digital commerce cloud platform, Nexcess. You will be able to create a fast and secure website, and not worry about site management. They offer automatic plugin updates and easy site migration. Moreover, there are no traffic limits or overage charges.
Features
Efficient hosting platform with state-of-the-art infrastructure.
Full access to server and database.
Automatic SSL, daily backups and plugin updates.
Developer tools such as Git, WP-CLI and SSH.
Reliable support over phone, email and chat.
The managed WordPress hosting service starts from $12.67 per month.
DreamHost offers superior managed WordPress hosting service called DreamPress for all your business needs. With the help of a migration plugin, you will be able to automatically migrate your WordPress site as well. Some of the other interesting features of this managed WordPress hosting plan are built-in caching, reliable backups and staging environment. They will also help in optimizing your site performance and handle security aspects as well.
Features
Managed hosting service with powerful features.
Automatic migration of existing sites.
Quick start wizard to help with your website building process.
Support from a trained WordPress team.
DreamPress managed hosting plans start from $12 per month.
Pagely is a preferred hosting option of several big brands and offers advanced packages for businesses and enterprises. They offer excellent scalability and reliability with their technology infrastructure based on AWS. You will be able to find a solution that is custom made for your requirement, be it for publishing or eCommerce.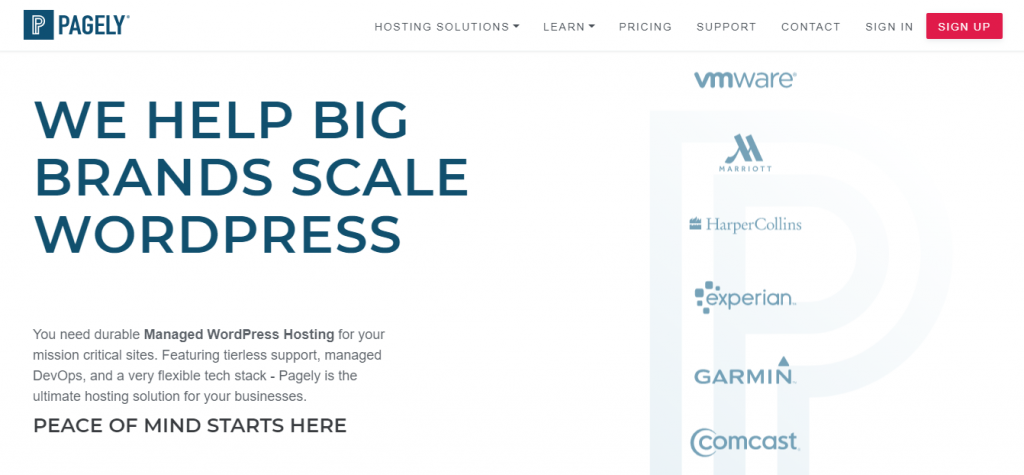 Features
Advanced enterprise-level hosting service.
Unmatched security options.
Diverse plans for specific requirements.
Seamless support through a variety of different channels.
Check their website for pricing plans.
Presslabs offers a first-of-its-kind cloud-native WordPress hosting solution based on Kunernetes. It is a SaaS solution that runs under your own Google Cloud account, and a WordPress infrastructure developed on Kubernetes. Some of the other interesting features of this service are nginx-based enterprise grade caching, custom delivery network, git-centered development flow, etc. Furthermore, you will also find excellent scope for data collection and analytics.
Features
Cloud-native managed WordPress hosting based on Kubernetes.
Multi-layered infrastructure for complex WordPress configurations.
Advanced features including custom delivery network, git-centered development flow, and enterprise grade caching.
Different plans according to business requirements.
The pricing plans for the managed hosting service of Presslabs start from $99 per month.
Fully managed service exclusively for customer support
If you are looking for a fully managed hosting service exclusively for your customer support needs, you can try out the Open Source HelpDesk & Customer Support Ticketing System – Simple & Flexible. Irrespective of the eCommerce platform you are using, you will be able to set up a support ticket system using this service. This will be a great way to manage your support desk server independently, without impacting the performance of your main website.
Hopefully, these Fully Managed WordPress Hosting Services help you successfully manage your WordPress site. Feel free to leave us a comment if you have a query or concern.
Further reading