Last updated - February 24, 2020
PayPal is one of the most loved payment gateway options in WooCommerce. According to studies, if you add PayPal as one of the payment options, there is a better chance for conversion.
There are several options to get PayPal Express checkout on your WooCommerce store.
Let's look at two options that are quick, easy and reliable:
This is a free extension offered by WooCommerce. Here your customers will be able to quit the checkout page of WooCommerce and move to the PayPal page. Customer's PayPal account information will be auto-populated in the checkout fields. This helps in a faster and hassle-free checkout.
Why is this a good option?
Developed by WooCommerce, you can expect a seamless integration.
Accepts payments from customers' PayPal account as well as major credit and debit cards.
Accepts payment from a large range of currencies.
For US customers, PayPal Credit option is available. This way store owners will get paid instantly.
In-Context feature to enable payment without leaving your website for a variety of devices used by customers.
No security hassles for store owners as PayPal handles the transactions on their servers.
Simple and straightforward setup and configuration
Great customer experience and better conversion on your store.
How to set up?
Setting up this plugin is quite easy. Let's see how to do it:
Download and install the plugin on your site. Go to WooCommerce > Settings > Checkout > PayPal Express Checkout, and configure the settings.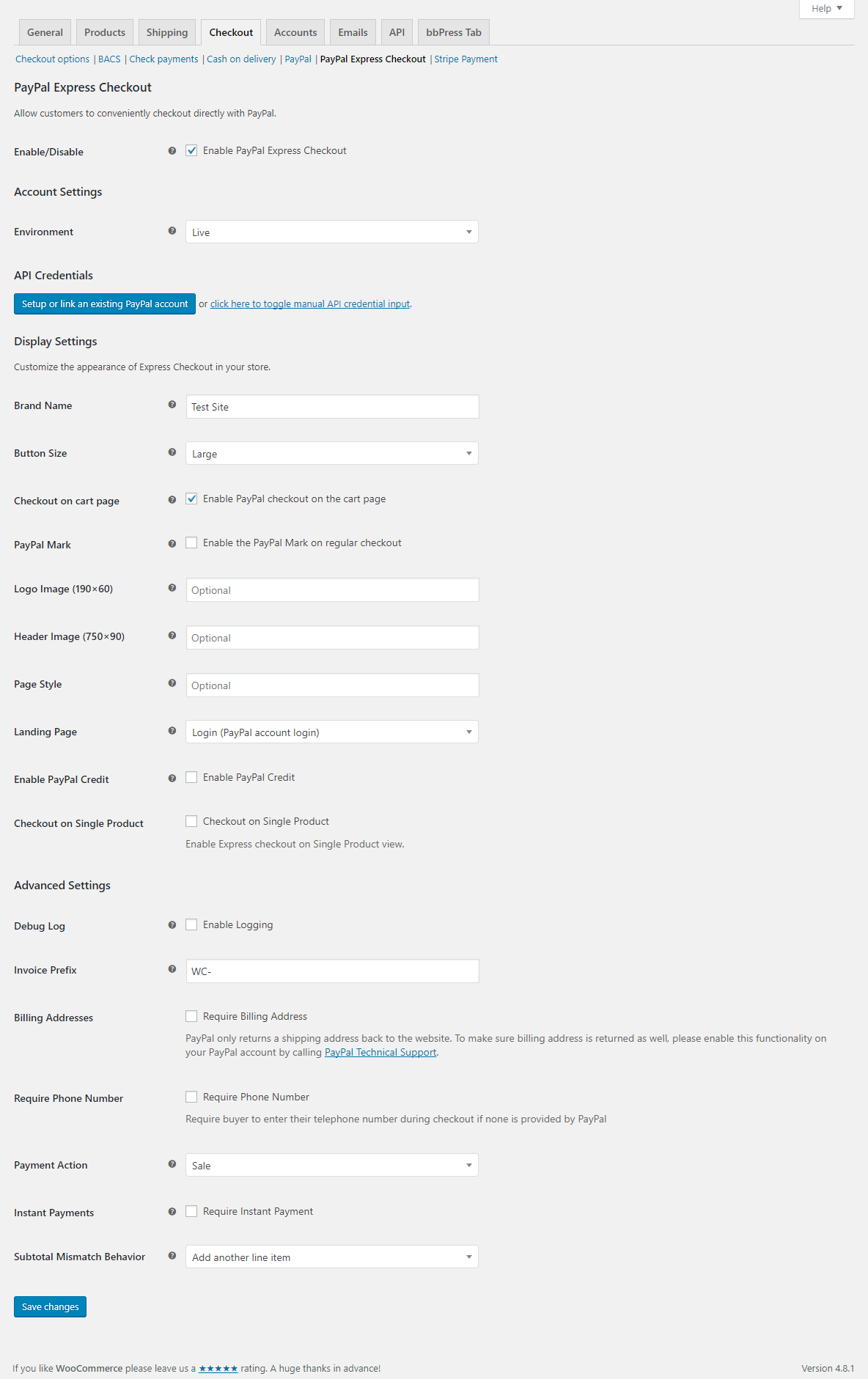 You can configure several aspects of your checkout here, such as brand name, logo, checkout button size, page style, etc. You can read the detailed explanation of each of the settings in this WooCommerce documentation.
Once all the fields are configured according to your business requirement, click Save Changes button. You are ready to accept payments via PayPal. You can see the option for PayPal on the checkout page as the below screenshot.
This plugin offers a smooth experience in terms of PayPal Express Checkout integration as well. It allows a faster checkout for your customers resulting in better customer satisfaction on your site.
Why is this a good option?
Like the in-house WooCommerce one, this too is free of cost and you can easily download and install from WordPress.
Simple set up and configuration
Accepts payment from customers' PayPal account, credit or debit cards. Supports all major credit and debit cards.
Complete orders from cart page; with the premium version, this can be done from the product page as well.
Customization options are available for each user-facing elements. This is yet another feature that contributes well to your customer satisfaction index.
Skips order review page for a faster checkout.
How to set up?
Setting up is quite easy as in the previous case. Search for PayPal Express Checkout in your Plugins section and select the one by XAdapter.
Install and activate the plugin. Go to WooCommerce > Settings > Checkout > PayPal Express and configure the plugin.
Some advantages of using PayPal Express Checkout
Here are some of the obvious advantages your store might experience if PayPal is added as a payment option:
Improve sales
PayPal offers a distinct edge when it comes to improving conversions. There is a better chance for your customers to go ahead with the purchase if they already have a PayPal account. According to a 2015 study by Nielsen, having PayPal as a payment option can improve conversion by 44%.
No need to enter billing and shipping address
There is no compulsion to enter billing and shipping information for guest checkout and this can result in a faster checkout. Customers can checkout quite fast without repeatedly entering transaction details, address information and contact numbers. Most customers would love a faster checkout and this would prove to be really beneficial to improve customer experience on your store.
Pay according to your business performance
There is no initial fee to set up PayPal express. You can pay as you start receiving orders and accept payments.
Check out a premium PayPal Express plugin if you are looking for advanced features.