Google Chrome is the world's most popular web browser with over 2.65 billion internet users opting to use it to browse the web. Needless to say, Google Chrome has loads of features that are intended to enrich the user's browsing experience. One such feature is browser extensions which provide additional as well as particular functionalities to the browser beyond the mere accessibility of websites.
Browser extensions exist for blocking advertisements, translating websites, switching to dark mode to websites that do not provide it by default, and so on. In this article, let us take a look at some of the extensions offered in the Chrome web store that can be useful if you have a WordPress website.
Grammarly
Grammarly is a free grammar and spelling-checking tool that is available as software that you can install on your computer, or phone, or even as an extension of Google Chrome. It is available on the Chrome web store and is a handy addition to handling your website.
Having proper grammar and spelling on your website is very vital to have and maintaining your brand reputation. Grammarly helps you achieve this by providing live grammar and spelling correction and even advanced solutions such as providing alternate words for frequently used words to diversify the vocabulary you use, an ideal way to rewrite a sentence for clarity and conciseness, and a tone detector that shows how your text content appears to users in the form of emojis.
While the tool is free, the premium features provide advanced suggestions beyond the basic grammar corrections available in the paid version, starting at $12 per month for a single user.
WordPress Style Editor
WordPress style editor for Google Chrome is an extension that is useful for WordPress developers. While accessing the CSS style sheet in Chrome developer tools, the changes you make can be lost if the page gets refreshed. This plugin offers a solution to this problem by saving changes to the style sheet directly.
As long as you are logged in to your WordPress dashboard, you can achieve this easily, making this plugin useful for WordPress developers who are interested in experimenting and customizing their websites.
Blish – Publish Quickly to WordPress
Adding posts to WordPress can be tedious sometimes. From adjusting the format of the text content, and adding images manually to logging into your WordPress dashboard every time you want to make a new post, it is often a time-consuming process for WordPress website managers who often have to publish new content.
Blish solves this pain point by allowing you to directly publish content to your WordPress website, provided you are logged in. By clicking the W+ icon of this plugin, you can directly upload content on any page to a new post and review and publish it, making a new WordPress post a matter of just 2 clicks.
WordPress Theme and Plugin Detector
Ever browsed through a website that has impressive performance and features, making you wonder what theme and extensions are used by them? WordPress Theme and Plugin Detector is a simple plugin that can detect and list the theme and plugins used by any website with a single click. The extension's icon turns blue if the website you are visiting runs on WordPress or remains grey.
Since it uses a server-side API for detection purposes, the speed of detection is not affected by your device and hence works quickly. This plugin is useful to discover new plugins and themes you might not have known, thus a favorite among WordPress enthusiasts.
WordPress Admin Switcher
This simple extension lets you switch to admin mode on your WordPress website without the need to type the suffix "wp-admin" into the website URL. It is handy for website administrators who often edit the content of their websites. By clicking cmd + shift + A on Mac or ctrl + shift + A on Windows and Linux devices, you can quickly switch to admin mode and edit any post or page.
Buffer
If you are a content creator producing content at a high frequency, Buffer is a lifesaver that you can use to schedule your social media content. Managing and sharing content on social media platforms such as Facebook, Instagram, Twitter, and LinkedIn is easy with Buffer and you can also add your team members to social media campaigns to collaborate and manage your content calendar.
Besides posting and scheduling content, the Buffer dashboard also shows the performance of your content in a statistical format. Note that Buffer is available as a website as well as a Chrome extension, so even if you are not always able to access Chrome, you can manage it on other devices through the Buffer website.
WordPress Site Manager
If you are managing multiple WordPress websites, WordPress Site Manager is a very useful extension. You can select a color theme for each website using Site Manager to quickly identify which dashboard you are on, saving time and avoiding confusion. The color you picked will be reflected in the color of the top menu bar.
WordPress Admin Bar Control
While the WordPress admin toolbar is useful for quickly switching between the front end and the back end of your website, it can also be a distraction or even cause accidental clicks while you are browsing through the front end or hinder you while you are making design changes.
The WordPress Admin Bar Control provides a solution to this. You can toggle the extension icon to hide or show the WordPress admin bar.
ColorZilla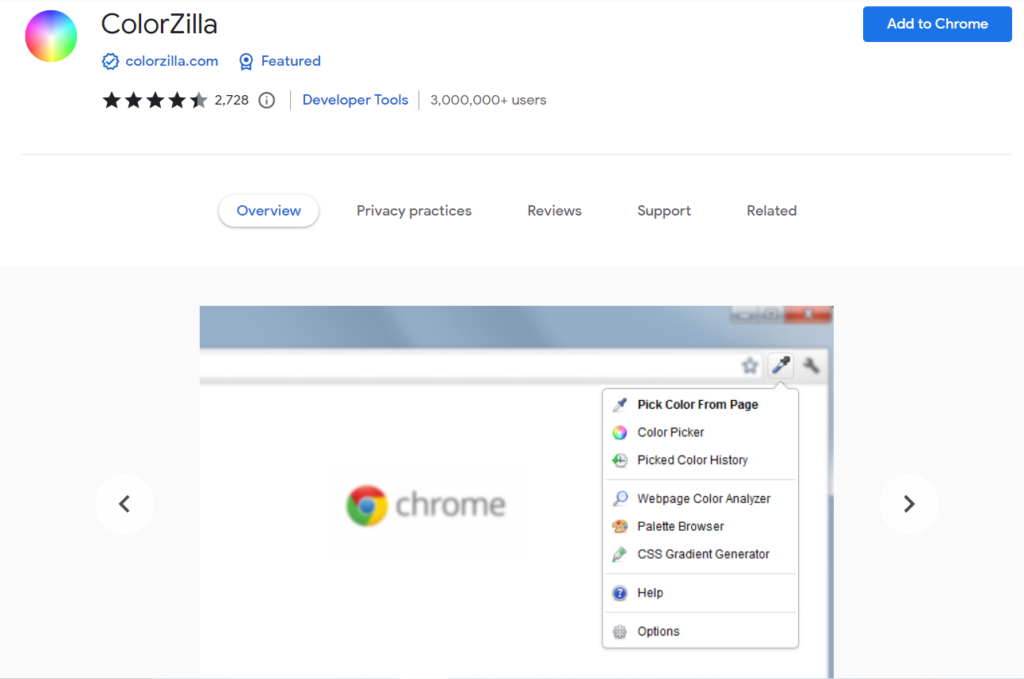 ColorZilla is a color-picking extension, capable of identifying the color of any pixel in a web page. It achieves this by using an eyedropper tool. It also generates a CSS gradient generator, which you can use in your website's CSS stylesheets.
The data is thorough with tag name, class, ID, and size. The tool also holds the history of recent colors and the plugin boasts that some of its features are akin to the ones found in Adobe Photoshop.
Nimbus Screenshot & Screen Video Recorder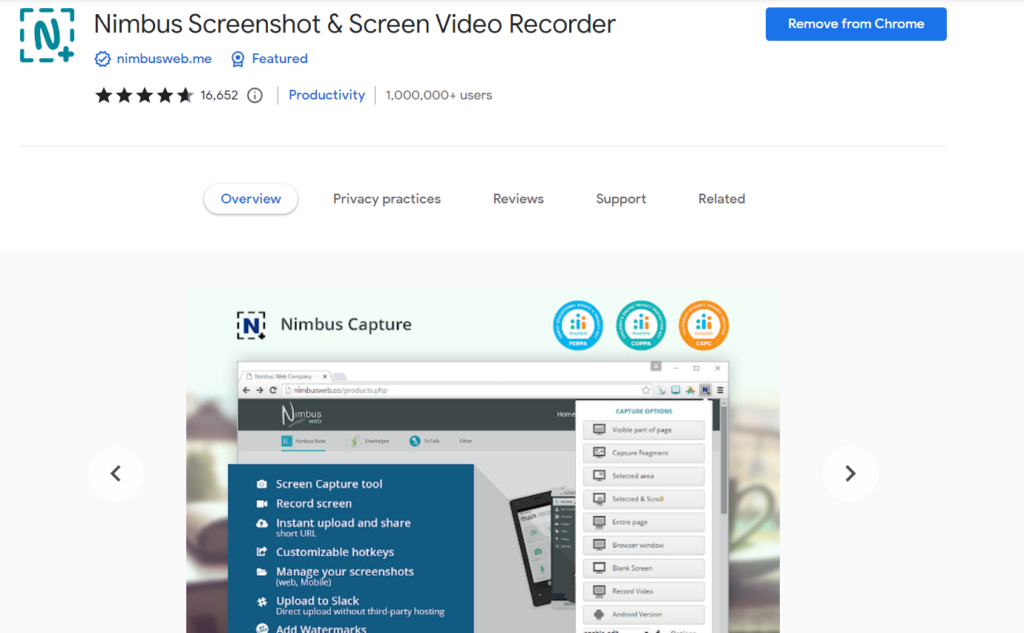 Nimbus is a plugin for screenshotting portions or complete websites, as well as performing screen recording. It also has the feature to edit screenshots by adding text, shapes, or blurring parts of the image. Another useful feature of Nimbus is the "select and scroll" variant in screenshotting which makes it possible to take screenshots of long web pages without breaking them down into multiple images.
While the WordPress plugin repository has a plethora of plugins to customize and control aspects of WordPress websites comprehensively, the Google Chrome extensions for WordPress offer simplified solutions to use cases that sometimes eliminate the need for using WordPress plugins.
Do you know a Chrome extension for WordPress websites that we may have missed? Let us know in the comments.
Further Reading