Last updated - July 8, 2021
WordPress website blogs or shop blogs, as they grow, have more and more authors or users. This helps organizations and businesses increase content quantity on their website, boosting their search engine ranking as well as the quality of content.
In the process, authors generally use offline documents or Google docs for content audits. For example, your editor might be regularly commenting on Google docs, writers would be resolving comments, and after a few iterations, the content would be put in Gutenberg Editor to go online. 
In short, editorial team collaboration must be a long and cumbersome process with WordPress for you currently.
What if we could reduce your efforts?
Yes! For the first time in WordPress's history, you can now handle Google doc-style editorial team collaboration inside WordPress. It is possible with the help of this one-of-its-kind plugin, named Multicollab. 
In this article cum user guide, we will tell you what are the useful capabilities of this collaboration plugin, and how to use it for your website.
A Quick Overview of Multicollab
Think of Google Docs being compatible with your WordPress Editor Gutenberg…
Well, this is just imaginary, but you may consider it as an approximate description of the above-mentioned plugin! 
Let's precisely understand Multicollab now:
This plugin lets WordPress users add, view, edit and delete comments on various blog posts and pages, created in Gutenberg Editor. Your ability to perform these operations will depend upon your access rights for that particular WP post.
In appearance, this plugin's components look very similar to Google docs elements. 
For the ease of users, plugin developers have placed comments and the notification center in the same way, as they are present in Google docs.
However, Google docs is not compatible with WordPress editor – Multicollab is. Be it your regular (default) post types or custom post types, you will be able to use it through your website without worrying.
Not just all common Gutenberg blocks, Multicollab works like a charm with custom blocks too. 
In fact, wherever there is text (even in captions!), commenting is possible using this plugin.
Involved people receive email notifications when a comment is added or deleted.
Users can view the Notification Center to see all the actions taken regarding Multicollab comments in real-time.
Why is Multicollab a Must-have Plugin for your Website?
When Multidots announced the release of this plugin, this product received an amazing response online. 
Not just businesses but multi-author blog websites as well as WooCommerce shop owners were thrilled with its arrival. Developers in the WordPress Community, too, welcomed it with open arms. The plugin is featured on notable sites, like WP VIP and WPTavern as well.
For all the above, the reason is simple.
Extreme usefulness of the Multicollab plugin!
Collaboration and commenting in WordPress Editor was a capability that no one tried adding to it. However, everyone who deals with various writers, authors and collaborators in their site, needed it badly.
If you are still clueless, let's explain why you need editorial team collaboration capabilities in your WordPress dashboard. (And if not, you may skip to the how-to part of this article)
1. Because It helps you skip One Laborious Step from your Editorial Process
Imagine your editors directly writing content in the WordPress blog post editor i.e. Gutenberg! 
Thereafter, they will share the content piece with you, tell you view it and add comments to it. 
All the collaboration from multiple authors and editors can happen on the same editor page within WordPress before you finally hit the 'Publish' button.
Isn't it much better than the previous hectic editorial process that used to involve emails, Google docs, other editorial tools and Gutenberg editor in the end? 
We bet, it surely is.
2. Because Collaboration is super-simple with Multicollab
Having the efficiency to add comments and handle editorial activities in your Gutenberg Editor doesn't mean that you will have to live and compromise with fewer features than Google docs.
Multicollab plugin has almost all features that your WordPress site might need.
Using the Multicollab plugin, one can:
Add comments;

Delete comments;

View comments on a blog post;

Reply to an existing comment;

Receive email notifications regarding the actions taken related to your comments/posts;

View all actions taken yet (in the notification centre).
Thereafter, the blog post can be edited and made according to the added comments (using the regular capabilities of Gutenberg Editor)
3. Because it is extremely user-friendly and easy to use
Now that you have the ability to do editorial collaboration in your WordPress site, it won't make your work complex. The plugin doesn't require users to take any separate training for using it. It works pretty much the same way as Google Docs does. In short, Multicollab is super-easy to use!
4. Because it is free!
If you are thinking that you need the Multicollab plugin but don't have the budget currently, your worry is unnecessary. This Google-Doc Style editorial plugin, built for commenting from within the WordPress Gutenberg editor, is absolutely free of cost at present.  
Step-by-Step Guide: How to Use Multicollab Plugin?
Before we explain the steps to use the plugin, let us first give you quick details about the basic requirements and installation method regarding Multicollab.
Prerequisites
It is essential that your setup has WordPress 5.3 or above, alongside Php 7.4 or above, in order to use this plugin without hassles. If not so, you must update your website or shop.
Installing the Plugin
You can directly download this commenting feature plugin and install it on your website/shop. Alternatively, you can search for Multicollab – Google Doc-Style Editorial Commenting for WordPress By Multidots in the search bar of WordPress Plugin directory online and install it directly from there.
Using the Multicollab Plugin
Once successful, you will see a blue-colored icon in the right-side (top) of your blog post, when opened in the Gutenberd editor. In the 'All Posts' list, you will see an additional row with heading 'Editorial Comments'.
Learn how to work with various features of the Multicollab Plugin:
i. Adding Comments to the Blog Post
To add a comment to any blog post, you must first open that post in the Gutenberg Editor.
For this, click on the 'Edit' button from the blog-listing page in the WordPress dashboard, or the blog itself. For the latter, make sure that you are logged into your website.
Now, select the text to add a comment to it. 
In the block toolbar appearing on selecting the text, you will see the option to 'Comment'. 
Click on this option and type in your comment. When done, click on the comment button to let other authorized people view the same.
Super-important: Always remember to publish/draft/save your post once you are done commenting. If you will skip this step, your inline comments won't be available for others, or for you after your current session.
ii. Replying to a Comment
This is easy! You can just click on the comment, to which, you want to add your reply to. This will enable a textbox below the current comment in front of you. 
Click in that text-box, start typing and click on comment in the end. Your reply will be added below your desired comment this way.
iii. Mentioning team members in your comments or replies
Just as we do it in Google Docs, you can place an '@' sign before writing the username of your team member. When you will do this, you will see an AJAX-loaded list of names to choose from. 
You can mention your team members in a post from this list or by typing manually.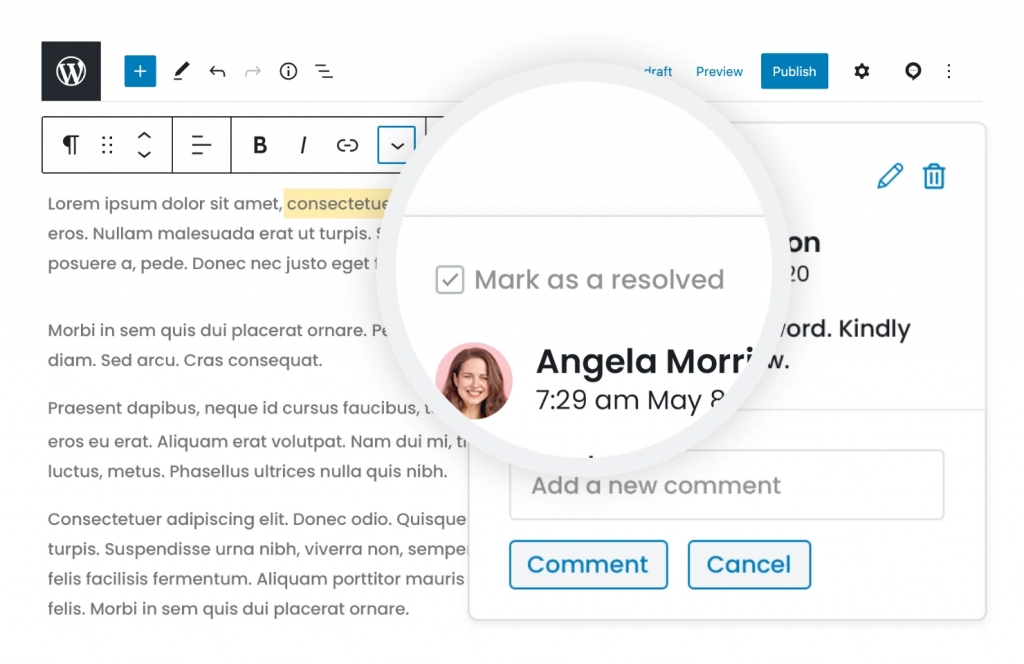 Mentions can be used for assigning a comment or a piece of content to your team member for editing or polishing or for verifying the factual correctness of the piece. 
You can use mentions in inline comments as well as in the replies to comments. Mentioned users will get a notification when it will happen.
iv. Editing your comments or replies
To edit a comment, click on your comment or reply. This will make the Edit (a pencil icon) visible for you in the top-right corner of the comment-box. Click on that icon and start editing your comment! 
v. Resolving / Deleting your comments or replies
To delete i.e. resolve a comment, added to your post using the Multicollab plugin in WordPress, click on that comment. In the top-right corner of the comment-box, you will see the icons for Edit and Delete. By clicking on the Delete button, you can simply remove the comment from that post.
Alternatively, you can also mark the checkbox on the top of a comment to resolve it.
For others comments, you won't have the Delete button, unless you are the super-admin or admin. However, if you are the editor, you will be able to resolve their comments too.
vi. The Activity Center
Look for the blue-colored Multicollab icon in the top-right of your dashboard and click on it. Doing this will open the Activity Center for you.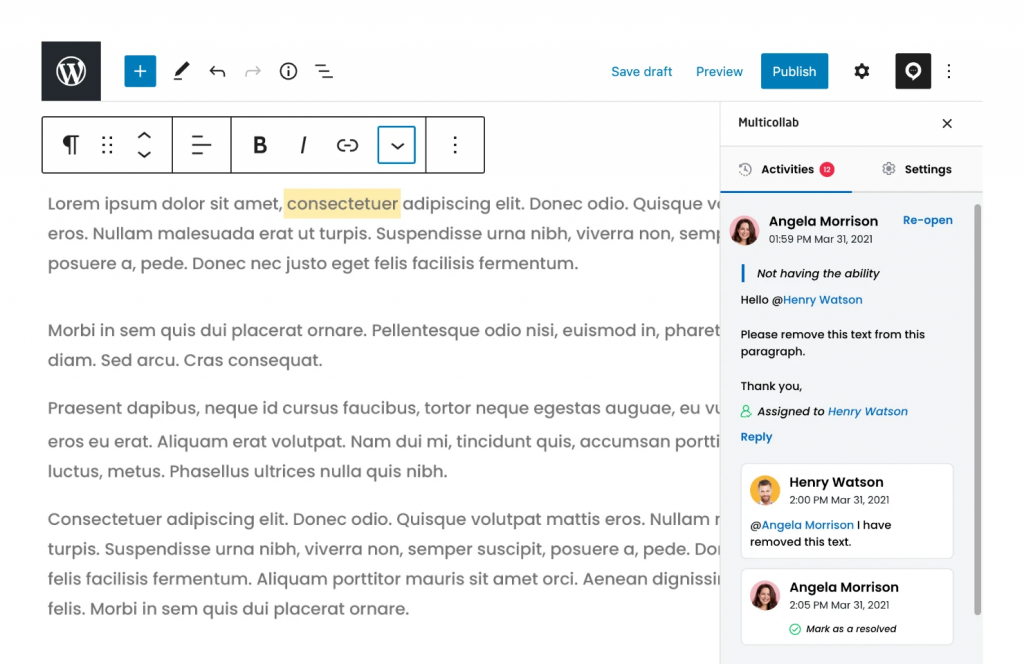 Activity center is the place, from where, you can see all past and current editorial collaboration activities related to the opened posts.
All the added comments, replies, mentions, resolved comments and so on will appear in the activity center. It's, kind of, the summary of editorial actions you and your team members have taken.
You can review all these activities and rollback them manually when required.
In case you have resolved a comment by mistake, you can go to the activity center and add the same comment again to the post. That's what makes the activity center an crucial feature of the Multicollab Plugin.
vii. Email Notifications for your Ease
For all the actions that you have right to view or the ones mentioning you, you will get an email notification through the Multicollab Plugin. It will help you keep a track of all editorial activities, as well as receive timely updates about your Website.
User Permissions in Multicollab Explained
The top-level user roles, i.e. super admin, administrators and editors, have full rights to access features of the Multicollab plugin. 
These users can view all comments, check all activities in the activity center, edit any comment, add mentions, delete or resolve comments, reply to any comment. Be it any post or page within the WordPress website, these abilities will be available to these users.
On the other hand, authors and contributors will have the editing, addition and viewing rights for comments on their own page or posts only.
This kind of classification of comment visibility and control help the Multicollab Plugin avoid clashing with normal WordPress access rights and settings.
Gutenberg Blocks' Compatibility with Multicollab
Rewind the names of all the Gutenberg blocks that you use while creating your posts or pages. 
Paragraphs, images, headings, pull quotes, quotes, tables, list, verse, cover, buttons, audio, media & text, file…
Looks more than enough, right?
For all these blocks, Multicollab commenting feature will work pretty well. 
To sum things up for you, here are the Gutenberg blocks that are compatible with the Multicollab editorial collaboration plugin:
Besides these blocks, the plugin will also work for the text parts of your custom blocks.
The only limitation with the Multicollab plugin is, it doesn't work with content in Classic Editor. Makes sense too, as it was a thing well past the WordPress version supported by this plugin. This means, if you want to enable editorial collaboration for your super-old content pieces, you will first have to convert those posts into a Gutenberg Editor post. 
Custom Post Types and Multicollab
We have already told you that Multicollab will work amazing for your blog posts as well as pages. However, we know that it is common for the WordPress sites to have custom post types in their shop or site. Are you worried if this plugin will work for those post types?
Well, you can skip taking tension and relax, as Multicollab will work smoothly with your custom post types.
In fact, you can use it for your shop pages, lengthy product description pages and other custom posts, whenever you need. There won't be any issue at all. 
Editorial work won't be tedious anymore for any part of your website when you have Multicollab by your side.
The Final Word
If your WordPress website has various categories and multiple authors (or multiple levels of editorial process), the Multicollab Plugin can make your team's life super-comfortable. The plugin is present in the WordPress Plugin directory and comes from a reliable plugin development team, so it is absolutely secure to use it. It's one of its kind plugin with excellent features for team editorial collaboration. Install it now.
Further reading