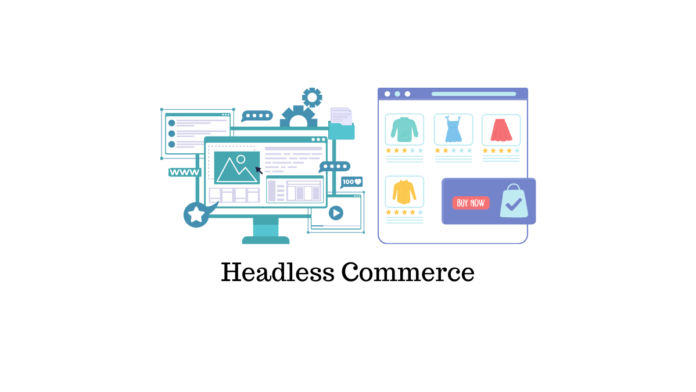 Last updated - July 11, 2022
Headless commerce is the emerging eCommerce development concept that focuses on separating the front-end and back-end of the website to provide agility and adaptability to businesses. It lets them create eCommerce solutions on different platforms with APIs. For creating an experience-driven eCommerce website, you can hire a competent headless commerce company for your business.
Keep scrolling the page to understand more about headless commerce, its benefits, limitations, how it is different from traditional commerce, and various headless commerce platforms.
What is Headless Commerce?
Headless commerce means decoupling the back-end from the front-end of the website. Unlike traditional commerce, headless commerce allows you to build eCommerce stores offering user experience as per your business requirements and objectives.
By offering endless customization possibilities, it makes the process of creating customized user experiences less challenging.
What Differentiates Headless Commerce From Traditional Commerce?
Now one question might be revolving in your mind: what differentiates headless from traditional commerce? You would like to know which one is better between headless commerce vs traditional commerce before going forward. If we talk about traditional commerce, it works on the monolithic (composed in a single place) architecture in which the front-end and back-end are inseparable. In short, everything is closely packed in traditional commerce. So in order to provide a better experience to the customers, businesses need to change the front-end of the website, but they are restricted because of the coupled architecture of traditional commerce.
On the other hand, headless commerce is based on the decoupled architecture that provides more room for customized user experiences as per the business needs. It makes customization less challenging and provides a better opportunity to enhance the overall shopping experience on your eCommerce store.
Now, let's move towards understanding the benefits of headless commerce.
Benefits of Headless Commerce
Some of the benefits of using headless commerce for your business are given as follows:
Faster Scaling
Headless commerce makes it easy to incorporate the additional features of the products without disrupting the performance of the website. It alleviates the complexities faced in the scalability process and makes scaling up your eCommerce website much easier.
So, with a headless solution, you can integrate new features to your website as your business grows rather than creating a new one from scratch. As a result, it offers faster scaling of the websites whenever required.
Seamless Integration
Because of using APIs, with headless commerce, it is easy to connect with other platforms. By adding your brand to a new device, you can enhance outreach to many customers and expand new opportunities.
Without API, you might have to use the plugin that further requires security patches and constant updates. But API integration ensures that the data is transferred quickly and easily, without requiring updates.
Provides Omnichannel Experience
With headless commerce, you can reach customers that prefer multiple channels to discover and purchase goods. Approximately 74% of customers prefer more than one channel to shop. Therefore, the single channel is no longer sufficient for businesses. With headless commerce, you can modify your front-end to create an eCommerce website that works smoothly across different channels.
Enhanced Customization
Unlike traditional commerce, headless commerce offers limitless customization possibilities. So, with the help of a company that offers headless development services, you can move your business to the next level by customizing your existing platform.
Shorter Time to Market
To provide a better site experience to your customers, you constantly have to match their expectations. Headless commerce lets you quickly change the front-end without altering the back-end layer. A competent headless commerce company can quickly implement new functionalities to your website to match your customer expectations resulting in a shorter time to market.
So, if the above-mentioned benefits grab your attention for developing a successful headless eCommerce store or you want to migrate your existing eCommerce store to a headless solution, hiring a company offering headless development services will be a good choice for you.
Major Headless eCommerce Platforms
When switching to headless commerce, you might require finding a platform that can meet your expectations and requirements. There are various headless platforms available in the market; some of them are discussed as follows –
Magento Headless Commerce
Magento is the best-suited eCommerce development platform for businesses looking for scalability. It lets companies deploy new customer experiences across multiple channels. Some of the benefits of Magento commerce in headless commerce are unconstrained control, improved scalability, and many others.
Shopify Plus Headless Commerce
Shopify-plus offers the best tools and systems for your eCommerce store. It is an enterprise-level edition of the Shopify platform. This extensive platform provides various headless commerce options such as integrations to improve user experience. It can be considered a perfect headless eCommerce option for mid-to-large-sized businesses.
WooCommerce Headless Commerce
For developing a complete eCommerce website as per your requirements, you can consider WooCommerce headless commerce services. By using WordPress Rest API, WooCommerce enables the seamless decoupling of the front-end and back-end. WooCommerce offers you the freedom to develop template-free eCommerce websites by creating the front-end as per the requirements.
Is Headless Commerce Relevant For All E-Commerce Stores?
The answer is probably no; the headless commerce approach is not suitable for everyone. We cannot consider developing any kind of eCommerce store. You must not invest your time and resources in headless if your eCommerce store is going well with the traditional eCommerce architecture. Moreover, to evaluate whether it is a good fit for your business or not, you must consider your goals.
If you have the resources to support headless transformation and want to provide a unique customer experience, it will be best to consider headless commerce for your business. Let's look at some of the scenarios to consider headless commerce for your business:
If it is not possible to create a unique storefront with your existing platform, you can consider headless commerce.
Suppose your eCommerce website takes too long to load and results in a user exiting before loading. In that case, you can leverage the benefits of headless development services for your eCommerce store development.
Before choosing headless commerce, you must also consider the time and cost. An enterprise-level headless project might cost from $50,000 to $5,00,000 except for supporting tools, customization levels, and annual maintenance costs.
Conclusion
For businesses that want to provide their services across multiple channels and provide excellent customer experiences, the headless commerce development approach is one of the perfect solutions for them.
If you feel that your present eCommerce platform is stopping you from expanding across multiple customer touchpoints, you can upgrade your existing setup to a headless solution for award-winning experiences. Moreover, to get best-in-class headless services for your business, you can partner with a reliable headless commerce company that will provide you with the expected results by understanding your business needs.
Further reading