Last updated - November 9, 2022
The add-to-cart button on your WooCommerce site may need to be hidden, removed, or disabled for a variety of reasons. It's possible that the item in your business is not on sale, that you wish to showcase the product catalog, or that your items are no longer in stock.
Because of this, you require more customizability to adjust the functionality of your business to meet your needs.
Users have numerous customization choices thanks to a vast library of WordPress plugins and WooCommerce extensions, which leads to a more user-friendly experience.
This guide will show you how to hide the add-to-cart button on your WooCommerce store with the help of a plugin. For those of you who enjoy video demonstrations in comparison to articles, check out the video to this article below.
Reasons behind hiding the add-to-cart button
Let's first begin to comprehend why you would wish to hide the Add to cart button. One of the best ways to disable the purchasing process for a certain item or business is to remove the Add to cart button. Despite the fact that it might seem counterintuitive, removing the Add to cart button can actually be very helpful in some circumstances.
There are a number of reasons why you would wish to remove the Add to cart button from various pages of your store:
Due to the possibility that you may wish to utilize your WooCommerce shop as a catalog.
When a product is discontinued, or you run out of supply.
To remove the button in compliance with rules. For example, specific user roles, unregistered users, and so on.)
Products that have not been released yet.
If you want people to utilize that button to send a message instead of going through the usual WooCommerce checkout procedure.
There are several additional circumstances in which you may need to disable or conceal the Add to Cart button on your store, and these are just a few of them. Let's go on to the process of hiding the WooCommerce add-to-cart button from your store.
Setting up the plugin
The ELEX WooCommerce Catalog Mode plugin will be used for the purposes of this demonstration. This plugin is free to use.
In order to install and activate the plugin, go to WordPress Dashboard > Plugins > Add New and search for the plugin in the designated search field on the top right of the page. Click, Install and then Activate.
Once the plugin has been activated, Dashboard > WooCommerce > Settings > Catalog Mode may be used to access the ELEX WooCommerce Catalog Mode, Wholesale, and Role Based Pricing settings.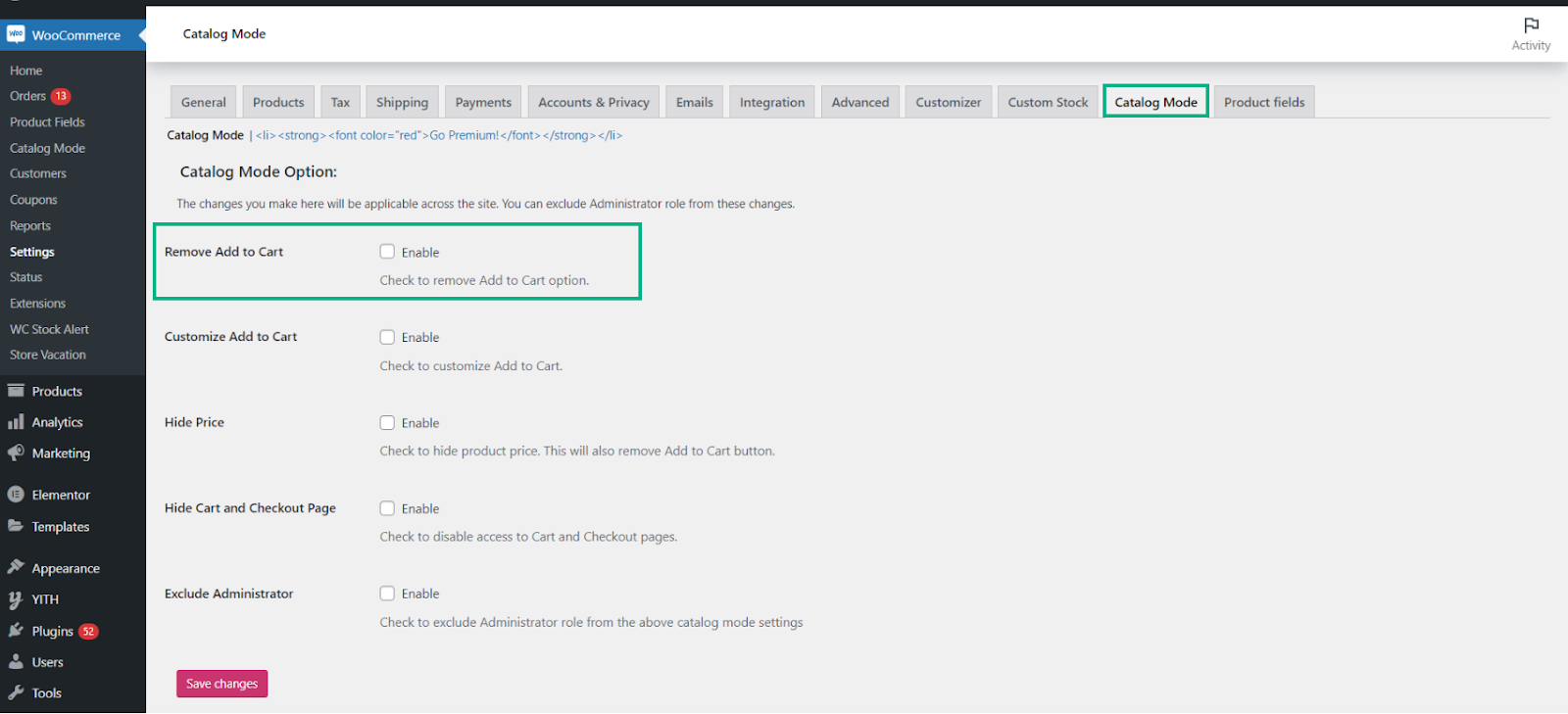 The plugin dashboard contains a number of functions. Below, I've described what each setting in Catalog Mode does.
Remove Add to Cart: The "Add to Cart" button has been removed from the product and shop pages.
Customize Add to Cart: You may alter the Add to Cart button on the product and store pages (adding a custom URL as well).
Hide Price: To obscure the regular price (when the sale price is applied) or substitute a personalized text message for the price, you can hide a product's cost.
Hide Cart and Checkout Page: All user roles should have the Cart and Checkout Pages hidden.
Exclude Administrator: You may quickly and simply exclude site administrators with a single click if you do not want the catalog mode settings to be applied to them.
In order to hide the add to cart button, just enable Remove Add to Cart and choose whether the setting should be applied on the Shop page or Product page, or both by enabling the respective field.
As each of the settings is explained above, you may go ahead and customize them to your satisfaction. Click Save Changes once you are done with the modifications.
You may go ahead and check the store to see if the changes have been implemented. In order to do so, go to the dashboard and click on the store name on the top left of the page.
As you can see, the add-to-cart button has been removed from the product page as well as the shop page.
Alternative Plugins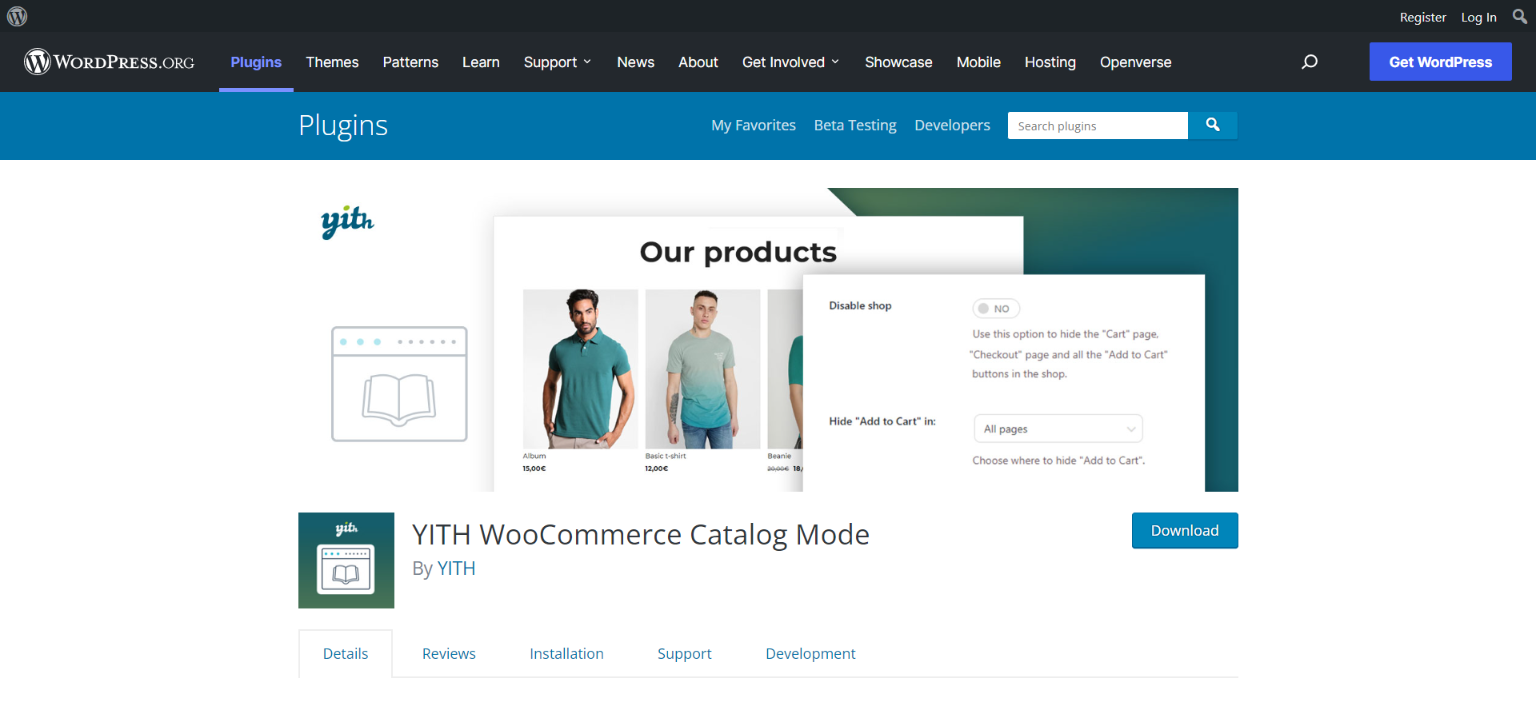 With the ability to remove the Add to Cart buttons or access check-out pages, YITH WooCommerce Catalog Mode is the quick and simple way to convert your online store into a catalog.
With a catalog, you have the option of leaving your items online and allowing clients to contact you in any case for inquiries or requests for personalized quotes. By doing this, you enhance consumer loyalty and maintain your internet presence.
The plugin includes a large selection of features. A few of them are:
Admins can decide whether to see the shop in catalog mode (only when set)
On all product pages, hide the "Add to Cart" button
On other pages, hide the "Add to Cart" button (shop, categories, tags)
Remove any references to the "Cart" and "Checkout" pages from WooCommerce.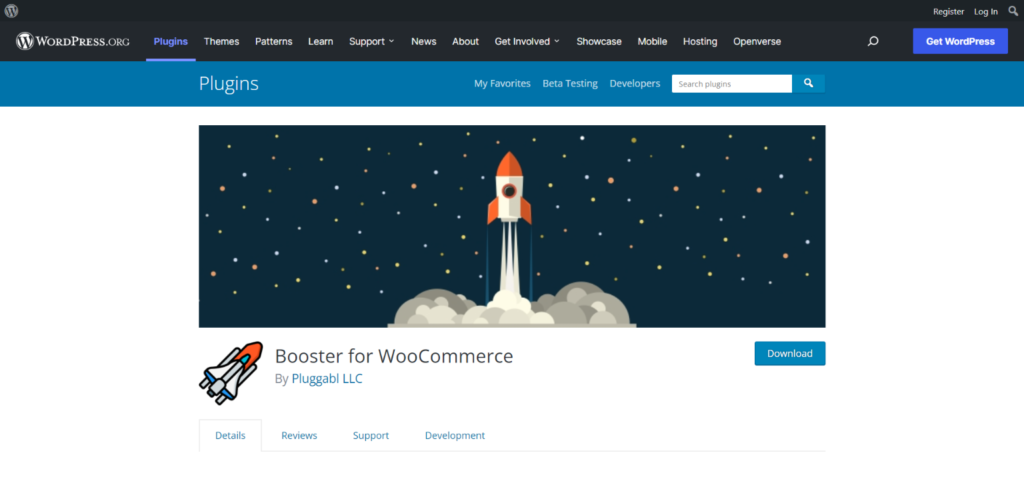 For out-of-stock items, making a product catalog for your company, or when your website is being maintained, you can decide to remove the add-to-cart button from your WooCommerce store.
With the aid of more than 110 modules that Booster Plus offers its consumers, you may customize your online store in novel ways. It may help your WooCommerce business generate more revenue and provide a far better customer experience.
The plugin has so many functions that it needs its own article. Some of them include:
WooCommerce PDF invoices and packing slips: By including expert WooCommerce PDF invoices and offline packing papers, you may streamline orders and paperwork.
Product input fields: You may add more custom input fields to all items or to each individual product to let buyers submit more details to create the ideal bespoke product. This is crucial if you offer customized items.
Expenses and Money: By showing their currency with automated exchange rates, you may draw foreign visitors to your website. With WooCommerce Dynamic Pricing, you can set pricing guidelines and provide worldwide discounts.
Cart and Checkout: Give your consumers a unique shopping cart and the checkout experience. Create and add buttons, discounts, extra charges, and custom fields.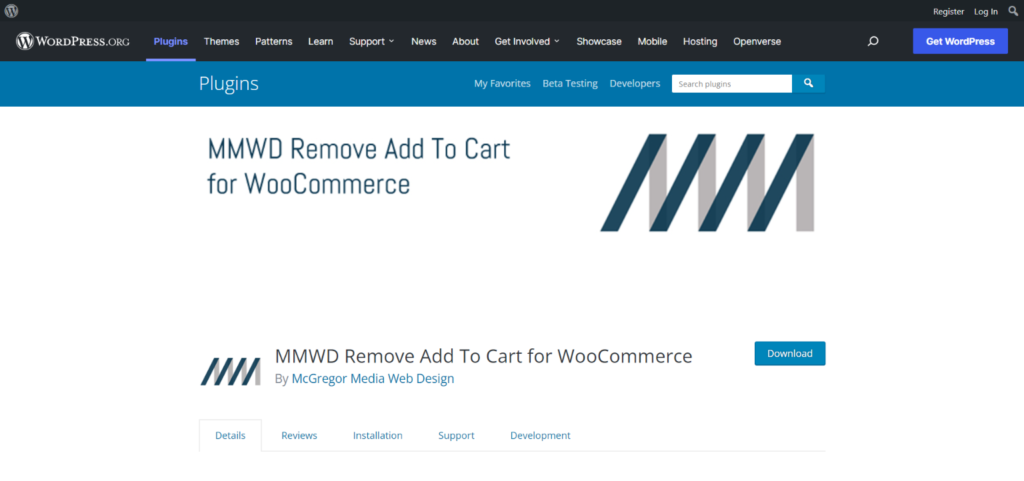 The plugin was developed by McGregor Media Web and Design as an open-source project. By hiding the add to cart button, price tag, ratings, and reviews, you may switch your business into catalog mode. The plugin offers a very straightforward and user-friendly interface.
The plugin includes a large selection of features such as:
Remove/Disable Complete Category, Add to Cart.
Substituting the Inquire Us from Complete Category button for the Add to Cart one
Delete the "Add to Cart" button from each product page.
Request information from the product pages in place of Add to cart.
Price from Complete Category is hidden.
Cover up the product price.
Conclusion
In this post, we just discussed How to Hide the "Add to Cart" Button in your WooCommerce store. The method is really simple, and by just installing and utilizing a plugin, the required outcomes may be attained.
We hope this article has helped you understand the process of removing the add-to-cart button from your WooCommerce store.
Further Reading