Last updated - October 19, 2022
Creating a website used to be a complicated process involving a lot of coding. It is not the same anymore as there are several website builders available. In fact, using one of the popular website builders, you can create a website completely free of cost as well. In this article, we will discuss some of the popular website builders that will help you create a website free of cost. In addition, it is not so difficult to become a web designer – just learn website design according to the advice of experts. We will also discuss the pros and cons of each so that you can determine the best option for your requirements.
Steps to create a website free of cost
With the help of website builders, you can create a website in a few simple steps.
Choose a suitable website builder.
Register the preferred domain name.
Configure and customize the website.
We will discuss these steps in more detail.
You can check out the pricing considerations of creating an eCommerce store using WordPress and WooCommerce.
Alternatively, consider Shopify to build an online store.
If building a whole website is too much of a hassle, there is always an option of a landing page. With services like SendPulse you can build a landing page for free and turn it into an online store in under an hour. You can even integrate a payment system or connect a chatbot to stay in touch with your customers 24/7.
Choosing a website builder
There are several options available when it comes to choosing a website builder. It is important to understand the pros and cons of each and choose the most suitable one considering your requirements.
WordPress is one of the most popular content management systems in the world right now. It is an open-source solution that offers a lot of scope for customization. With basic technical knowledge, you will be able to configure and customize a website using WordPress. One aspect to consider is that WordPress is a self-hosted solution, which means you will have to find a hosting service on your own. Though there are free hosting solutions available, it is advisable to opt for a paid service. You will find shared hosting services at minimal costs. As your business scales up, you can always opt for managed WordPress hosting, which is much more reliable.
WordPress offers extensive options to design your website as there are numerous free and premium themes to choose from. Similarly, you will find a lot of choice in plugins as well, which allows for great scope in customization. Since WordPress is an open-source solution, you will find a lot of opportunities to customize your site through shared knowledge from other users.
Basic steps of creating a website using WordPress
Sign up for a hosting service and register a domain name.
Install WordPress and set up your website.
Choose a theme and design your site.
Use the required plugins and customize your site according to your needs.
Add content or products, and promote your website to build traffic.
Pros
Free and open source
Numerous free and premium themes to design your site.
Huge range of plugins available to add features and functionality.
Several expert forums to find related information.
Third-party service providers for maintenance and site management.
Can easily create an eCommerce store with the help of the free plugin, WooCommerce.
Cons
A self-hosted platform, which means you will have to find a hosting service.
Setting up a website can be slightly tough for new users.
At times it is tough to get support for specific issues.
Wix is a popular website builder that lets you create a website the way you want it without much effort. Whatever be your reason for creating a website, be it for promoting your business, or for starting an online store, even to create a blog, you can rely on Wix. It is relatively easy to get started with Wix. You can start by choosing a template from over 500 designer options, and start customizing your site according to your design needs. If you are not comfortable doing that, you can simply answer a few questions and a free site will be designed for you with the help of Wix ADI (Artificial Design Intelligence). Now, once you have designed a basic website, you can always add more features according to emerging requirements.
It is quite easy to make your website stand out as the Wix editor helps you add features like video backgrounds, scroll effects and animation. Wix offers a mobile-friendly design, and you can even optimize the site, even more, using the mobile editor. Moreover, it is quite easy to get a personalized SEO plan that will enable you to get good search engine ranking for your site. The major advantage of Wix is that it is a comfortable solution for both expert coders as well as complete beginners.
Basic steps to get started with Wix
Sign up for Wix, a free website builder.
Choose one of the available templates, or use WixADI to specify your design requirements.
Use additional features to liven up your website.
Develop your site as per your business needs. You can easily create a blog, eCommerce store, membership site or booking system using Wix.
Leverage integrated marketing and SEO tools to get ahead of the competition.
Pros
Extremely easy to create and maintain a website.
Fully responsive and great attention to the mobile experience.
Choice of apps and templates.
Site performance and security settings.
Ease of getting support.
Cons
Having to deal with ads.
Free templates might be inadequate for some.
Lack of data export options.
uKit is a hassle-free option to build a website for your business. It is especially good for small to medium-sized businesses with convenient features and functionality. With a lot of predefined options, it makes the process of configuring your website a pleasant activity. It is equally comfortable for beginners as well as experts in website building. The drag and drop builder with live preview makes it extremely easy to experiment with different options. All its designs are responsive and hence you don't have to worry at all about compatibility with different devices.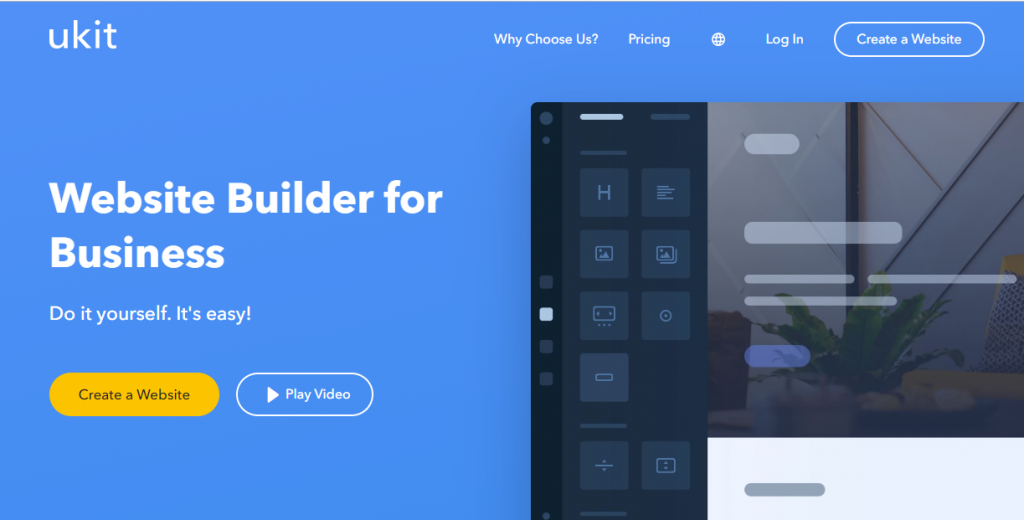 uKit is a great web builder that offers a range of fonts and colors to play with. You will be able to fully execute your imagination while creating a website that you have envisioned. Moreover, you can effortlessly add any type of content like text, images or video on your site without restraint. Setting up an eCommerce store is effortless using uKit as it offers easy integration with delivery and payment options. Marketing and promoting your website too will be hassle-free with this web builder as there are convenient options to integrate analytics and SEO strategies.
If you don't really have the time to design a website yourself, you can even choose to hire an expert team to do it for a premium. uKit offers a free trial period of 14 days to help you get started with the website. After the trial period, you need to choose a pricing plan starting at $4 per month for the basic features.
Basic steps to create a website using uKit
Sign up with uKit and get started.
Choose a design for your website.
Register for a custom domain name.
Start adding content.
Verify your website with Google Search Console and enable Google Analytics.
Pros
Ease of use. Experts and beginners can handle the builder with equal ease.
No hassles of getting hosting and domain name.
All designs are responsive and visually superior.
Coding options for advanced customization.
Easy integration with Google Analytics and Search Console.
Cons
No free plan even though the lowest plan is greatly affordable.
Lack of data export options.
Pixpa is an all-in-one website builder that empowers photographers, creators and business owners by helping them build feature-rich professional websites without touching a single line of code. It is perfect for creating online portfolios, business websites, online stores, blogs and more.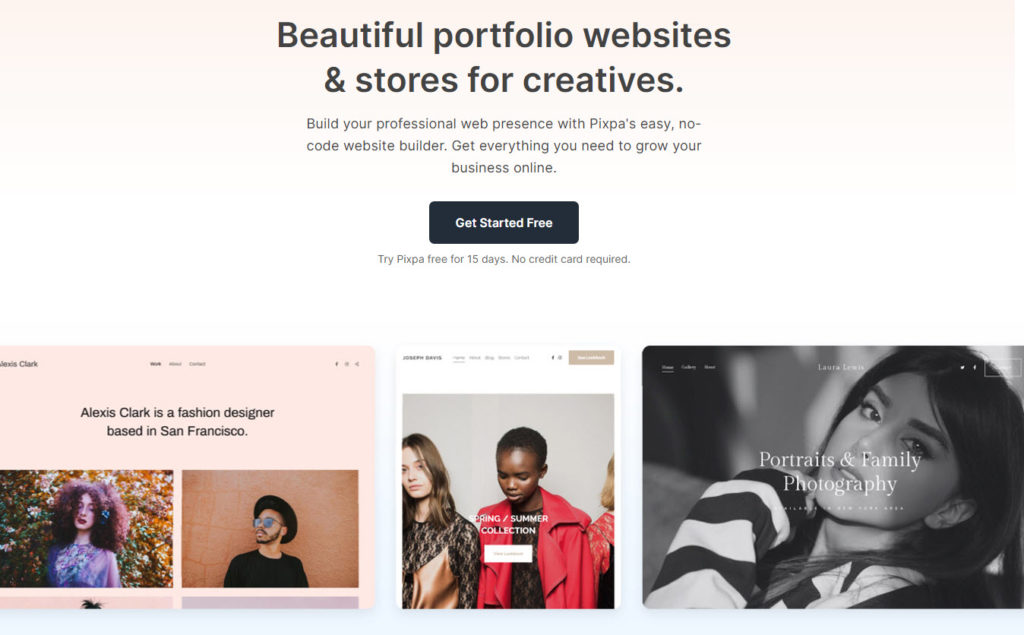 Pixpa can help you create a completely unique and custom website. With a wide range of pixel-perfect, mobile-optimized and responsive templates and an easy to use design interface, Pixpa ensures that you have full control over all the visual aspects of your website. It also offers extensive features including multiple gallery options, e-commerce galleries, online store creation options, a client-proofing platform for photographers, comprehensive blogging tools and more. The comprehensive SEO and marketing tools can help you promote and market yourself efficiently and boost your growth. Pixpa can help you showcase, share, sell and promote your work online – all in one place.
Basic steps to get started with Pixpa
Sign up for Pixpa's full-featured 15 day free trial.
Select from Pixpa's range of mobile optimized, responsive, professional templates.
You will be taken to the Pixpa studio dashboard from where you can start building, editing and customizing your website according to your needs.
Use the design section to customize all the visual aspects of your website including fonts, color schemes, layouts and more.
Add pages to your website and add or edit content through the website section.
You can also add features like a blog, online store, e-commerce galleries, client galleries and more for added function.
Once you are ready to take your website live, transition to a paid subscription by opting for any of Pixpa's affordable pricing plans and go live!
Pros
Beginner-friendly, no-code platform. Create a stunning, professional website without writing a single line of code.
A wide array of professional, mobile-optimized and responsive website templates.
Options for using custom CSS and HTML code for advanced customization.
Extensive SEO and marketing tools including announcement bars, cookie consent bars, email marketing tools and more.
24×7 customer support with a response time of under 3 minutes.
Free one-time, website set-up service with higher pricing tiers.
SSL security on all websites.
Cons
No freemium model or free plans. Pixpa is a paid service.
Custom domain names must be purchased from a third party
If you are looking for a website builder that lets you scale effortlessly, Weebly might be the one. It offers a range of design options and tools to enable you to build a website easily. Even for beginners, it is quite comfortable as there are several starter guides and planning tools available to provide directions. Moreover, the drag and drop builder, along with several design features like image editor, video backgrounds, custom fonts, etc., make the site design a breeze.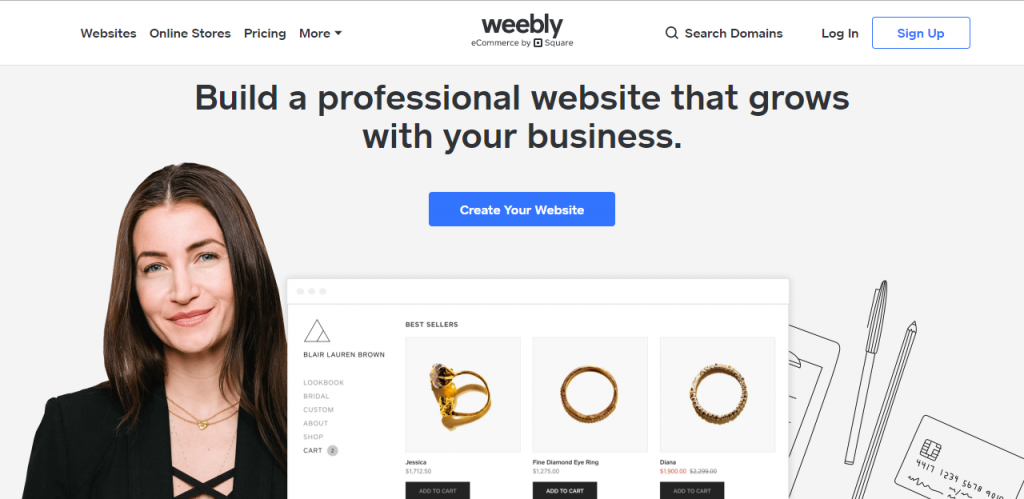 Furthermore, you can easily set up an online store using Weebly as it offers seamless order management and fulfillment. You can easily find new users and acquire more customers with the help of integrated marketing tools available with Weebly. It also connects with Square to give you the flexibility to sell anywhere, online or offline with considerable ease.
Weebly offers a free plan, which you can use to set up a basic website. You will have to use a subdomain with Weebly branding if you are using this plan. If you want a custom domain name, Weebly offers plans starting from $5 per month. And to maintain an online store, you will have to opt for a plan starting from $12 per month.
Basic steps to start a website using Weebly
Sign up for a plan of Weebly
Choose a theme from the available templates.
Register for a domain. You can use the Weebly subdomain if you want the free option.
Edit the website using the drag and drop website builder.
Go to the app center and choose the apps that you need.
Publish your website.
Pros
A great option for small businesses.
Extremely easy to get started and configure.
Availability of templates and apps.
Great website performance and reliable security features.
Guides to help you get good search engine ranking for your site.
Competitive pricing
Cons
Content management is not as smooth as some other solutions.
Export options are limited.
Adding advanced marketing tools can be a challenge.
Google My Business helps you create a business profile of your business, which will stand out on the search results pages. You will be able to add relevant information to your profile and let your customers and prospects easily get in touch with you. Google My Business also offers an easy option to help you create a website free of cost for your business. It actually auto generates a website with the information available in the business profile. You can enhance it by adding content, media and design themes to make it more personalized.
It is especially important to have a business profile through Google as features like user reviews play a major role in purchase decisions among customers. Moreover, you will get access to highly actionable analytics data that you can use to improve the business strategies you adopt. If you don't want to use any other website builders, Google My Business is a great way to create a website free of cost. It is easy to start as the site is automatically created and you can simply edit it according to your liking.
You will be able to get a custom domain for your site when you are using the Google My Business website. The fact that it is absolutely free will be really an attraction factor for new businesses that are just starting out. Moreover, creating a Google business profile has become somewhat of an essential step for businesses of all sizes.
Basic steps to create a website free of cost using Google My Business
Automatically create your website using information from your business profile.
Customize the site to your liking using design themes, text and images.
Choose a domain name and publish your site.
Pros
It is absolutely free to create a website using Google My Business.
It is pretty easy to use as the website will be automatically created using the information on your business profile.
The site will be fully integrated with other Google services, which adds to the convenience factor.
Great site performance is assured.
Since it is location-specific, Google My Business profile can drive a lot of conversions on your physical store as well.
Cons
Design options are limited.
Not many integrations with other marketing channels.
Not many options to scale up compared to other website builders.
If you are looking for a simple website builder for your website, Sitebuilder can be one of the options you can consider. It offers all the basic features required to create a website for your business. You will get free hosting and a custom domain name when opting for a plan of this website builder. It offers customizable templates and a drag and drop interface that helps a lot in customizing the website.
You can easily create a blog, business site or eCommerce store using Sitebuilder. It also offers an option to create email addresses with your domain name. The website builder also integrates analytics options to help you understand site statistics and make improvements as and when required.
If you want a simple website, you can get started with a plan that costs $5 per month. To create and maintain an eCommerce site, you can use this website builder at a cost of $9 per month.
Basic steps to create a website using Sitebuilder
Sign in to a plan of the site builder.
Choose a base theme and make customization as required
Choose a domain name.
Publish your website.
Pros
Very easy to get started. You can actually publish your site in a matter of few clicks using Sitebuilder.
Simplicity and ease of use with drag and drop editor and basic features.
Easy to customize templates.
Cons
Long term pricing is not great.
Only basic SEO and marketing features.
Not a great option if you are intending rapid scaling up.
With WPoven's genuinely dedicated hosting, you can be certain of receiving top performance, great dependability, quick loading times, and VIP care for your exceptional website.
WPOven is a robust option for both individuals and companies, with managed hosting services devoted to the best WordPress site performance.
Most plans include dedicated VPS services, multi-site support, SSL support, a thorough client manager, and much more. WPOven is scalable and suited for a variety of purposes thanks to its assortment of features.
Plans are offered for all types of commercial websites, as well as for high-traffic blogs and tiny personal websites.
Basic steps to start a website using WPOven
Sign up with WPOven.

Create a New Server.

Choose from one of the five available pricing plans.

Set up payment methods.

Start customizing the website with content.
Pros
WPOven provides a free 14-day trial so that you may test out tools like a site builder that comes with paid plugins and themes.

Utilize cloning and synchronization to work with test sites, and take advantage of the freedom to make as many live sites as you like.

With regular data backups, firewalls, and anti-hacking protection, WPOven keeps all sites safe. The quickest page loads are provided by a number of global server locations.

Sites are search engine optimized, and real-time statistics reveal which marketing strategies are generating the most visitors. A dedicated resource pool guarantees that your website is operational at all times.
Cons
WPOven does not provide telephone support.

There is no option for a free domain.
WordPress.com is one of the easiest options to build a personal or business website. Compared to WordPress.org, it is much more easy to get started with WordPress.com. That is because you don't have to worry about getting a hosting service. You will be able to get a custom domain name and access to several features when you opt for a pricing plan of WordPress.com. In addition, you will get access to over 350 themes to design your blog, portfolio or business site. As themes are responsive, you can easily create and modify a website using a device of your choice.
WordPress.com ensures your site is always secure with spam protection and automatic backups. In addition, you can find features like social media sharing buttons, SEO tools, and actionable analytics insights, to increase your audience base. You will also find a bunch of additional features like advanced galleries, email subscriptions, polls and several more. One of the major advantages of using this hosted solution over the self-hosted one is that you will get round the clock support over email and live chat.
You can opt to create a website free of cost using WordPress.com if you are fine with using a WordPress.com subdomain. To get support and other features, you can opt for a premium plan starting at £4 per month.
Basic steps to start with WordPress.com
Register a domain name. If you already have a domain, you can easily point it to WordPress.com. You can also get a free domain with WordPress.com branding.
Choose a suitable plan.
Pick a theme and customize the design of your site.
Add the required content to your site.
Set up site access by creating a navigation menu.
Publish your website or blog.
Pros
Easy to get started.
Comprehensive solution with hosting, domain name registration, feature extensions, etc.
Versatile design options with several themes available.
Automatic updates and backups.
Dependable, round the clock customer support.
Cons
Slightly pricier compared to other website builders.
The free plan has ads and does not allow to install plugins.
It might be tougher for new users to customize the design elements compared to drag and drop builders.
Google Analytics integration available only with the Business plan.
For WordPress.org users, the same control may not be there for overall site management.
Upon completing your website, it's most likely for you to search for a way to communicate with your audience. This is usually accomplished through a well-prepared contact form.
JotForm is one of the leading online form builders with products that also assist in data management, document management, PDF Editing, and workflow automation. JotForm's main PoS is its ease of use and application in a wide variety of industries.
JotForm is the popular go-to-free tool especially within the website developer communities as it provides no-code solutions during the development process.
Just by copy-pasting the form's snippet to your code, you'll be able to add contact forms, feedback forms, appointment forms, order forms; or in other words, any form that you want to publish on your website.
Preferring JotForm, you will also be able to create no-code workflow automation based on the responses you collect via the published form(s) on your website. Simply set up the conditions and add the relevant email addresses and JotForm Approvals will do the rest.
Pros
A simple solution with the drag and drop option.

10K+ ready-to-use templates for varying industries.

100+ integrations with third parties including Stripe, PayPal, Mollie, Square Payments, HubSpot, MailChimp, etc.

256 bit SSL certified, PCI certified forms with GDPR, CCPA, and HIPAA(requires Silver membership) compliances.

Cons

The free plan has limited form submissions.

A considerable amount of widgets and advanced features could be confusing
Which website builder to choose?
As you have seen, there are several available options when it comes to a website builder. You need to carefully consider your requirements and can choose one accordingly. To get a website up and running with absolutely no cost, Google My Business might be the best option. If you don't mind getting separate hosting and a domain name, WordPress.org will be the best solution for you. If user-friendliness and reliable support are your priorities, you can check out Wix, Weebly, WordPress.com, uKit or Sitebuilder.
Choosing a domain name free of cost
When you are thinking about creating a website for your business, it is important to find an appropriate domain name for it. As you know, registering a domain name requires a financial commitment.
You can find tips on choosing a domain name along with a few popular domain registrars here.
However, there are some options if you don't want to spend money on domain name registration. Let us quickly look at some of these options.
Opt for a hosting service that has free domain registration
If you are using a self-hosted solution like WordPress.org to build your website, you need to sign up for a hosting plan. Several hosting solutions offer free domain names with their plans. You can opt for one of these services to get a custom domain for your site. For example, Bluehost offers a free domain name with their shared hosting service.
Choose a subdomain that comes free with a website builder
Another option to get a domain free of cost would be to opt for a subdomain that you get when you choose a free website builder. If the web builders' branding is not a problem for you, it can be a worthy option to try to save some money when you are starting out. Weebly and WordPress.com have options for providing free subdomain names with their free packages.
Customizing your website
Even before getting the basic aspects of building a website done, you will have to decide on what type of website you need. It can be a business website, a simple blog, a membership site or even an eCommerce store. The way you customize your site will be greatly dependent on this fundamental requirement. Accordingly, the design choices, feature enhancements, content strategy, etc. will change. However, as a general rule, you will have to take into account the following aspects while customizing a website.
Choose and install a suitable theme.
Set up your homepage and add the necessary content.
Adjust typography and pick suitable colors to represent your brand.
Create basic pages and set up a blog if needed.
Set up a navigation menu to provide easy access to users.
Choose necessary plugins or apps for necessary features according to the nature of your site.
Set up SEO and marketing tools to ensure that your site is showing up on search engine results pages and bringing in an audience.
Create a website free of cost if you are just starting out
As you have seen, there are several options to create a website free of cost using several tools. However, there might be several limitations when you try to get it going without any expenditure at all. Moreover, if your website is the primary means of interaction with your customers or users, it has to provide a superior experience. For, this you might have to shell out a little bit here and there according to priorities. So creating a website completely free of cost might work well only if you are just starting out or experimenting with something. When things get serious, you can easily find affordable tools to set up a great website.
Further reading
The video on How to Create a Website for Free of Cost