Last updated - July 8, 2021
As you probably know, WordPress by default lets you embed media on posts and pages easily. However, when you try to embed a PDF file, you see there are no default options. You might have to provide a link of the PDF file, which the viewer has to download and view. It would be much more convenient if you can provide an option for your users to view the contents of a PDF file on your website itself, without getting redirected. In this article, we will discuss how to embed PDF files in WordPress.
Why do you need to embed PDF files in WordPress posts or pages?
There can be several scenarios where you want to embed PDF files in WordPress than redirecting users to download.
When you want to add contents from a large file to your post without copying the entire text, or redirecting users.
Large documents you want to display in a more structured form.
Display product catalogs, designs, etc. more effectively.
PDF offers more security to documents if you want to display something that needs to be protected from random modification.
When you want to present a free eBook to your users, and don't want search engines to crawl it.
Plugins to embed PDF files in WordPress
You will be able to upload PDF files and display them on your site using this plugin. The plugin will resize PDF files to suit the optimal display patterns on your website. You can even resize the display size manually by specifying the dimensions. The plugin offers a lot of flexibility in terms of appearance as it uses JavaScript instead of iframes or third party services. It provides great navigational features as users will be able to zoom in through the document as well as shift between pages easily.
The plugin helps you serve the PDF file from your own server rather than relying on any third party applications. Please note, users will not be able to download the PDF file if you are using the free version of this plugin. You can try out the premium version of the plugin to get more advanced features.
Option to download PDF files.
Continuous scroll through pages.
Option to use hyperlinks and make it full screen mode.
Directly access a page by typing the page number.
Branding is removed.
Track number of downloads and views.
The premium version is priced at $20 for a single site license.
This plugin helps you embed PDF files in WordPress pages and posts effectively. It also lets you customize the PDF reader with your own branding and interactive elements. You can provide several options to users such as download, share, zoom, print, etc. Also, it allows you to control which of these options will be available to users. Moreover, the plugin is compatible with WooCommerce and you can easily display your product catalog or user manual. Also, you can use a shortcode to allow users to open the PDF file on Acrobat viewer.
The plugin will automatically identify PDF links on your site and activate the viewer if you enable the option. You can customize the color options to match with the color combination of your brand. This fully responsive, cross browser compatible plugin does not have any limits when it comes to the size of the PDF file that you can display. A regular license of this plugin will cost you $20.
This is a popular free plugin in the WordPress repository that will help you embed PDF files in WordPress. You will be able to use Google Doc Viewer or Microsoft Office Online to display the documents to your site visitors. Along with PDF, you can also embed txt files, tiff images, svg, illustrator, Word, PowerPoint and Excel files using this plugin. Once you install the plugin, you can upload any of the above mentioned files to media library and display.
The user interface is clean and clutter free, and helps you embed and display varied file types in a professional manner. Since, it works on both Google Doc viewer or Microsoft online services, your users can choose between the services.
This plugin helps you embed and display PDF files in flipbook format. You can upload the PDF file to flowpaper cloud, directly embed files of up to 15MB in size. To customize the look of the viewer and to embed larger files, you may have to get the premium version of the plugin.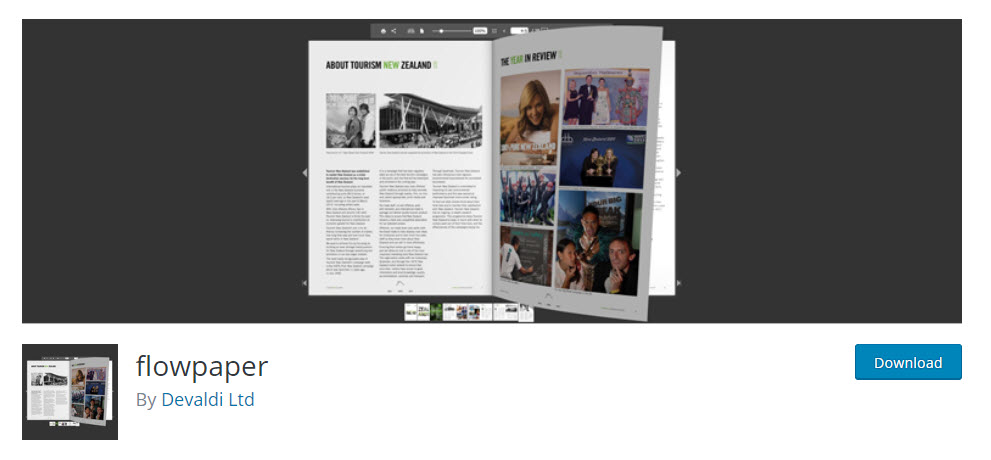 Advanced features such as searching, highlighting and printing.
Helps in optimized handling of large PDF files.
Maintain full ownership of your published documents.
Design customization option to create icons, change background colors, etc.
Fully responsive and easy to install.
This plugin helps you embed and print PDF files from your WordPress pages, posts and widgets. You can generate with personalized styles to share with your users or for archiving purposes. It will let you add PDF and print buttons to posts, pages, custom posts, archives, etc. You will be able to customize the placement of buttons in relation to the content. Even the type of buttons you can customize among text, image or a combination of image and text.
The plugin also allows you to customize the action of the PDF button between downloading the PDF file and opening it in a new window. It also lets you limit the PDF button actions only to certain user roles on your site. You will find quite a lot of advanced features with the premium version of the plugin.
Protection of your document by adding watermark, and it also prevents copying the content.
Option to create custom, personalized header and footer for the document.
Compatible with WooCommerce and Advanced Custom Fields.
Provide options to download and print PDF files only on select pages and posts.
Prevents search engines from indexing links within your documents.
Priority support.
This is one of the most popular plugins to embed PDF files in WordPress with a flipbook format. It is fully responsive and has extensive customization options. The plugin creates automatic 3D books from PDF files with features like text selection and keyword highlighting. If you prefer it, you can even change the display to a single page experience. It also helps you make the pages interactive with buttons, links, videos, music players, etc. The plugin also provides download option as well as sharing options to make your documents easily accessible to your users.
This plugin helps you embed a PDF file into your WordPress site in a simple manner. You can use oEmbed or Google Doc viewer to display the PDF files. It is quite easy to use this plugin, as you can simply present a live url to embed it into your site.
This is another easy option to embed PDF files in your WordPress site or blog. The free version offers the basic features to help you embed a PDF file on your site. However, with the premium version of this plugin, you can do much more.
Access to advanced features like full screen option.
You can provide a download button for users to access the files.
Does not allow right clicking on the document for additional protection.
More easy to navigate as there is an option for users to directly access a page by specifying the page number.
Shortcode to embed files is added to the page and post editor.
Overall better site performance.
The pro version is available at a price of $10.
This plugin is a simple option to help you add PDF files of all sizes to your WordPress site in a flipbook format. The flipbook can be made easily accessible by displaying page thumbnails as well. With the free version of the plugin, you will get several advanced features such as embedding unlimited files, lazy loading, zoom level control, download options, fullscreen, etc. You will also find a premium version of this plugin with features like separate single PDF page, SEO friendly mode, document printing, etc.
Hope you got an overview on how to embed PDF files in WordPress. Leave us a comment to share your thoughts on the topic.
Further reading