Last updated - February 24, 2020
When you are managing an eCommerce store or a WordPress site, quite often you will need to modify images. Similarly, if you are printing images for banners or poster, it is important to enlarge them. You might want to occasionally resize images, and quite often the result will be bad quality. In this article we will try and understand different options to resize images without losing quality. You can use the resized images for your WordPress site or WooCommerce store effectively.
How image resizing affects the quality of the image?
Most photo editing software will have an option to resize images. However, you might have noticed when you enlarge certain small images, the picture becomes blurry or pixelated. There are a few reasons for this.
Commonly images are created in Bitmap format, which forms images by combining pixels. When you zoom into an image, you will be able to see individual pixels as squares. When you enlarge a small image, the pixels become more visible, and as a result, you will feel the quality of the image is diminished through pixelation.
You will find photo editing software that will resize images in a smart way. This is through fractal interpolation, which is a technique that will resize images by compensating for each pixel by matching it with the properties of the nearest pixel. This technique helps a lot in resizing images without losing quality.
How to resize images without losing quality?
First, let us take a quick look at how you can resize images quickly using some of the popular tools.
GIMP is the acronym for GNU Image Manipulation Program, which is an open source, free software that will help you edit images. It has great customization options and offers a user friendly interface for all users. You can even use third party plugins to enhance the functionality of GIMP according to your needs.

As for a website or WooCommerce store owner, you can use this software for producing icons, product images or other graphical design elements. And for developers, it offers great scope for customization with support for multiple languages such as C, C++, Python Scheme, etc. This is the reason why you will find a lot of plugins and third party tools available for GIMP. Moreover, you can use it for accurate color reproduction when you are using other software such as Scribus, InkScape and SwatchBooker.
You can download GIMP from its website, and can install it on your computer effortlessly.
Resizing images with GIMP
Here are the steps you need to take to resize images using GIMP.
Open the image you want to resize on GIMP.
On the menu, click Images > Scale Image.
On the modal window, specify the desired Image size, and click Scale.
Adobe Photoshop is one of the most popular imaging and graphic design software in the world. You can find professionals and amateurs vouching for its  quality all around the globe. Whatever be your graphic design requirement, there is a solution offered by Adobe. You can create and edit photographs, videos, illustrations and artwork using this ubiquitous tool.
Photoshop offers intuitive tools and user-friendly templates that will enable even beginners to handle it effortlessly. You can create product images, website banners, event posters, web graphics, logos, icons and more using Photoshop. It is very easy to make modifications to image by experimenting with colors or effects. It also helps you repair, retouch, adjust and crop images as per your requirement.
You need to choose a suitable pricing plan to purchase Photoshop and associated editing tools according to your need. The pricing plan starts from $19.99 per month.
Resizing images with Adobe Photoshop
Let's see how to resize images without losing quality using Adobe Photoshop as well. Here are the steps:
Open the image to be resized on Photoshop.
On the menu, click Image > Image size.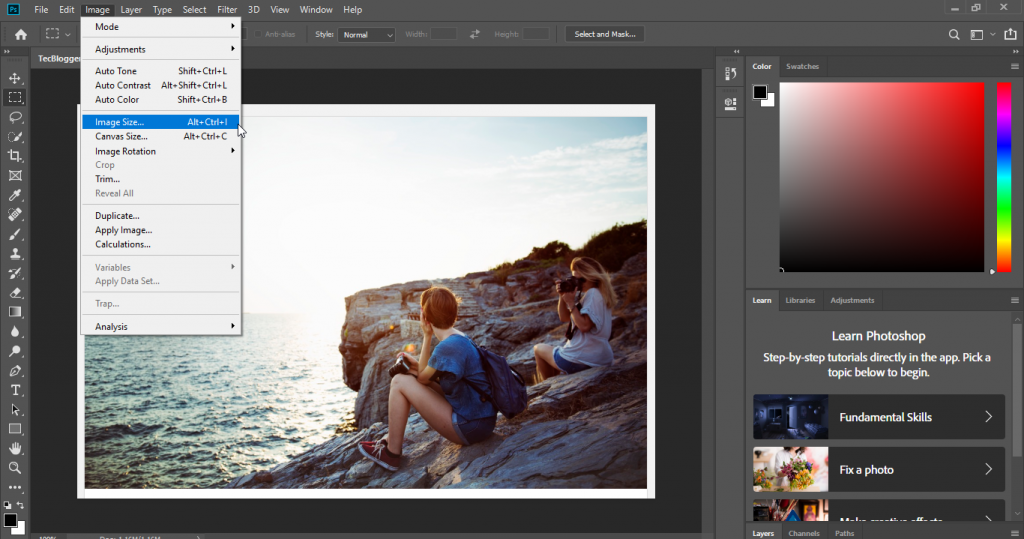 Specify the required image dimensions and click the OK button.
Save the image in the format you want.
Things to note while enlarging photos
There are a few things that are good to know if you are resizing images on your WooCommerce store.
Enlarge gradually by adding smaller percentages
Rather than directly specifying a higher size, experts advise to gradually increase the image size in small percentages. You will be able to enlarge images up to 200% without affecting the quality on any photo editing software. Beyond that if you are enlarging images, it is better to go for a professional image modifying tool.
Check the size of your original image
If your original image is considerably large, it will be easier to enlarge it compared to a smaller sized image. Basically, the megapixel number of your camera makes a difference in the case of image enlargement. Photos taken using higher resolution camera will be therefore easier to enlarge without problems. On the other hand, smaller images and images taken using low resolution cameras will be prone to distortions while enlarging.
Use an image sharpening tool as well
One strategy commonly used by professionals during image enlarging is to enlarge the image close to the point of distortion, and then sharpen the image. This way, you will be able to achieve a little more quality than expected.
Other popular tools you can use to resize images
Here is a look at some of the other popular tools to enlarge images.
This software user fractal interpolation technology and is capable to enlarge images without affecting quality. You can use it as a standalone tool or as a plugin with Photoshop. The latest version of this tool comes with a range of features that ensures user experience as you will be able to modify images without losing any detail. It can be a great asset if you have a business that requires regular printing of images.
Here are some of the standout features of ON1 Resize.
Ability to enlarge images up to 1000% without losing clarity or detail.
Gallery wrap feature to create canvas prints to stretch or reflect the edges without losing any part of the image.
Numerous presets to choose the perfect print size for your images.
Ability to divide photos into mosaic tiles for easier printing.
Great preview option to understand exactly how the print would look.
Access the photos from anywhere – computer, network or cloud-based storage.
Compressed Photoshop files to save storage space.
You can purchase ON1 Resize 2019.6 for $79.99, which you can install on up to 5 devices.
This tool will help you enlarge your images upto 1000% without affecting the quality or detail. If you are looking for a tool to enlarge photos for printing banners, posters, etc., this is a great tool. You can even create close-up shots by zooming in to a portion of the photo. Moreover, it gets you get better clarity out of grainy, low light photographs. With features like color correction, multiple zoom settings, improved edges, etc., this tool will help you print high quality images always.
The one-year subscription of Fotophire Maximizer will cost you $29.99.
This is a free software that will help you resize images easily to make them email and web friendly. The file size will be reduced and you will be able to easily upload them as a result. Moreover, you can use this tool to convert images between different formats easily. It also helps to rotate images, resize multiple images together and convert to grayscale. It is a great tool to make sure the images you use on your website or eCommerce store are appropriately sized.
Reshade is another free tool that you can use to resize images without losing quality for your website or store. It uses advanced photo enlargement algorithms to produce high resolution images. You can use this tool to enlarge images up to 2000% without blur or jagged edges. Reshade supports popular image formats like JPG, PNG, etc., and also supports color modes like MYK and RGB. It helps you work with photos easily as you can batch process multiple images at one time. If your work needs you to handle a lot of defective photos, this is a good tool that will help you correct them without hassles.
Another free tool that you can try out to upscale images is 'A Sharper Scaling'. You can download this tool for free and use on your Windows computer. It uses Bicubic interpolation and image sharpening to achieve the desired results. You can scale images up to 300% using this tool without considerable distortions.
Hope you got an idea on how to resize images without losing quality and an overview on some of the free and premium tools for it. Leave us a comment if you have a query.
Further reading