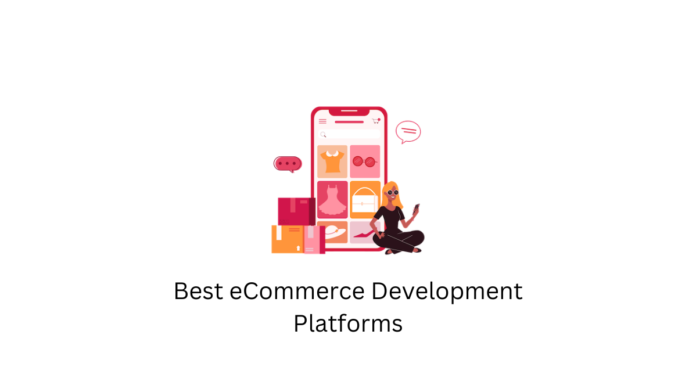 Last updated - December 5, 2022
There are countless eCommerce systems available, and each one has distinctive features that make it ideal for a particular kind of business.
However, we have put together the list of top-rated eCommerce platforms below to save you from analysis paralysis.
This is wonderful news for sellers because it's simple for any small business to start selling online right now and join the gold rush with the correct tools. You may list your products, accept payments, and manage delivery using a good eCommerce website builder, all from the convenience of your home office.
We hope that our guidance will quickly help you make a decision.
The Top 6 eCommerce Platforms in 2023
Shopify
Shopify is one of the most used eCommerce platforms in the world. There are almost 4 million active eCommerce websites that use Shopify. The platform is incredibly adaptable and can handle nearly any company model, from small startups to large conglomerates, B2B and B2C, online and offline.
The extensive range of tools and features that cover every facet of operating a business, from setting up an online store to multi-channel selling, order administration, shipping and fulfillment, marketing automation, payment processing, etc., is what sets Shopify apart from other platforms.
The Shopify team even created a program called "Shopify Capital" to make it easier and faster for retailers to acquire investment! The all-in-one commerce platform promise made by Shopify is not overstated when you take into account
To maintain objectivity, we advise you to see the Shopify features in one piece for yourself. But for those who are interested, here are some highlighted Shopify tools and capabilities in case you require more than that:
Every Shopify tool is free to use to launch and manage your business.
Create an online store in minutes without writing a single line of code using Shopify's drag-and-drop website builder.
Multi-channel selling: market on social media, offline as well as online.
Shopify Flow: build automated workflows for your stores. incredibly useful during major shopping holidays.
Shopify Balance is a convenient substitute for a standard bank account. Get paid much more quickly and profit from cashback while investing in expanding your company.
Additionally, Shopify has a sizable user base of millions of business owners worldwide. You may quickly solve any Shopify-related issues yourself by searching the internet. Their customer service staff is on hand around-the-clock and always willing to assist, making it a reliable eCommerce platform.
BigCommerce
BigCommerce is the most popular open SaaS eCommerce platform worldwide. The platform's inexpensive total cost of ownership and very flexible APIs have earned it widespread acclaim.
Big Commerce is what you need if you like how hassle-free SaaS is but yet desire the adaptability and flexibility of open-source platforms. Big Commerce strikes a wonderful balance between the two. And as a result, the platform can simply adjust to meet the needs of growing and scaling for your organization.
Features
If you are the owner of an established business with a history of software and tools, you are aware of the advantages of having everything in one location. And that's where BigCommerce's beauty truly shines. Best-in-class APIs from BigCommerce may let your new system integrate easily, synchronize data, consolidate everything, and much more. The Enterprise package gives you unlimited API calls, but the Pro plan limits you to 60,000 calls per hour. The platform's incredible speed allows it to process up to 400 API calls per second.
Elementor
The world's most popular CMS by a wide margin is WordPress. WordPress is the tool of choice for people wishing to develop an eCommerce website since it produces websites that are both technically competent and highly engaging. Twenty-three percent of all online stores utilize WooCommerce, the leading eCommerce theme for WordPress. But if you can't code, building a WooCommerce site might be difficult. That is unless you employ Elementor.
With the help of Elementor, a potent website builder, users can easily design beautiful WordPress websites without writing a single word of code. Additionally, Elementor can be utilized to develop entire WooCommerce websites without using any code thanks to its strong eCommerce features.
Users can employ dozens of features and widgets to build a one-of-a-kind online store thanks to Elementor's user-friendly interface. 20 different eCommerce widgets can be used to create the store you've always imagined. There are numerous others, such as "Custom Add To Page," "Product Rating," and "Product Breadcrumbs."
Pixpa
Pixpa is an all-in-one website builder with simple-to-use eCommerce capabilities created specifically for business owners' needs to sell their goods, services, or digital content and expand their online presence. Without writing a single line of code, Pixpa's user-friendly interface and a large selection of feature-rich, mobile-friendly, and adaptable eCommerce templates will let you build, manage, and update an extensive, expert eCommerce website.
These are the characteristics that Pixpa provides:
Platform with no coding gives you the ability to build a feature-rich, expert eCommerce website without writing a single line of code.
Templates A vast selection of expert, responsive, and mobile-friendly eCommerce templates.
eCommerce Complete online store builder with cutting-edge eCommerce capabilities, including discount management, abandoned cart recovery, and inventory management. All in one spot, sell goods, services, or digital downloads.
Squarespace
Squarespace is a user-friendly eCommerce platform that enables anybody to build stunning websites even if they have no prior coding experience. This all-in-one platform provides you with everything you need to manage and expand your company website, regardless of whether you're a novice or an established brand.
They have a variety of features and tools for building an eCommerce website, and they offer to host in all available packages.
Due to its reputation for award-winning designs, Squarespace has emerged as the industry leader in website creation for top designers. You can customize your websites to your unique preferences using user-friendly drag-and-drop tools and seamless templates.
Wix eCommerce Platform
One of the user-friendly eCommerce platforms, Wix offers straightforward options for creating a complete website with serverless computing and hassle-free coding. Its 72 free themes, reasonable pricing, and ease of use make it the perfect choice for new online companies.
Using the platform, you can create a website any way you choose. After selecting a template, you can change any piece to fit your company's needs. As your store grows, you can always add new features to increase its functionality.
Both you and your customers will benefit if Wix is used to making your store mobile-friendly. Select Mobile Editor to make changes to the mobile interface.
Get a tailored SEO plan by providing information about your website, location, and keywords if you want to increase your SEO performance.
With Wix, you can easily collect leads, cultivate client connections, and take payments directly from your website.
Conclusion
Different eCommerce platforms offer different features and prices. When creating your website, pay close attention to the following factors, regardless of the approach you take:
Your website must be regularly handled and updated thanks to the platform you choose.
Pick a reliable web host.
Make sure your website and consumers' data are secure.
You should carefully carry out the initial setup of your website, paying particular attention to the structure that will support it.
Further Reading