Last updated - August 17, 2022
Holidays are one of the best times to acquire more customers on your store. With the help of some creative improvisations, you can increase sales on your stores very effectively. Customers will be generally in a mood to shop and you can encourage them with some interesting in-store offers. From discount coupons to free shipping, the strategies can be varied when you consider them on WooCommerce. In this article, we will take a look at some of the best WooCommerce sale ideas for this holiday season that will bring you better returns.
Devising the best WooCommerce sale ideas
Any discount that you offer on your store should be thoroughly vetted before executing. You should be clear about the returns it can bring in and how much it would improve the customer experience. If the discounts you are setting up on your store are the results of intense analysis, you can feature them irrespective of the time period. It would be simply an added bonus during holiday sales.
However, if you don't feature year-round discount offers on your store, you can be a little more creative when it comes to holiday sales. Again, you should have a well-thought out plan ahead of the holiday season. Fundamentally, the discount deals should bring in the intended returns, be it new customer acquisition or a boost in overall revenue.
Discount Coupons
Coupon codes can be one of the easiest options to offer discounts on your WooCommerce store. However, rather than simply generating discount coupons, you can infuse some strategic insights into your coupon strategies. For example, let a discount coupon be applicable only when the cart value crosses a particular amount. Now, how will you decide on this particular amount? According to experts, it should be slightly more than the average order value on your store. This way, you will gradually increase the average order value on your store, which will be an indicator of long term returns.
WooCommerce offers a good coupon strategy by default. However, for bigger stores, the advanced features of the following extensions can be a real advantage.
This plugin helps you in creating and sending coupons in bulk, which will be a great option when you have lot of products and numerous customers. Moreover, you will be able to design the coupons creatively, as it offers a chance to customize through CSS. Smart Coupons plugin can be really useful, if you are planning discounts based on coupons as a long term strategy. The plugin enables you to maintain an efficient store credit system through coupons. This would be quite helpful in ensuring customer loyalty on your store.
With the help of this extension, your customers will be able to purchase gift certificates on your store as well. Moreover, you can issue coupons linked to specific product purchases on your store. The single site subscription of the plugin is priced at $99. You can also find a 5-site subscription at $129 and a 25-site subscription at $199.
This plugin helps you address one of the drawbacks of a coupon strategy. Though coupons are generally a conversion booster, it can sometimes contribute to cart abandonment as well. This is because the coupon field on your checkout page might force some customers leave your site and search for discount coupons. The Url Coupons plugin helps you disable the coupon field on the cart page (or checkout page), and instead provide urls with automatically applied discounts.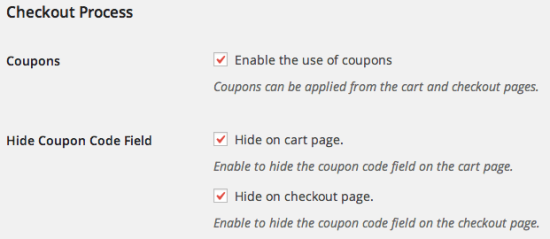 With the help of this plugin, you can create unique urls with discounts, which you can provide to your customers. When the customers visit your site through these urls, the coupon will be automatically applied. You can purchase this plugin from WooCommerce extensions store at $49 for a single site subscription. The 5-site subscription costs $79 and the 25-site subscription is priced at $149.
Discount rules
Applying multiple discount rules on your store would be a better way to ensure returns as well as better customer experience. For example, discounts that automatically add based on the cart value would be more rewarding for customers than applying coupons sometimes. It will be relatively easy to set up and advertise them on your store as well. Moreover, you can devise discount rules in alignment with long term marketing goals on your store.
Now, let's look at a plugin that would help you configure discount rules on your store.
This plugin helps you apply discounts in product, category, cart and combination levels. The simple user interface of the plugin helps you to set up varied rules easily. You can easily display all the available rules on the product page, so as to encourage customers to shop more to avail discounts. Moreover, the plugin helps you set up a maximum discount value, so that discounts won't exceed the threshold value that you set up.
You can set up cart based discounts for each individual products, or applied generally to all products on the cart. Similarly, you can set up product level discounts as well as category level discounts. Furthermore, you can set up discounts on particular combinations of products so that customers would buy them together to get the discounts. The discounts can be a flat rate or percentage, or you can even set up a fixed price for the product.
The plugin also helps in setting up buy one get one offers. You can offer a slower moving product free with the purchase of a specific quantity of certain products. Or, you can simply offer a product of lower value along with some high value purchases. The ELEX plugin helps to automatically add the free product to the cart while customer makes the purchase. It can be quite helpful for setting up personalized discounts as well. For example, you can provide discounts based on email, user role, purchase history, etc., of a customer.
You can purchase the single site license of this plugin for $79. The 5-site license would be $119, and the 25-site license would be $199.
You can also check out WooCommerce Dynamic Pricing plugin to set up advanced product rules on your WooCommerce store.
Set sale price on your store
One strategy that is particularly useful during holiday season would be to offer a sale price on all or a select list of products. Though it is one of the simplest option to set up a discount on your store, it can get tricky if you have a large number of products. Here is a plugin that can help when you want to bulk update sale price.
One of the distinguishing features of this plugin is that you can bulk edit over 10000 products at a time. If your WooCommerce store has a large number of products, surely this plugin would be helpful. Another great feature is that you can filter products by different aspects including product type, category, attribute values, price range, etc.
So for example, if you want to set up a percentage discount for all products under three categories, you can easily manage that. It will help you update the sale price by a percentage value or flat rate based on the existing regular price of the product. You can read the step-by-step process of changing the sale price here.
The plugin also offers an undo option, where you can reverse the last update made using the plugin. It also offers an option to exclude products from getting updated based on product ID or categories. The friendly user interface is another important aspect behind the popularity of this plugin. You can purchase the single site license of this plugin for $69. The 5-site license of the plugin is $99 and the 25-site license would be $199.
Think about customer retention
With all your holiday deals, it might seem a bit easy to acquire new customers during the holiday. How will you make this count in the long term? That is where you have to think of customer retention and loyalty. Setting up a reward system on your store might be the answer to this. Let's quickly see how to manage this.
With the help of this extension, you can reward customers on your store with points. The points system can be set up for purchases or other in-store actions. You can set up the points at product, category or global level. And, when customers avail the discounts at a subsequent purchase, you can set up a maximum value that can be redeemed. This will help to keep the discount amount under control.
You can also reward customers for certain other in-store actions such as registering, leaving a review or even signing up for a newsletter. The plugin also helps to manage the points account for each customer by logging in all changes to the points system.
Get the best out of the holiday season
Holiday season offers great scope to acquire new customers and establish yourselves in the market. Hope this article has thrown some light into some of the best ways to execute your WooCommerce sale ideas. Leave a comment if you wish to share your experience with WooCommerce.
Further reading