Instagram is a highly influential social media channel that you can explore for your eCommerce marketing needs. The large number of Instagram users across the globe include people of all demographics and varied interests. This fact offers great scope for enterprising businesses to enhance their customer acquisition strategies. Now, your ability to create standout content on Instagram surely plays an important role in your success with this channel. Also, it is important to understand how suitable your business model will be to make effective use of this channel. In this article, we will explore the possibilities of using Instagram as a marketing and sales tool for your WooCommerce store.
Take a look at some of the best WooCommerce social media plugins that will help with your marketing strategy.
Understand more about social media monitoring and how sentiment analysis can help you take timely actions.
Why use Instagram for Marketing?
Instagram communities are reputed to be highly brand conscious. More than 60% of users on Instagram follow a particular brand, and around 70% of users have used it to know more about a brand. Moreover, the user engagement rate is significantly higher than other popular social media channels like Facebook.
Another significant advantage of using Instagram for marketing is the lesser density of marketers in the platform. It is not yet the common tool of marketers, and you can still catch some early bird prizes if you are digging deep into it. According to experts, when you constantly engage with your target audience through Instagram, it is easier to convince them to buy from you.
Marketing experts from all domains vouch on Instagram's capacity to capture the attention of audience with its visual stories. Moreover, you can very well demonstrate how customers are using your products. And, this might be quite an inspiring prospect to those who are considering to purchase from you.
Check out these WooCommerce marketing plugins to improve your sales.
Instagram Marketing for WooCommerce
Now, if you are maintaining an online store on WooCommerce, how can you explore the possibilities of Instagram? Here is a look at some of the popular WooCommerce tools that you can use to incorporate Instagram to your marketing efforts.
This extension helps you display product images on your WooCommerce product pages. If your Instagram profile has managed a engagement rate, this can be quite an asset for your product page. That is because, when users display images showing how they are using your products, it can be more convincing to prospective customers. Along with your professional product images, these images will help you create a balanced product information.
The extension is pretty easy to install and configure. You can install and activate the plugin, and then connect your Instagram account to your WooCommerce store in a single click. After connecting to your Instagram account, you can add a particular hashtag that you want to display on your product pages. You can configure this by opening a particular product page and then accessing the Instagram tab in the Product Data metabox. Here, you can add the hashtag which you want to display on your site.
The single site subscription of the plugin is priced at $29. You can also get hold of a 5-site subscription at $79, and a 25-site subscription at $129.
Understand how to create customer-friendly product information on your WooCommerce store using actionable tips from our article.
This plugin helps you convert your Instagram visitors to customers. Basically, it syncs your WooCommerce store products selectively on your Instagram account. You can display product images on your Instagram page. Users who are interested on those products can click the link, and they will be directed to a special page on your site. This special page, created with the help of a shortcode, will have Instagram posts of your products that are synced using hashtags. Both your Instagram posts and WooCommerce product pages need to have the same hashtags for this to work.

You can customize the Add to Cart button to display the desired text on a per-product basis. This way users can checkout from your site, while they get the feeling that they are completely engaging with your Instagram posts. The regular license of this plugin would cost you $22.
All WooCommerce owners can feature a store on Instagram thanks to its mobile app. However, you need to ensure the following requirements to manage this smoothly:
A store with physical products – as it supports only physical products at the moment.
The latest version of the Instagram mobile app – Android or iOS.
Instagram Business account.
Facebook pages with products, as Instagram syncs with the Facebook catalog and not your WooCommerce store.
After connecting with your Facebook catalog, you can start tagging products to your images. You will be able to tag around 5 products to a single image.
When customers access products, they will be able to see details like image, description, price, etc. through your Facebook catalog. There will be also a link that will redirect them to a page where they can purchase the product.
This feature is available only in select countries as of now. Please check this page to see if Instagram for business is available in your country.
How to create a Facebook catalog with your WooCommerce products?
If you already don't have a Facebook catalog, you might be wondering how to manage that easily. You can use the Facebook for WooCommerce extension for this.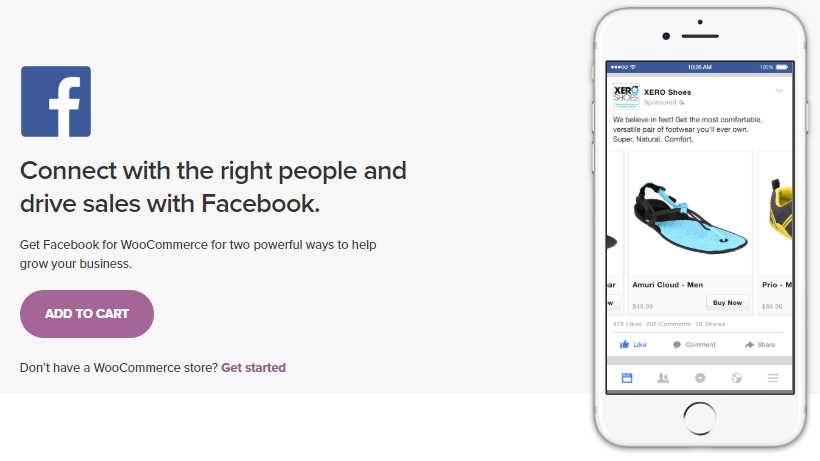 With the help of this plugin, you can export all your WooCommerce store products to Facebook. Interestingly, it will sync your products with the Facebook catalog. That means any changes that you make on the WooCommerce site will reflect on the Facebook catalog as well. The plugin also offers options to organize the catalog for better accessibility. You can download this extension for free from the WooCommerce extensions store.
Do you really need to get into Instagram marketing now?
Now, the effectiveness of Instagram as a marketing tool is quite evident. However, it might be more suited for certain businesses and products than others. Let's explore some aspects of your store that might be more suited for Instagram marketing.
Visual scope of your products
Instagram is full of visual stories. If you are selling products that have a visual appeal, you have an obvious advantage. You can surely venture into Instagram marketing if your products pose a marked visual scope.
Engage with your prospective customers
If Instagram is one of your popular customer engagement channels, then you have a definite advantage in the medium. It will also give you a clear picture on your audience base that is interacting through Instagram. Including Instagram in your social media strategy pretty early would help you. For this, you need to add follow and share buttons to your product detail pages. According to studies, increased social shares is a reliable pointer to improved sales. Overall, if you have a significant fan following on Instagram, you can think of featuring products on it.
Follow the footsteps of market leaders
According to marketing experts, use of Instagram for marketing is more prominent in certain industries. Automobiles, accessories, beauty products, fashion, travel, etc., are some of the industries that are preferring Instagram shopping. If your store is part of any of these industries, you need to definitely consider offering products through Instagram. It will be wise to follow the strategies of the market leaders in your industry. If some of the top players are actively into Instagram, maybe it's time for you to follow suit.
Gauge your familiarity on social channels
The returns from your social media marketing efforts can be a good indicator on your suitability to get into Instagram shopping. If you were particularly successful with Facebook marketing and advertising, chances are you'll be successful on Instagram too. You can also try out Instagram advertising options, that will help improving awareness on your brand and products.
Tips to improve your Instagram strategy
When you are starting out with Instagram as a sales channel, it is advisable to follow some of these best practices.
Get yourself an Instagram business profile
Once you are convinced of the effectiveness of Instagram as a marketing tool, you can get yourself a business account. This is because a business profile offers a lot of advantages to improve the reach of your brand. A business profile offers a better reach for your posts by being available on the news feed of your followers. It also helps your Instagram followers to contact you directly by clicking the Contact button. Moreover, you will be able to measure the success of your engagements through the analytics tools of Instagram. And, you can create ads directly on Instagram without hassles.
Analytics tools can help you improvise
Instagram insights can help you a lot in improvising your strategies on the channel. You will be able to capture a lot of specific analytics data when you have a business profile. It helps you track data based on customer demographics and other factors like the time they prefer to engage. You can also track the engagement metrics of specific posts and execute new strategies accordingly.
Cost-effective advertising options
Instagram also offers cost-effective advertising solutions for your business. And, by nature, Instagram ads are hard to miss, and promises better conversion rates. If you are already using Facebook advertising, it will be easier for you to get into Instagram advertising. You can use the Facebook ad manager to manage your Instagram ad strategy as well. Furthermore, you can also do A/B testing to understand viable options for your business.
Capture the attention of audience without being too pushy
Instagram posts generally have a laid back vibe, and if you are able to maintain that you probably will be successful. More than aggressively pushing for sales on Instagram, you can share photos of your products in an unassuming manner. Chances are your followers are going to like that and engage with you more. And, in the long run, it will lead to better user engagement and conversion rate.
Learn strategies to improve your WooCommerce conversion rate.
Influencers of your niche can help
Influencer marketing is big on Instagram. So, naturally, you need to make use of this aspect by partnering with relevant influencers. If you are able to create collaborations with real influencers in your domain, you might see the returns quite soon.
Leverage Instagram stories
Instagram stories are posts that will vanish in 24 hours. They are really helpful in improving user engagement for you. As these posts vanish soon, your followers will be motivated more to share these with others.
Cross promotion
You may already have a good fan following on other social media channels like Facebook and Twitter. You can make use of this to improve the reach of your Instagram content. With the help of tools like Hootsuite, you can automate cross posting of Instagram posts. With the help of posts on other channels like Facebook, Twitter, LinkedIn etc., you can improve traffic on your Instagram account.
Gain the advantages of Instagram marketing
Instagram has become an unavoidable social media channel that offers a lot of scope to market your products. Due to its increased engagement and brand recognition, Instagram might prove to be more effective than other channels. If your products are visually appealing, you have better chances to succeed with Instagram. Hope this article has offered you an overview on various strategies that you can adopt to improve your marketing strategies. Leave us a comment to express your views on WooCommerce Instagram marketing.
Further reading