As you know, themes make it extremely easy to design the visual aspects of your WordPress site. In the WordPress ecosystem, you will find a large number of free and premium themes that will sort different types of businesses an websites. It is important to follow some of the expert guidelines on choosing a theme before zeroing in on the most suitable one for your site. When you start out with your WordPress site, installing and setting up a theme is one of the first steps. In this article, we will discuss the basics of how to install and set up a WordPress theme.
Important points to remember before choosing a theme
If you are a beginner to WordPress, it will be useful to consider a few aspects of the theme before choosing to install it. Here is a quick list for reference.
Simplicity in design and aesthetics so that users are able to use your site without hassles.
Easy set up process so that you don't take a long time to get it up and running.
Ample options to customize the theme as having a unique appearance is important too.
Responsive design so that users will get the best experience irrespective of the device they are using.
Smooth integration with other plugins and tools that might be required for your site.
Regular updates so that your site is free of conflicts with other tools and is one step ahead of security threats.
Search engine friendly features that will make sure users find your content through search engines easily.
A dependable support team that offers quick help in case you encounter any issues with your theme.
How to install and set up a WordPress theme?
To install a WordPress theme on your site, you will find three options. Depending on your preference, you can choose one of these options. However, setting up a theme will be a lot more specific according to the one that you have installed. We will discuss all the options for installation, and an example scenario of setting up with a popular theme.
Installing a theme
As mentioned above, you can install a WordPress theme in three ways.
Using the WordPress admin search option
If you are installing a free plugin from the WordPress theme directory, you can use the admin search option. Or, if you have not decided which theme you are installing, you can use the search option in the WordPress to find a suitable one.
Go to Appearance > Themes. Here, you will see all the installed themes on your site, as well as the active one.
You can click the Add New button on the top left, or click the '+' sign for Add New Theme to get a list of themes from the WordPress theme directory.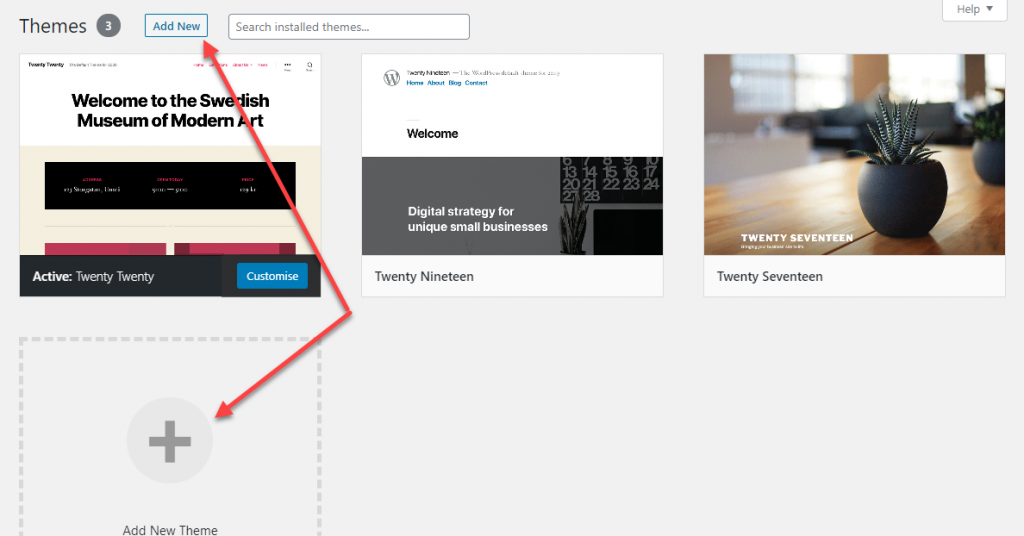 On the next page, you will see a list of themes that you can filter by a few parameters and features. You can choose to install one of these plugins.
Or, you can type the name of a theme you want to install in the search field and find it.
Hover the cursor around a theme, and you will find options to view the details of the theme, as well as a Preview and Install button. Check the details and preview to know more about the theme. If you are sure with the plugin, click the Install button.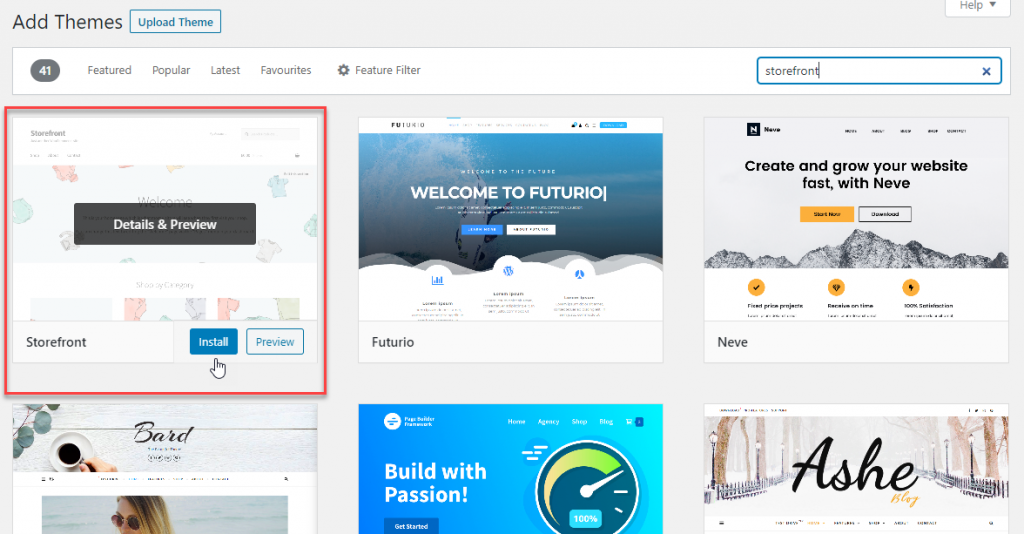 Now the theme will be installed on your site, and you can click the Activate button to change your theme.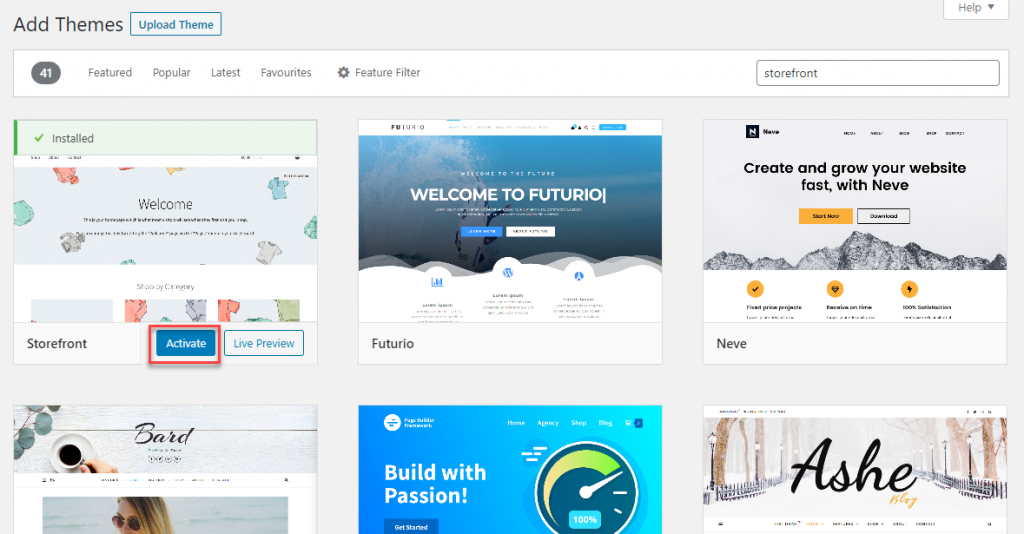 Uploading a new theme file and installing it
Sometimes, you will get a theme from external sources. For example, you may have purchased a premium theme, or you already have the theme downloaded on your computer. In such a scenario, you can follow the below process to install a theme.
First, download the zip file of the theme to your computer. Log in to your WordPress admin panel like in the previous step. Click the Add New button.
Now click the Upload Theme button.
Choose the zip file and click the Install button.
Once the theme is installed successfully, you can Activate it to replace the existing theme.
Using FTP
This is another method you can use, though it is recommended for advanced users. Run the FTP program (like FileZilla) and connect to your host. Got to your WordPress install and access /wp-content/themes/ and upload your theme folder. Remember to extract the zip file before uploading it.
Once you upload the theme folder, you will see that particular listed on your Themes section on the admin panel. Simply hover the cursor over and you will see the Activate button.
Setting up a theme
The setting up process will be different for different themes. However, you can generally control the appearance of a theme in the Customise section. Once you activate a theme, you will see a Customise button when you hover the cursor around the theme. Click this button to customise different aspects of your site design.
For example, when you activate the Storefront theme, you can see a set of options available in the Customise section. Changes that you make on the panel on the left side will get applied instantly and you can view them through the live preview on your right.
Site Identity
You can change the site title and tag line in the Site Identity section. Also, here you can add a logo and site icon.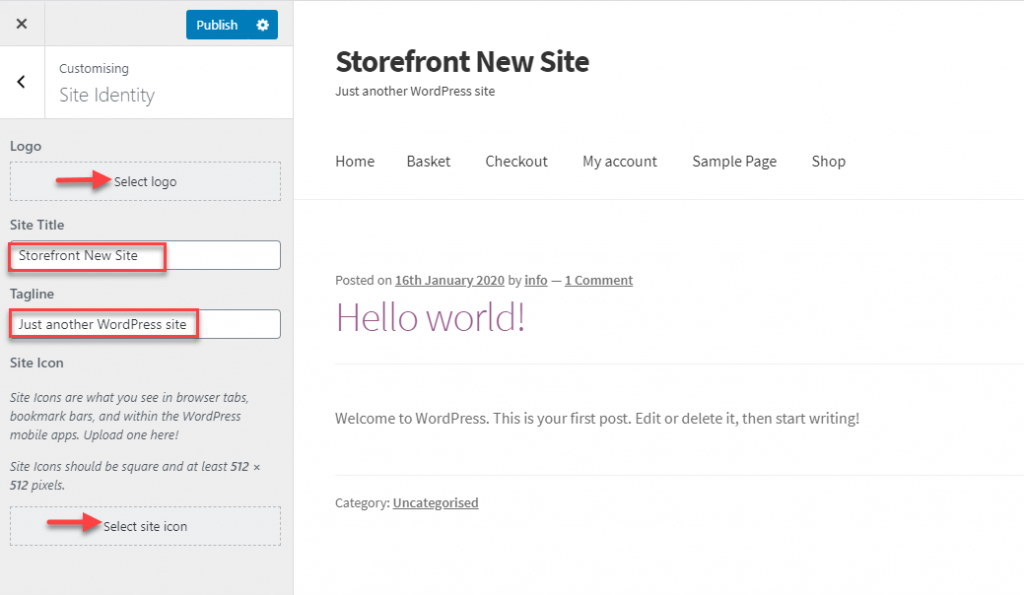 Header, Footer, Backgorund, etc.
You can also customise the Header, Footer, Background, Typography, Buttons and Layout here. In each of these sections, you will find different options to change the background color, text color, link color, etc. You can choose a unique color scheme or font to make your site look according to your design sensibilities.
Layout
You will also find an option to customise the layout by interchanging the position of the sidebar between left and right.
WooCommerce specific settings
Since Storefront is a theme made specifically for WooCommerce, you will see eCommerce specific features as well here. For example, you will find an option for Product page customisation as well for WooCommerce Customiser.
If you want to know more about WooCommerce customizer, read our article with a detailed description of these settings.
Creating menus
Here you can also create new menus for your site. You can create a new menu, and add items to it from this section. You will be also able to choose items to the menu, and modify their order of display as well. Once you Publish the new menu, it will get applied instantly.
Widgets
You will also find options to add and modify Widgets here. You will find different areas where you can widgets, such as sidebar, below header, footer columns, etc. You can click an area where you want to add or modify widgets and then make the changes. You can add new widgets as well as remove or rearrange existing widgets in specific areas.
Choosing Homepage
This is also where you choose a homepage for your site. You can choose your latest Posts as the homepage, or specify a static page. If you choose the second option, you will have to specify the pages for homepage as well as Posts.
Additional CSS
For advanced users, there is also an option to add CSS directly. You can use your custom CSS code in the field to make modifications to the visual aspects of your theme.
This is just an example of how you can customise a WordPress theme. Each theme will have its own set of customization options, and you can always refer to their documentation before making any changes.
Hopefully this article has provided you insights on how to install and set up a WordPress theme. If you have any queries, please leave us a comment.
Check out the video below:

Further reading