Last updated - September 12, 2022
WordPress is one of the most preferred options to create a website, and is asserted by the fact that it powers more than 30% of all the websites in the world. When you are looking to create an eCommerce store, you can go with the obvious option that is WooCommerce. Or else, you can choose a website builder like Shopify that is a totally different approach. What if you want the best of both worlds? The familiarity and comfort of WordPress and the seamless eCommerce experience of store builders. In this article, we will explain how to integrate BigCommerce with WordPress and set up an eCommerce store.
What is BigCommerce?
BigCommerce is a powerful SaaS-based eCommerce platform that powers several online stores of different sizes. It offers simple store management and superior customer experience thanks to a range of innovative features. With flexible APIs and state-of-the-art security features, BigCommerce has grown to become a reliable platform for many big and small businesses. One of the standout features of the platform, headless commerce, enables it to merge with any front-end like WordPress.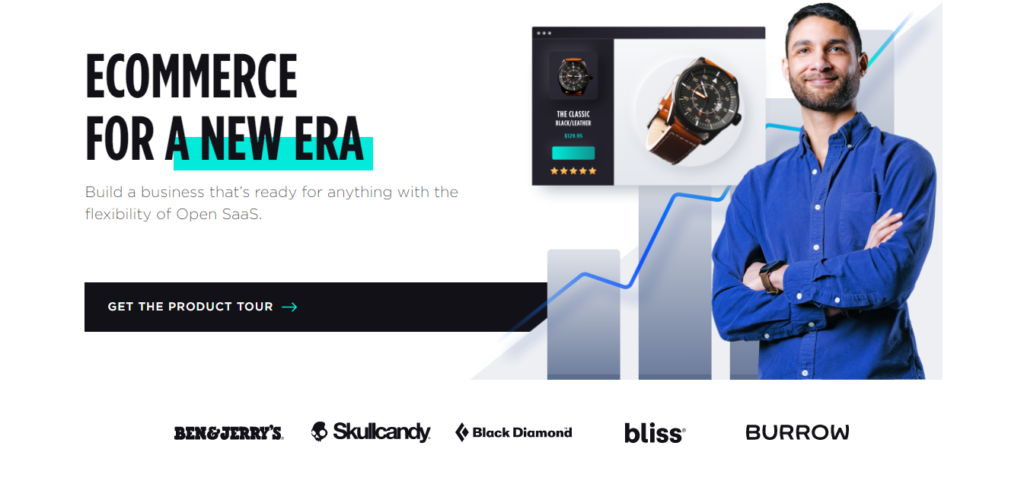 How to integrate BigCommerce with WordPress?
Now, to integrate BigCommerce with WordPress, you can use the free plugin – BigCommerce For WordPress. This plugin will enable you to use your WordPress website's frontend, and in the backend let BigCommerce handle your eCommerce aspects including catalog management. We will look into the process in more detail.
To get started, you can install BigCommerce for WordPress plugin on your website just like any other plugin. If you need help to install a plugin, checkout our article – How to install and set up a WordPress plugin.
Once you install the plugin, you can connect your store with BigCommerce.
If you already have a BigCommerce account, you can use it, or choose to start a new account.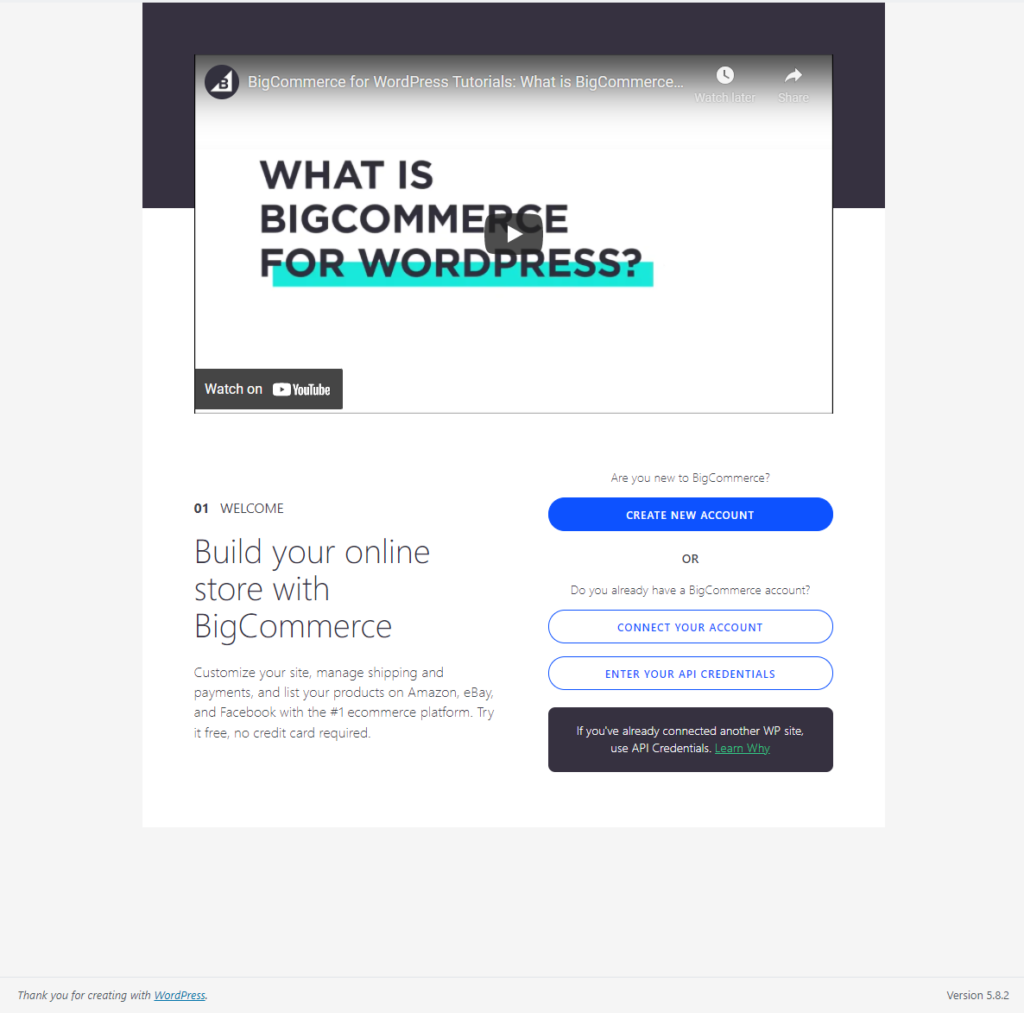 Once you create the new account and set the credentials, your BigCommerce store will be ready with a few demo products.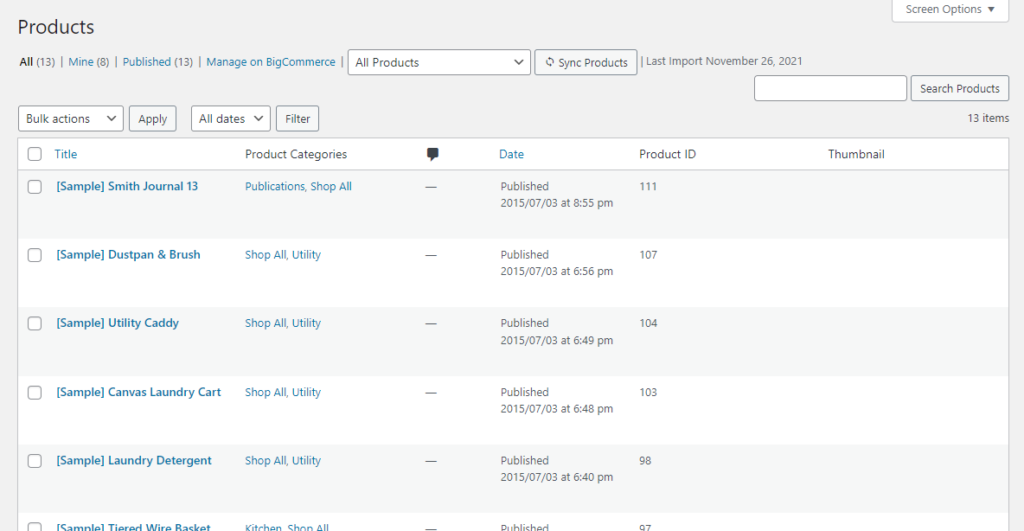 Setting up the store
One of the first steps in the store set up is adding a Menu to your storefront. You can configure this at the start, or skip it and do it later.
On the WordPress admin panel, you will be able to view Products, Categories, Brands, etc. You can view and delete items here, though you won't be able to add new products, brands or categories.
From BigCommerce > Settings, you will be able to configure the following:
Product Sync – You can set up the sync frequency as well as choose whether to automatically sync all your products from your BigCommerce account, or only the ones you select.
Cart & Checkout – Here you can configure the Cart settings, including an option to have a Cart page, and also enable Ajax Cart.
Gift certificates – You can enable gift certificates and choose a page for it along with a page that will help customers check their gift certificate balance.
Currency settings – These settings allow you to choose a currency, and also determine whether the price display will be including or excluding tax.
Accounts & Registration – You will be able to set pages for Login, Registration, Order History, Addresses, Wish lists, etc.
Analytics settings – Here you can add the tracking IDs for Facebook Pixel and Google Analytics.
API Credentials – You can get the Client ID, Client Secret and Access Token here.
Channel – You can rename the channel name here.
Diagnostics – Here, there are options to enable error logs and set a maximum file size for the log file.
From your WordPress admin panel, you can revisit the Launch Steps if needed, and from the Resources section, get access to tutorials, and also different themes, plugins and apps.
Adding products, payment and shipping options, etc.
To add products, and set up other aspects of your store such as tax, shipping, payments, etc., you need to access your BigCommerce account.
From the BigCommerce admin panel, you can access the product settings to create new products, or import products in bulk. You can also control product categories, reviews, filtering, price lists, etc.
You can add payment methods to the store via Store Setup > Payments. There are different categories of payment methods as follows:
Credit Card Processors
Buy Now, Pay Later
Accelerated Checkout
Offline payment methods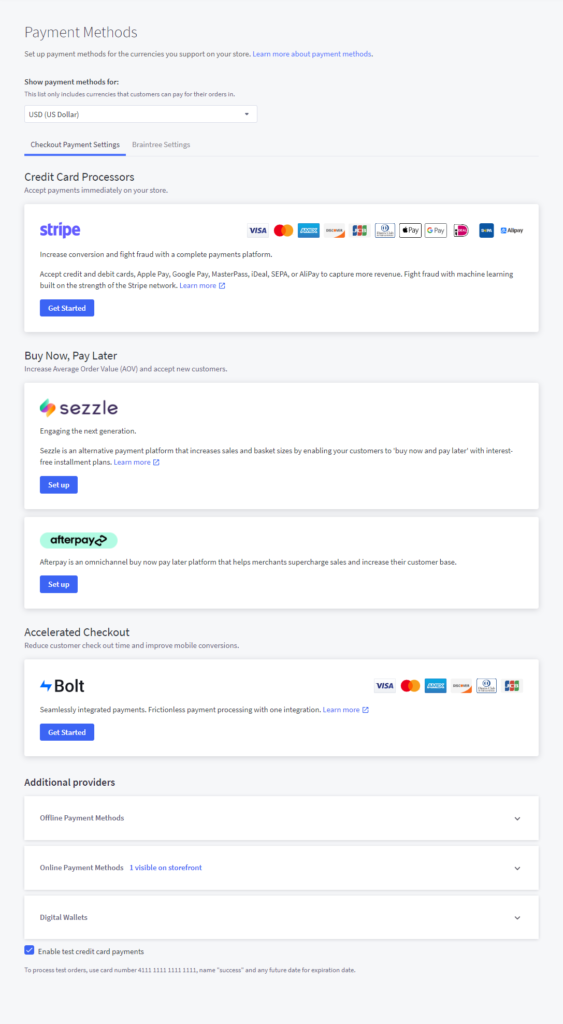 Shipping options can be accessed via Store Setup > Shipping. Here you can add the shipping origin address to start with the process. There are options to configure the shipping rules for the Checkout page. You will also find options to print shipping labels from USPS.
BigCommerce also offers comprehensive settings to manage orders, customers, and also for marketing efforts.
BigCommerce Pricing
Plan
Price (in $ per month)
Feature highlights
Standard
29.95
Full-fledged online store
Discounts, coupons and gift cards
Multiple sales channels
Real-time shipping quotes
Plus
79.95
Full-fledged online store
Discounts, coupons and gift cards
Multiple sales channels
Real-time shipping quotes
Abandoned Cart recovery
Customer Segmentation
Pro
299.95
Full-fledged online store
Discounts, coupons and gift cards
Multiple sales channels
Real-time shipping quotes
Abandoned Cart recovery
Customer Segmentation
Google Customer Reviews
Custom SSL
Product Filtering
Advantages of integrating BigCommerce with WordPress
There are several advantages from integrating BigCommerce with WordPress. Here is a quick look at some of them:
Offer amazing customer experience
BigCommerce helps you offer a seamless experience to customers with advanced eCommerce features. Moreover, you can easily scale your store and grow your business without hassles.
Better site performance
You don't need to go through any performance issues on your WordPress site as the eCommerce section will be handled by BigCommerce. This will save you from any site management hassles that could ensue due to improper planning.
No security hassles
BigCommerce ensures tight security and PCI compliance, and store owners need not worry about these aspects.
Easy to add new functionalities
It will be easier to integrate eCommerce functionalities as developers can use the BigCommerce ecosystem as well.
Seamless integration
As the BigCommerce integration with WordPress has been carefully crafted for WordPress users and developers, it is easy to make improvisations to the site.
We hope this article helped you integrate BigCommerce with WordPress. Leave us a comment if you have any queries or concerns.
Further reading