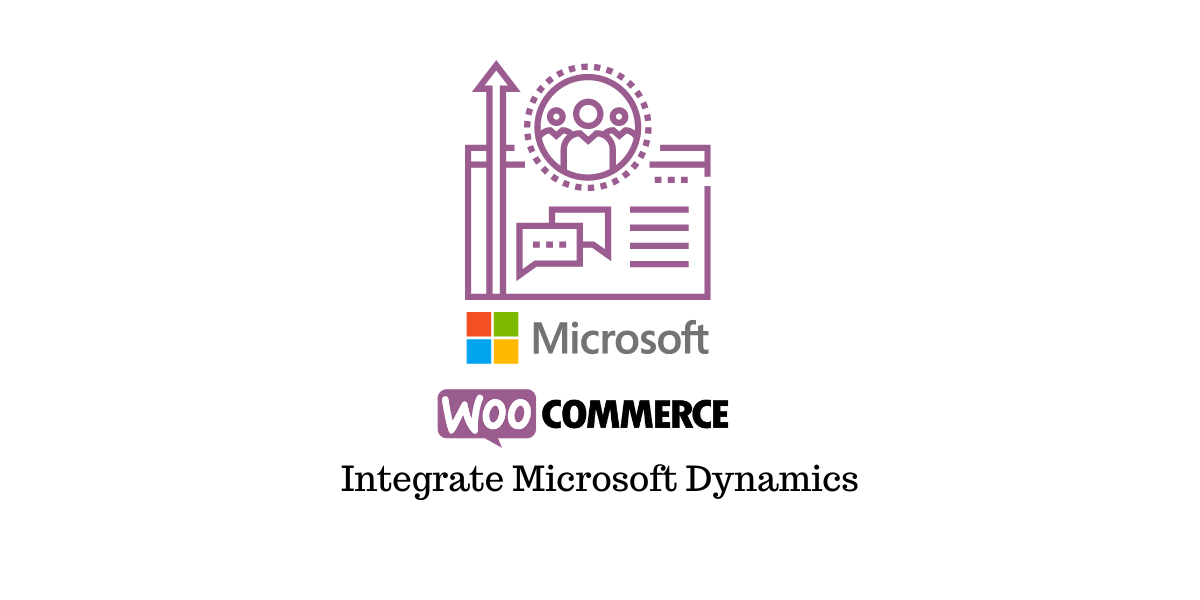 Microsoft Dynamics offers a range of products to help with enterprise resource planning and customer relationship management. These products are catering to diverse markets and industries. From small to medium sized businesses to large enterprises make use of these suite of services. In this article, we will take a look at how you can integrate WooCommerce with Microsoft Dynamics. We will also look at the major advantages and challenged associated with this as well.
Microsoft Dynamics
With the help of Microsoft Dynamics, businesses will be able to achieve better operational efficiency and as a result consistently offer better customer experience too. You can ensure that your business is achieving desired results in a more optimized manner. One of the major advantages of Microsoft 365 is that you can easily connect it with the tools and systems you are using. Moreover, you can facilitate more effective team collaborations, and interact with your customers more efficiently. Also, you can deploy innovative solutions more rapidly with the help of these tools.
You can access data flexibly from a large number of sources and easily arrive at actionable insights. More importantly, there is assured security along with customer data and identity protection. Microsoft Dynamics is powered by emerging technologies and offers analytics and pre-designed solutions to help you change approaches rapidly. Another aspect that is widely acknowledged by users is the interoperability of Microsoft Dynamics tools to help with easy collaborations.
Important Microsoft Dynamics Applications
There are several areas of business that you can enhance using these tools, such as:
Sales and marketing with more qualified leads, personalized customer experiences, and fruitful customer relationships.
Customer service for proactive interaction, automated workflows, and speedy resolutions.
Field service with better connectivity, aided with IoT and data-driven preventive actions.
Finance and operations in a more streamlined manner.
Omnichannel customer experience blended with centralized inventory, stock and supply management.
How to integrate WooCommerce with Microsoft Dynamics?
As mentioned above, there are several ways to integrate Microsoft Dynamics with other platforms and tools. Here is a look at a few ways to connect your WooCommerce store and its data with Microsoft Dynamics services.
Zapier lets you connect your WooCommerce store with a multitude of cloud apps. Once you have linked your store with Zapier, any changes in your store will be automatically synced with the connected apps as well. For this, you can make use of triggers and actions using the plugin.
As with several other tools, Zapier lets you connect WooCommerce and Microsoft Dynamics 365 customer service as well. Here is an outline of how you can integrate WooCommerce with Zapier in quick time:
Step 1 –  First of all you have to authenticate the connection between Microsoft Dynamics service and WooCommerce.
Step 2 – Pick either one of the apps (WooCommerce or Microsoft Dynamics 365) as the trigger. For example, you can choose from a range of triggers for Microsoft Dynamics 365 customer service, such as New Contact, New Lead, New Account, etc. For WooCommerce, the available triggers include creating or updating products, customers, coupons, etc.
Step 3 – Choose an action from the other app as the result of the trigger. For example, Microsoft Dynamics 365 actions include Create Account, Create Lead, Create Contact, etc., and for WooCommerce, create or update products, customers, coupons, etc.
Step 4 – Pick the data you want to send between the Microsoft Dynamics and WooCommerce.
This way you will be able to easily integrate your WooCommerce store with any service or product under Microsoft Dynamics 365. Moreover, the data sent from WooCommerce to Zapier is through an encrypted connection. You can find more details on this page.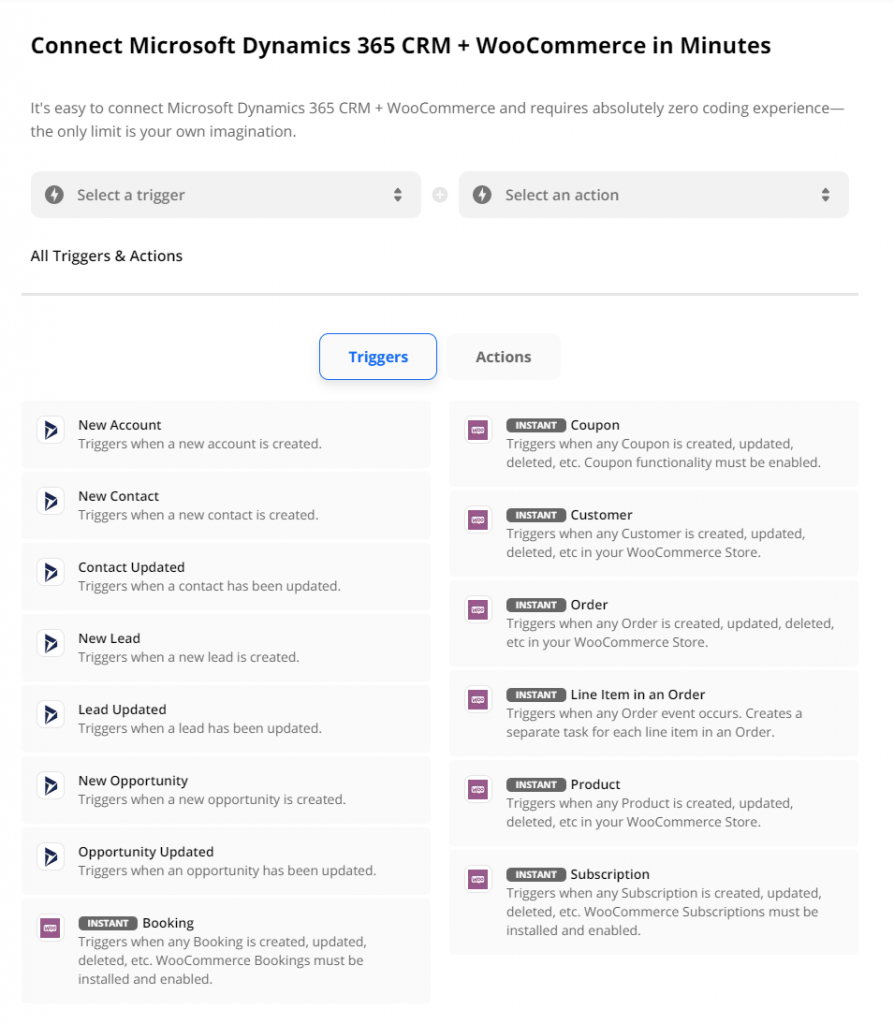 APPSeCONNECT is an Integration Platform as a Service that offers seamless connection between WooCommerce and Microsoft Dynamics 365. Basically, the data (customer, item, inventory and orders) created on either platform will be synced with the other platform in real time. This will help to reduce the time taken to replenish the inventory, and also lets you process orders rapidly. Furthermore, you can avoid out-of-stock hassles, and also improve customer satisfaction.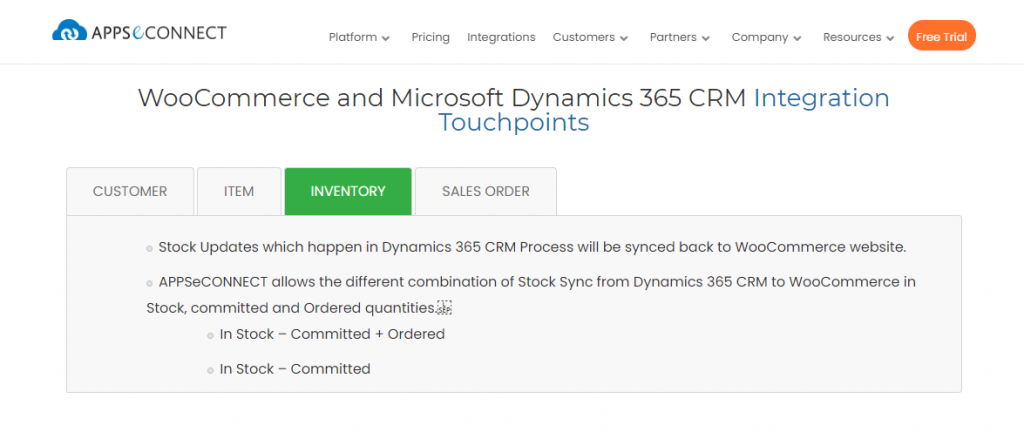 You can use this plugin to synchronize data between WooCommerce and Microsoft Dynamics 365. You can connect the account and map WooCommerce order fields with object fields of Microsoft Dynamics CRM tool. It also lets you define when you want to share data between the two.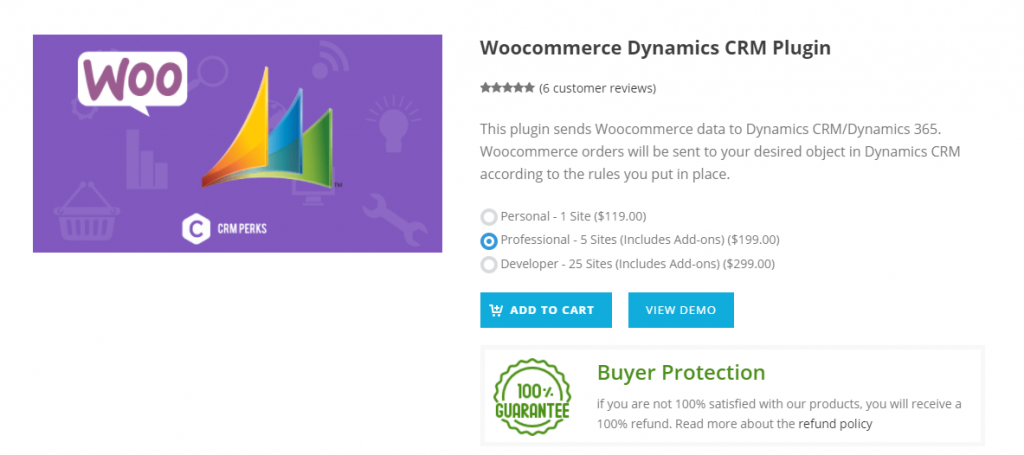 With this free plugin, you can integrate Dynamics 365 and Dynamics CRM with WordPress. You will be able to design forms within Microsoft Dynamics CRM, and add them to your site using a shortcode. Through this integration, you will be able to capture leads more effectively and reply to customer queries promptly too. Moreover, you can bind posts and pages to Dynamics 365 or Customer service records.
Major challenges business owners face with customer relationship management
Here are some of the major challenges that business owners face in customer relationship management.
Omnichannel customer relationship
Customer relationship is not through a single channel anymore. Customers will be interacting with businesses through different channels like telephone, email, social media, live chat, etc. In addition, you may have to create knowledge base for self service as well. Depending on their convenience, customers should be able to move from one channel to another without hassles.
Prompt issue resolution
Customer relationships can be nurtured by meeting the expectations of your customers. Based on the channels, the expectations will differ too. For example, customers will expect faster resolution when using live chat compared to email. So depending on the media, you should be able to set resolution standards. In addition, you have to streamline the workflow as well so that customers are routed to the right department without delays.
Check our article on dealing with customer experience challenges on WooCommerce.
Personalization of customer relationships using data
Based on the information that you get from customers, how much are you personalizing the customer experience? This is a crucial part in customer relationship management. With a CRM tool, you can effortlessly manage this by centralizing data.
Advantages of using Microsoft Dynamics customer service
Can enhance customer loyalty by offering a seamless experience to them.
Automate sales and marketing efforts.
Can easily manage data synchronization with your eCommerce platform.
Easily handle customer interactions through multiple channels.
Hopefully, you got a clear understanding on how to integrate WooCommerce with Microsoft Dynamics. Feel free to leave us a comment if you have a query.
Further reading