Last updated - March 6, 2023
Magento is one of the world's most famous and leading sources of an e-commerce website. In simple terms, it can be considered as a blockbuster for retailers who are interested in building a well efficient website to promote their product. Magento offers some exceptional features like Shopping cart flexibility access, optimization of SEO, and "technology content" management.
Purpose of using upgraded and latest extensions for boosting Magento store are as follows
Magento

is enriched with

Magento Commerce,

the

extension support for

Amazon Sales

,

Magento events

that include

Adobe summit,

and

Magento E-commerce

resources that comprise of

digital adobe reader

. In this case,

Magento optimization

and

customization

depends on the implementation of tools on

extensions

.

Magento extensions cover a wide range of aspects that includes full-fledged commercial marketing chambers on the internet and simplified points for checking out the merchandise and

marketing the products

.
Communication and Marketing extensions for Magento Store
The Magento community has got an immense amount of purpose to solve for its clients and customers. Whether as a user you consider Magento as the most efficient open area for free sources or Magento e-commerce website for the full suite of alternatives and assistance service provider, it is easy to focus on the reason that made customers opt for the best Magento.
Here we have arranged a list of Magento extensions that can be enriched with the help of the following parameters:
What are the advantages of using Facebook Pixel as the best source of boosting Magento extension?
Configuration of product catalog:

You can promote your product and will be able to export them. This gives you a prospect to enhance your business on Facebook with the utmost comfort.

Tracking of events: Tracking event extension

helps you to track events in your store after publishing it on your website, and it transfers the same data to Facebook for perfect and enhanced visualization.

Pre-Programming (Automatic):

If you use this extension, you no longer require to install Facebook Pixel for collecting data resources. The

automatic

extension will help you to serve your purpose.
If you are running an ecommerce business, then you are well aware of knowing that SEO plays the main character in promoting marketing. Magento allows perfect SEO friendly operation that comes right out of the box. But this needs maintenance within a regular session of time. SEO Suite Ultimate is the best choice of search engine operation for Magento extensions. This acquires all the possible data that is necessary for uplifting your product in Google ranks, with a perfect and stipulated time frame.
What are the advantages of using SEO Suite Ultimate as the best source of boosting Magento extension?
URLs Canonical:

This canonical URL allows you to get multiple numbers of different pages and details of your product enlisted within it.

Templates of SEO:

Using the same SEO template gives you a wide range of possibilities to make it fast in delivering your product in the index list.

Cross-Linking

: The combination of using different types of external and internal links to improve navigation of page in the Magento store is called cross-linking. This cross-linking combination also reduces the page loading time, and it helps the owner of the product to show the product clarity more often to its customers.

Indexing and Crawling:

This is one of the unique phenomena of

the Ultimate suite for SEO

for boosting Magento extension. The Google spider is instructed to crawl all the indexes of metadata.
The Magento 2 Gift Card extension from Mageplaza is a powerful communication and marketing tool for e-commerce businesses. This extension enables you to create and manage gift cards for your online store, allowing you to boost customer loyalty and drive sales.
What are the advantages of using Magento 2 Gift Card Extension as the best source of boosting Magento extension?
Increases sales: The Gift Card Extension can help increase sales by providing customers with an easy and convenient way to purchase gifts for their loved ones. It also encourages customers to return to your store to redeem the gift cards, potentially leading to additional purchases.
Enhances customer experience: The extension provides a personalized and customizable gifting experience, allowing customers to choose from a variety of templates and add their own personal messages. This enhances the customer experience and improves customer satisfaction.
Improves customer loyalty: Gift cards can be used as rewards for customer referrals or social media sharing, helping to increase customer loyalty and engagement. They can also be used to incentivize customers to make additional purchases and promote repeat business.
Boosts brand awareness: The extension offers a variety of branding options, including customizable templates and the ability to integrate gift cards into your marketing campaigns. This can help increase brand awareness and promote your products to a wider audience.
Easy to set up and use: The extension is easy to install and use, with intuitive configuration options and a user-friendly interface. It requires no coding knowledge, making it accessible to all types of users.
The best way to promote your product is to talk with your customers. In this regard, this LiveChat extension is an extension for Magento that benefits the owner to have an efficient and comfortable chatting. This is an essential and fundamental marketing strategy that helps the customer to know about the product when they are navigation on your server.
If you are well accustomed to judging the customer behavior, then this extension is perfectly suitable for you. As this LiveChat Magento extension allows you to trigger texts based on your customer's behavior and mannerism while he or she is browsing on your website. You can certainly ping from your side and let that person know that you are 24×7 available for providing any kind of customer support.
What are the advantages of using LiveChat as the best source of boosting Magento extension?
LiveChat

provides auto template enhancement. This allows you as an owner to pre-create all certain responses from your customers based on a few questions and answers.

Customization in Live Chat:

Users are more attracted to use customizable and friendly windows, that allows smooth and burden less transaction in your website.

Business

and

analysis

of product details and customers rating is a big point of concern for all kinds of big and small firm owners. This provides Chat reports, tickets, and assistance.
With the rise of mobile users, it is unavoidable for online store owners to step into the mobile commerce world. 69.4% of mobile users use shopping apps on their mobile devices. Hence, having a website that is optimized for mobile is not enough. Mobile apps can benefit you in many ways like better customer experience, increased conversions, reduced cart abandonment, brand awareness, grabbing new buyers, and more.
Magento 2 Mobile App Builder by MageComp enables you to get a business-ready mobile application for your Magento 2 store for both android and iOS users. Launch your app to Google Play Store and App Store without any delay.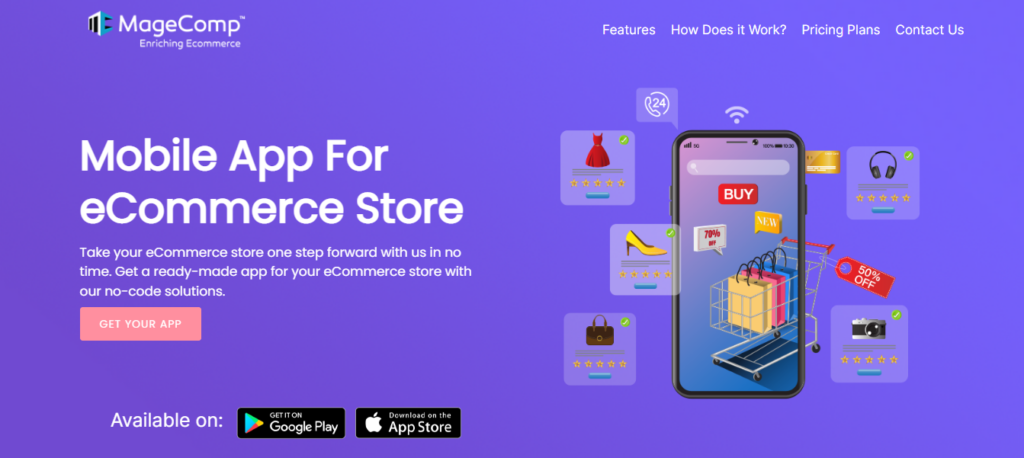 What are the advantages of using Mobile App as the best source of boosting Magento extension?
Banner Slider

– Show responsive slider banners on the homepage of your Magento Mobile App to grab customers' attention.

Brand Slider

– Allow customers to reach their best-loved brand by displaying a brand slider on your Mobile App.

Customize Homepage

– Bring your most in-demand products, new arrivals, and well-known products to the fore on your mobile app homepage.

Push Notifications

– Update your precious customers about offers, discounts, business news, newly launched products, and more by sending push notifications on their mobile phones.

Social Login

– Takeaway login stress from your customers by including social login buttons on your mobile app login page.

Coupon Codes

– Allow customers to apply coupon codes at the checkout on your mobile app and hence enhance sales of your store.

Shipping & Payment Methods

– Include various shipping and payment methods in your mobile app to increase the user experience.
All Product Types – The mobile app supports all Magento product types including simple, virtual, grouped, configurable, downloadable, and bundled.
Magento extensions for enhancing user and customer experience
There is an abundance of small, mid-sized, and top-notch enterprises who have enlisted themselves in Magento. In Magento, these individual sectors turn their profit margin from nothing to cores. In this regard, all this enterprise wants to know about user satisfaction and their experience. Door-to-door surveys are not possible to seek responses, and to resolve this dilemma, Magento offers a great platform for all those owners to know about their customers.
When it comes to the genre of product feedback and customer reviews, Nosto is a perfect Magento boosting solution for all kinds of feedback extensions. To abide by all the terms and conditions that are required to build or break higher ranging AOV, Nosto is a well-desired platform for all entrepreneurs. Nosto offers the clients for making on-site suggestions and recommendations at a critical juncture of the product and to maintain a good flow.
What are the advantages of using Nosto as the best source of boosting Magento extension?
Instagram and Facebook advertisement

: In the section of marketing of any newly launched product, there is no other option for anyone to promote the demand of the "

fruit

" other than Instagram and Facebook. These two behemoth e-commerce social media websites help business development firms to re-target their customers. The aim can be achieved by customer review, and from the behavior they exhibit while doing any kind of purchase.

Personalization

: Personalization is much more effective as compared with recommending products. Owners want to show the relevance of their product, and this can be achieved by promoting

personalization

in

Magento extension.

In this regard, we need to make you aware that Nosto is the only extension that allows personalization for its users.

Site Recommendation

: On-site recommendation is the unique service that is provided by Nosto in enhancing the boosting rate of Magento extension. Developers can present the product and allow recommendations from expertise personnel in promoting that brand for their customers. This stimulates the rate of conversation that includes the customer chart after placing the orders.
Customer reviews are one of the priceless sources for building up genuine trust among the customers and sellers. Yotpo reviews allow promoting the content of the site with new articles and unique content.
Yotpo Magento extension allows getting full-fledged assistance in collecting product reviews and feedback from purchasers.
What are the advantages of using Yotpo reviews as the best source of boosting Magento extension??
Boosting SEO:

Yotpo helps to enrich reviews with affluent snippets, Google seller customization ratings, and advertisement of products. You can make an index and keep track of the aforesaid features with the help of Boosting SEO.

Photographs of the product: Virtual reality

creates a warm and promising atmosphere in the mind of customers. With the help of virtual reality as the most promising technology launched so far, Yotpo allows its customers to transfer photographs on the desired website by making it look amazing and exciting for the customers.

Social links

:

The bondage between you and your customers should be unbreakable. Both of you can share your views based on the feedback, drawbacks, and reviews on social media. This happens when you use extensions empowered by Yotpo for Magento extensions.
Loyalty Lion is a platform that allows the enhancement of a product through referrals. Customers want to believe in their purchase. So it turns out to be more efficient whenever they see one of their friends referring them to the same product as they have wished for buying. In Magento, Loyalty Lions is a great extension that offers referral codes to a wide range of customers along with handsome rewards.
What are the advantages of using Loyalty Lion as the best source of boosting Magento extension??
Efficient customization options:

Owners can customize with maximum regulations in promoting your brand outfits and their targeted customers.

Activity points:

Customers want discounts, rewards, and they want to earn loyalty points while making a profile on Instagram, Facebook, and Twitter. Even this is also a marketing strategy where at the same point in time, you can attract a wide range of customers, as we know that Facebook, Instagram, and Twitter, has got an abundance of followers.

Loyalty Tiers:

Shoppers need inspiration for purchasing any kind of goods. So in this regard, you need to allow them with amazing rewards, and this way, you can motivate your targeted audiences in purchasing your product.
Shipping and Logistics Extensions – Magento
Ecommerce shop owners, who are well-reputed in the field of e-business, are well aware of the importance of shipping and management of orders. Customers get more offended when the delivery date crosses the last line of keeping patience. So in this regard, shop owners need to develop this genre of Magento shipping and logistics.
Ship station offers an efficient Magento extension that helps to sync orders and manage to ship the product.
What are the advantages of using Ship Station as the best source of boosting Magento extension??
Easy Returns:

Easy returns make quick returns and a more accessible refundable method. Yes, it is worthwhile to say that you will be unable to get all the rewards at the same point in time.

Confirmation of order:

The order confirmation comes after successful payment. You have to provide the customers with a confirmation message as soon as possible.

Creation of Dashboards:

Dashboards are like a

menu card

of your product. This area of your web page allows the users to get

ORDERS, SHIPMENTS, and DETAILS,

within a single page.
You should always remember that Magento is a great forum that allows owners to customize all kinds of encryption. So as we have said earlier, the maintenance of Magento is an important thing. Delivery date adds unique criteria, where it asks the customer on your behalf to choose the date and time slot of delivery.
What are the advantages of using Delivery Date as the best source of boosting Magento extension??
Date exclusion:

This helps the customer to select those dates when shipping will not be possible.

Instructions:

The customer can provide instructions to the delivery man for the last mile.
So here, we have shown you all the possible extensions that are required to boost Magento. Choose the tools that you find suitable for you from the Magento extension and tell us what your favorite Magento extension is.
Further reading