Last updated - November 9, 2023
One of the most critical components of operating a business is inventory management. It is often easy to overlook the significance of knowing how to manage inventory in the midst of production and promotion.
The importance of good WooCommerce inventory management systems is often underestimated by new business owners. However, maintaining a successful store can depend on this seemingly straightforward ability.
Understanding WooCommerce Inventory Management
WooCommerce inventory management is a built-in feature system that enables business owners to simply organize their goods, sales, and delivery, conceal out-of-stock items, change stock status, and more.
With the help of this stock management system, you can streamline your operations, prevent placing unnecessary orders, determine when you need extra stock, and identify the best-selling items.
To ensure that they don't run out too soon and that your suppliers have adequate supplies to fill your requests, you may also keep an eye on your inventory and determine how much of it is remaining.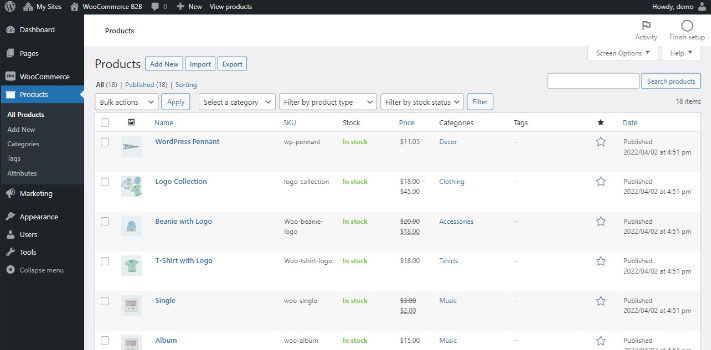 How does WooCommerce Inventory Management Work?
WooCommerce has an integrated inventory and stock tracking system. Although these solutions may not be the most robust or well-suited for specialized scenarios, they can easily be upgraded with paid and free plugins, and what is already available is sufficient for the majority of typical businesses.
At the product level, inventories are monitored. Customers' orders will dynamically reduce the available stock, and WooCommerce includes handy tools for monitoring client orders and delivery progress.
Comprehensive stock reports and data include the tracking of your supplies, orders, and shipping. As a result, you can prevent placing excessive orders, determine when you need to buy additional stock, and learn which products are performing the best.
Ultimately, WooCommerce's technologies serve as a foundation that may be enhanced with plugins. For instance, you can acquire plugins to link with your preferred inventory management program to handle tracking raw materials or auto-update stock levels. WooCommerce itself includes the fundamentals that everyone should start with.
Why do you Need to Manage Inventory in WooCommerce?
Your inventory serves as the foundation of your online business. It must be managed, but effective management can actually advance your company. Maintaining accurate and current counts of what comes in and goes out while rendering this information readily accessible to you and your customers is essential to effective inventory management. Here are a few benefits of managing your WooCommerce inventory.
By making sure you have the things your consumers desire, it eventually enables you to deliver the greatest customer service possible.
It reduces loss brought on by having too many things in inventory that don't sell well.
Estimating product needs and buying precise quantities are made easier with good management.
On the whole, good inventory control boosts earnings and strengthens the bottom line of the business.
How to Manage Inventory in WooCommerce?
Managing your WooCommerce inventory using the built-in inventory management tool involves multiple steps starting from setting up the inventory management tool to tracking the status report. And we have described each step in detail.
Setting up an Inventory in WooCommerce
First, the inventory tracking options in the WordPress dashboard must first be activated, so double-check this. Once WooCommerce is installed, you will see a new menu in your sidebar named WooCommerce.
Hover over the WooCommerce menu icon and click on the Settings option.
There will be various tabs at the top of the Settings tab. Click the Products tab, then click the little Inventory button just below those tabs.
Make sure the item labeled Enable stock management is checked correctly. If you run out of stock, WooCommerce will be able to automatically reduce the stock and modify the stock status.
In addition, there are several settings you will need to consider, such as
Hold Stock – this changes the amount of time that unpaid orders will be kept in stock before being canceled.
Out-of-stock Visibility – if products are out of stock, this setting will help conceal them from your store.
Stock-display Format – you can choose to completely disable the stock display, only turn it on when you reach a low stock threshold, or show customers exactly how much stock is still available.
Notifications – When a product's supply is short or exhausted, this setting will send out an email to the intended recipients. The out-of-stock and low criteria are also modifiable.
You should become familiar with the specific product stock settings if you ever wish to make stock-by-stock changes.
Go to Products > All Products and click the Edit button against any product.
Go to the Product data box and click Inventory.
Click on the Enable stock management at product level checkbox
Next, set the product SKU Number > Stock Numbers
Change Allow backorders from Do not allow to Allow, in order to allow customers to book a product even when they're out of stock.
Next, manually change the figures of Low stock threshold
Finally, you can click the checkbox against Sold individually in order to restrict the customers to buy only one product at a time
Keeping the Inventory Updated
In order to keep your inventory updated you need to first turn on Enable stock management then go to Settings > Product > Inventory.
Next, turn on Enable stock management at the product level and set the desired stock level in the Stock Quantity section.
Once you set the stock level WooCommerce will deduct from this amount, every time you make a sale, and it will also simply adapt to the quantity of the products to low or out of stock as necessary.
Every time you receive a shipment, you will regretfully need to go through and manually adjust the numbers. Stocks can only be increased down by WooCommerce; not up.
Managing Stock Status
Go to the WooCommerce Dashboard > Settings > Product > Inventory Page
From the Inventory Page The low and out-of-stock thresholds, whether or not out-of-stock items are displayed in the store, and how stock status is displayed in your store can all be customized by simply selecting the options from the selections.
Bulk Management
Go to Products > All Products and click on multiple products
Click on the Bulk Actions dropdown and change it to Edit and then click Apply
A bulk editing menu will appear. Click on the dropdown menu, select Manage Stock and switch it to Yes. You will have now enabled individual stock management for all the selected products.
Sold Individually
If you wish to sell just one item at a time, go to a product's Edit page and navigate to the Inventory screen. Then, click on the checkbox for Sold Individually. The product level stock management feature does not need to be enabled for this.
Viewing and Analyzing Stock Status Reports
Go to your WooCommerce Dashboard > Analytics > Stock page. The stock page will provide you with an overview of statistics of units and in-stock status.
From the Stock page click Product/Variation, SKU, Status, and Stock in order to sort the status report by their values. You can click on them again to undo the order.
To limit it to only items with a particular stock state, you can use the Show menu. You can immediately discover, for instance, which products are out of stock or backordered.
Useful Plugins to Easily Manage Inventory in WooCommerce
The steps and descriptions shown above are using the integration WooCommerce inventory management tool. However, there are plenty of proficient inventory management plugins you can use to expedite the process and make your job easier. Here are a few of the best plugins.
Veeqo
Veeqo excels at managing inventories across several channels. Furthermore, this program provides features for warehouse management and can sync and control inventory levels across numerous internet platforms. Almost all of the WooCommerce inventory management features you'll require are provided with this plugin.
In comparison to other plugins, Veeqo plans are fairly expensive (beginning at $156/month). However, you simply can't go wrong with this tool if you run a bigger, multi-channel firm.
WooPOS
WooPOS is a robust inventory management plugin for WooCommerce that provides a plethora of additional capabilities. It contains an integrated Customer Relationship Manager (CRM) allowing you to manage your customer relationships, a cloud database management system so that you can retrieve your data from anywhere, the ability to manage several storefronts from a single interface, and the eponymous Point-of-Sale (POS) capability.
This plugin is perfect if you require a single, unified interface to manage both WooCommerce and physical storefronts. The costs begin at $29 per month as well.
ATUM Inventory Management
The most efficient and feature-rich inventory management plugin in the WordPress repository may be ATUM Inventory Management. Although the plugin itself is free, there are paid add-ons that can make it even more functional. The dashboard is particularly robust and user-friendly. The robust dashboard and search features make it simple to evaluate and manage stock levels. Most importantly, it's free.
Conclusion
The minimal tool set offered by the WooCommerce inventory management system is primarily suitable for small- to medium-sized organizations. Large enterprises cannot be satisfied by the system, but it can be used as a starting point to understand the fundamentals of inventory management.
Inventory management in WooCommerce might occasionally feel like a maze. Despite being a difficult undertaking, knowing how to manage your goods properly is crucial. Fortunately, controlling your inventory is possible if you comprehend the interface.
Further Reading